In Re:'s new weekly column a 22-year-old with minimal understanding of politics tries to work out what it all means. Zoe Madden-Smith unravels the machinations of politics and governance before the election on September 19th. Infographics and images by Liam van Eeden.
Has your feed been spammed by so many political scandals you don't even know what each party stands for anymore? Same. This column is me trying to figure that out. Each week until the election on September 19th I will learn something new about politics and share it here. First up: what each party actually stands for.
Growing up I didn't know much about politics at all. I saw the Greens as being environment-first, National was economy-first and Labour was somewhere in between. It's obviously a whole lot more complex than that, and there's also more than just three parties, but actually figuring out how it all works is confusing and exhausting.
There is so much noise when it comes to politics. Recently my news feed has been clogged up with scandal after scandal. I know that a tonne of National MPs have quit politics, and one guy left because he sent pornagraphic photos to young women. I also know that a Labour Minister was dismissed this week because of an affair he had with a staffer. But if you were to ask me how our election actually works, what policies each party has, or how something becomes a law (things I should definitely be prioritising), I wouldn't be nearly as helpful.
Most political columns are written by highly experienced, well-read, usually middle-aged journalists who know the ins and outs of our political system. This column is a little bit different. This is a documented journey of me, a 22-year-old with minimal understanding of politics, trying to work out what it all means.
This first article gives a brief overview of the key policies the main parties are putting forward this election, as well as how they stand on the two referendums we will also be voting on on September 19th - cannabis and euthanasia. I'll update it as more policies are announced. I've also put a glossary of some of the key political jargon terms at the end.
And a quick note on the referendums - if a majority of New Zealanders vote yes to euthanasia, it will go through no matter what party gets in, because it's a binding referendum. However the cannabis referendum is not binding, so even if a majority of people vote yes, it will be up to whatever party gets into government to decide whether they actually introduce a bill or not.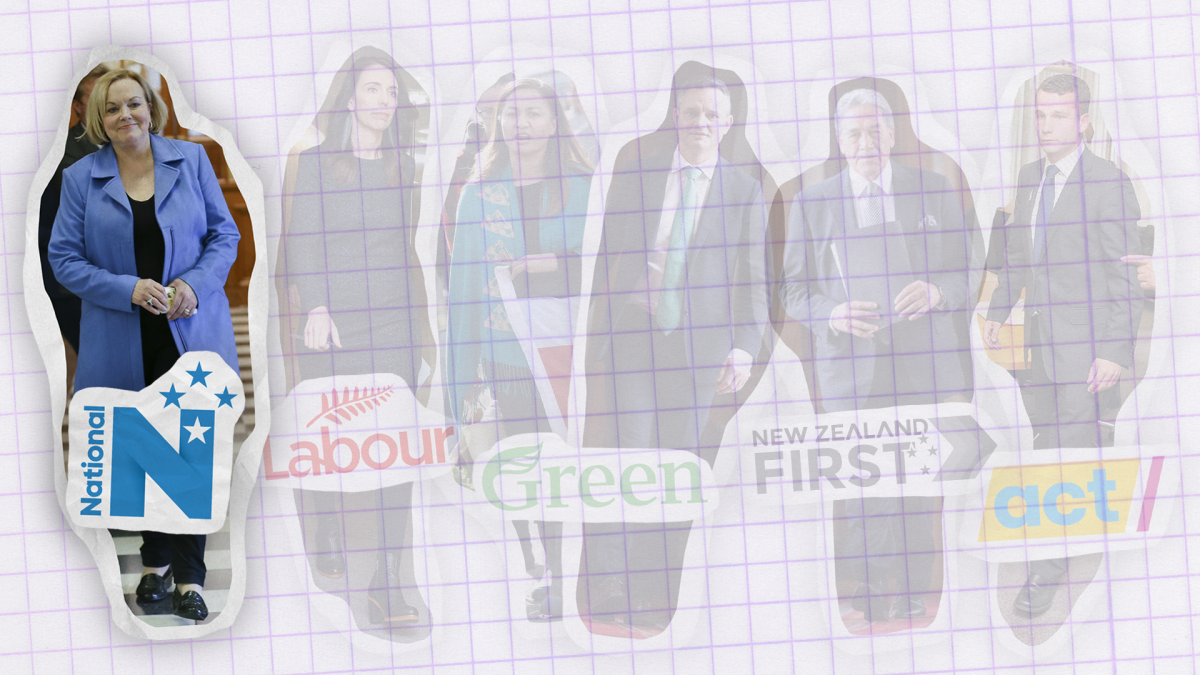 Slogan: "Strong Team. More Jobs. Better Economy."
Leader: Judith Collins
Where do National stand on the two referendums?
Weed
Even though the new National leader Judith Collins told the AM Show in 2018 recreational weed use will "probably" be legal soon, she has been tight-lipped about what way she will vote.
National doesn't have a set party policy for or against legalising recreational cannabis.
But their newly-appointed Drug Reform Spokesperson Nick Smith said earlier this month "Normalising cannabis will not make NZ healthier, safer, wealthier or happier," and that "soft on drugs does not work." He called the referendum a "Mickey Mouse process".
National's new Health Spokesperson Dr Shane Reti has put forward a bill increasing access to medicinal cannabis, but it explicitly would not include loose-leaf cannabis and it would be only accessible through pharmacies.
Last year, then-leader and now MP Simon Bridges urged New Zealanders to vote no in the referendum, saying the policy lacked clarity and had "many unanswered questions". MP Paula Bennett has been vocally against the referendum, saying there is a "high risk of normalisation" among young people.
And it seems like a lot of National voters are pretty against it. A recent poll revealed 49% of New Zealanders would vote to keep weed illegal - these voters were more likely to be people over 70 or National voters. While the 40% that voted "yes" were more likely to be young, Māori, Green or Labour supporters and Wellingtonians. Shocking.
Euthanasia
For most bills that are debated in Parliament, political parties take a stance on one side and then all their MPs have to vote that way. But for a few bills, especially those on controversial issues, parties can allow their MPs a conscience vote - which means there is no party position and each MP can vote according to how they personally feel in accordance to their morals, ethics or religion.
National allowed their MPs a conscience vote on legalising euthanasia, and the majority voted against it. 38 National MPs opposed the bill, while only 17 National MPs voted in favour, making them the only party that had a majority vote against it.
What are National's big priorities?
Building new infrastructure
National recently announced what they are calling the "biggest infrastructure package" in New Zealand's history. If elected, they would invest $31 billion on transport projects over the next decade, half of which would be developed in the Upper North Island. To put that amount of money into context, remember the entire 2020 budget was $50 billion ($20 billion of which is yet to be allocated).
Projects would include a four-lane expressway linking Whangarei to Tauranga and a second Waitemata harbour crossing, in the form of two double-decker tunnels with road and rail on each level. They also want to scrap Labour's plans for light rail to Auckland Airport and replace it with a heavy-rail line from Puhiui to the airport, later extending to Onehunga.
Charging New Zealanders who return home while we have Covid quarantine
If National is elected, they want to charge every adult returning home $3000, and children $500 to cover the cost of Covid managed isolation. National deputy leader Gerry Brownlee told Newshub New Zealanders have had "plenty of time to return home", and it is unfair for taxpayers to cover the bill.
Opening New Zealand's borders to international students
In order to capitalise on the $5.1 billion international students contribute to New Zealand's economy each year, National would allow them back into the country. Students would have to get tested, go into quarantine and stay at facilities that are audited by the Ministry of Health.
Reskilling and rebooting the workforce
In an attempt to support those who lost their job to Covid-19, National wants to scrap teacher registration fees and reverse vocational education reforms. They also want to offer businesses $10,000 for every new employee they hire (with a cap of 10 employees per business).
Also, if a business can show they have experienced a revenue loss of 50% over two months, they will be able to claim back the GST they paid over six months up until January 2020, with a maximum amount of $100,000.
Funding boost for tourism industry
National wants to allocate $100 million worth of grants the tourism industry can apply for to stimulate tourism in the area. The money will be distributed over four years.
You can read National's list of policies here on their website.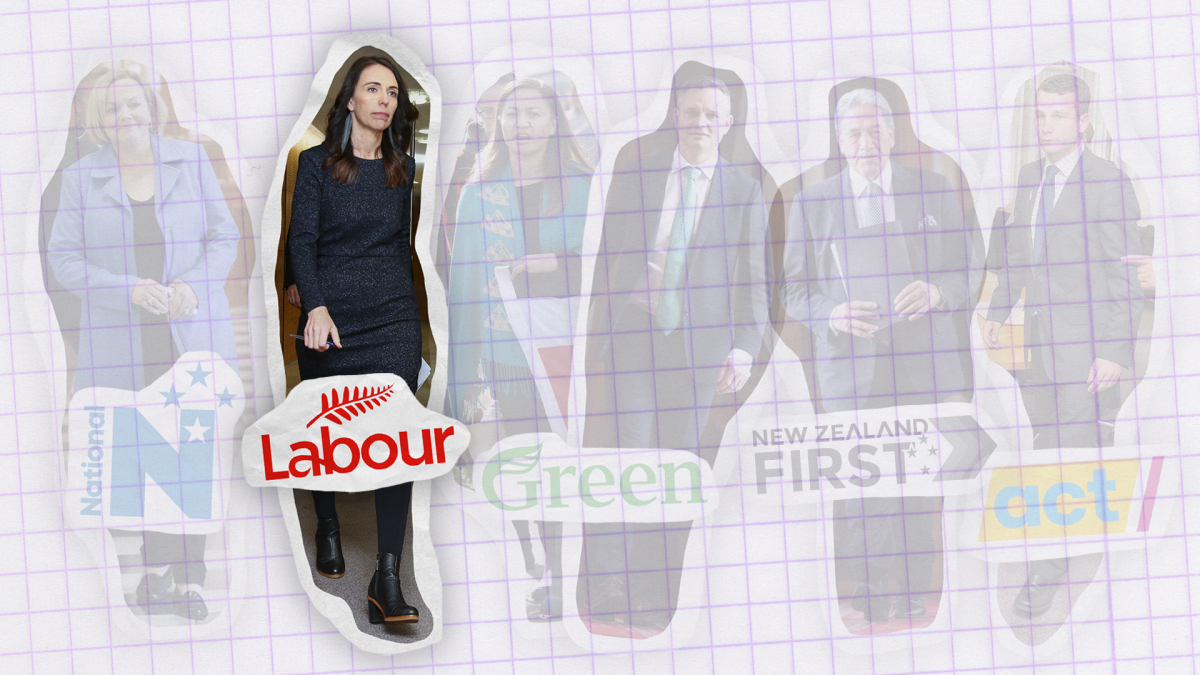 Labour Party
Slogan: "Let's keep moving"
Leader: Jacinda Ardern
Where does Labour stand on the two referendums?
Weed
Despite the cannabis referendum being part of the agreement that Labour made with the Greens that helped them form government (called a confidence and supply agreement), Labour does not have a party-wide stance on whether recreational cannabis should be legal.
Justice Minister Andrew Little said in a statement in 2019 the coalition government was "committed to a health-based approach to drugs, to minimise harm and take control away from criminals." But Prime Minister Jacinda Ardern has shied away from giving her personal thoughts on the matter, and along with Andrew Little said it is up to New Zealanders to decide.
Euthanasia
Labour also allowed its MPs a conscience vote on euthanasia, and they were far more likely to vote in favour of the bill than National - 33 MPs voted for, while 13 MPs voted against.
What are Labour's big priorities?
Unlike most other parties, Labour isn't announcing any party-specific policies until their campaign launch on August 8, less than a month before voting starts. It's a unconventional move, but Jacinda Ardern says she is focused on governing the country, implementing current government plans and spending and staying diligent about Covid-19. To get a feel for what Labour is about, the 2020 Budget is a good start. The $50 billion budget, which the party described as the "most significant commitment by a New Zealand government in modern history", aims to rebuild the country after Covid-19. But it has been widely criticised by other parties for not having a clear plan to rebuild the economy, ACT leader David Seymour says the budget is just "throwing money at our problems".
Here are some of the key points of Labour's 2020 Budget. When they announce their election policies on August 8, we'll update them here.
Wage Subsidy and Jobs
In the 2020 Budget, Labour extended the wage subsidy by another eight weeks for businesses who had lost 50 percent of their revenue to Covid-19.
New Zealanders whose jobs were impacted by Covid-19 will have access to free training in trade industries including construction, agriculture, manufacturing, community health, counselling and care work.
An environmental job scheme will create 11,000 jobs in regional projects like weed and pest control and enhancing biosecurity.
Health
District Health Boards were given the largest funding boost in history, $3.9 billion, in the 2020 Budget.
Social services and Housing
An extension of free school lunches, funding for family violence services and food banks were all part of the 2020 Budget under Labour.
They also announced funding for 8000 new public and transitional homes for vulnerable people and the extension of home insulation and heating programmes.
Transport and Tourism
In the Budget, the Labour-led government announced $1.3 billion to be spent on upgrading trains, ferries and building new railway tracks and $400 million to be used to help stimulate the tourism industry.
Education
The government also put $20 million towards a tertiary hardship fund for those who can't access other grants and $200 will fund Kohanga Reo to help revitalise te reo. Early learning teacher salaries will get a well deserved salary increase.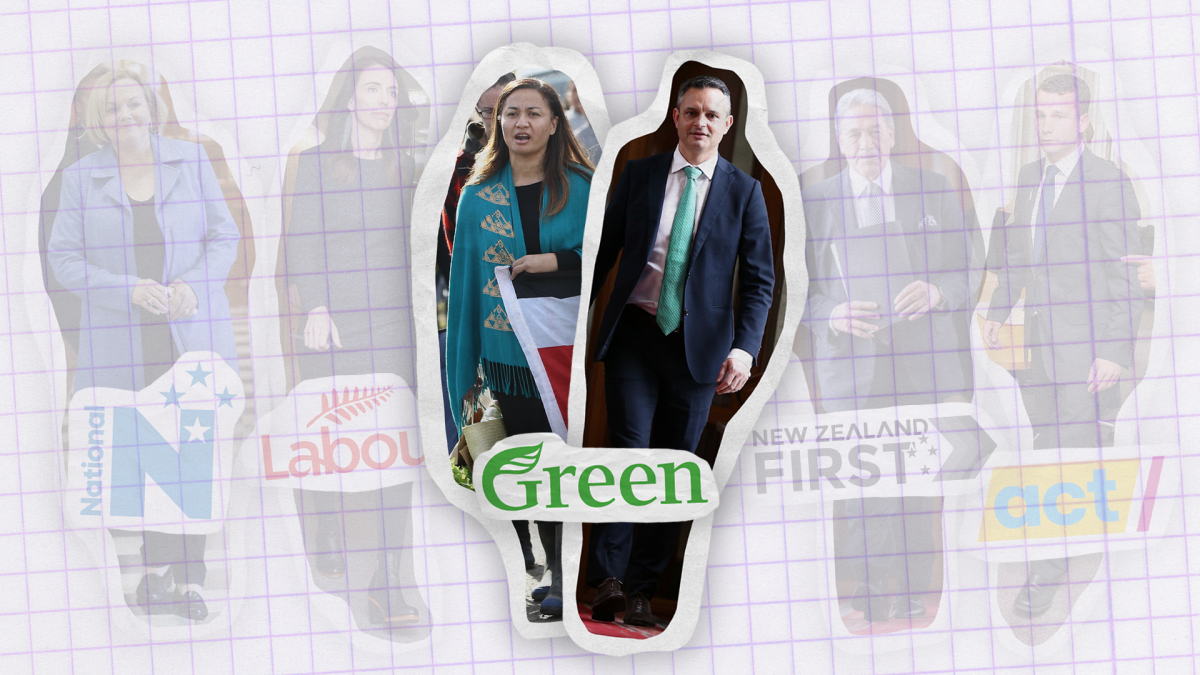 Slogan: "Love New Zealand"
Leaders: James Shaw and Marama Davidson
Where do the Greens stand on the two referendums?
Weed
The Green party has been a driving force for drug reform in New Zealand parliament. They strongly and unanimously believe cannabis should be legal for medical and recreational use, but there should be regulation including an age restriction.
The Greens want the government to treat all drug use as a health issue, rather than a criminal one, by shifting funding to addiction treatment, rehabilitation programmes and mental health support to reduce harm.
Euthanasia
All eight Green MPs voted in favour of the bill on the condition more safeguard procedures would be active, meaning only terminally ill people were eligible and could not be coerced by someone else.
What are the Green's big priorities?
Ditching fossil fuels for good
One of their biggest goals is to switch New Zealand to clean energy. The policy, "Our Clean Energy Plan" would end coal use by 2030, adjust regulations to make it easier to build wind turbines and ban new industrial coal boilers within the first 100 days in Government. They also want to halve the cost of installing solar panels for private homes and provide grants for companies to invest in solar energy, as well as upgrading all 63,000 social and community homes (state houses) with solar panels. They've proposed a clean energy industry training plan to help thousands into sustainable jobs.
Improving parental leave
The Greens want to increase parental leave to 13 months and allow parents to negotiate flexible working arrangements with their employers. They also want to make workplaces and public spaces more child friendly by providing facilities for mothers to breastfeed.
Closing the gender pay gap
Green Minister Julie Anne Genter passed a landmark law for Equal Pay this week. The bill, which passed unanimously, would make it easier for business, workers and unions to bargain effectively and fairly for pay equity.
Tax on wealthy
In their poverty action plan, the Greens proposed two new tax brackets for high earners, which is a ballsy move in politics. Currently the highest tax rate is 33 percent for everyone that earns $70,000 or more. The Greens are proposing that people who earn over $100,000 should pay 37 percent tax on their income, and those who earn over $150,000 should pay 42 percent.
These two new tax brackets would generate $1.3 billion more in tax intake for the government each year, but would only impact 7% of the population. (Yes, only 7% of New Zealanders earn more than $100,000).
As part of their poverty action plan, the Greens also put forward a 1 percent tax on net wealth over $1 million and a 2 percent tax on net wealth over $2 million, which would be payable every year on things like houses, shares, business assets, even expensive cars and art. The policy concluded it would only impact 6 percent of the population but would generate $7.8 billion in its first year.
But the policy was criticised immediately by the Labour Party, saying the revenue didn't factor in how people would hide or change the value of their assets to avoid paying tax. Despite 83 billionaires, including New Zealand's The Warehouse Founder, publicly asking governments to tax them more, wealth or capital gains tax is a wildly unpopular (and potentially an election losing) topic in New Zealand. Labour aren't ruling out their own tax policy, but they are yet to tell us what it would look like.
Reduce poverty with a guaranteed minimum income and more welfare
The Greens would use the revenue from the wealth tax and new tax brackets to fund a guaranteed minimum income. This would give those not in full-time work (including part-timers and students) a payment of at least $325 a week after tax. People with kids or disabilities would receive more. To put this into perspective, currently the Job Seeker benefit for a single adult is $251 a week.
They also want to increase the minimum wage, give all families a universal child payment of $100 in the first three years of every child's life, and further increase benefit levels.
You can read the list of Green policies here on their website.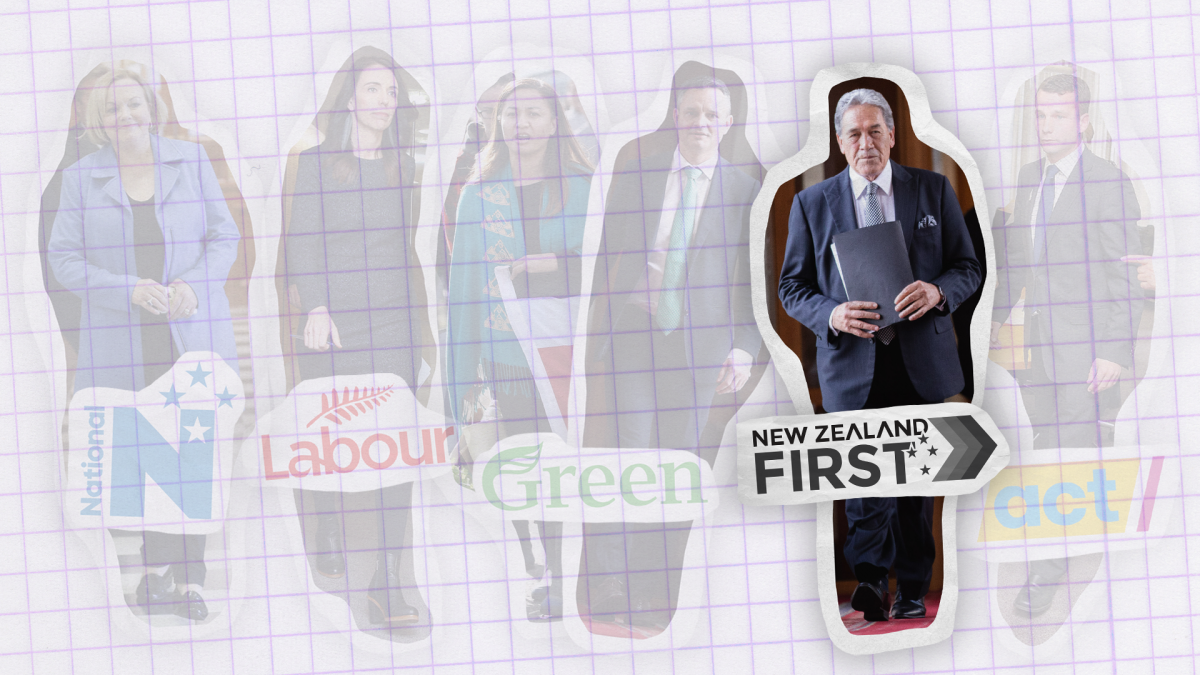 New Zealand First Party
Slogan: "Balanced, effective, commonsense"
Leader: Winston Peters
Where does New Zealand First stand on the two referendums?
Weed
Despite being known for his sharp tongue in politics for nearly four decades, New Zealand First leader Winston Peters hasn't been very talkative about his personal stance on legalising recreational cannabis. He told TVNZ in 2018, "it doesn't matter what I support… In the end we've got to balance up the pros and cons as I say, and let the people decide what they think is fair and reasonable." The New Zealand First website says they support "attitudes which encourage rehabilitation rather than attack the abuse of drugs and alcohol".
Euthanasia
New Zealand First didn't allow its MPs a conscience vote on euthanasia, meaning all their MPs had to vote according to the party line. This meant they all voted unanimously in favour of the euthanasia bill in its third reading, on the condition that the issue would also go to a public vote (which it will at the referendum that we get to vote on on September 19th.)
What are New Zealand First's big priorities?
Bringing back the universal family benefit
New Zealand First's first election policy is to re-establish a universal family benefit. Every family with children under the age of 16 will receive a weekly allowance regardless of their income. The policy would also allow families to use the money to put down a deposit for a first home.
New Zealand had a universal family income back in 1946, but it was replaced by the rather strict (and often problematic) means tested system we have today. The finer details, like how much families will be entitled to, are yet to be announced.
Moving the Auckland Port to Whangarei
If New Zealand First find themselves the king maker again, they say moving the Auckland Port to Whangarei is a "bottomline". They argue the move would free up prime real estate and reduce congestion in Auckland CBD and make Whangarei an economic centre. Despite Jacinda Ardern agreeing that Auckland is not the right long-term place for the port, New Zealand First and the Labour Party have clashed over where and when to move it. It's a whole big thing, you can read more about it here.
More police presence
At his campaign launch on July 19, Winston Peters also committed to 1000 new frontline police officers over the next three years. He said it was a choice between "cuddling crims, or recruiting another 1000 police". A year ago, he told Magic Talk New Zealand would need more police if the cannabis referendum does not pass.
A strict cap on immigration
Winston Peters is infamous for his hardline attitude towards immigration. If re-elected, he said at his campaign launch, he wants to limit the amount of immigrants allowed into New Zealand each year to 15,000, and only highly-skilled people will be welcome. In 2019, about 149,000 migrants arrived in New Zealand. In any coalition, Winston will demand the immigration portfolio because "old parties have failed us", he said in his speech.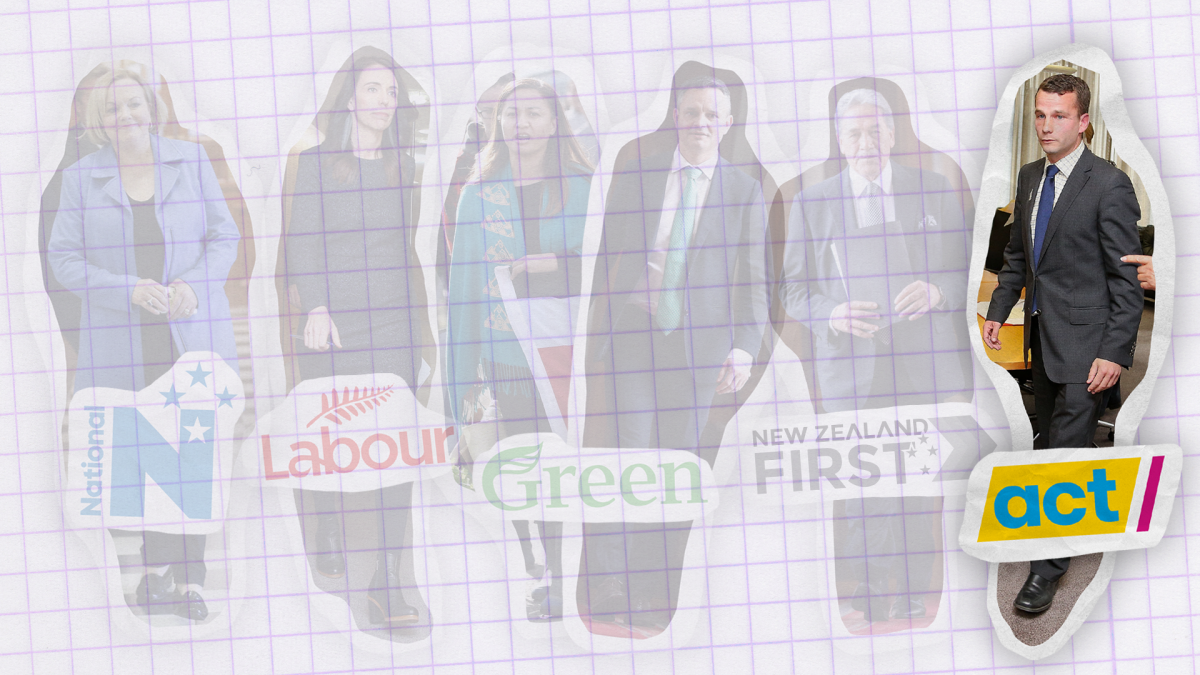 ACT Party
Slogan: "For Freedom"
Leader: David Seymour
Where does the ACT party stand on the two referendums?
Weed
Even though ACT leader David Seymour didn't enjoy blazing once 10 years ago, saying "all it did was make me really hungry", he welcomed the recreational cannabis referendum. In a 2018 statement he said there was a "growing demand from New Zealanders for a more liberal, health-focused approach to drugs as prohibition has been shown to be a failure."
Euthanasia
David Seymour led the fight to give terminally ill New Zealanders the right to assisted dying. He is the MP in charge of the End of Life Choice Bill and voted in favour of it.
What are the ACT party's biggest priorities?
Tax cuts, but also cut the minimum wage
Quite the opposite to the Greens tax policy, in the ACT Party's alternative five step Covid-19 recovery budget, they promise to cut taxes to free up spending and investment money. GST would temporarily go down from 15 percent to 10 percent, until June next year.
Those who earn between $48,000 and $70,000 would get a tax cut. Their rate would go down from 33 percent to 17.5 percent, putting them in the same tax bracket as those who currently make $14,000 to $48,000.
You may be paying less GST, but if you are on minimum wage, you'll also be earning less. ACT wants to cut back the minimum hourly wage to $17.70, to make it cheaper for businesses to hire people. The minimum wage is currently $18.90 after an increase in April 2020.
Open New Zealand's borders for tourism
In order to restart the tourism industry, ACT wants to open New Zealand's borders to countries with low Covid-19 cases, including Taiwan, South Korea and Australia.
Increase funding of public health by 50 percent and make one National Public Health Service
In order to improve New Zealand's readiness for future events, or the possible second wave of Covid-19, ACT wants to permanently increase funding to public health by 50% to $660 million a year. They also want to abolish the 12 existing Public Health Units across the country and make a National Public Health Service.
A new approach to mental and health and addiction services
ACT wants to make a "world-class" commissioning agency, called Mental Health and Addiction New Zealand, that would assess someone's individual needs and then contract the best providers for care and therapy. The system would use the $2 billion spent each year by the Ministry of Health and different DHBs, but make the system more of a referral system rather than a provider.
And here's a glossary of some key political jargon words I've used in this week's column:
Bill - A bill is a proposal to make a new law or to change an existing one. Only Parliament has the power to pass a bill, but it goes through multiple stages where MPs and sometimes the public will have their say.
Referendum - Referendums are a public vote on a question, with typically a yes or no answer. They can be citizen-initiated or government-initiated issues, but they allow for the wider population to have a say.
Binding referendum - A binding referendum means the results have to be implemented, regardless of what party comes into power afterwards. Whereas the results of a non-binding referendum do not have to be acted on by the government.
Conscience vote - Conscience votes allow MPs to vote according to their personal beliefs, not an official stance set by the political party. Conscience votes are often granted for bills that are ethically or morally complex, such as euthanasia.
Party-wide stance - A party-wide stance means all of the MPs in the party have to vote in line with the official position of the party.


Infographics and images by Liam van Eeden.