New Zealanders will have the chance to vote on whether assisted dying should be legalised in a referendum held at this year's election on September 19. Here's what you need to know.
The End of Life Choice Act has been one of the most fiercely debated in parliament and attracted a record 39,000 public submissions before it was officially passed in November last year.
It was introduced by Act leader David Seymour and would give certain terminally ill people the option to request assisted dying (commonly referred to as euthanasia). The Bill has already passed and become an Act but faces its last hurdle at this year's General Election when it will be put to a referendum.
The outcome of the referendum is binding, so if more than 50 percent of voters vote yes when asked the question: Do you support the End of Life Choice Act 2019 coming into force? then it will become law 12 months after it was passed in Parliament.
This is different to the referendum on the Cannabis Legalisation and Control Bill which may or may not be taken through the parliamentary process after a yes vote of 50 percent or more.
What's the current situation?
Currently, there are limited options for end of life care. Most terminally ill people will go into palliative care which supports people with life-limiting conditions by making sure they are comfortable, their pain is managed and their family are supported. Palliative care can be given in a person's home, at the hospital, community clinics or hospice.
A 2017 review of palliative care by the Ministry of Health forecasted the number of people needing palliative care would increase by 51 percent over the next 20 years.
Euthanasia advocacy groups say sometimes pain and suffering cannot be relieved through the therapies offered by palliative care.
At the moment there is no legal option for people to get medical assistance for their own death, although 12 percent of doctors in a group polled by NZDoctor said they had "intervened to help a terminally ill person die". But half of doctors polled said this was rare.
David Seymour's End of Life Choice Act was the fourth Bill of this kind to be introduced to Parliament. It was sparked in 2015 when Wellington lawyer, Lecretia Seales, argued at the High Court that she should be able to die without being subjected to suffering and that her doctor should not be prosecuted for assisting. She argued under the Bill of Rights Act 1962, she had the right not to be subjected to the suffering of a long death.
She had been diagnosed with brain cancer four years prior and passed away (unassisted) the day the judgement on her case, Seales v Attorney General, became public.
Although the judgment found the Court did not have the power to grant Lecretia her wish, the case prompted a response from Parliament. Shortly after, the End of Life Choice Bill was introduced by Act leader David Seymour.
In the first reading of the Bill, he said, based on surveys done by the University of Auckland Medical School, that "4.5 percent of New Zealanders who die, die when they are informally euthanised—given pain medication with the express intent of ending their life."
In the first reading of the Bill, David Seymour also pointed out other alternatives to palliative care.
"A person at the end of their life, suffering badly and unable to be helped by palliative care, can commit amateur violent suicide," he said.
He also said other options were refusing treatment and suffering until eventual death.
He argued that enacting the Bill was needed to give people the choice to take control of the end of their lives.
"We know from extensive studies of the coronial records of this country that five percent to eight percent of New Zealand's suicides were by people who were dying and wanted to take control of the end of their life," said David Seymour in the first reading.
"They didn't want to die. They weren't depressed. They weren't suicidal, but they knew what was coming and they wanted control."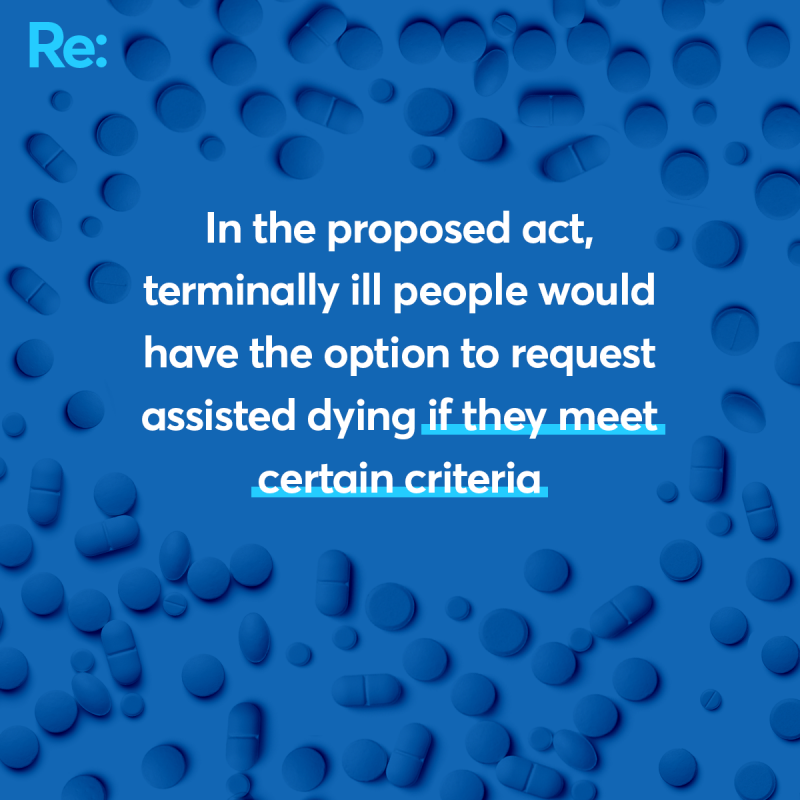 What the Act will change:
People will be able to request assisted dying if they are:
Aged 18 or over

A citizen or permanent resident of New Zealand

Judged by two doctors as suffering from a terminal illness that will likely end their life within six months

Experiencing significant and irreversible decline in physical capability

Experiencing unbearable suffering that can't be eased

Able to make an informed decision about assisted dying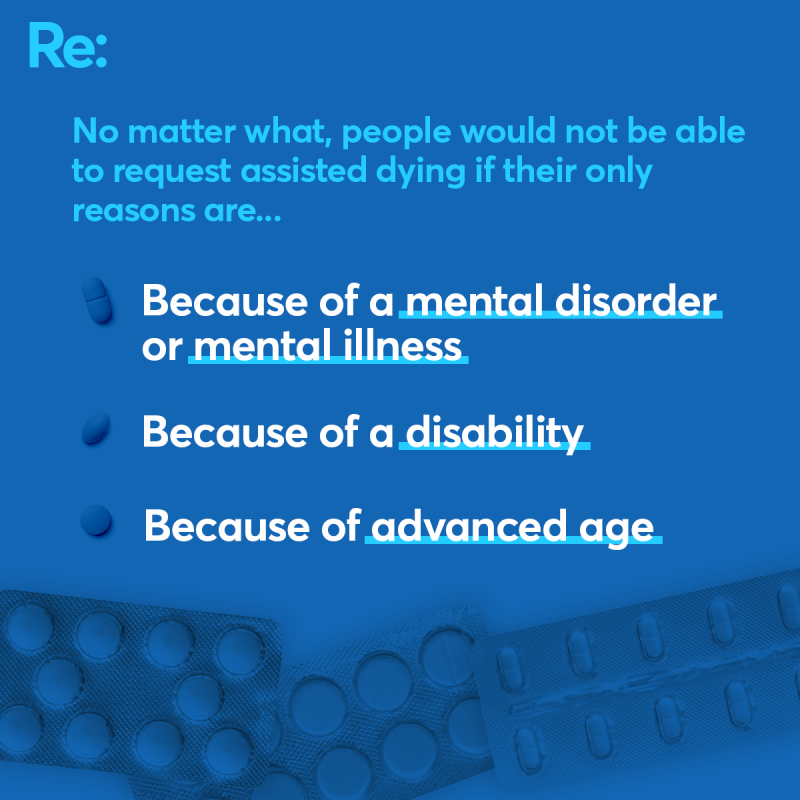 People must meet ALL of the above criteria. People will not be able to request assisted dying if their only reasons are:
Because of a mental disorder or mental illness

Because of a disability

Because of advanced age
How will the process work if someone wants to request assisted dying?
To request assisted dying, a person must ask their doctor directly. No one, including a doctor, will be able to suggest the option to a patient while providing them with health care. The decision must be entirely their own.
Once the request is made, two doctors will assess whether the patient meets the criteria. If either of them are unsure about whether the patient is capable of making an informed decision about assisted dying, the patient will need to see a psychiatrist before going any further.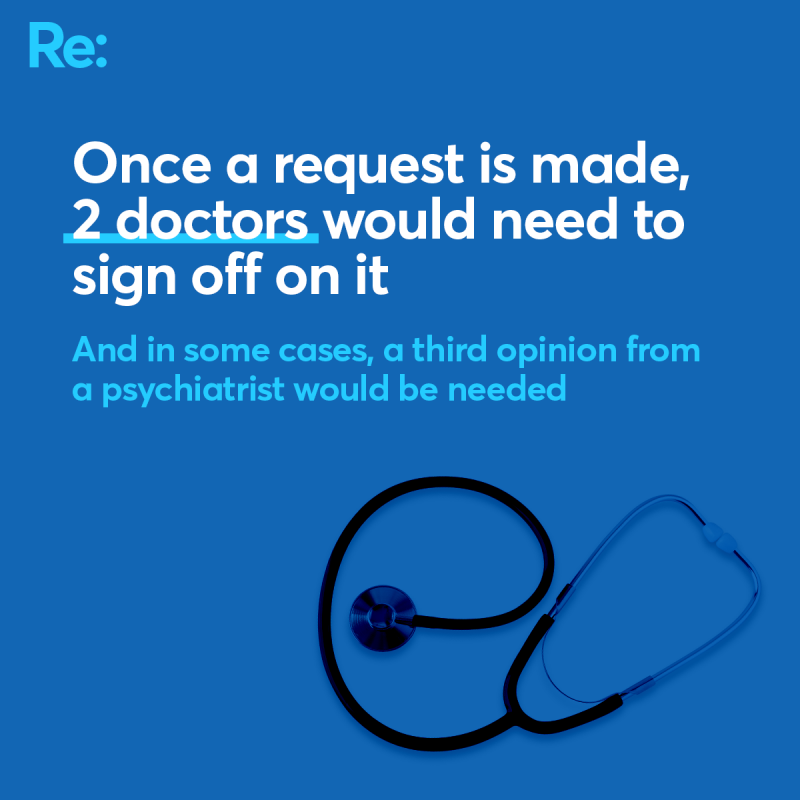 If the psychiatrist determines the patient is able to "understand, retain, weigh, and communicate information", that patient can be deemed eligible.
Medical doctor Sinead Donnelly, who is against the End of Life Choice Act, says the way the law is written means that a patient could be euthanised within approximately 72 hours of being diagnosed with a terminal illness.
This is unlike other countries who have 'cool down' periods of roughly 10 days to allow the patient to think about their decision or change their mind if need be.
A spokesperson for David Seymour confirms there is no legislated 'cool down' period but says Ministry of Health officials advised the paperwork and approval process would take no fewer than 15 days.
Once eligibility is confirmed, the patient chooses the date and time, and the doctor needs to prescribe the lethal drugs at least 48 hours before they are given to the patient. The patient can also choose to change the date and time at any point.
If paperwork is approved the same day as diagnosis, a patient, in theory, could be dead 72 hours after that.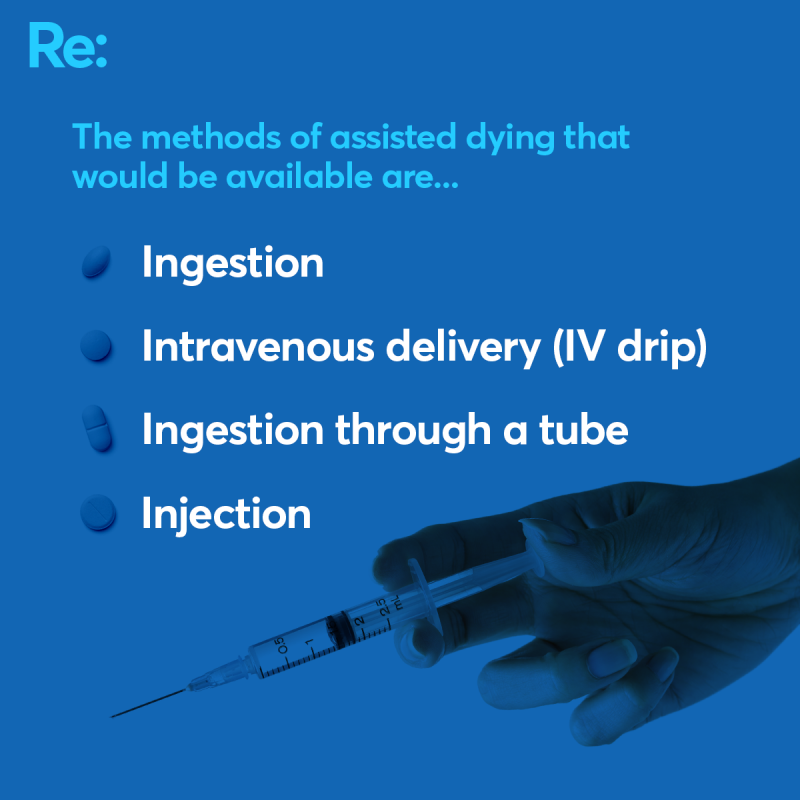 Methods available will be:
Ingestion, triggered by the patient

Intravenous delivery (aka an IV drip), triggered by the patient

Ingestion through a tube, triggered by attending medical or nurse practitioner

Injection, administered by attending medical or nurse practitioner
The attending medical or nurse practitioner will then remain available to the patient until they die.
In all instances, before a lethal dose of medication is administered, a medical or nurse practitioner must ask the patient if:
They still wish to take the medication

Would like to delay taking the medication (up to a period of 6 months)

Remove their request for assisted dying completely
If the patient chooses not to go ahead for any reason, the medication must immediately be taken away from the patient.
What are the safeguards?
If a doctor or nurse practitioner is suspicious a patient is being pressured into assisted dying they must stop the process immediately.

The independent medical practitioner, or second doctor, must have five years experience.

A third opinion (which dictates whether a person is mentally fit to ask for assisted dying) must be from a psychiatrist and not a psychologist.

Other people involved in the patient's care and family members will also be spoken to to make sure there is no coercion at play
What do other countries do?
Euthanasia is legal in different iterations around the world including active human euthanasia, assisted suicide, passive euthanasia and assisted dying. Legal regimes for euthanasia varies between countries.
Active human euthanasia is when a person's actions deliberately cause a patient's death. Assisted suicide is when somebody helps someone commit suicide (for example by paying for a plane ticket to Switzerland - where assisted suicide is legal - or providing that person drugs that could end their life) and passive euthanasia is when a person doesn't directly cause a patient's death, but allows it to happen by withholding or removing therapy.
In New Zealand, the term assisted dying is used. The Act specifies that a person with a terminal illness or an incurable condition that would end their life within six months, could be helped by a doctor to die - usually by taking lethal drugs specifically provided by that doctor.
This is similar (but not exactly) to laws Canada passed in 2016.
The wording in the first version of David Seymour's bill that people with a grievous and irremediable medical condition would be eligible for assisted dying, was modelled off Canadian law. Through the Parliamentary process, this was criticized for being too lax and was tightened up by the time the final version of the Bill was passed.
In Canada, a grievous and irremediable medical condition qualifies as:
A serious and incurable illness, disease or disability

An advanced state of irreversible decline in capability

Enduring physical or psychological suffering which cannot be relieved

A natural death is reasonably foreseeable
The current version of New Zealand's End of Life Choice Act specifically outlaws mental illness and disability as reasons to be able to request assisted suicide, and specifies the patient must have six months or fewer to live, rather than a "reasonably foreseeable death".
In the first two years of Canada legalising Medical Assistance in Dying, a report showed 6749 people elected to end their lives under this law.
A further study showed most people who took up the option of medically assisted dying experienced high levels of physical and psychological suffering despite also using palliative care services. Their conclusion was that health and research communities should look further into their understanding and treatment of people making Medical Assistance in Dying requests.
Who is for and against?
When the Bill went through Parliament it was done as a conscience vote - which means MPs voted based on their personal views, rather than being required by their party to vote a certain way.
This means there's not one party who is pro-euthanasia and one who is against.
69 MPs voted for the bill, and 51 voted against. Here's some of what was said at the Bill's final reading:
David Seymour, Act
Leader of the Act Party David Seymour introduced the bill in 2015. He said it would improve current laws which prohibit assisted death and give the choice back to people who are suffering.
"We must remember why we are doing this. It's about how we treat the most vulnerable in our society," said Seymour in the Bill's third reading.
Chris Penk, MP, National
Chris Penk strongly opposed the Bill for a number of different reasons. His main arguments were that the Bill was still not airtight despite a number of changes, and was still widely misunderstood - including by its advocates.
He detailed a conversation he had with a supporter of the Bill who Penk had told:
"It would be possible for a person to receive a diagnosis of terminal illness on a Wednesday, gain the necessary approvals under the bill that same day, and be dead before the weekend."
Penk then explained to Parliament, "I have double-checked, as I had promised that constituent I would, and I can confirm, having read the bill, that there is no stand-down period, no time frame involved other than the 48 hours between the approval and the lethal dose of medication being administered."
He continued to raise the Bill's shortfalls including:
one of the doctors doesn't have to be a family/regular doctor

no independent witnesses are required at any stage

a person doesn't have to be mentally competent at the time when the lethal dose is administered - meaning the opportunity to reverse their decision is compromised

48 hours between initial approval and administration of a lethal dose is too short a period to allow a person to rethink or cool off
He also said palliative care is improving, as are technology and pain management techniques.
Tracey Martin, Minister for Children, New Zealand First
Minister Tracey Martin didn't identify exactly which side she was on (she ended up voting for the Bill) but said it was important to NZ First that this issue went to referendum so New Zealanders could have their say.
"This should be now for the New Zealand public," she said in the third reading.
"We've had our two years. We've had our hours and hours and hours of debate and this is where we are. We trust them to put us here; we should trust them with their own futures, however it lies."
What happens now?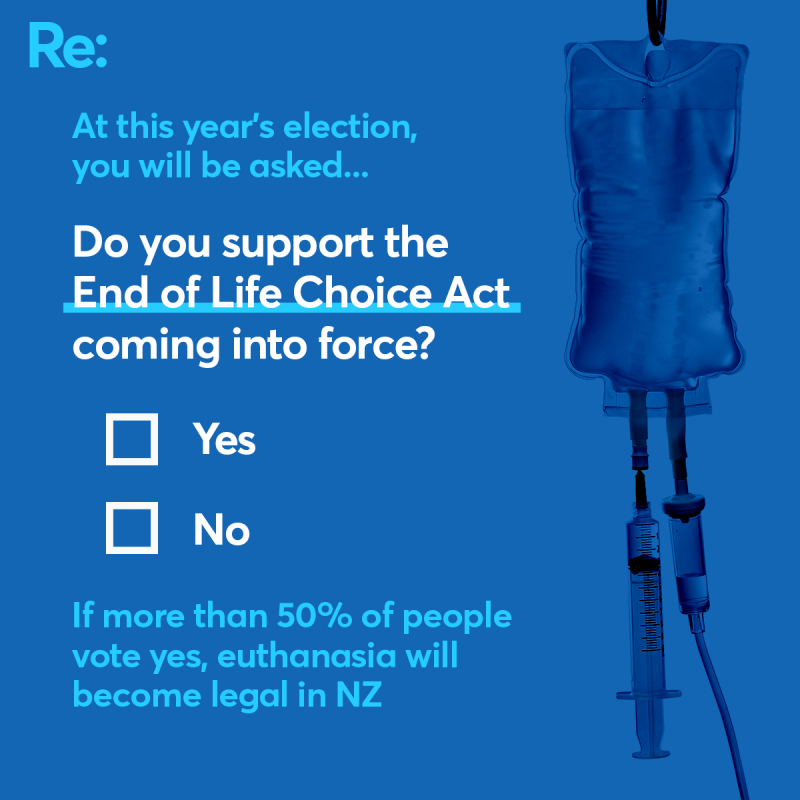 It's up to the voter. On September 19, you'll be able to vote yes or no on the question: Do you support the End of Life Choice Act 2019 coming into force?
If more than 50 percent of people vote yes, euthanasia will become legal 12 months after the final votes are announced.
Words by Cass Marrett
Infographics by Liam van Eeden