Despite lockdown lifting and New Zealanders travelling across the country over Christmas and New Year's Day, our Covid community cases have been surprisingly low.
Re: spoke to two Covid modellers about why that may be.
The Government used a "free and open" summer as a motivator for New Zealanders to get vaccinated against Covid-19 and the country got behind it, hitting 90 percent fully vaccinated by Christmas.
The traffic light system was introduced at the start of December to try limit the spread of Covid as the country opened up, with new preventative measures such as vaccine passes.
Even so, Covid modellers Dion O'Neale and Michael Plank, from research organisation Te Pūnaha Matatini, were expecting an upswing in Covid cases when the country opened up.
"I think it is fair to say I was pessimistic about what the numbers would be," O'Neale says. "I wouldn't have been surprised to see 100 cases a day or more, if things had gone badly."
Yet, the numbers actually went down.
During the summer break, the numbers dropped to a low of 18 new cases on December 28 and hovered around 50 new cases a day in the weeks following.
This week the numbers dropped to a new low of 14 on January 11.
Why our numbers were low
Plank says the primary reason for these low numbers is our high levels of vaccination.
"The vaccine makes it harder for the virus to spread. It's not perfect, you can still catch the virus and pass it on, but it is a lot less likely."
Overseas research from the Dutch Centre for Infectious Disease Control found a fully vaccinated person is 92 percent less likely to catch Covid-19 and 63 percent less likely to spread it to close contacts.
"When you have 90 to 95 percent of people fully vaccinated, the virus just hits a lot of dead ends," Plank says.
O'Neale says other guidelines such as mask use and vaccine passes have also played a role in the low numbers.
Part of why his case projections were high was due to uncertainty around how well New Zealanders would stick to these preventative measures.
"Anecdotally, it looks like people have been pretty good about trying to do the right thing," O'Neale says.
"The other week I was in a small rural town in the South Island. There were farmers rolling up in their Hilux to the general store and they already had their masks on."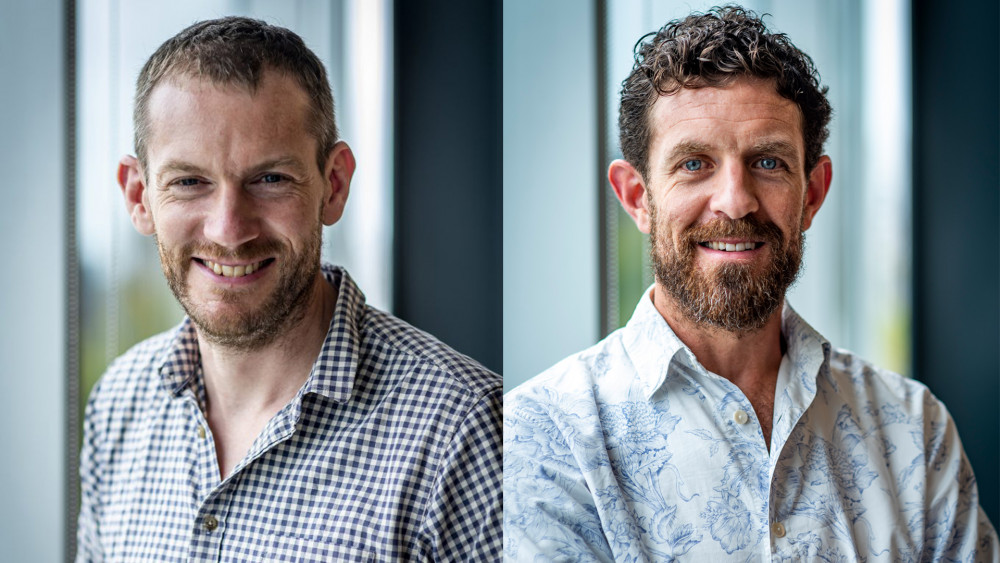 Michael Plank and Dion O'Neale. Credit: Supplied.
O'Neale had expected Covid precautions to be more relaxed in areas that had experienced little or no cases of Covid but he found the opposite with businesses and individuals generally closely following the rules.
"[With the country opening up] they were worried about a tidal wave of infected Aucklanders washing over them, and rightly so. So good on them for changing their behaviour to protect against that."
The summer break itself also helped slow the spread, O'Neale says, with people likely interacting with a smaller group of friends and family than they would day-to-day in a workplace.
People also spend a lot more time outside during the summer, O'Neale added, where it's harder for the virus to spread.
Are we missing something?
Another possible explanation for the low numbers is people who have caught Covid haven't been tested.
"There is a good chance that we are missing some cases," O'Neale says.
"Some people might have [not gotten tested to avoid impacting their holiday]."
The Ministry of Health tracks the number of cases that have been linked to previous cases. The percentage of unlinked cases gives an indication of how many untracked cases may be in the community.
At the start of November 2021, only 16 percent of cases were unlinked.
A month later when the traffic light system was introduced on December 3, that had risen to 26 percent.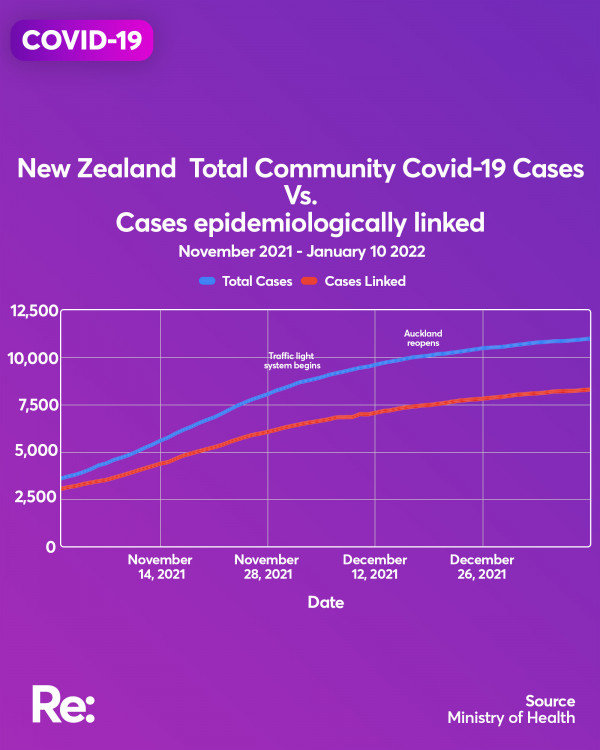 In the time since, with the country opening up and people going on holiday, the gap has actually slightly decreased to 25 percent.
Another possibility is some vaccinated people have caught Covid-19 and experienced such mild or no symptoms that they didn't realise they had the virus, O'Neale says.
"Many vaccinated people have symptoms so mild it is possible to go through a whole infection period and never realise they had Covid. But also, very possibly, didn't infect anyone either," O'Neale says.
"If they didn't have symptoms and didn't infect anyone, did they really even have Covid? You'd pick them up if you did a PCR test but otherwise it doesn't matter too much."
Can the low numbers last?
As much of a relief as it has been to see low numbers, Plank and O'Neale say we can't assume it will last.
With people now coming back to work and soon school, they say it is likely we will see numbers begin to climb.
Workplaces can try and mitigate this by instituting mask guidelines on-site and ensuring well-ventilated indoor spaces.
Vaccinations for 5 to 11-year-olds become available on January 17.
Plank says to prevent spread through schools, "we need to get vaccination numbers up in school kids as fast as possible".
However the biggest impact on our case numbers will be when the Omicron variant of Covid-19 arrives, Plank says.
While early research from Case Western Reserve University in the United States found that the Omicron variant is likely to be around half as harmful as Delta — the UK Health Security Agency found this variant to be over three times more transmittable.
This high rate of transmission could put a significant strain on healthcare systems just by the share number of people that can get infected in quite a short period of time, Plank says.
"You only have to look at Australia. They only reported their first Omicron case at the start of December, and look at their numbers now, with over 100,000 cases a day in the space of a few weeks."
Plank and O'Neale encouraged New Zealanders to keep up the good work, but to prepare for another year of fighting the virus.
"We've done really well, and are in a strong position, but we can't assume it is going to last," Plank says.
"The virus isn't going to disappear and with Omicron on the horizon, there is another storm brewing."
Banner image: New Years Day 2022 at Days Bay, Wellington, New Zealand, overlaid with the graph of new Covid case numbers November 2021 to January 9 2022. Photo: Chris James/iStock
More stories: