The police killing of George Floyd in the United States has sparked a wave of protests around the world. On June 1, New Zealanders marched in solidarity with the Black Lives Matter movement, also calling out police violence and racism in our own country.
Unarmed and begging, George Floyd died after a white Minneapolis police officer kneeled on his neck for more than eight minutes as he repeatedly told them "I can't breathe". The 46-year-old security guard had a six-year-old daughter and was known as a goofy "gentle giant". One of the three officers involved, Derek Chauvin, has since been charged with third degree murder and manslaugter.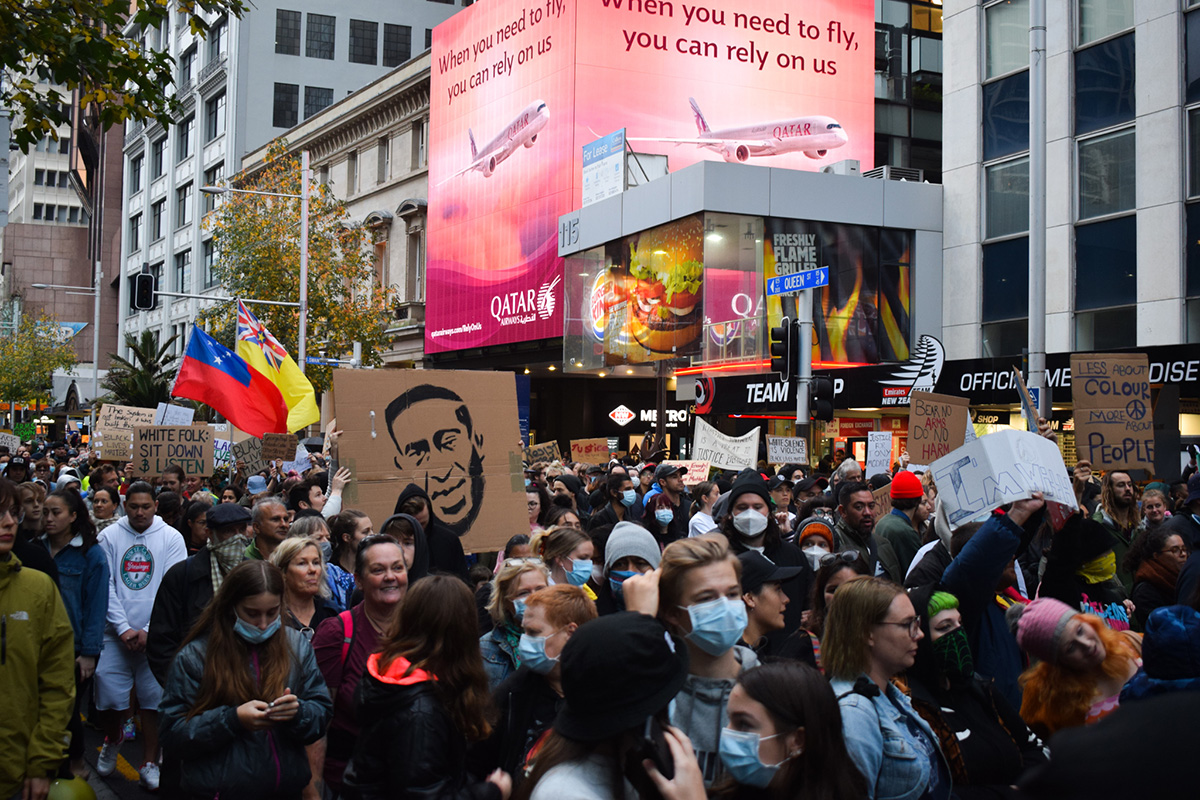 Protestors are demanding justice for George Floyd, but if history is anything to go by, chances are slim. Advocacy group Mapping Police Violence found that 99 percent of police killings in the United States from 2014 to 2019 did not result in officers even being charged with a crime, let alone convicted.
The protests also called out racism and police violence in New Zealand and raised concern about the arming of police. Between 2009-2019, two thirds of all those shot by New Zealand police were Māori or Pasifika. Police records show police are nearly eight times more likely to use force against Māori than Pākeha.
In October last year, New Zealand police began a six-month trial of Armed Response Teams (ARTs). This introduced full-time armed police units in Counties Manukau, Waikato and Canterbury - areas which have the highest rates of firearms incidents and dominant Māori and Pasifika communities.
Despite Police Commissioner Mike Bush saying the ART units would be used on crimes that caused "significant risk", data from the trial shows by far the most common use was for simple traffic stops - over 1400 of them.
In those six months, nearly half of those apprehended were Māori, with Pasifika making up another 11 percent. Three people were shot and killed. All were of Māori and Pasifika descent.
Police say the trial was in response to the Christchurch terror attacks and an increase in gun crime. But according to an OIA released to The Spinoff, firearms are used in less than one percent of all crimes, a rate that hasn't changed since 2013.
The trial, which ended in April, has been criticised for its lack of public consultation, particularly among the Māori community. A survey by ActionStation of 1155 Māori and Pasifika people found 85 percent did not support the trial, and 87 percent said knowing police were armed in their community made them feel less safe.
The police are now reviewing the trial and are asking for feedback on whether they make communities feel safer (you can email your feedback straight to the police at haveyoursay@police.govt.nz).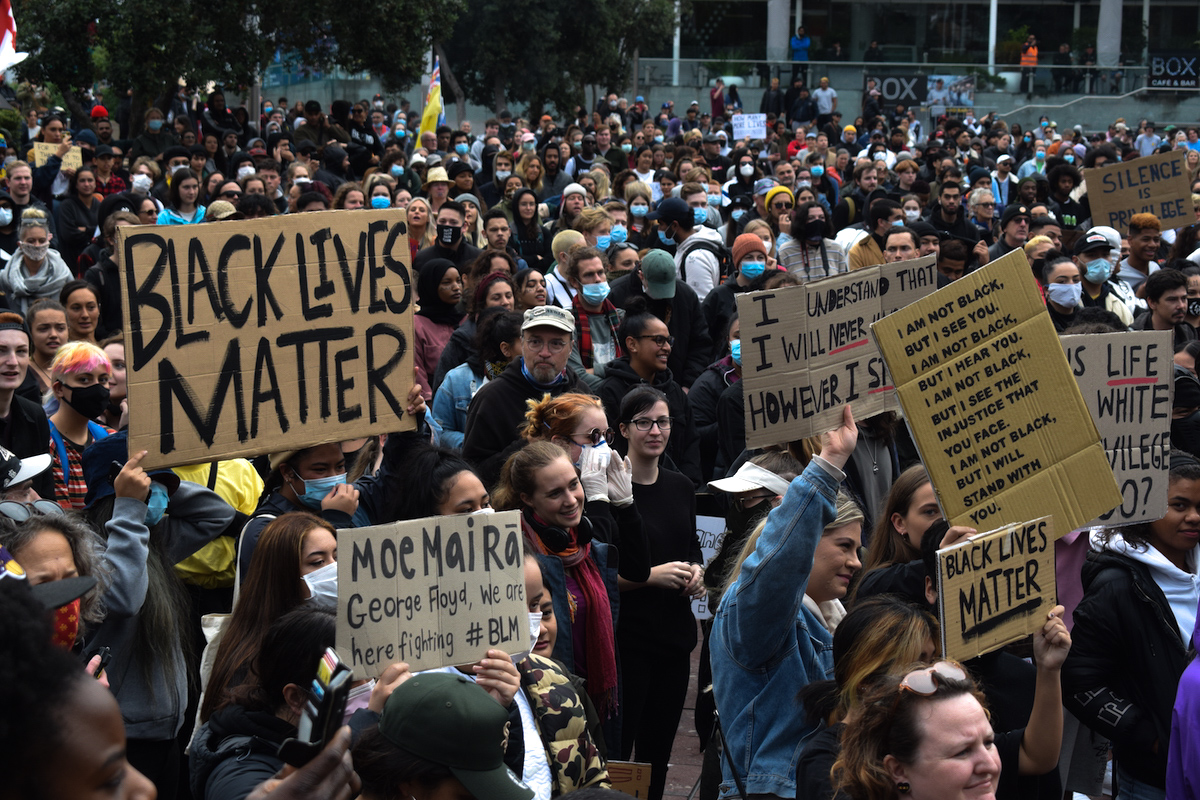 An overwhelming theme of the protests on Monday was how dangerous silence is in the fight against racism. Signs read "silence is violence", "if you don't stand up, you are complicit" and speakers called on Jacinda Ardern to condemn George Floyds's killing. Protestors in Auckland, Christchurch and Wellington told Re: why they showed up and refused to be silent.
In Auckland thousands of people gathered together in Aotea Square, marching down Queen Street to kneel outside the US Embassy.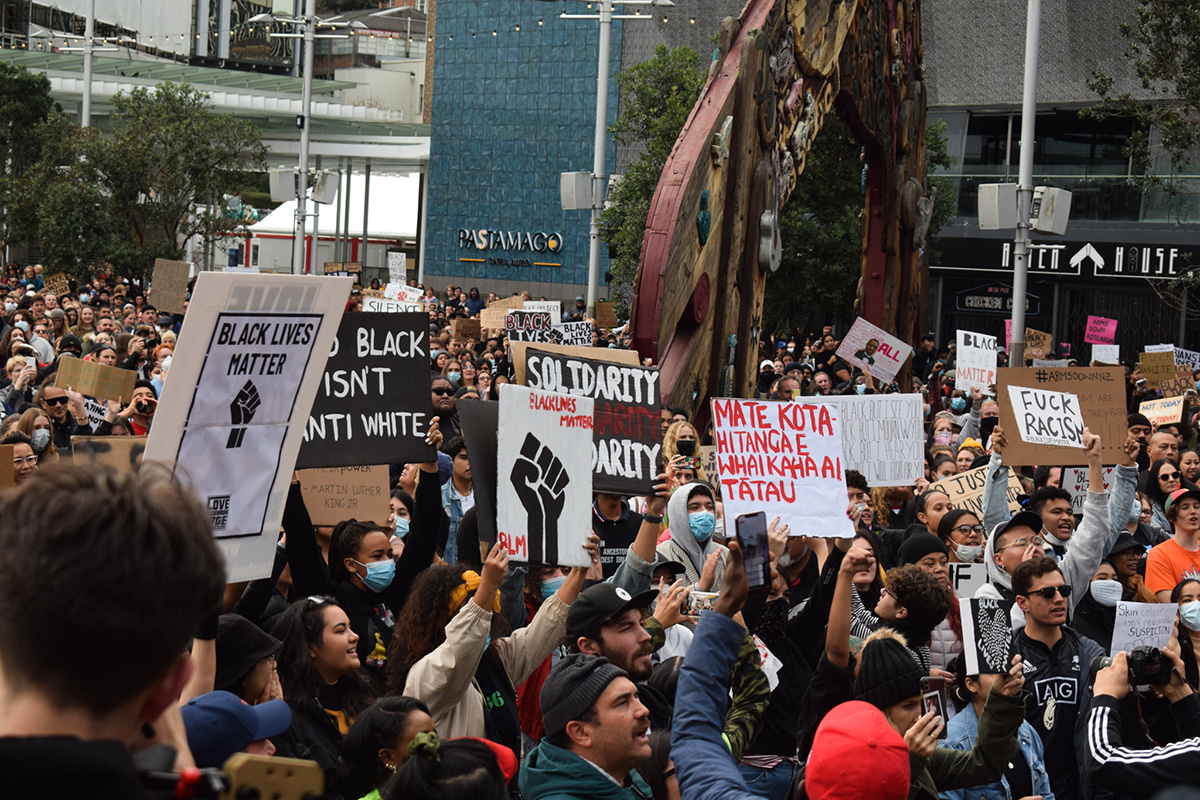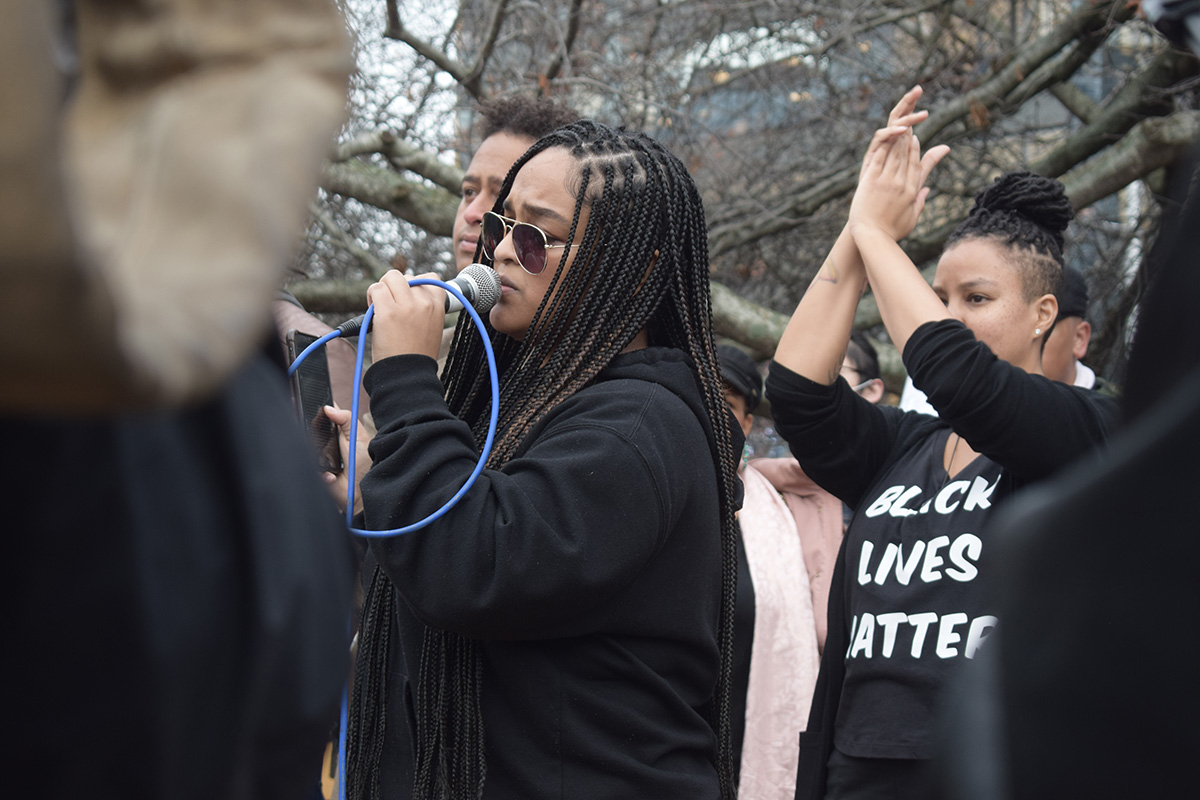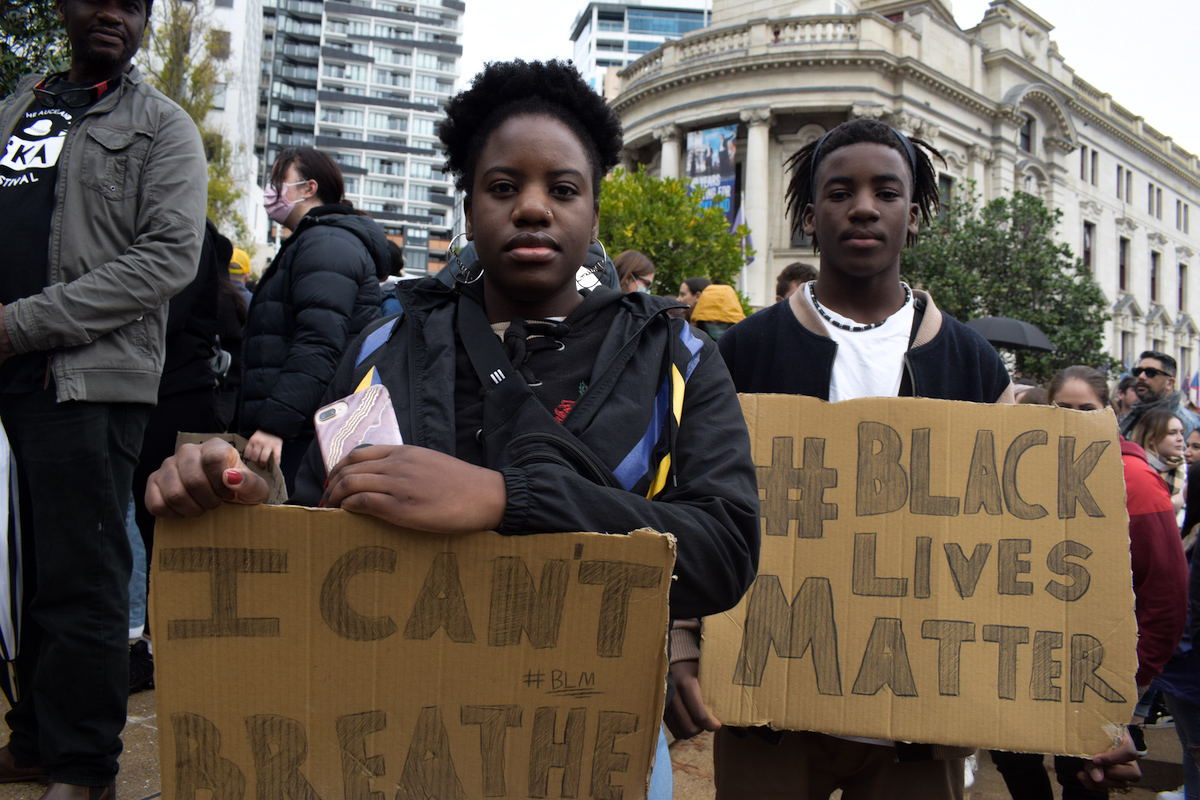 "Enough is enough," said 21-year-old Vimbai Kudakwashe. "We've heard stories about our grandparents who have done the same march and it's just happening all over again. Of course, all lives matter. But at the moment, the black lives are at risk. And it's just important to show that if we can all stand together we can all get past this tough time for all of us."
Vimbai turns to her brother to answer. "I'm here because I'm tired of seeing people my age or younger getting killed for no reason," Tinashe Kudakwashe, 15, replied. "I'm here because we have to make a stand, we have to talk. Because in the future things are going to be even worse if we don't act now. It'll just be chaos."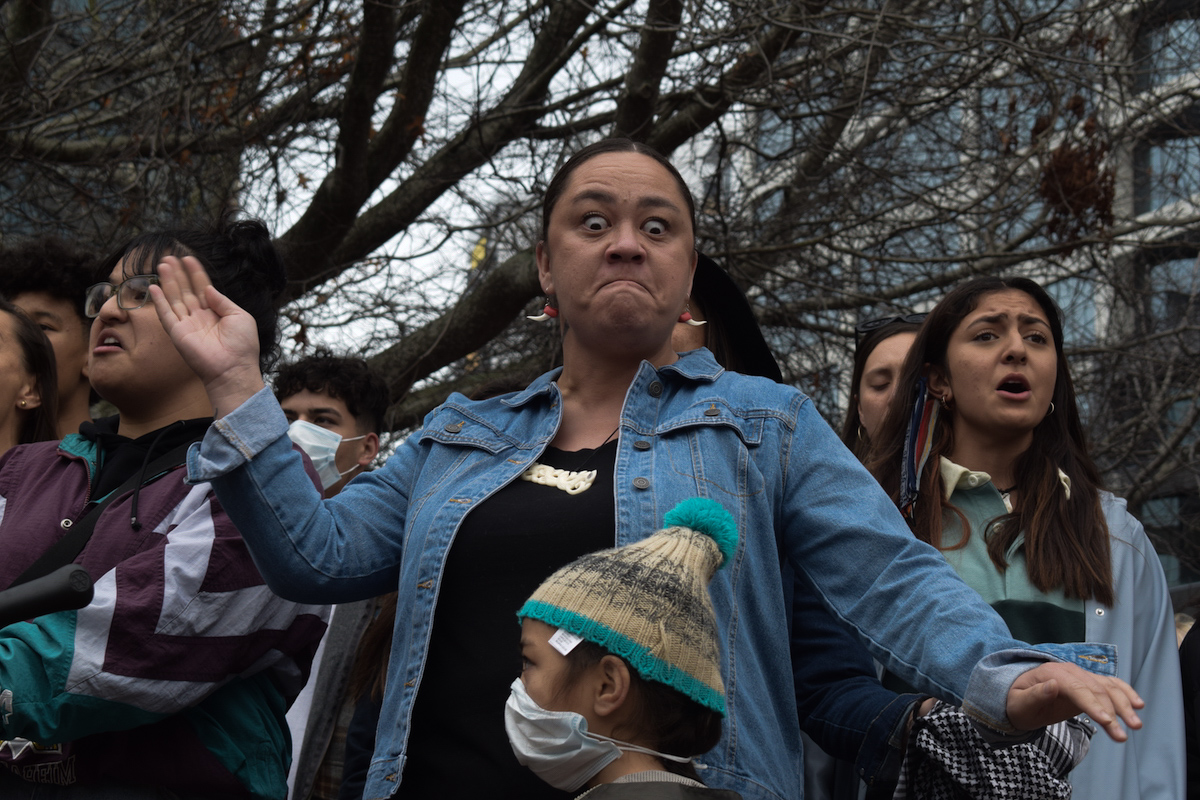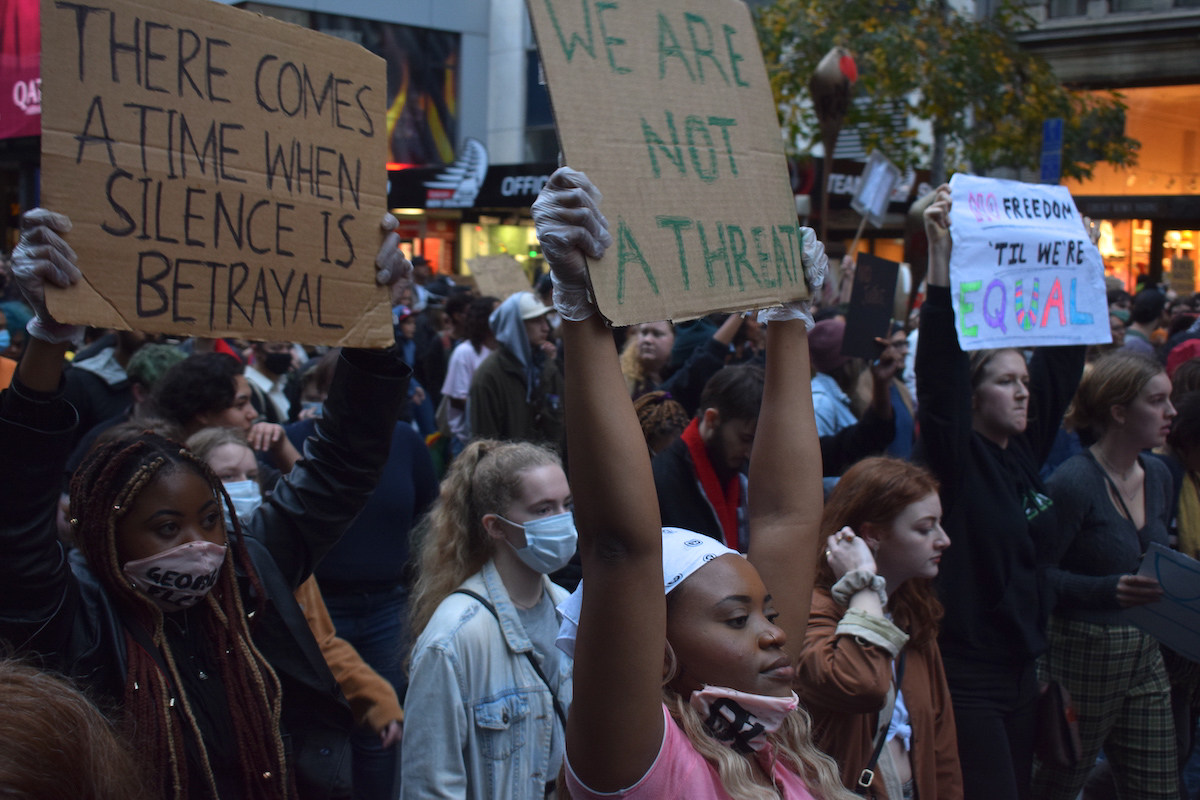 "I am here because black lives do matter. As Māori in New Zealand we should stand in solidarity with African Americans and any people who are subject to state oppression and violence," said Khylee Quince.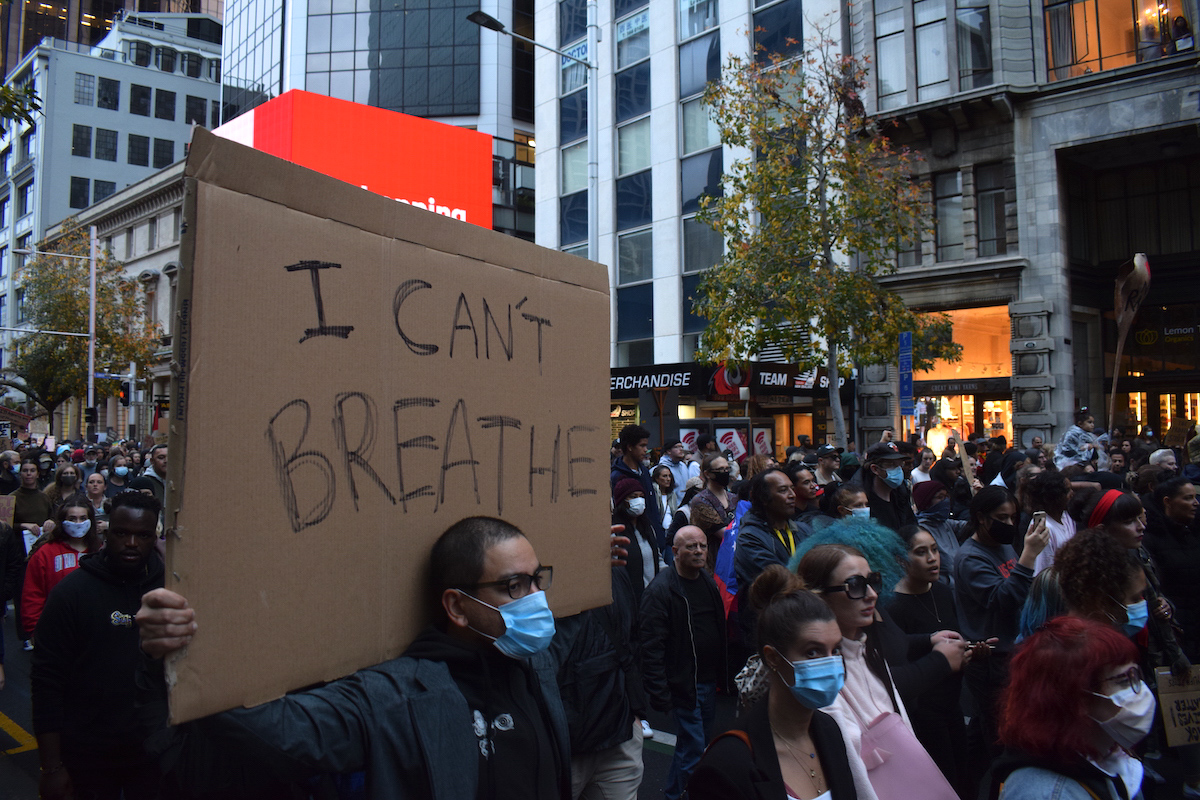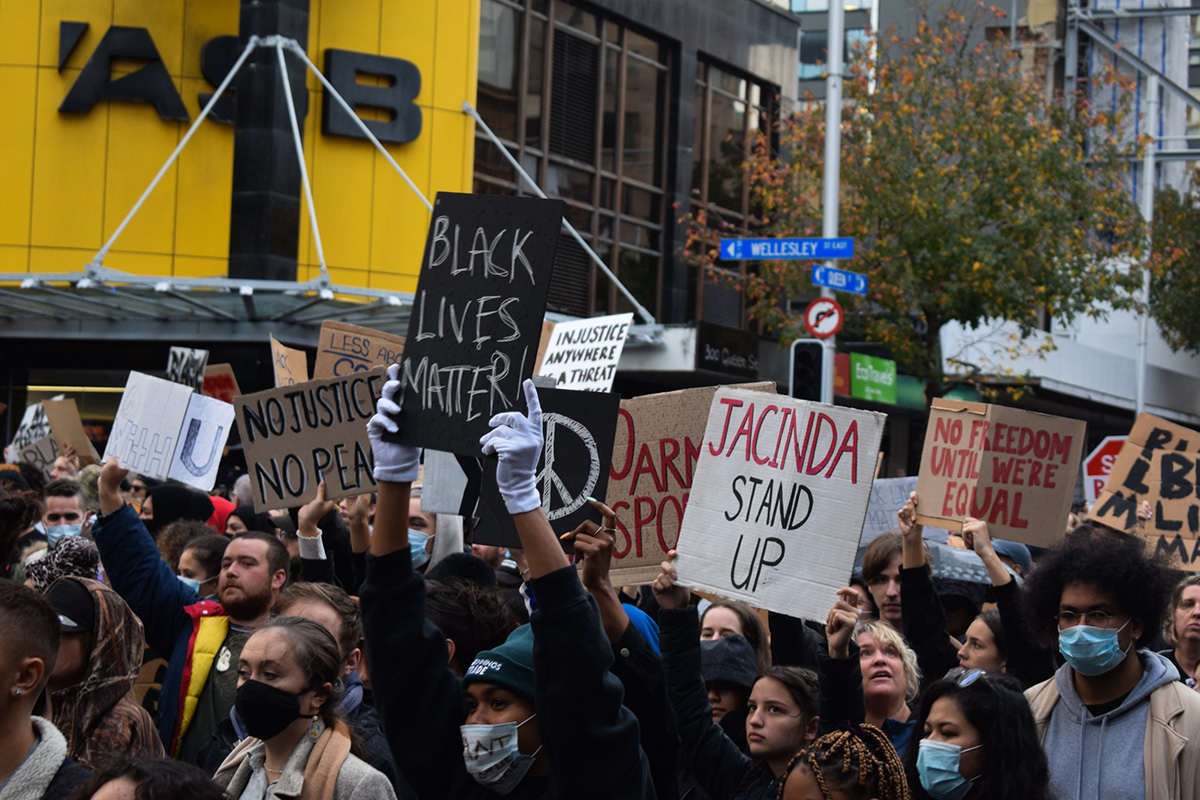 "We are here to support our brothers. We are here to tell the world that black skin is not a weapon. We are human and crying for justice," said Femi Adegoke (right). "Until we get justice. We're not gonna stop. We are human and we ask to be treated like humans. That is all we ask for."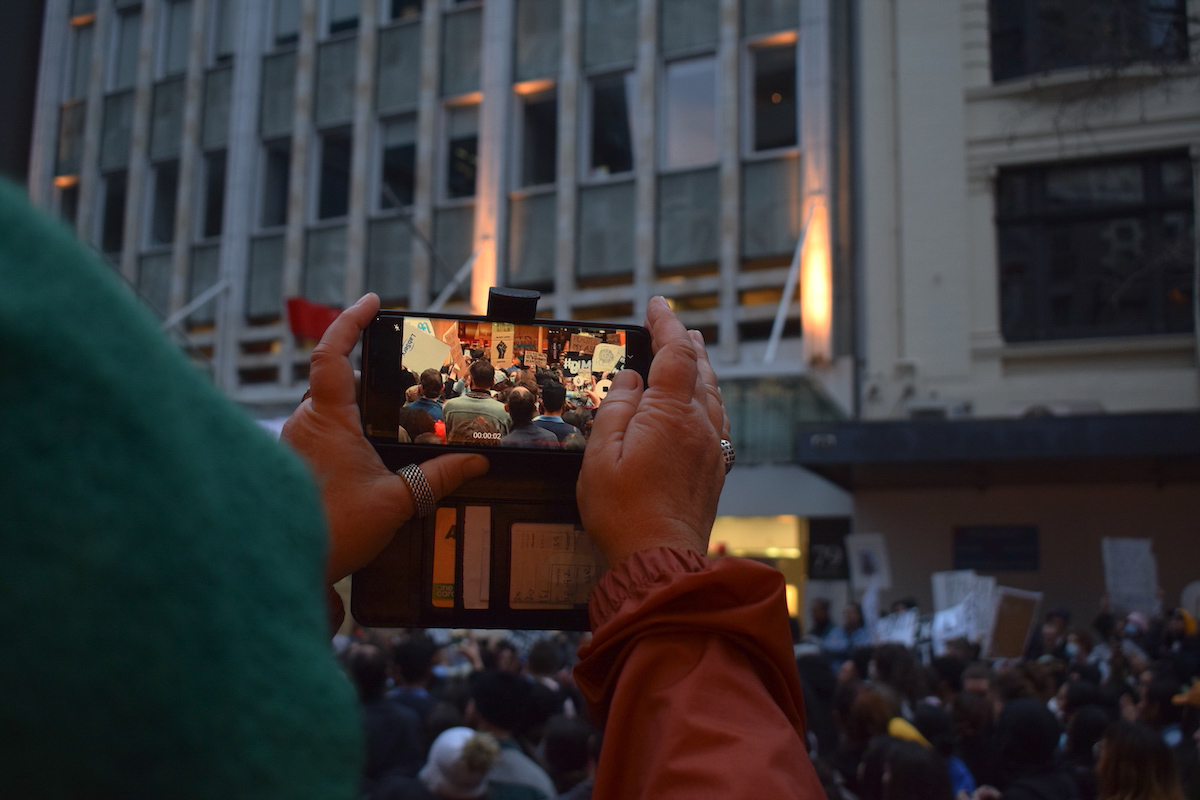 "I'm here because I want to be part of something so far from home. Certainly, while all this is happening, I just wanted to be around like-minded people who care about justice and who aren't so concerned about justice for only one people, but for all people," said Malik Ricks, 43.
"I've got a family here, I've got a son here, who very easily had we stayed in the States, could have been killed by the police and certainly would have been harassed by the police on more than one occasion, because it's just normal for black life there."
"I'm here today to stand on the right side of history and to be with our allies in this fight for justice, and to put our stamp on what we think the justice system is and New Zealand and America is not that different. So we're here to stand against racism," said Ahlia Shaya, 18 (right).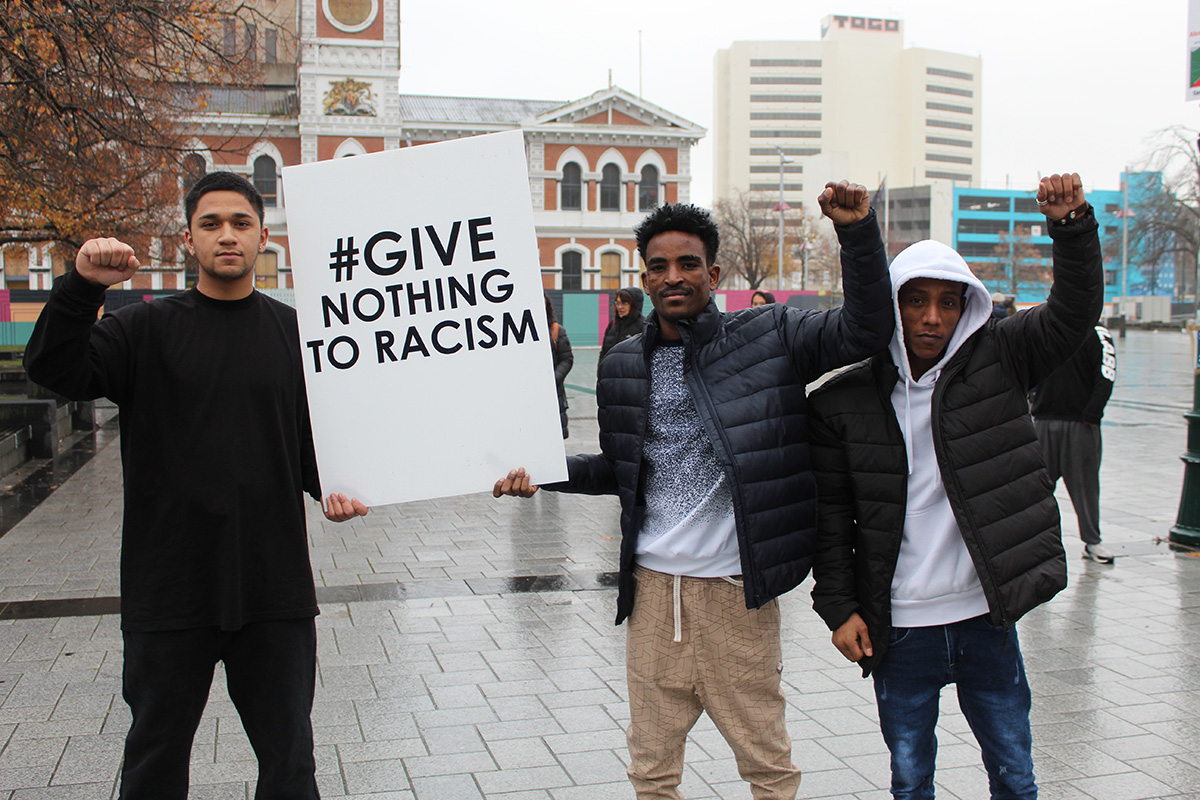 "I'm here because I am a descendant of slaves," said Sophie-Claire, 33 (left). "I'm from a small island in the middle of the Indian Ocean. And while my country's miles away from America we have also been victims and been witnesses of structural racism and the violence that people of colour experience at different levels every day. And I want to show my solidarity to all my brothers and sisters around the world and be part of the positive change."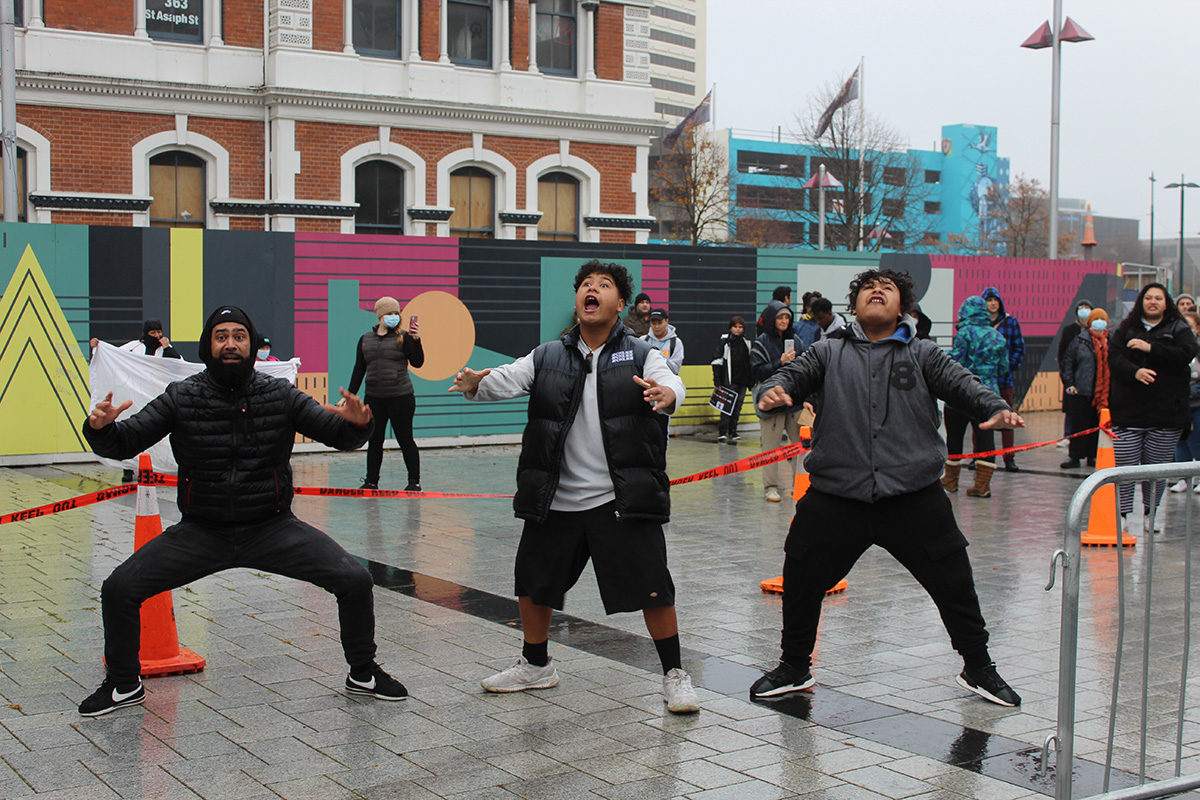 "After George Floyd and protests in America and around the world today, President Trump has incited racial hatred into a country. America is bleeding today, and yesterday and the day before, it's gonna continue bleeding until something's done," said Michel Will.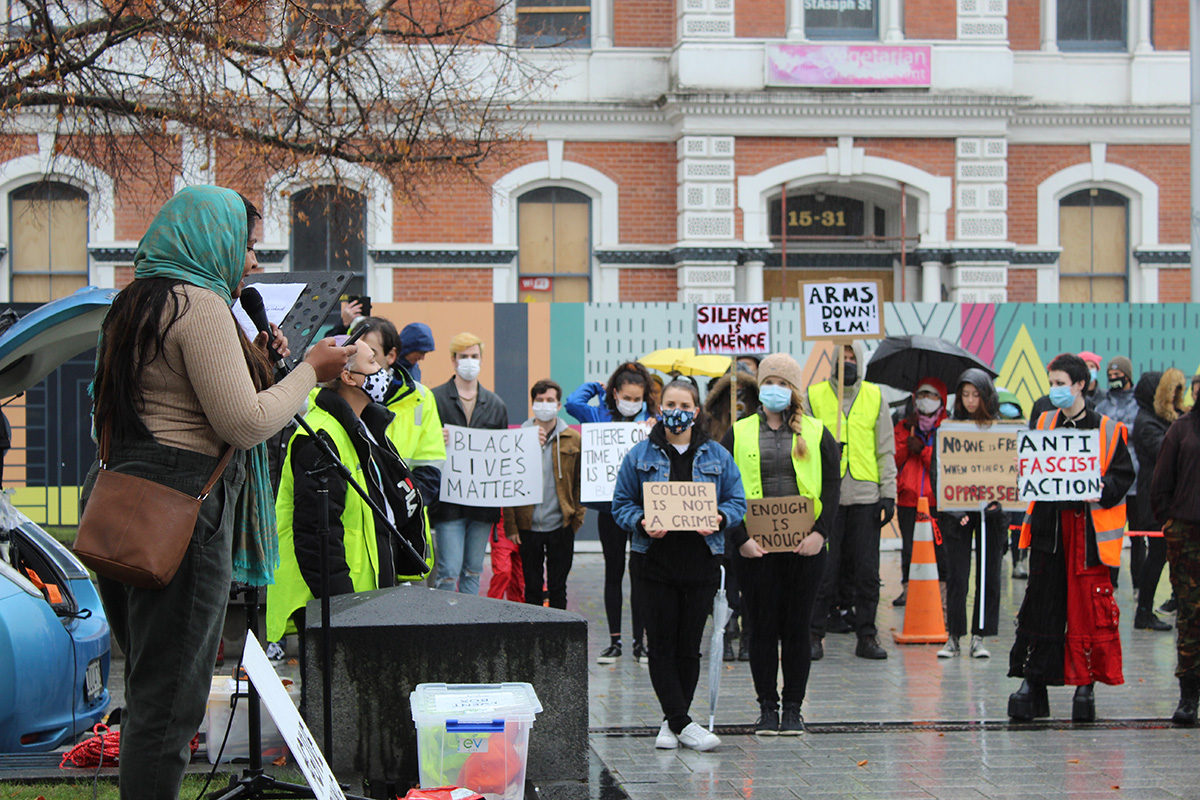 Wellington
Over a thousand Wellingtonians braved the rain to gather outside Parliament for a vigil for George Floyd and all African American people unjustly harmed and killed by police in the United States.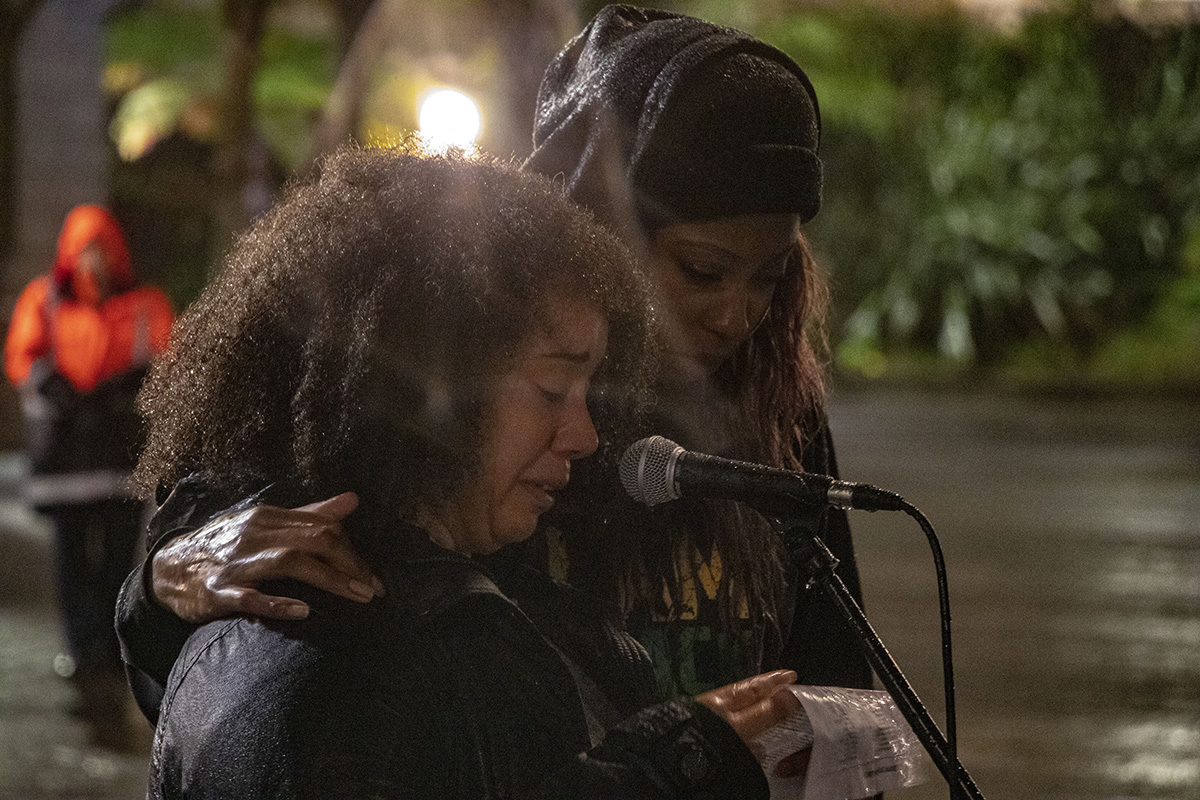 Nicole Inskeep, originally from Charlottesville, Virginia, where deadly white nationalist riots happened in 2017, read a list of names of African Americans killed by police. While they are only the most recent deaths, the list is 15 minutes long.
"We didn't have time to put all of the names on this list," she said.
"We don't have time, because they keep piling. That is a problem, and everybody should be talking about this."
"They are gone like that," she said, screwing up the list and letting it fall sodden to the ground.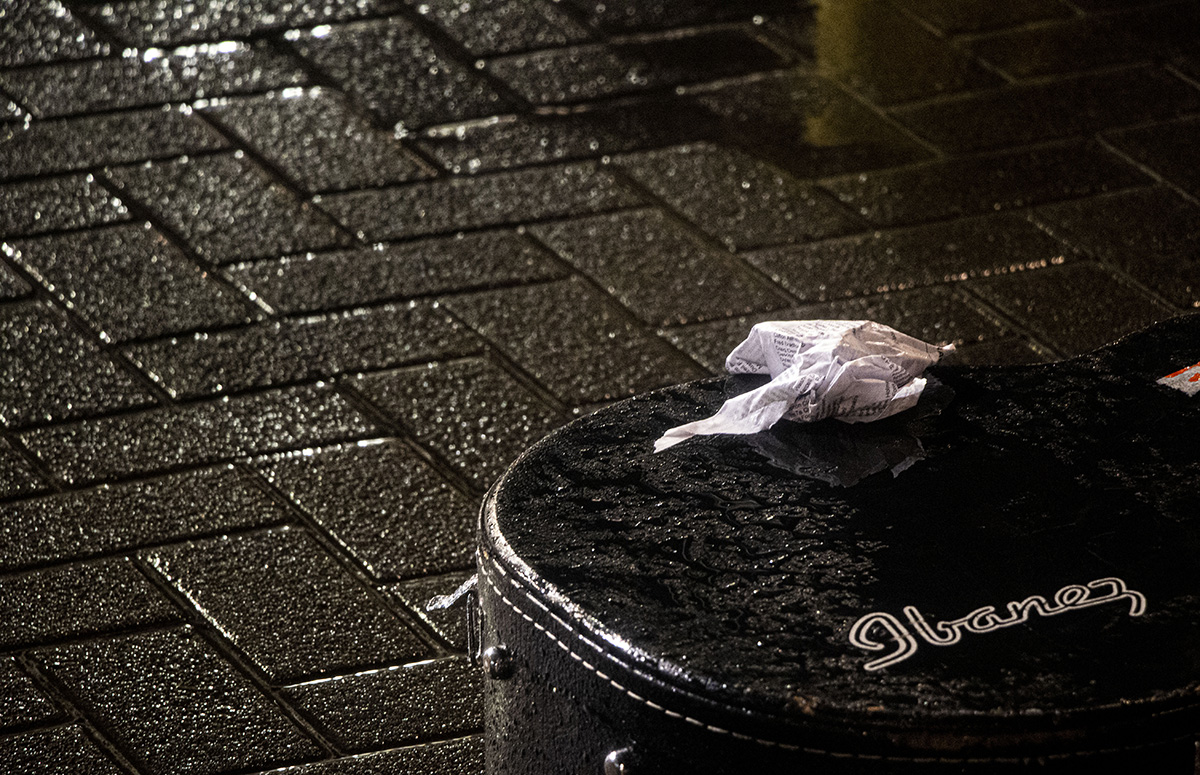 "We built that nation, and yet we are seen and chased down like dogs."
"We literally don't know what to do - so we would appreciate some help."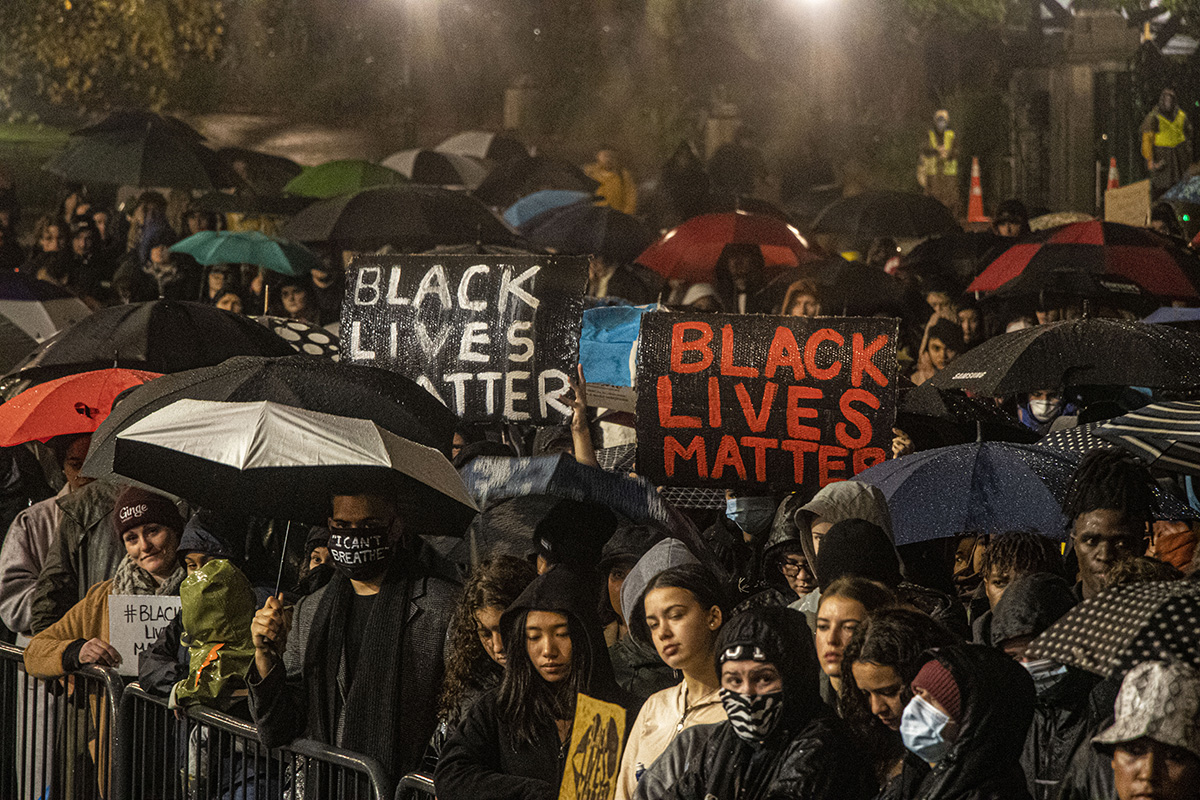 "What is the answer? We can't do this by ourselves because they won't listen to us."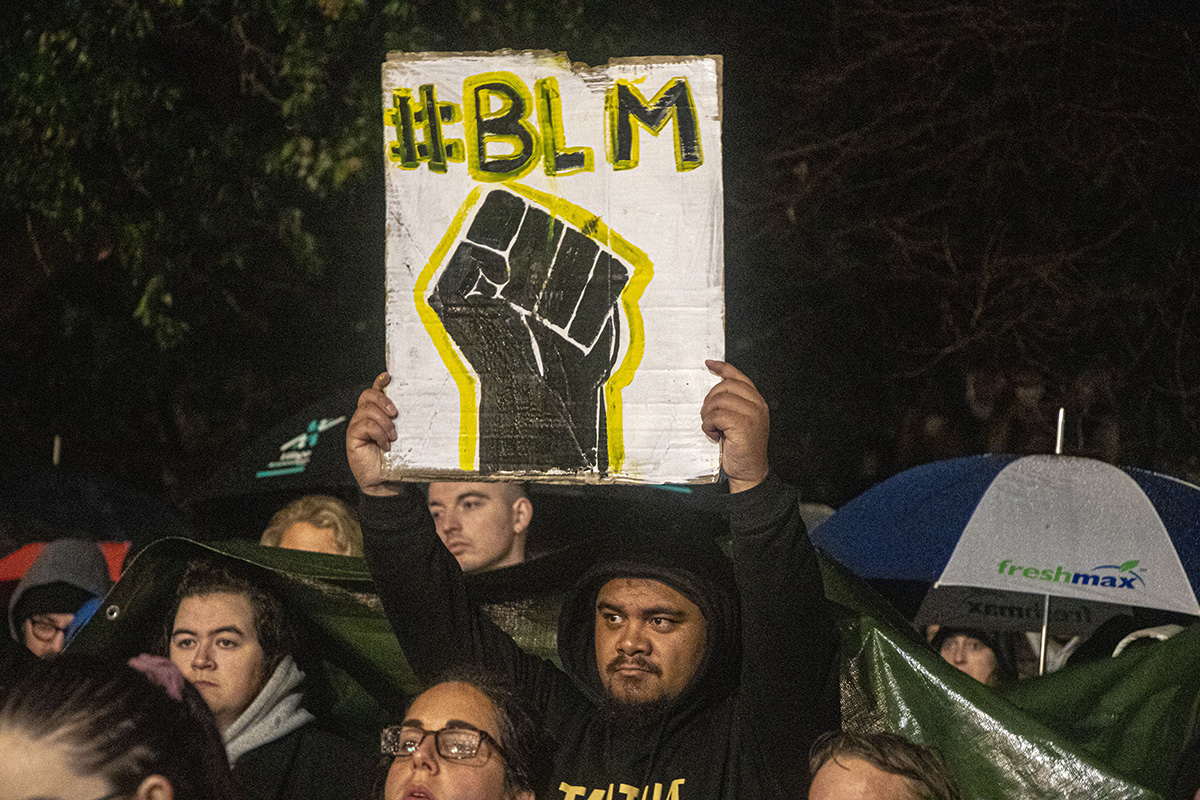 "I'm here in New Zealand watching all of this unfold - and all that I can think is, I hope they don't kill my family."
"We need you, because we feel worthless."