By Maggie Shui
Which young people in Aotearoa have the freedom to pursue careers in the arts? And which young people don't really have a choice? Students from Aorere College show us what it's like.
There comes a time in high school when, typically at the ripe old age of seventeen or eighteen, you need to decide on a career path for yourself.
It's a decision that requires balancing your passions, financial pressures and authentic identity. Depending on your circumstances, some of those get higher weighting than others.
Eighteen-year-old Lex Shoemark (Ngāti Hine) recently faced this decision - and was ready to pick whatever his family wanted him to do.
"Everyone in my family wanted me to do some form of labour work like carpentry - because everyone in my family ended up going into that, or something in that regard."
And, as Lex tells it, he has the tendency to "just roll over for people". With his thick curly mass of hair hanging over his eyes and sweet demeanour, you can picture him just wanting to make the people around him happy.
"I was very, very close to just giving up and saying yep, I'll do whatever you guys want me to do."
Lex, however, is an artistic person. He likes poetry, acting and music. And if you catch a showing of the Aorere College production Code-Switch, you'll see that he's also talented. While carpentry is skilled, valuable work, Lex's creative talents would probably be put to waste if he was spending 40 hours a week installing timber foundations for buildings.
The stories of the characters in Code-Switch, and the stories of its cast and crew, raise the question: which young people in Aotearoa have the freedom to pursue careers in the arts? And which young people never get to fulfill their artistic potential?
Code-Switch is a show that illustrates the moments where dreams, financial needs and cultural values clash. It's produced by current and former students of Aorere College, a high school in Papatoetoe, Tāmaki Makaurau.
However, this production is not like your typical high school remake of Sweeney Todd. Since 2013, Aorere College has created original shows through their club AFA Productions (Aorere Film Academy). It's an enterprise that involves everything from scripting, filming and choreographing to marketing and graphic design.
Code-Switch is also what AFA has termed a 'live-cinema' production; it's an innovative blend of live theatre with pre-filmed segments as well as animation, spoken word and dance.
Leaving South Auckland and code-switching for survival
Each original production begins with a group brainstorming session. The team sits down and asks, "Okay, what is affecting us right now? What's happening in our community?" explains Marietta Apulu, the stage manager and one of the writers of Code-Switch.
This time round, the topic that kept popping up was code-switching - adjusting the way you behave and present yourself in order to fit in and survive in different spaces. Lots of the people in leadership roles in the production are now university students or working - Marietta is currently majoring in international studies at AUT. They've left the enclave of their high school in Papatoetoe, and now find themselves regularly in the city centre and interacting with people from other parts of town.
"We all struggle with going to the city or going somewhere that's not here and feeling like we have to change the way we act in order to fit in," says Marietta. "We were like, wow, we all feel the same way about it."
Ryan Patumaka, the director of Code-Switch, says his time at university was filled with "constant hyper awareness about how I'm presenting."
After graduating from Aorere College in 2013, Ryan moved out of Auckland to study at Otago University. He immediately was conscious of his South Auckland roots and how his new classmates might perceive that.
"You're immediately trying to be like you're from Invercargill. Sorry to say that, but because of the stigma on South Auckland, there's an underlying shame that shouldn't be there. Immediately my enunciation became way better."
There's this sense that you can't give people anything they can pick on. Marietta explains that she doesn't "want to be that person that gives Southside a bad name."
In the back of her mind, she's conscious of presenting herself in a way that won't offend and will put people at ease.
"I feel like you could be the tiniest Pasifika person, but other people could be intimidated by you. And that's really scary to me." To compensate, she says she ends up being "overly apologetic and overly nice."
That constant hyper awareness is, Ryan says, "exhausting." At the end of each day at Otago, he would come back to his dorm, close his door and think: "Oh, shit. I can relax. Be myself again."
These shared experiences formed a springboard to delve further into that transitional time between high school and whatever comes after. It's a time where figuring out what your authentic passions really are, reckoning with practical concerns like financial stability, and realising you may need to compromise parts of yourself to succeed in Pākehā-dominated spaces melt together in an unsettling pool.
That anxiety-inducing concoction sets the stage for Code-Switch. The story follows two Year 13 students, Anna and Hemi, as they embark on a prestigious programme called 'Camp Mana'. Open only to selected students, the programme is designed to prepare school leavers in low socio-economic areas for post-high school life.
Anna, played by Aorere College student Teeua Manana Tiaon, is one of those high achievers who have their next ten years mapped out at the age of seventeen. Hemi, played by Lex, wants to be an artist, but he's easily swayed by what authority figures tell him is best for him ("When auditioning for this character I was like, have you been stalking me? This is creepily accurate," jokes Lex).
"Dreams come with a price tag."
In Code-Switch, career advice for students is encapsulated in a hilarious and infuriating venn diagram, presented completely earnestly by Camp Mana coordinator Mr Walker (Duane Hapimana).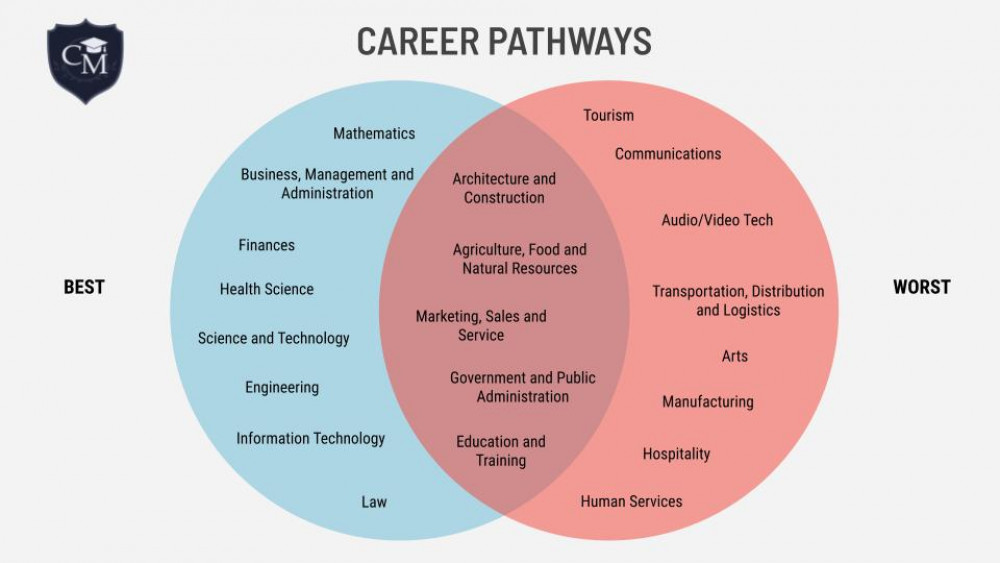 In venn diagram form, we see the cliche that many children of immigrant or very financially conscious parents are familiar with - either from explicit or implicit indoctrination. Choose from the holy trifecta of doctor, lawyer or engineer. An accountant is not bad either. These jobs will earn you respect and earn you money.
Teachers and public sector workers are lumped together in the middle category - respectable enough, but probably not high earning jobs.
Finally - bad news for me and my colleagues - communications and arts are situated squarely in the category labelled "WORST". We don't make a lot of money (true) and our job titles don't sound as impressive as "junior associate at Bell Gully" (depends who you ask).
However, as much as we can poke fun at this silly hierarchy of careers, it's underpinned by a very real anxiety around securing a financially stable life. As Lex, who plays Hemi, says, "It feels as though dreams come with a price tag."
"Sometimes, pursuing your dreams isn't financially advisable," he explains. "I definitely felt that growing up. I used to play basketball when I was younger. It ended up being a financial drain because there was constant need for equipment like shoes and stuff. I ended up dropping it because of that."
Teeua, with her school blazer lapel stacked with badges (she's a prefect this year), says that she can relate to that underlying anxiety around money - "ever since the womb," she jokes.
"When I was little, I didn't realise how pressuring it was for my mum. But now, I'm feeling it too." The pressure heightened when Teeua and her mum moved to South Auckland, which she says has been a lot more expensive than where they used to live in Tauranga.
"I feel like I should be taking a part time job right now, just so I could help more. I asked her, can I get a part time job to help you? She said that once you study and get that job, then I'll stop working."
Both Teeua and Lex saw several of their classmates drop out of school at the height of Covid last year to work full time at food joints and warehouses so they could help support their families financially. To this day, those classmates continue to work full time.
"A few of my friends had to do that. And it's taken a toll on their entire plan for life," says Lex. "Now, they can't feasibly drop this job. They can't just go, ah oh well, go back to studying. That's not really an option anymore. Because now that the finances are there, they need to keep working for that to be stable.
"And even the ones that continue to come to school with their jobs, just coming to school every day, tired, unable to work properly, unable to stay focussed. Graveyard shifts, and then straight to school after that."
Lex says that for his friends that dropped out, the opportunity cost of returning to school is now so much greater. There's the question of, "What if I fail? What if I go back to school and it doesn't work out? And then I've just lost this job. Is the risk really worth the potential reward?"
Making working in the arts a tangible reality
There's no clear cut answer for what to do when your practical need for money, and genuine interests and potential are at odds with each other - a scenario far more likely in creative fields (famously labelled "WORST" in a venn diagram of career pathways).
However, initiatives like AFA Productions are making careers in the arts feel less scary and more tangible for young people who may think it's out of reach.
Nirvika Nair, the head of post production and one of the writers of Code-Switch, is currently studying communications at AUT, majoring in digital media.
"One of the things that stopped me from doing a screen production major is because I talked to people who had graduated with that major and struggled to find a job because they don't have connections. And like, there's not many connections I can have. I'm 19. I'm not going to know the executive producer at TVNZ."
Ryan, the director of Code-Switch, has ambitions to become "the next Taika Waititi." He quips, "I have so many family members that are in freight, but not in the industry that I want to go into."
Nirvika adds, "My mom has 72 first cousins. My family's ginormous. And I don't think there's anyone in the media at all."
Ryan and Nirvika's experiences show how creative industries can feel very exotic and inaccessible if you've only ever seen it through a screen and not in your tangible world. It becomes harder to picture yourself in those spaces, and easier to believe that you're not cut out for it and that the risk of failure is high.
Nirvika describes it as, "It's like your wings get clipped."
In Code-Switch, Hemi fluctuates between being his authentic self and compromising himself for survival. He starts off wanting to go to art school, but is quickly swayed by Mr Walker into believing studying computer science would be the best option. He tucks his pounamu into his shirt and starts going by 'Jamie' instead of Hemi in order to better fit into Pākehā dominated corporate spaces.
Similarly, Lex says he was originally "very dead set on just living for other people, whatever they wanted me to do and never having my own ambition. But I have one now."
Like many other students, being involved in AFA has made him realise he's a pretty good performer. While he is thinking about teaching English and media studies, getting time on-stage has made him consider drama as another option.
"Maybe I could do drama in uni? Now I'm planning on doing that."
If you're in Tāmaki Makaurau, you can see Code-Switch this weekend:
Saturday June 12, 7-9PM
UXBRIDGE Arts & Culture Centre, Howick
Sunday June 13, 2-4PM
The PumpHouse Theatre, Takapuna
Sunday June 13, 7-9PM
The PumpHouse Theatre, Takapuna
Click here for more info and tickets.
More stories:
Pasifika teens sacrificing education for survival is not new
Only a quarter of NCEA students say they're coping after Covid
Chevron Hasset on being the only working class Māori at his art school | The Outliers