Four days after New Zealand went into level 4 restrictions, police from central Auckland travelled to a protest site on Waiheke Island. It's unclear what procedures were followed and why a bubble of four - made up of members of protest group Protect Pūtiki - was disbanded and removed.
Dani Riekwel had been camping out at Kennedy Point, Waiheke Island, for months. Since June, she's been part of the Protect Pūtiki protest group - formed in opposition to the Kennedy Point marina being built at Pūtiki Bay.
The group are adamant the marina was approved for development without proper consultation with mana whenua. They also believe it's wrong because it's threatening the habitats of the Kororā (little penguins, native to Aotearoa). In the past five months, Protect Pūtiki's opposition has led to confrontations - both in the water and on land - with developers and police.
More recently, when news of the current Covid community outbreak broke, and level 4 restrictions were announced, Dani and three others decided to form a bubble and remain at the Protect Pūtiki campsite for lockdown.
However, on Saturday 21 August, a group of police officers turned up and issued warnings related to lockdown breaches. They also asked Dani and the three other protectors to leave.
Police previously told Re: the "four occupants at Pūtiki were asked to return to their main place of residence because they had been breaching the level 4 restrictions by having unlawful gatherings with people outside of their bubbles and there had been reports of them not social distancing". At level 4, public gatherings are prohibited.
However, Dani denies this and says all four Protect Pūtiki members at the campsite had been strict about following restrictions and staying in their own bubble. In fact, Dani says the bubble was only broken because police from Auckland City turned up and came into their camp.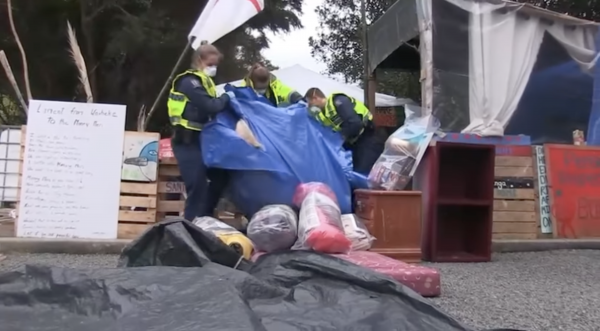 What are the rules in lockdown?
Legally at level 4, everyone is required to "remain at their current home or place of residence". Exceptions are made for essential movement.
In addition to a house, flat or apartment, a place of residence can include a campervan, caravan, car or other temporary structure like a tent. It can also be "mobile", however, under level 4, mobile residences must not travel around.
Dani says when police arrived at the Protect Pūtiki site on August 21, she and the three others attempted to maintain physical distancing from the police officers but their behaviour made it impossible.
They were then warned about breaching lockdown and told to leave - which effectively meant breaking their bubble. Since then, Dani and two others have been in a bubble of three after being offered a bach on the island by a local supporter. The fourth person joined another bubble on Waiheke.
Police also dismantled the group's tents and removed them.
Despite that, no formal warnings or charges have been laid by police. Special Covid legislation means anyone who doesn't comply with lockdown rules can be charged with failing to comply with health orders. Consequences range from an infringement fee or fine to a potential prison sentence of up to six months.
However, no further information has been provided about why Dani and the three individuals were told to leave their bubble. Police have also not followed up with any of the group since the incident.
Why Protect Pūtiki want more information
"I did talk to one of our [Protect Pūtiki] lawyers…. but as we weren't charged with anything, there's not really anything to seek advice for as we all decided that we didn't want to be arrested that day," says Dani.
"But, if one of us had been arrested, we'd actually know why."
Dani says changing accommodation during lockdown has been difficult, and there appears to be a double-standard around who gets police attention.
"I was safer at Pūtiki in the bubble than I am here. I witness multiple public gatherings outside my house every day. Neighbours stopping and talking to each other, not keeping their distance, and not wearing masks. The beach at high tide is not really wide enough for people to walk past without getting close, so it's quite like going to Countdown and walking by someone in the aisle."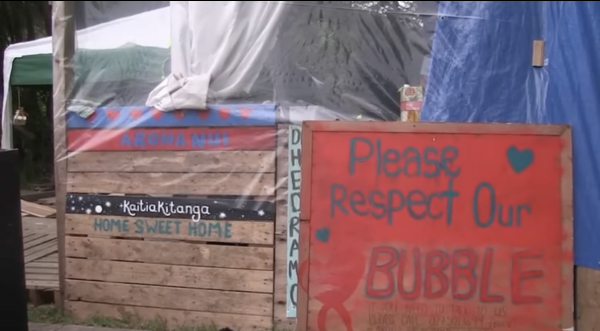 Why police need to justify use of "extraordinary powers"
The Green Party has asked Police Commissioner Andrew Coster and Police Minister Poto Williams about what happened to Dani and the other three Protect Pūtiki members she was with. Specifically, whether action taken by Police on August 21 was justified and why the group of four staying at the campsite was considered a "public gathering".
Coster did not provide any clarification, and Williams said no official information and/or briefings had been given to her in her capacity as Police Minister over the August 21 incident.
Re: has also sought further comment from Police but did not receive a response by time of publication.
Auckland Central MP and Green Party member Chlöe Swarbrick says the lack of transparency around police actions at Pūtiki is "troubling".
"I have spent many hours and put many questions to many different people within the [Police] hierarchy and the Deputy Police Commissioner as well… about the kind of evidence that has been collated in order to undertake the actions."
"To date, we've turned up empty-handed," Swarbrick says.
While "extraordinary powers" may be necessary in situations like the Delta outbreak, it doesn't mean Police get to behave without proper justification.
"They have to justify their use and so far we have not seen an adequate justification," she says.

Related stories:

Police ask Protect Pūtiki protesters to leave their bubble
More stories:
Lockdown has helped fuel the second hand shopping industry
Five pieces of evidence that prove the world isn't shit during lockdown
Lockdown can mean riskier drug use. Here's some advice to handle that