The world can feel grim, especially when you read about someone spitting in the face of a supermarket security guard in Christchurch, or students going hungry in lockdown. But through the gloom, there are some rays of sunshine. We've collected five of them.
Man sells half a loaf of old Vogel's on TradeMe and raises $4000 for charity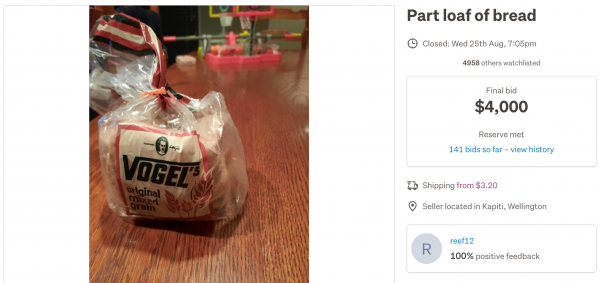 The fourth-most popular TradeMe listing of all time is a half eaten loaf of bread.
The loaf was posted on Wednesday August 18, the day after it was announced the whole country would be going into level 4 lockdown. The TradeMe listing was viewed over half a million times before the auction closed, selling for an astounding $4000.
Seller Dave Eliason says the money will go to charity, split between Ronald McDonald House, which supports families who have children in hospital, and Mike King's mental health advocacy organisation I Am Hope.
TradeMe and Goodman Fielder, owner of Vogel's bread, each matched the donation bringing the total sum to $12,000.
The item was listed with the description "Quality part loaf of vogels bread (5 slices and 1 crust), no longer required as I now eat toilet paper."
We asked Dave what the inspiration behind the idea was.
"I probably didn't put the degree of planning into it that I could have," he says. "So aside from the bread, that was probably a stroke of genius in terms of luck, rather than anything else."
"I really didn't think I'd get a bid. I thought it might have gone for $30 or something like that."
He says he always planned for the money to go to Ronald McDonald house, but as more and more interest came in he decided to share it around to other charities.
The listing was a hit, with curious buyers asking 1178 different questions, ranging from serious to ridiculous.
Q: "Hard to tell from the artistic pics… is it regular or thick slice?" - nzjohndory
A: "Like the current owner..thick...and I will throw in a moldy piece of pumpkin as butter is way to expensive to fire out willy nilly." - Dave
Q: "Is it microchipped and house trained?" - stev451
A: "Me or the bread, I'm all three of those incidentally". - Dave
Q: "Crumbs that's cheap Any rips or stains?" - jaynemartin
A: "Any rips, christ I'm not auctioning the ocean?" - Dave
"I answered all of them," says Dave. "I have saved them into a document and it comes to 55,000 words. If you scroll through it takes two minutes to get from one end to the other."
The Teddy Bears are back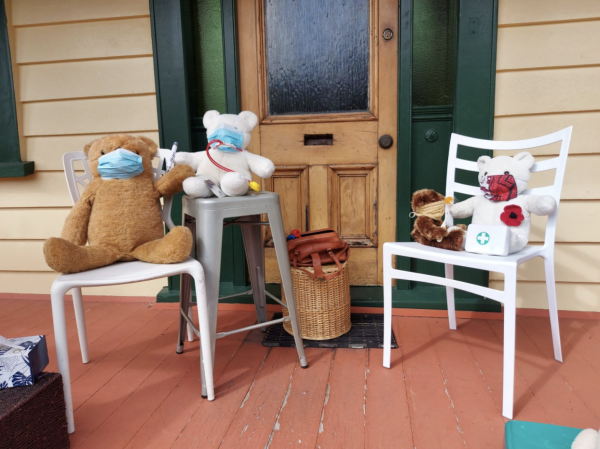 Photo: Narlea Cohen
For the second year running, an army of teddy bears has re-emerged in our time of need.
People have been placing teddy bears in window sills around the country to create a fun experience for New Zealand's tamariki.
The concept remains the same. Children are encouraged to look for them around their neighborhood, an easter egg hunt of sorts.
We talked to Deb Hoffman, founder of the NZ Teddy Bear Hunt, about why the bears are just as important this time around.
"The unknowing or the uncertainty that's coming with this lockdown, how long it is going to be, is a struggle for many," she says.
"It's important that we all realise that it's impacting people, even if it's not impacting us."
She says there were real survival stories that came out of the bear hunt last year from people that thought they weren't going to cope.
"There was an older gentleman, he said he wasn't going to make it through at the time. And the teddy bears were one of his connection points each day at the end of his driveway that really helped him.
"Stories like that just kept coming out of the last lockdown. So I know without a shadow of a doubt that this time it will be having that same impact for people just not feeling alone."
Christmas dinosaur costumes dusted off for vaccination visit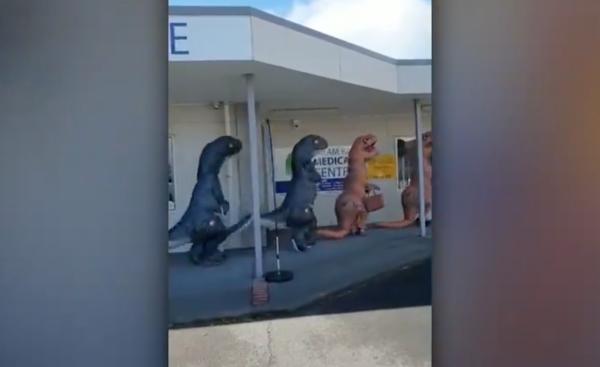 Image credit: 1 News
In Waipu, just north of Auckland, Patsy Beverwijk and three others dressed up as dinosaurs to get their Covid vaccines at the Bream Bay Medical Centre.
"Kids love dinosaurs, they bring a smile to adults too, my husband and I enjoy bringing fun to folk," Patsy told 1 News.
The group had their vaccines in July before lockdown and recycled costumes usually worn by Patsy and her family in the local Waipu Christmas parade. The colourful, full-body outfits were also a hit with staff at the medical centre.
"It was just so wonderful," Karen Chapman, a nurse at Bream Bay Medical centre said.
"I just want to say thank you, they were just gorgeous."
You can see the dinosaurs dancing here on 1 News
Charity sets up lending and delivery service for groceries
Like the first level 4 lockdown, those who can't do their jobs from home often take a financial hit. Individuals, families and communities linked to cases are also disproportionately affected due to isolation requirements - often you have to stay confined for weeks and aren't allowed to go to the supermarket.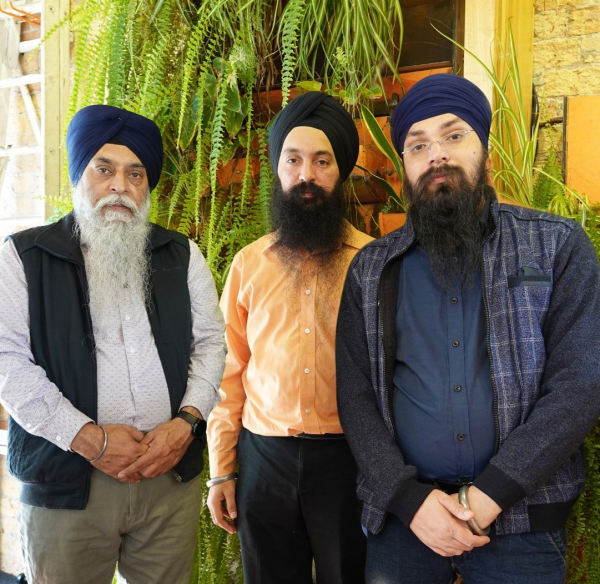 Photo Credit: Sunmeet Singh
Sunmeet Singh, co-founder of charity Sikh Aware, said about 250 volunteers are engaged in a special grocery service for those who are struggling to pay for groceries, or can't get to the store themselves.
Through Sikh Aware, people can send in a grocery list. Volunteers then buy what's needed and deliver it to people's homes. Payment is then made to Sikh Aware for the groceries, Sunmeet says.
"Because of all the locations of interest, a lot of people can't go out. You know it's a huge number of people. So there's a huge risk. And that's where we came up with the idea of helping around the country.
"We have around 250 volunteers around the country, they are helping around Auckland as well as in the South Island.
"We just recently got a call from Auckland Council, they have some older people who are more than 80 years old that need our help."
Raising awareness around mental health one Gumboot at a time
Have you noticed a few gumboots alongside Teddy Bears on your daily strolls? Perhaps a pair in a random window or a few dotted along a fence?
This lockdown, an initiative inspired by the cute Teddy Bear army, is raising awareness around mental health.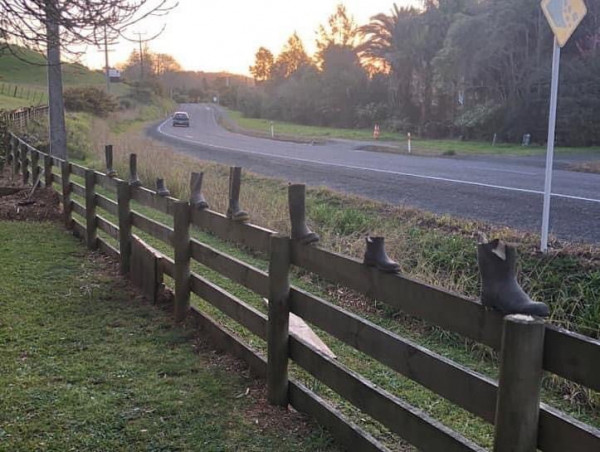 Photo Credit - Jezamine Dunlea
Organised by Nelson early childhood teacher Jezamine Dunlea, the initiative is an offshoot of Gumboot Friday, which encourages people to place gumboots on their property in places you can see from the street.
The idea is that mental health is like dragging yourself through mud, and the gumboots are a representation of that.
Putting them somewhere they're visible shows solidarity and lets people know they're not alone.
Jezamine says the lockdown initiative is also related to her own mental health journey.
"I've related to the whole Gumboot Friday concept because of my own journey. And there are definitely days when I have felt like I'm literally stuck in the mud.
"If they're in the windows and people are walking around their neighborhood, it starts a conversation. Children might point at the Gumboots, and the parents hopefully will talk about mental health."
With two young kids herself, Jezamine says encouraging conversations around mental health, and how "it's okay to not be okay" is so important, particularly in lockdown.
"When you wear Gumboots, and you're trudging around the field, that kind of slows you down. It's a sluggish kind of feeling and that is kinda like mental health," she says.
"Having those conversations, the Gumboot idea is just really a fun, different thing. It's an actual, physical way of understanding what it's like for people that struggle."

More stories: