New Zealand's two major bread producers use 175 million plastic bread bag clips a year. But not for much longer, with both companies planning to move to recyclable cardboard clips.
The two largest bakeries in the country are beginning to transition out one aspect of their plastic packaging, moving from plastic bread clips to cardboard ones.
Nature's Fresh producer Goodman Fielder began their rollout of cardboard clips on Saturday August 14, introducing their new recyclable cardboard tags to Nature's Fresh loaves produced in their Auckland factory.
Over the next couple of months they will roll out the tags to their other factories, initially only using the recyclable tags one day a week.
Goodman Fielder haven't specified the timeline, but say they plan to transition all 100 million plastic clips they use to recyclable clips over time.
Tip Top producer George Weston Foods uses 75 million plastic bread tags a year, but has plans to replace 7 million of those plastic tags this year, and all 75 million by the end of 2022.
It's one of many recent moves to reduce single-use plastic across New Zealand. In June, the Government announced a range of single use plastics would be phased out of New Zealand by 2025 including cotton buds, meat trays and plastic forks.
Every New Zealander currently throws away an average of 58 kilograms of plastic waste a year.
George Weston Foods general manager Mark Bosomworth says the company has spent the last four years developing a replacement that was strong enough to pass through the factory's machines, and also strong enough to withstand wear and tear in transport, and moisture if placed in the fridge or freezer.
Tip Top had plans to make this transition over a longer term, but say they were motivated to move more quickly following a campaign by three school girls from Rotorua.
Amelia, Jennika and Snigdha were only 11, 10 and 8 when they participated in the TV show Fair Go's Consumer Hero Challenge last year.
In it, they challenged Bosomworth and George Weston Foods to transition from plastic to recyclable bread bag clips.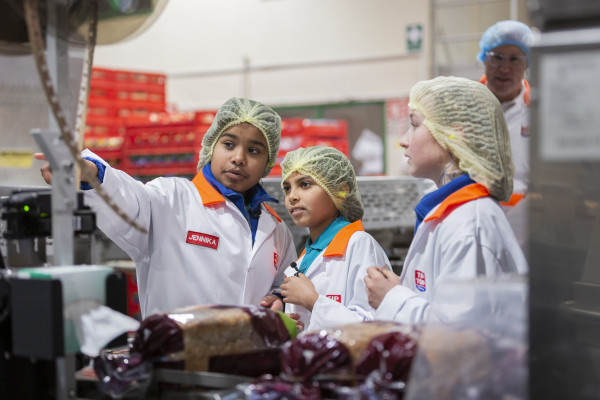 Jennika, Snigdha and Amelia checking out the new recyclable clips
"We'd been looking at this, we'd been planning it, but when we heard that three girls from a school in Rotorua had strong feelings about this, we did feel we should step things up a bit," George said in the Fair Go segment.
"We've put this in place pretty quickly because you've given us a nudge."
As the girls note at the end of their segment, "Of course they are still in plastic bags. Maybe that will be next year's challenge."
Bosomworth says the bag clip transition is just one piece of the overall programme to make all packaging compostable or reusable - including the bread bags.
"Bread bags are a tougher proposition for many reasons."
"We cannot just replace it with paper because paper has different oxygen barrier protection properties to plastic and results in bread going stale within 2-3 days, which increases food wastage, and bread is the largest single largest item of food waste in New Zealand."
"Anything that replaces plastic needs to be able to protect the bread during the supply chain and be able to withstand freezer conditions and other variations in temperature."
George Weston Foods plan to find solutions and make transition to fully compostable, reusable or recyclable packaging by 2025, or earlier.
More stories: