Protectors at Pūtiki Bay on Waiheke Island say police action to evict them from their campsite at the weekend is unlawful and unfair.

Protect Pūtiki - Camp Kororā has been set up for months close to Pūtiki Bay, Waiheke in protest of a marina development threatening the habitats of the Kororā (little penguins, native to Aotearoa). On Saturday, police asked four people to leave.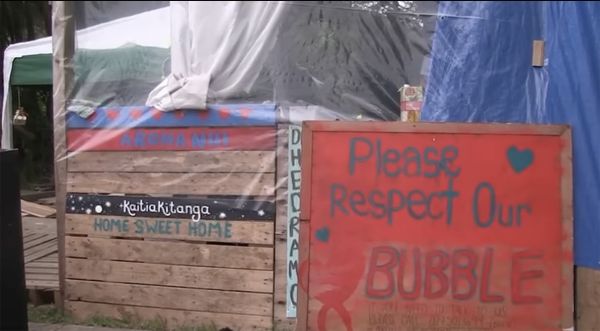 When contacted by Re:, police said the four occupants at Pūtiki were asked to return to their main place of residence because they had been breaching level 4 restrictions by having unlawful gatherings with people outside of their bubbles and not physical distancing.
Protect Pūtiki member Dani Riekwel disputes this, and says the four protectors had formed a bubble for lockdown.
"I think we were definitely targeted because they didn't give us a reason other than public gathering, which we weren't doing. We were four of us in a strict bubble," says Dani.
When level 4 began, Dani and three others were already set up camping together and decided to stay put in their own shared bubble, she says.
"In Covid law, it says that a home is allowed to be a tent, a caravan, or a van. And it also says specifically that you need to lock down where you are currently living, which is where we were," says Dani.
Dani says people did come to offer assistance and food but anybody who came to the car park, right next to the camp, maintained at least two meters and most often, five to 10 meters distance from them.
Early on Saturday afternoon, the protectors were warned by Māori Liaison officers. By 4.45pm, two police officers sent from Auckland said the group had five minutes to finish packing up or they would be arrested.

Dani requested to remain at the camp in her van as it was where she would have spent lockdown anyway, but police said no.
She says around 20 police officers arrived and dismantled the campsite and packed everything up.
"They were just rough jobbing it too. It's not like they took care to keep all the tent pieces together or anything like that, and stuffing blankets into plastic bags," says Dani.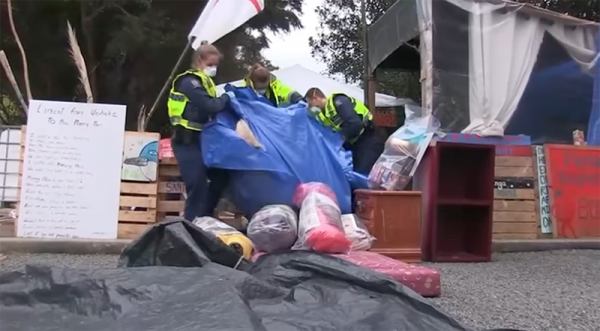 She also accused police of breaking physical distancing guidelines when supporters turned up to the campsite.
"When we were leaving people from the community started arriving to argue with the cops, and film what was going on," Dani says.
"They were doing their best to keep their distance but the cops were not keeping their distance. They told us they were immune from the law of social distancing."
When asked about what happened, police said via statement "all staff that attended Pūtiki on Saturday were equipped in appropriate PPE equipment, which included n95 masks and gloves". While they did not comment on specifics, they said this was "appropriate in situations where physical distancing may not be able to be maintained".
"Police had a sufficient amount of resource to ensure that everyone could be kept safe and we could remove their tents for safekeeping," says Inspector Beth Houliston.
Police also confirmed the group complied with the request to vacate the campsite. The tents and belongings would be available for collection after lockdown, police said.
"Those at Pūitiki are not being treated any differently to anyone else who have been found to be breaching the Alert Level 4 restrictions," police said.
Main image credit: @mahitahimedia
More Stories:
What is going on at Pūtiki Bay on Waiheke Island?
Former political candidate Billy Te Kahika arrested in anti-lockdown protest
Lorde gave us a lockdown treat: her new album Solar Power is out