Saturday 28 August, 1pm
Today there are 82 new cases of Covid, bringing our total community outbreak to 429.
All of the new cases are in Auckland. There are now 415 cases in Auckland and 14 in Wellington.
25 cases are currently in hospital, with two of those in intensive care.
53 of the 429 total community cases do not yet have a clear link to the exisiting cluster and are still being investigated. The remaining 376 cases do have a clear epidemiological link.
The two largest clusters are the Birkdale Social Network cluster that is linked to the very first case, with 64 confirmed cases, and the Mangere church cluster with 197 confirmed cases.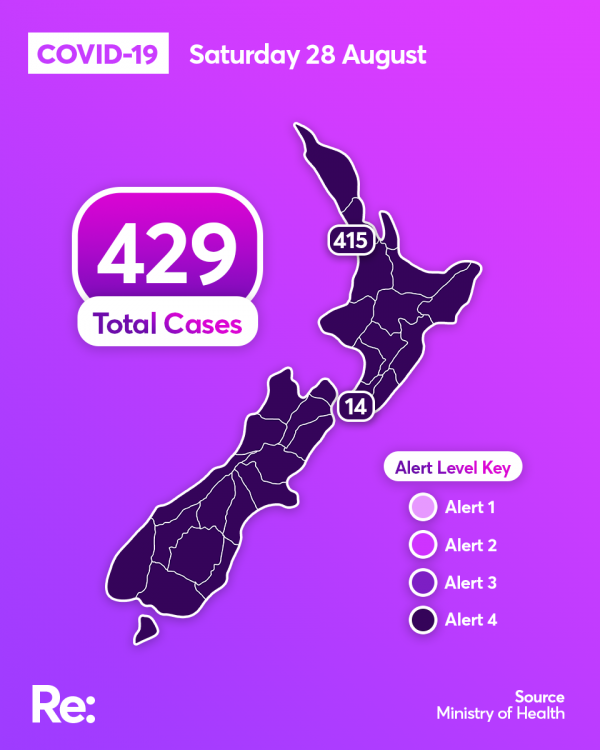 There has been no new detections of Covid-19 in wastewater. Covid-19 was detected in wastewater in Christchurch on Thursday, but the Ministry of Health says this was consistent with virus shedding from people in managed isolation facilities. Wastewater testing from Waimakariri and Kaiapoi, areas surrounding Christchurch, have returned negative results, and results from a range of other sites around Christchurch are being analysed now.
There are now 488 locations of interest. You can find the full list here on the Ministry of Health website.
Over 3.2 million doses of the vaccine have now been given, with 1.1 million people now fully vaccinated. Yesterday 89,316 people were given a dose of the vaccine.
More stories