Have we been slow and irresponsible with our vaccinations? And if so, why? Re: Journalist Baz Macdonald unpacks our vaccination approach.
Throughout 2021, opposition politicians have been saying our vaccine rollout was too slow.
We gave our first dose on February 3, when the rest of the world had already delivered 117 million doses. By July 30, when we opened vaccinations up to the general public, we had fully vaccinated only 15 percent of the country. Only two weeks later we were hit with the current breakout of the highly infectious Delta strain of the virus.
Now, as the rollout ramps up - with a record high 87,000 doses administered on Thursday - National Party Covid-19 Reponse spokesperson Chris Bishop says it may just be too little, too late.
"We are the slowest in the developed world, and it has left us a sitting duck to the Delta variant of COVID-19, which, of course, has now made its way into the community," Bishop says.
As of Wednesday August 25, New Zealand had administered over 3 million doses of the Pfizer Covid-19 vaccine. A little over a million New Zealand people have now received both doses.
It may sound like a lot, but that means only 39 percent of our population are even partly vaccinated and just over a fifth fully vaccinated.
In fact, we have actually administered the fewest vaccines of any country in the OECD - a group of other democracies with similarly developed economies.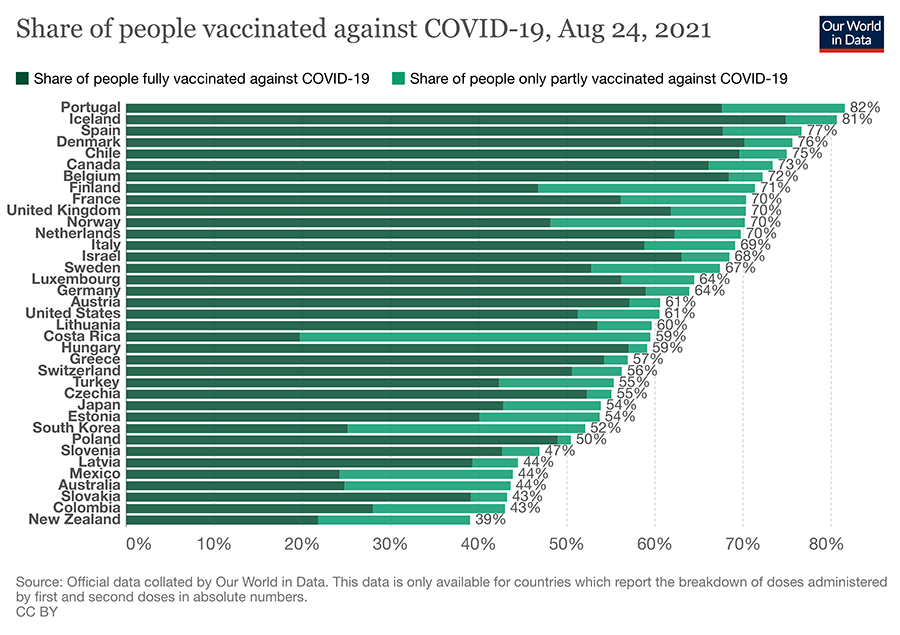 But, despite our ranking on the world stage, the Government continues to stand by its plan, reiterating the rollout is not just on-track, but actually ahead of schedule.
Why is it then that being last in the developed world for vaccine delivery was part of the plan?
Our people aren't dying
For Prime Minister Jacinda Ardern, justification for New Zealand's slower-paced vaccination rollout is simple. In many other countries, people are dying from the virus - that hasn't been a problem here.
In an interview on Q+A in April, Ardern implied that New Zealand had intentionally taken a backseat in vaccine rollouts so other countries who needed them more would have access.
"We absolutely accepted that we wouldn't be the first rolling out. The calculation in New Zealand is so different, our people aren't dying," Ardern said.
"And so that does mean that some countries, some who may have received their agreements after us, received their vaccines before we did."
However, it's not clear how that decision was made. Did we make the decision to move further back in the queue? Did other Governments ask us to? Did Pfizer make the decision about selling vaccines to those who needed them most?
The Government has kept it's agreement with Pfizer confidential. Despite repeated requests, Chris Bishop said Ministers have declined to release any details about how these arrangements were made on the grounds of commercial sensitivity.
However, there have been hints that the decision to move back in the queue was partly out of our hands.
In January, Covid Reponse Minister Chris Hipkins said "New Zealand will be at the front of the queue".
Yet, as we have seen, this hasn't happened. When that became apparent, National Leader Judith Collins said: "New Zealanders were told that they would be at the front of the queue to get vaccines. Turns out we can't even see the queue. That is actually a very serious broken promise."
Then in February, One News political editor Jessica Mutch McKay reported the Prime Minister calling on other countries to not suck up all the vaccines.
The Government has commonly blamed delays on supply constraints, with Pfizer reporting more demand for the vaccines than it could produce. We have seen the effects of that even with our delayed rollout in New Zealand, coming very close to running out of vaccines in June.
Why the Government's critics believe NZ's been let down
For Bishop, he believes the argument that New Zealand is lagging behind because our people weren't dying is a convenient excuse.
"I don't accept that, because if you take the argument to its logical conclusion we wouldn't be rolling out the vaccine at all," Bishop says.
"We've eliminated Covid, or had done up until a couple of weeks ago. And you know, by definition, every country in the world needs the vaccine more than we do."
"If they really believe that argument, they'd be giving those vaccines away to other countries who need them more. And you'll notice, of course, that they're not doing that."
In fact, in the eyes of the World Health Organisation, our vaccine plans may actually be too robust.
In June, New Zealand made the decision that we would vaccinate children down to the age of twelve, and perhaps younger if the evidence showed it safe to do so.
At the same time, Director-General World Health Organization Tedros Adhanom Ghebreyesus, was urging countries not to.
"Countries that vaccinate children and other low risk groups now do so at the expense of health workers and high risk groups in other countries."
However, New Zealand has made efforts to help other nations with their vaccination efforts - allocating $75 million to support vaccination schemes in Pacific nations, and donating 1.6 million doses of the AstraZeneca vaccine to Fiji, Papua New Guinea, the Solomon Islands, Timor-Leste, Tonga and Tuvalu.
Although it is unclear if our delayed rollout was our decision or not, Bishop says it's the Government's fault regardless.
"It all goes back to mistakes made in the final quarter of 2020. We were slow to sign our contract, slow to approve the vaccine, slow to order. And of course, that's now having the effects of a slow rollout in 2021."
Despite our success in elimination, we should have made every effort to be at the front of the queue - including paying a premium to receive priority delivery, he says.
"All those lack of decisions are all on the Government. Supply constraints are a problem, but they've been caused by Government inaction."
Too little, too late?
The Government's argument for our vaccine delay is based on the understanding that people in other other countries were dying, and ours weren't.
But, as New Zealand tries to contain the current outbreak with everyone at level 4 restrictions, the incredible spread of Delta through the community has highlighted how vulnerable our unvaccinated society is.
While it took a month to reach 100 cases with the original strain of Covid-19 last year, it took only six days for Delta to produce the same number of cases. As yet, there have been no deaths.
Further, Delta is so contagious that countries previously pursuing the elimination method like New Zealand have abandoned it - like Australia did this week.
In an interview with 9News in Australia on Tuesday 24 August, Australian Prime Minister Scott Morrison said Delta is so infectious that the only way forward is a vaccinated population.
"Any state and territory that thinks that somehow they can protect themselves from COVID with the Delta strain forever, that's just absurd," Morrison said.
"New Zealand can't do that. They were following an elimination strategy. They're in lockdown. The way through is to get to those 70 percent and 80 percent marks [for vaccination] and open safely."
Importantly, the Delta virus also requires much higher levels of vaccination to achieve herd immunity.
Modelling from New Zealand research organisation Te Pūnaha Matatini shows that while we only needed to vaccinate 83 percent of New Zealand to achieve herd immunity against the original strain, a 97 percent vaccination rate is required to defeat Delta.
That means the stakes are much higher than they were 18 months ago, and elimination may not be enough to contain the virus and prevent levels of harm we've avoided in the past.
The good news is that in the midst of an outbreak, the trajectory of our vaccinations is quickly climbing. What's important now is to make sure we finish fast, and overcome the slow start we've had.
Re: also requested interviews with Covid-19 Reponse Minister Chris Hipkins and his deputy minister Dr Ayesha Verrall. Both were unavailable.
More stories: