It's the first weekend of our 4-week nationwide lockdown. If you're looking for just the key, verified facts, check in here for rolling live updates.
1:00pm Sunday, 29 March
New Zealand has experienced our first Covid-19 death.
A woman in her 70s died on the West Coast early this morning. She was originally thought to be suffering from the flu. Medical staff treating the woman were initially wearing protective equipment for influenza, but not Covid-19, and subsequently 21 district health staff are now in self-isolation.
The total number of Covid-19 cases in New Zealand is now 514.
There are 63 new cases, 60 confirmed and 3 probable cases.
56 people have recovered from the virus.
There are 9 people currently in hospital with Covid-19, including one on a ventilator.
Directory-General of Health, Dr Ashley Bloomfield said Māori make up 4% of total cases, and Pacific peoples 2.3%.
An average of 1786 tests are being carried out daily.
There are strong links to overseas travel in many of the confirmed cases.
"It is a sad day," said Prime Minister Jacinda Ardern. Older people and those with underlying health issues are most at risk and it is important that New Zealanders stay home to keep us all safe, she said.
"Today's death is a reminder of the fight that we have on our hands."
The Prime Minister also expressed frustration at reports of some people not following the lockdown rules. She warned people who don't comply are at risk of being arrested and detained. "No one wants that," she said.
Police have received 2000 calls about lockdown breaches.
To ease pressure on the 111 emergency number, an online form to report lockdown breaches has been set up at www.105.police.govt.nz.
Jacinda Ardern said modelling data about the predicted spread of Covid-19 in New Zealand will be released over the next 48 hours. It was too early to draw any conclusions from the fact that the number of new cases has been decreasing, she said.
There are current concerns that community newspapers and magazines won't be able to be distributed as usual. Jacinda Ardern said Broadcasting, Communications and Digital Media Minister, Kris Faafoi was seeking assurance from publishers that this can be done within public health guidelines. "The old forms of distribution ... just would not work in the current environment."
The NZ Blood Service is asking for people to make donations while they're feeling healthy. With a dip off in donors over the last few days, the service needs to maintain stocks as New Zealand heads towards winter. To donate call 0800 GIVE BLOOD / 0800 448 325.
1:00 pm Saturday, 28 March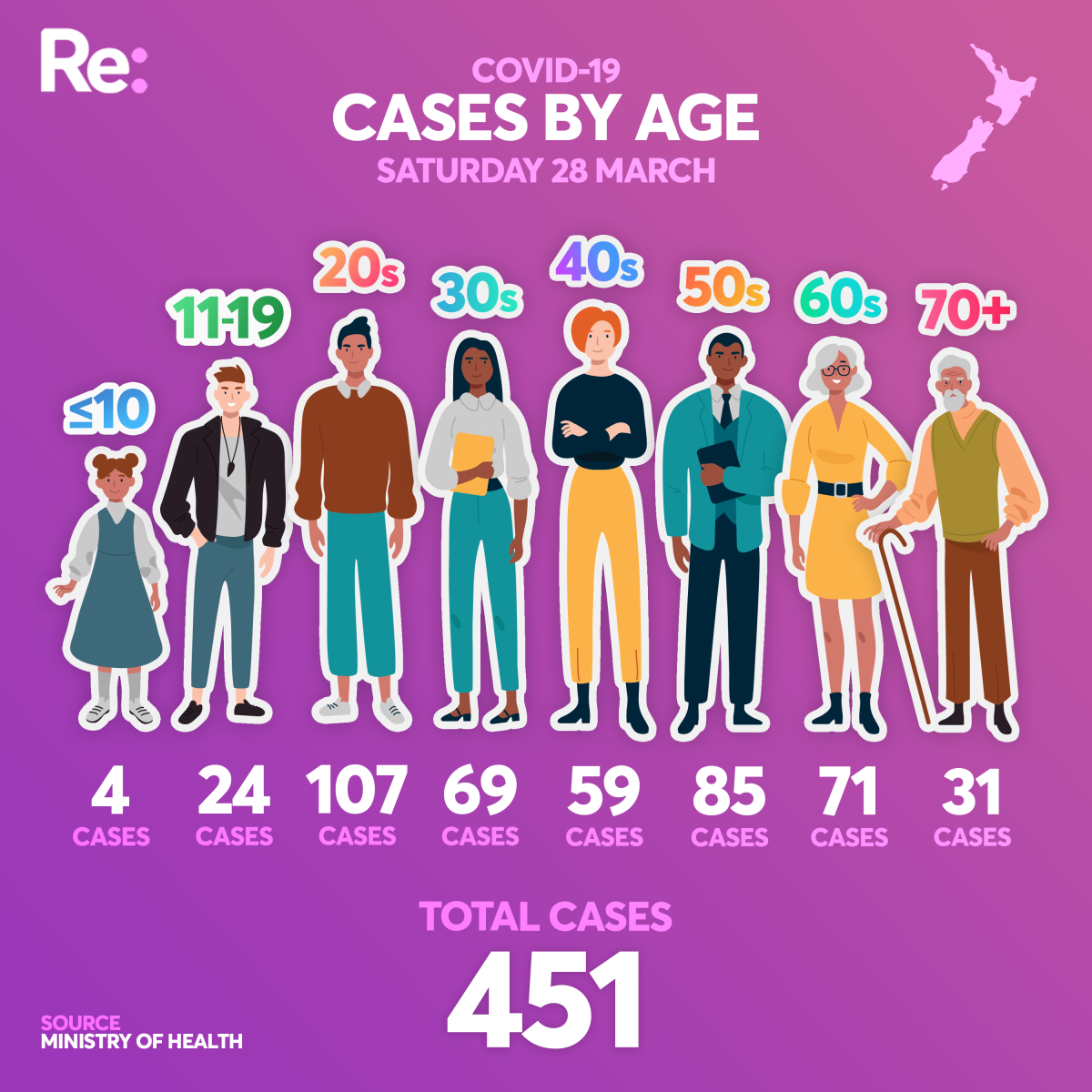 There are 83 new cases of Covid-19 today. These are made up of 78 confirmed and 5 probable cases.
This brings the total number of cases to 451.
50 people have recovered, and 12 people are in hospital, with two of those people in intensive care, (one on a ventilator).
1613 tests are being taken a day on average.
There have been reports of patients receiving online abuse for having the virus.
Director of Civil Defence Emergency Management Sarah Stuart-Black says "it's not acceptable to be attacking people that have been caught up in the pandemic."
"We want people to be tested. Please don't make this any harder for people to be able to seek the help they need to be identified as having Covid-19."
"We need to look out for each other more than ever."
Given the heavy rain in many parts of the country, she said "it's a great day to snuggle up at home and enjoy being with your loved ones, please take care of each other and be kind."
Some people have been playing frisbee and touch rugby in parks. "That's just stupid," says All of Government Controller John Ombler. "People need to stop doing that sort of thing, Covid can transfer on a frisbee from one person to another. With touch rugby it's obvious, please don't do it, don't be stupid."
Police say most of us are following the rules but there have been a few isolated cases of gatherings where people have been spoken to.
If you see someone not sticking to the rules, the first thing you should do is talk politely to them from a safe distance. You don't need to call the Police right away, All of Government Controller John Ombler says. "Let's leave 111 for real emergencies."
Things you can do:
Go for a walk or run in your neighbourhood, or at a beach if it is local. While you're out, give people 2 metres of space

Visit an essential service like a supermarket, pharmacy or medical centre.

Use public transport if you need to get to an essential service like a supermarket and you have no other way of getting there (e.g. no car or can't walk there).
Things you can't do:
Congregate at parks or beaches

Go swimming, surfing,

tramping, out on a boat, fishing or hunting
The reason you're not allowed to drive outside of your neighbourhood or do these outdoor activities is you'll be putting emergency services at risk if you need help.
If you have a car crash, car breakdown, injury or accident, emergency and volunteer services are already stretched and may not be able to help you immediately. If they can help you, you're putting them at risk of Covid-19 by having them attend.
"A walk along the local beach is fine but don't do anything that might require help," says All of Government Controller John Ombler.
4:00pm Friday, March 27
Some stats from today: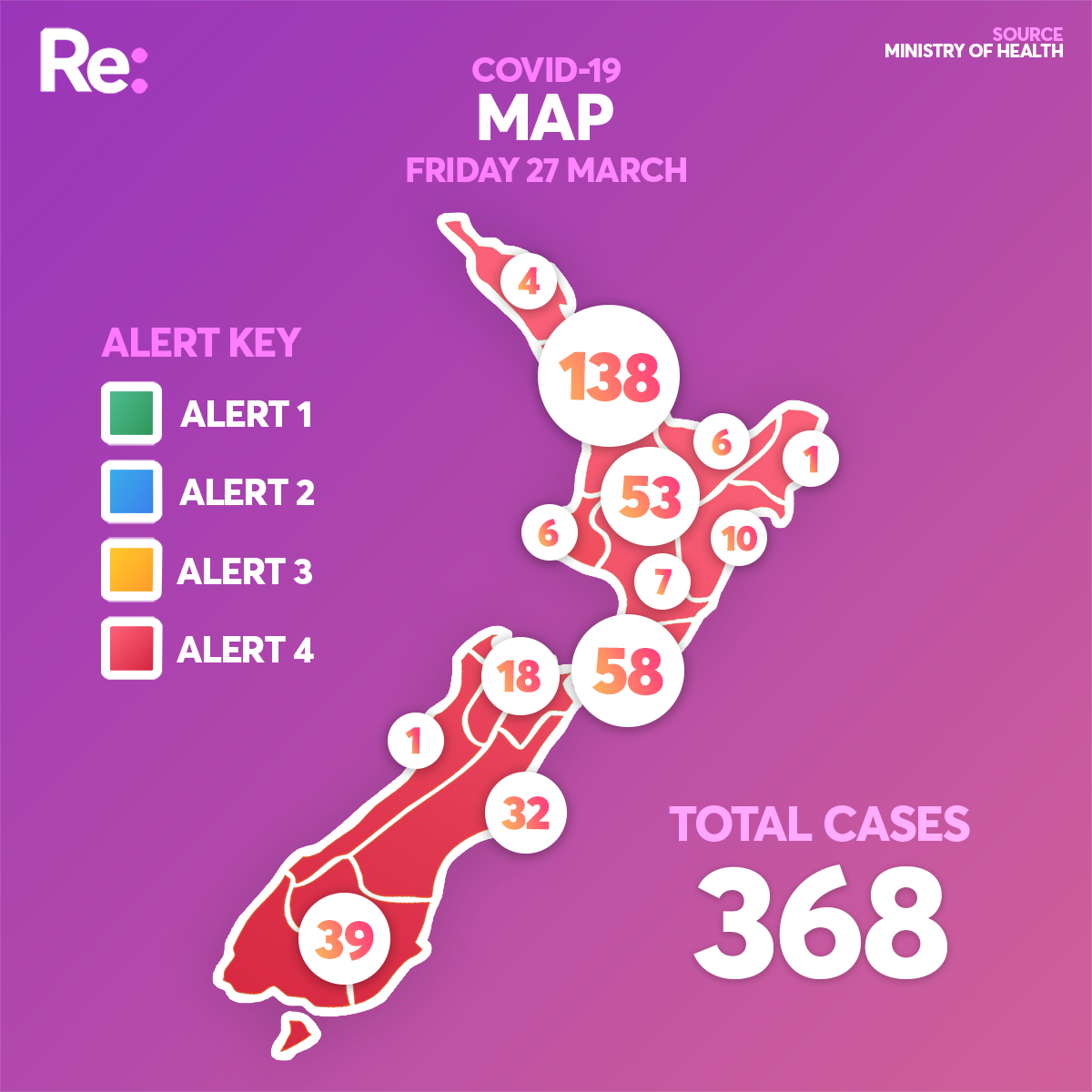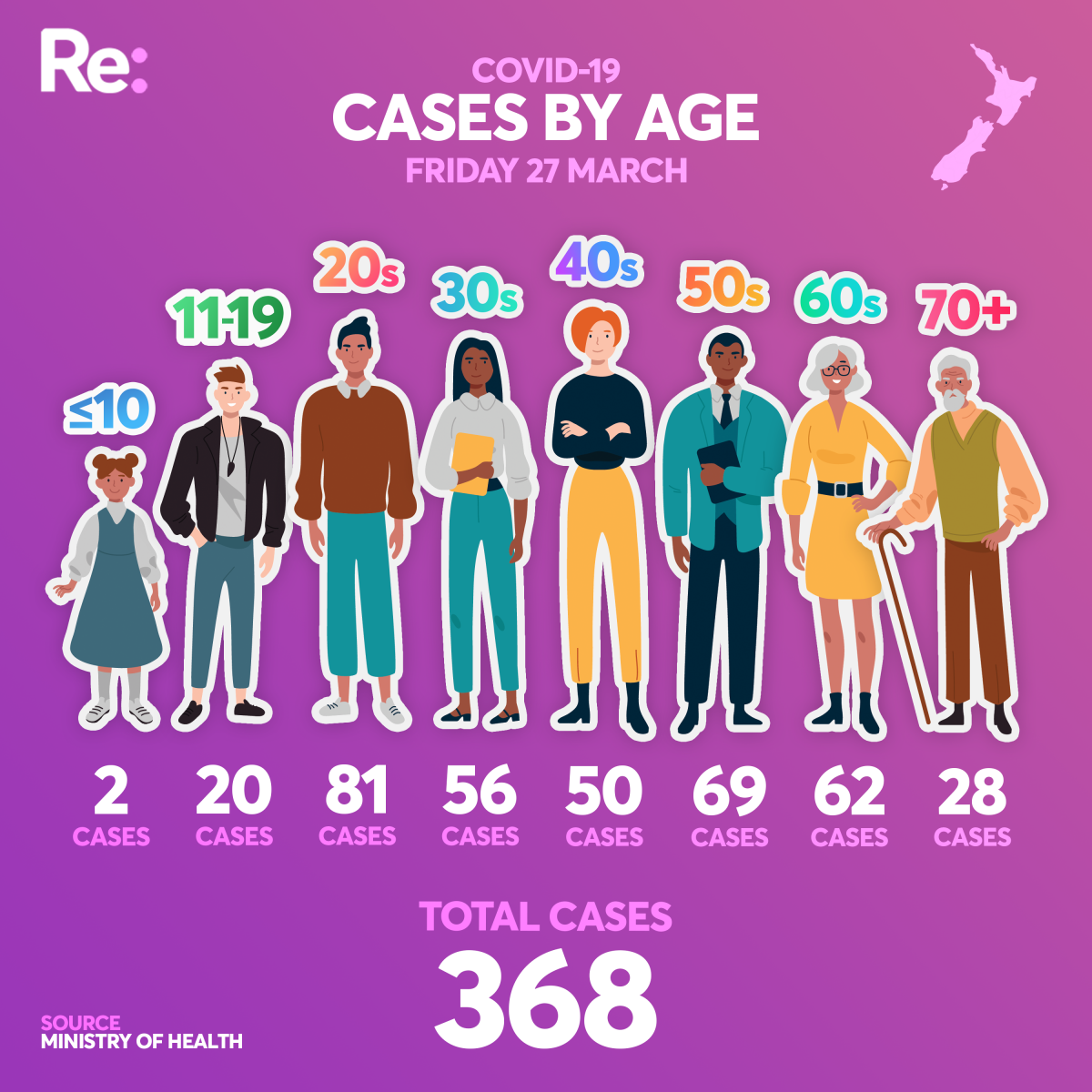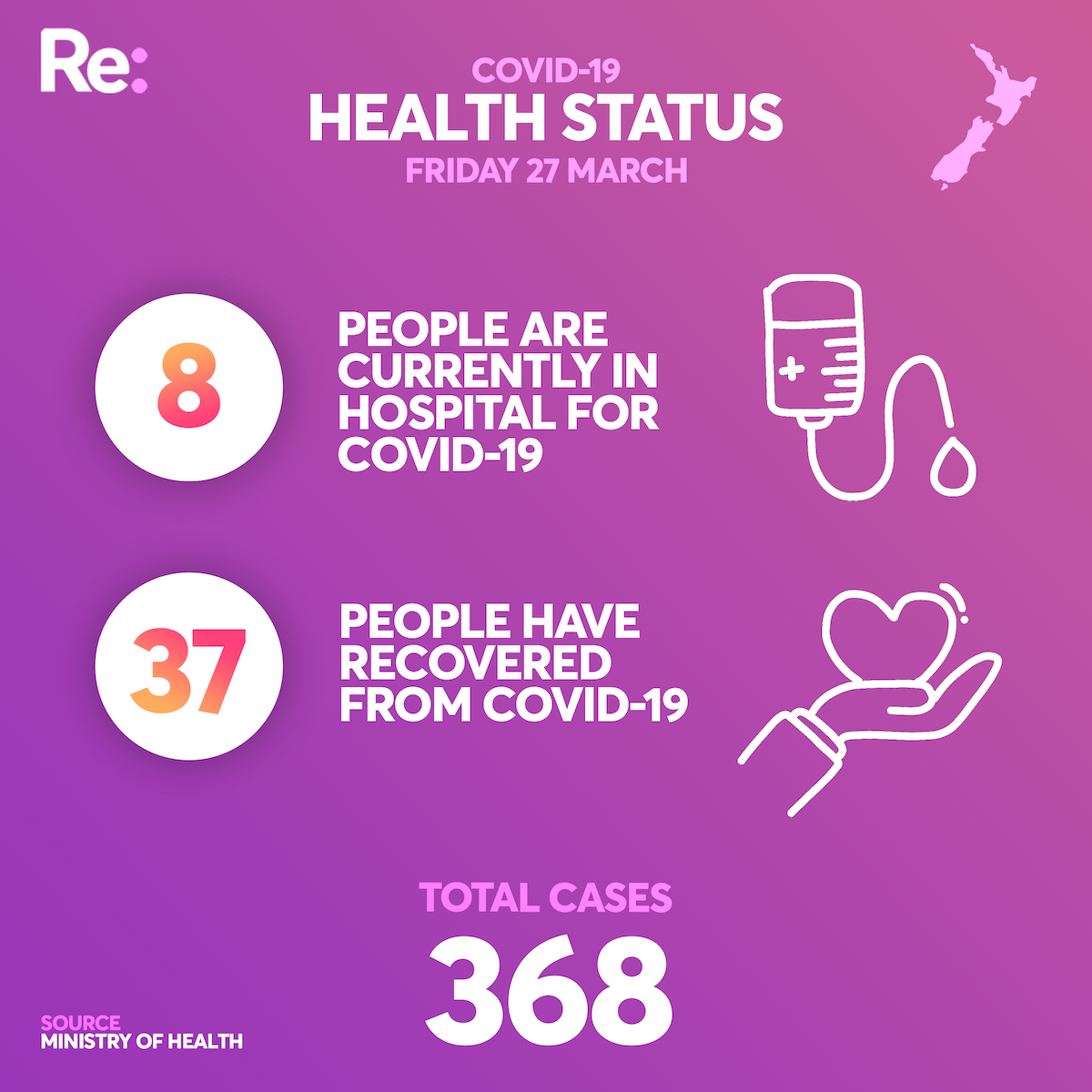 3:00pm Friday, March 27
640,000 masks have been released from the national reserve and sent to DHBs. Prime Minister Jacinda Ardern said there will be 4 million masks delivered to the health sector and 4 million to non-health essential workers.
Distribution of personal protective equipment to essential workers is a key priority, the Prime Minister said. "They are looking after us, so we in turn need to make sure we are looking after them."
A Whanganui-based manufacturer of masks is making 60,000 masks a day, and 40,000 n95 masks (masks a level above surgical masks).
The Prime Minister has praised "unsung heroes" like medical lab scientists. There are 1823 lab staff at eight labs across the country, processing tests 24 hours a day, 7 days a week. "On behalf of New Zealand, thank you for your work."
The Finance Minister Grant Robertson has sent a stern message to employers taking the government's wage subsidy scheme - "All workers must receive at least the full value of the subsidy".
This means employers need to pass on the full amount of the wage subsidy.
Employers must also keep employees on the books during the wage subsidy scheme - they can't let employees go and continue to receive the subsidy.
The names of all businesses who have received the subsidy will be published. "I want to hear from anyone who believes their employer is taking the wage subsidy but not passing it onto their staff," the Finance Minister said.
So far $2.7 billion has been paid out to over 428,000 workers, including 58,000 self employed workers.
1:00pm Friday, March 27
There are 85 new cases of Covid-19 in the last 24 hours.
76 new confirmed and 9 probable cases.
37 people have recovered.
8 people in hospital: 6 are stable, one in a less-stable condition, one is in intensive care. The person in intensive care is the only case in New Zealand who is needing a ventilator.
1479 tests have been processed on average each day.
Most cases are still linked to overseas travel or known cases.
That means the total number of cases = 368
The Director-General of Health Dr Ashley Bloomfield has assured New Zealand we have sufficient stocks of personal protective equipment (PPE).
He said the Ministry of Health and District Health Boards have reserves of
1.9 million aprons and gowns

2.7 million pairs of gloves

60,000 sets of eye protection

18 million masks (half of which are surgical masks and half n95 masks) in the national store, and another 5 million in DHBs
"All stones are being turned over to make sure we keep our stocks at the levels that will be needed to protect our health force and essential workers" - Director-General of Health Dr Ashley Bloomfield
More than 2500 healthcare workers who weren't currently practicing (e.g. retired, on maternity leave etc) have registered to come back into the workforce.
It will take between a week and 10 days before we start to see numbers of Covid-19 cases drop, Director-General of Health Dr Ashley Bloomfield has said.
The Police say largely New Zealanders are doing the right thing, but there were some isolated incidents of people congregating on the first day of Level 4. Those people were spoken to and given advice on the restrictions.
Regular Work and Income and superannuation payments will continue, with appointments being delivered over the phone.
MBIE has launched a temporary accommodation service for those who do not have a place to self-isolate, for both New Zealand citizens and visitors. There is a cost for this accommodation - New Zealanders who can't afford the service can get help from Work and Income. Visitors to New Zealand need to contact their own embassy or consulate if they need financial help.
9:00am Friday, March 27
It's day two of Alert Level 4 and nationwide lockdown.
Water New Zealand is urging people to stop flushing wet wipes, paper towels, antibacterial wipes and sanitary items down the toilet. They've seen a "massive increase" of wastewater pipe blockages, and there is only a limited number of staff who can clear them.
Right now would be the worst time to block the wastewater system, so just think that every time you flush a wet wipe it could be putting a worker at risk. There's no shortage of toilet paper in New Zealand, so let's stick to that.
3:00pm Thursday, March 26
New Zealand's streets are empty and "everything is broadly running as smoothly as expected at this time," Prime Minister, Jacinda Ardern said at her daily press conference.
"Supermarket workers, bank tellers, cleaners are our new front line. On behalf of all New Zealand, I say thank you to you now," says Jacinda Ardern.
The government has approved a $27m package for social sector services and community groups. There has been high demand for food packages. Some of this money will go to Women's Refuge to help families that need to be kept safe from violence during the lockdown.
There has been $1.5b paid out in wage subsidies, says Finance Minister Grant Robertson. Nearly 73,000 applications have been paid out to 244,887 workers. A further 11,000 applications have been approved and will be paid out.
The leader of opposition Simon Bridges is leading a special select committee set up to scrutinise the government's Covid-19 response. Parliament has been suspended for five weeks.
1:00pm Thursday, March 26
There are 78 new cases of Covid-19 as of today. This brings the total number of cases in New Zealand to 283.
The new cases are made up of 73 new confirmed and 5 new probable cases.
The majority still have a link to overseas travel.
There are 27 recovered cases, and 7 people in hospital, all in a stable condition.
2417 tests have been processed in the last 24 hours, bringing the total number of tests to over 12,000.
To prevent stockpiling of medicines, from midnight tonight pharmacists will only be able to dispense one month's worth of prescription medicines, or three months' worth of oral contraceptives.
"We have seen some stockpiling, there is no problem with the supply chain but we don't want to get into a position of some people not able to access medicines because others have them stockpiled at home," said Dr Ashley Bloomfield, Director-General of Health.
There will be no change in how you get a prescription, and pharmacists will be able to make exceptions on a case-by-case basis, like for example a rural patient.
The Ministry of Health is investigating several possible clusters of Covid-19 cases, including at Marist College in Auckland, at the World Hereford conference in Queenstown, at a wedding in Wellington, and a group of people who went on trip to the USA.
360 people have been processed through Auckland Airport this morning. 8 of those people have symptoms and have been put into quarantine at an Auckland hotel next to the airport.
160 people didn't have plans for how they would safely get to a place of self-isolation, so they are required to also stay in the hotel.
Commissioner of Police Mike Bush has detailed the airport process:
Arrivals are greeted by customs and immigration and then triaged.

People with symptoms are taken by a health worker to a place of quarantine at a nearby hotel.

For people without symptoms, if they have a plan of how to get safely to self-isolation, they may be picked up by one person who they will live with. Otherwise officials are able to assist them to their destination.

If they do not have a plan they are put into hotel quarantine.
9:00am Thursday, March 26
At midnight last night, New Zealand went to Alert Level 4, placing the highest restrictions on movement for at least four weeks.
Parliament declared a state of emergency yesterday that lasts for seven days, which gives the government special powers.
No one can be evicted during the lockdown period. The government passed an urgent law yesterday with immediate changes to eviction laws and better protection for tenants.
Housing Minister Megan Woods announced:
For the next three months,

landlords can't terminate a tenancy

unless both tenant and landlord agree.

Tenants who had already given notice to their landlords that they would leave their tenancy can stay on if they need.

There is a

six-month freeze on rent increases

. Despite some people calling this a 'rent freeze', it's actually a freeze on rent increases - which just means that landlords cannot increase the price of rent. It doesn't mean that paying rent is frozen. Even if your landlord had already notified you that your rent would increase before lockdown began, they can no longer do so in the next six months. No rent increase can begin in the next six months, even if it was previously agreed on.

All tenants who still have the ability to pay rent must do so.

If you need help paying your rent or emergency accommodation, contact

Work and Income

.

Tenants who cause significant property damage or with significant anti-social behaviour can still face termination.

Tenants who test positive for Covid-19 cannot be evicted just for having a positive test, and tenants are not required to tell their landlord if they do test positive.

Moving house is not considered essential at this time. If your tenancy was going to end during the lockdown period, it will not end (unless you as the tenant wants it to).

It's recommended that people don't try to buy or sell a house at this time.
Dr Woods said the changes meant people could stay in their homes during lockdown, even if they had lost their job. "This enables families and individuals to self-isolate, to stay home and maintain physical distancing, supporting the public health of all New Zealanders."
Despite the temptation to spend all your time out on a boat, Water Safety New Zealand is urging people to stay off the water - because the people who would come to your rescue if you land in trouble are also in lockdown and might not be able to help in an emergency.
By next week Air New Zealand will have cut 95% of its international flights.
Spain's death toll is now higher than China's, and second-only to Italy.