Aotearoa youth who spend long hours in front of screens are showing signs of an eye condition more commonly found in the elderly, according to new research.
More than 450 people who attended an Auckland gaming convention in 2019 were involved in the research article which was published in the journal, Contact Lens and Anterior Eye.
The University of Auckland study, which was released on November 25, found participants, who were mostly teenagers, spent an average weekly screen time of more than 43 hours and showed symptoms of a disease called dry eyes.
Dry eyes, normally seen in older people, is a condition of discomfort and dried-out eyes.
If left unchecked, it can become very painful and is sometimes described as feeling like there is sandpaper rubbing on the eyes.
Dr Alex Müntz, a research fellow at the University of Auckland who specialises in eye disorders and diseases, said although the study was largely focused on gamers, the results were linked to anyone who spent long hours in front of screens.
Images by Getty Images

"It's not just hardcore gamers that are affected by this, it can be from our normal, or what we assume or considered normal screen use, that can be tied in as well," Müntz, who co-wrote the article, said.

"The disease has started to show up in children increasingly and in younger people. That is related in part to extended screen use, long hours in front of devices."
Dry eyes are not just from random long periods of screen use but from "extended consistent screen time from a very young age, day in and day out over years and years".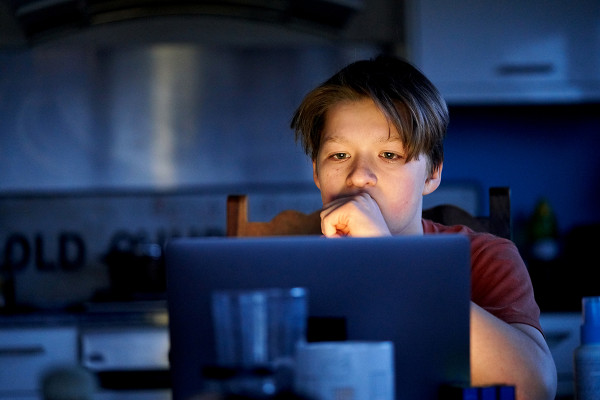 Images by Getty Images
It was not the screens themselves drying out eyes but the uninterrupted focus people have when using screens, making people blink less and becoming more prone to dry eyes.
But there were ways to retrain eyes, Müntz said.
As a way of combating and avoiding dry eyes, Müntz recommended implementing an exercise called the 20/20/20 exercise into your routine when using screens.

Every 20 minutes people should look away from your screen and focus on something that was 20 metres away for 20 seconds.
"It has the potential to reduce some of the symptoms we're seeing," Müntz said.

He compared the exercise to yoga or brushing your teeth - activities that had to do with retraining.

"If you do it [brushing your teeth] consistently twice a day and floss every day, chances are that you'll reduce your risks of developing cavities."
While that was not guaranteed - it was "your best bet", Müntz said.
And looking after your eyes was the same, he said.
More stories:
Thousands of high schoolers skipped NCEA exams this year - we asked them why
Climate change splitting up albatross couples
Traditional Sāmoan medicinal plant found to be as effective as ibuprofen