If you don't already know Georgia Latu by name, no doubt you've seen thousands of her poi lighting up stands at the Women's Rugby World Cup.
But her success hasn't come without challenges and she's had to make sure she's invested in her mental health as well as her business.
At 17, she's already a successful business owner. Georgia (Kai Tahu, Ngāpuhi, Samoa, Tokelau) is the founder and CEO of Pōtiki Poi, the Ōtepoti-based company that filled the order for 32,000 poi that were given out to fans at last year's tournament.
She says it's easy for others to see her success and not see "the other stuff" behind her hard work, the stress and pressure that have disrupted her mental wellbeing as a young person.
"Owning the largest poi manufacturing company at such a young age, starting at 12, it did come with a lot of challenges, not just within the business but in my own personal life," Georgia says.
"I've found that through this journey that people think that I'm just smashing it, when in reality I need help. I think that's something not many people know about and open up about because it's hard, it's hard asking for help and it's hard to push through."
There's also been tragedy as part of her journey. Georgia recently lost her best friend, who died aged just 14.
"That was just going on in the background while everyone was seeing me on the media - it was quite triggering for my mental health. That was probably one of the biggest challenges of my life."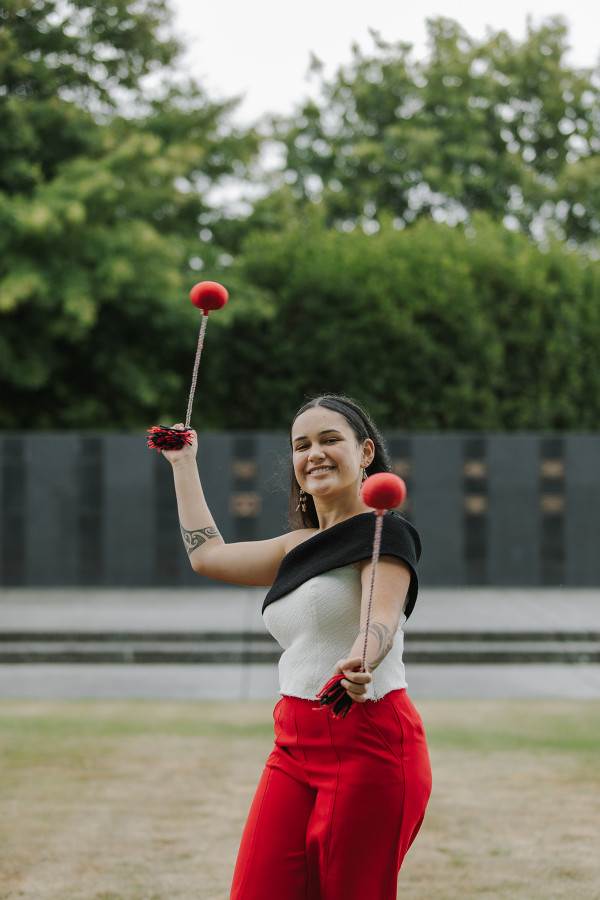 Georgia says understanding what to do with feelings that arise and where to find tools that can help can be confusing and tricky to navigate. She recently turned to Aroā Wellbeing, a website which helps guide rangatahi on their mental wellbeing journey.
"I just find that it has all the information that you need all in one place. But it's also not a person (which is helpful because) I know for some of my friends they sometimes actually struggle with one-on-one. The resources on this website are just easily accessible - it helped me a lot really."
The Aroā Wellbeing experience is described as a "digital hug" - visitors arrive at a scene of the taiao (environment) and are encouraged to explore the forest. Bird sounds add to the immersive feeling of being in the digital ngāhere.
Past the moss covered rocks and green ponga fronds you're given three options: waerea (cleanse), whakangā (breathe) and tātai (connect), before being directed to helpful tools and resources that can offer guidance depending on what support you need.
Aroha Gell, an Associate Strategist with VMLY&R which collaborated on Aroā Wellbeing, says it's designed for rangatahi who aren't at the acute end of mental health, but those exploring what mental wellbeing means to the them and looking for online support.
"There's a need to provide resources to rangatahi much earlier in their wellbeing journey. More access to choices, much earlier," she says.
Aroha (Ngāti Kahungunu ki Te Wairoa, Ngāti Rakaipaaka, Te Arawa) says having rangatahi Māori guiding the design right from the start is what makes Aroā Wellbeing so powerful.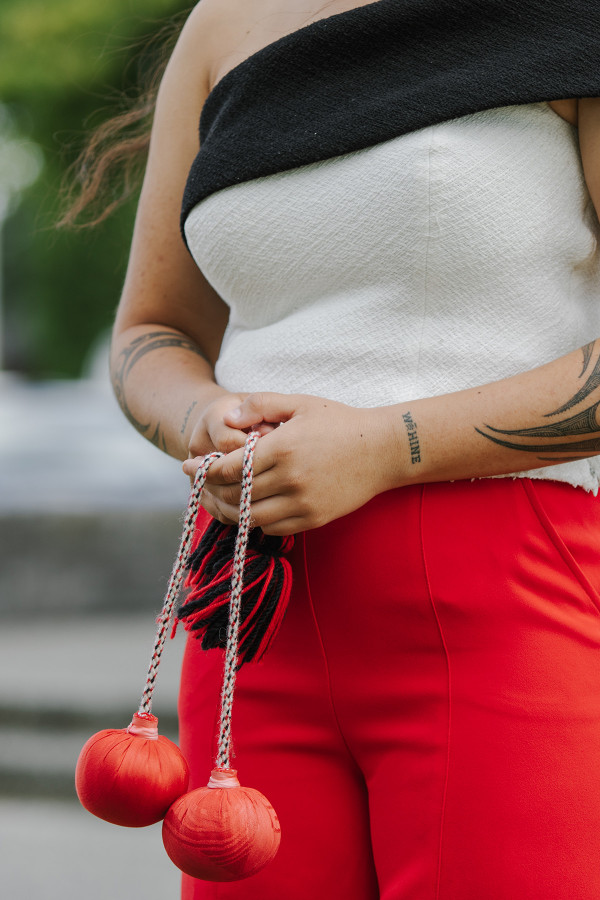 "There's often nothing greater than a big warm hug from somebody, and when that's not possible, you look for that feeling online. What's unique about Aroā Wellbeing is that the site offers rangatahi a safe space to find the many support and online tools to help with their wellbeing," she says.
"When the rangatahi we worked with looked at all the wellbeing tools they could find, a lot of them weren't emulating that 'hug' feeling. It was like "yep, you are not well, you need to go see a professional". It was really important to them that we provided that same feeling of a hug first, you know, whether it was through tone or design or karakia."
Georgia Latu says before using Aroā Wellbeing she struggled for years to find online tools that she truly connected with.
"I immediately thought: 'wow this is something I've never seen before'. When it comes to mental health, there's never really been something like that for rangatahi on pae tukutuku (websites). So for me I was happy to see that we're moving forward and creating resources that our rangatahi can use because there's not enough out there."
While Georgia acknowledges everyone's journey is different, her number one tip for mental wellbeing is surrounding yourself with people who help you grow and bring life.
"That's I think what mental wellbeing looks like for me, it's actually having a strong whare tapa whā - when all four of my pou are standing strong."
Aroā Wellbeing is a collaboration between VMLY&R, with the Aroā Rangatahi Collective Group, and with funding from Te Aka Whai Ora.
For those seeking a space to explore, reflect, and connect, the digital forest of Aroā awaits. Visit www.aroawellbeing.co.nz
This content was sponsored by Te Aka Whai Ora.
More stories:
Both renters and landlords have legal rights. As a renter do you know all your rights?
Only 11% of NZ-Niueans speak the language. This is why I'm fighting for it.
"We've found a way to tell the world all the different ways life can look like for a queer POC."