"It felt like I had done 13 years of school just to never make it out of the lower class."
These are the words of Auckland poet Jai Selkirk in his work Count Sheep on Me.
Jai is part of an Action Education campaign called Verses in Vision providing talented young people with a platform to express themselves through poetry and spoken word.
Verses in Vision features the voices of 19 Auckland rangatahi and represents a generation speaking truth to the issues they face in Aotearoa.
Re: spoke to two of the creatives about what these poems mean to them.
Kate Laughter, 16
Ngati Porou, Te Arawa
A Year 12 student at Marcellin College in Tāmaki Makaurau, Kate is a poet and performer.
She's a Word-The Front Line Champion and also a member of the 617 Poets Collective, a group that together wrote Redeeming Redemption for the campaign.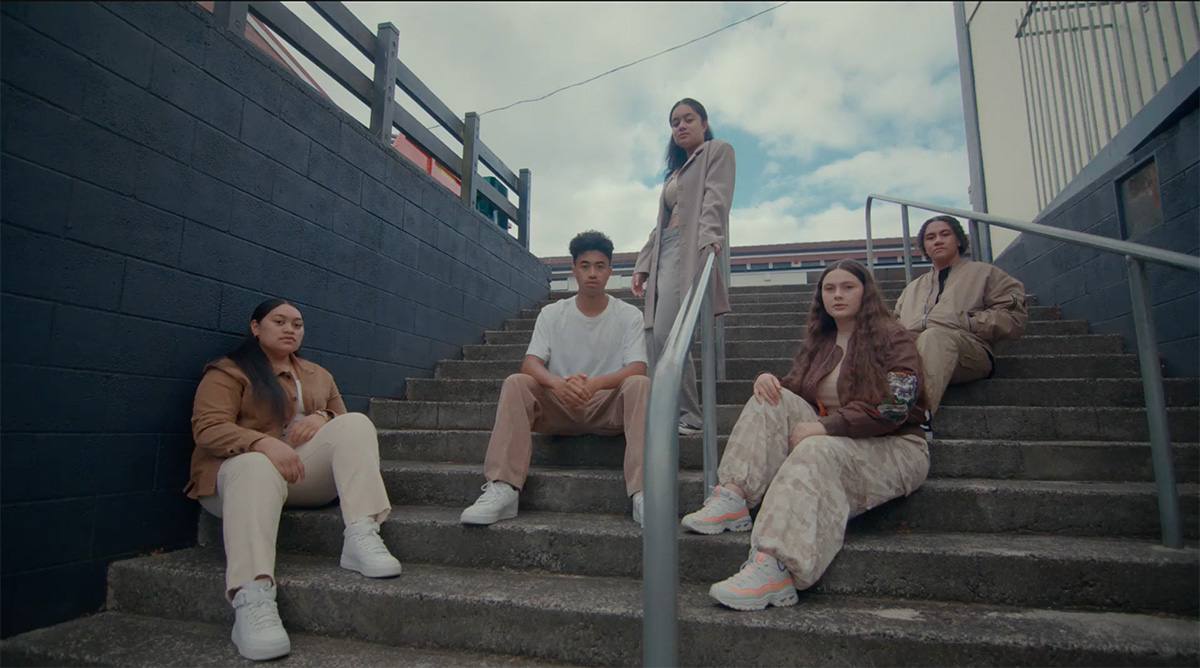 The 617 Poets Collective is made up of five students from Marcellin College in Auckland (pictured from left): Eniselini Ali, Azael Setu Uini-Faiva, Jazmin Ugapo, Kate Laughter and Alani Leahe'uhila.
Kate says "when we wrote this poem, each of us found that our voices were either silent, weren't heard, or weren't listened to at all".
The group were fuelled by feeling silenced and directed their piece at people in power who they felt were maintaining a system built to keep them quiet.
Dealing with climate change, gender inequalities, and cultural stereotypes while struggling with exams and part-time jobs and caring for family members, the poem is a glimpse into the "chaotic" realities of being a teenager in New Zealand, she says.
"Have you forgotten the time we sacrificed?
Time taken to nurture our future
Provide security for our families
To graduate and be the first
To simply
Breathe and take a break."
Kate says the poem also speaks to the pressures Gen Z faces in being the generation expected to fix the world.
"We don't have to be the heroes because we have to do so many things to provide for the people around us that it's hard to look to the future and save it. How are we supposed to? We're still kids," she says.
Kate says she hopes the poem empowers her generation to speak up and use their voice in the midst of all these struggles.
"It's important that we fight for ourselves because we've gone through so much," she says.
Jai Selkirk, 21
Ngāti Whātua, Ngapuhi
Selkirk is known for his powerful performances, lyrical storytelling and works as an activist covering issues of colonisation, modern land activism, and cultural reclamation. His 2017 poem True Story racked up more than one million views across social media.
Based in Māngere in Tamaki Makaurau, the 21-year-old is also a Word-The Front line Slam Champion and Trans-Tasman Slam Champion, recently performing as part of critically acclaimed Dirty Passports Showcase at the Basement Theatre.
When Jai got the call about Verses in Vision, he had already been writing a piece he describes as a conversation with himself.
Count Sheep on Me follows that conversation as he begins to wonder where he is in life.
He lyrically guides us into his world while wearing a hi-vis vest - a world where you're scraping through just to make it through another day, waiting on a paycheck, trying to make ends meet, reminiscing on lost dreams, and finding the courage to keep going.
"I aim for the stars and hit my head on the shed roof
I slept on myself and ended up in my bedroom
I shed a tear to all those dreams that I never swore to."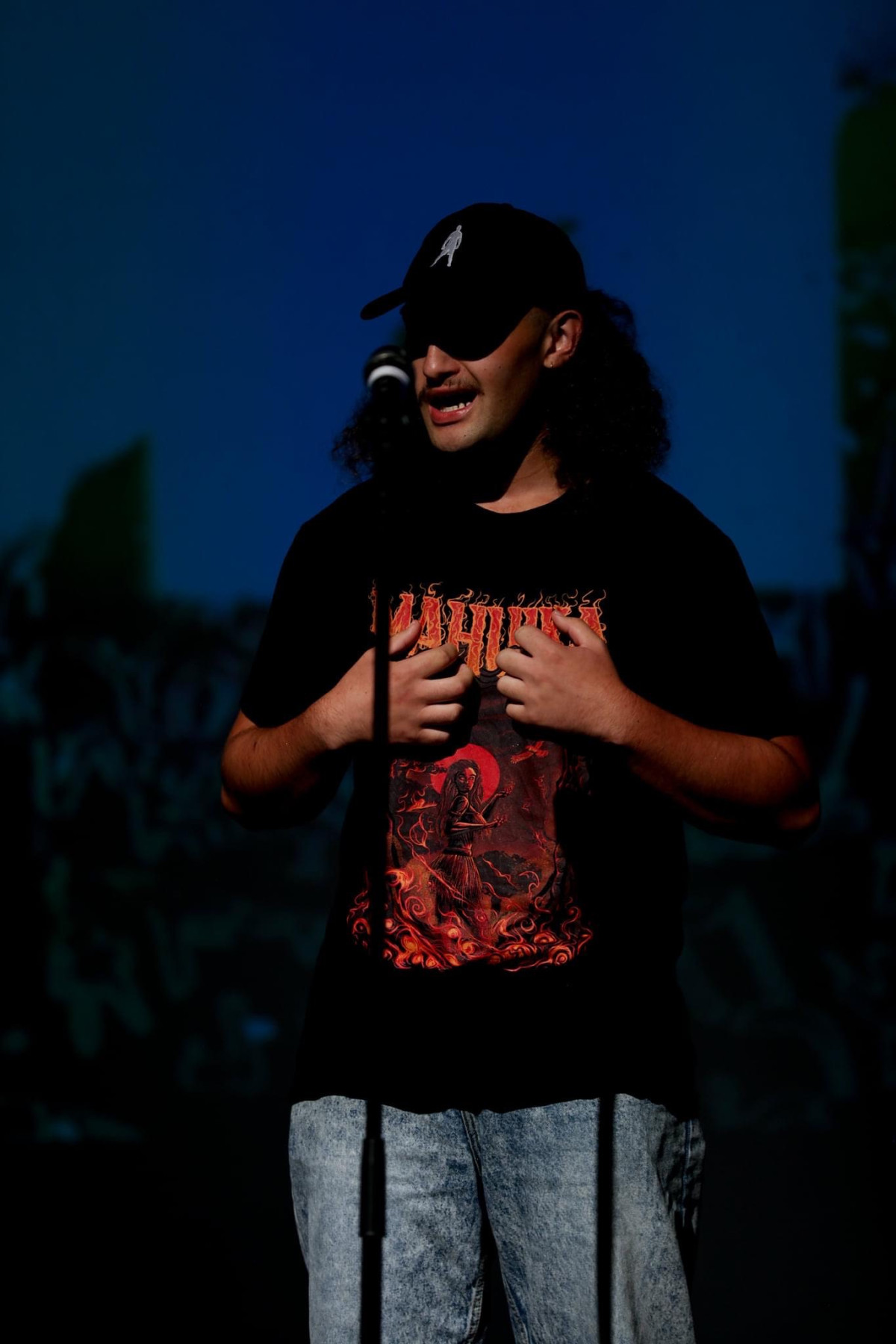 "I like to think of this piece as something that I never want to write again. I'm writing of a place where I want to be. Next time I write a poem I hope to be there," he says.
"It was just me trying to embody my dreams. I've been having a lot of thoughts about where I am in life, places where I don't want to be, and places where I want to be."
Jai says this internal battle is one that is common for his generation. When he shared the poem with his friends, they said the feelings were familiar for many of them.
He believes it is important for his generation to have these hard conversations with each other so they know they are not alone.
"Never give up and don't settle. There's always something, even if it's not your goal, it's a step closer to it and a step further away from yesterday," he says.
The poems making up the Verses in Vision campaign are currently being released weekly and can be found on the Action Education website.
More stories:
A National MP deleted a "distressing" post.
"It's not as though this knowledge is new, it's an intrinsic part of who we are."
"If it's just helping one person then it's worth it. It can change people's lives."