A crowd of Aucklanders gathered last weekend at Albert Park at a rally calling for consent education to be compulsory in every high school across Aotearoa.
It comes as more than 150 young people across Aotearoa have opened up on social media about sexual assault and harassment which they experienced as high schoolers.
People who shared their experiences were as young as 14.
According to Help Auckland, which provides support to sexual harm survivors, one in three women will experience sexual assault before they turn 16 - 90% of the time, it's done by someone they know.
For the past month, Genna Hawkins Boulton has been providing young people a platform to anonymously share their experiences of sexual harm through an online form. Australian movement, Teach Us Consent, has also gotten on board helping Genna with this.
Organising the rally as well, Genna said "sexual violence is an epidemic in Aotearoa".
In New Zealand, it's up to schools in consultation with their communities to decide what to teach when it comes to consent.
This is simply not good enough, Genna said.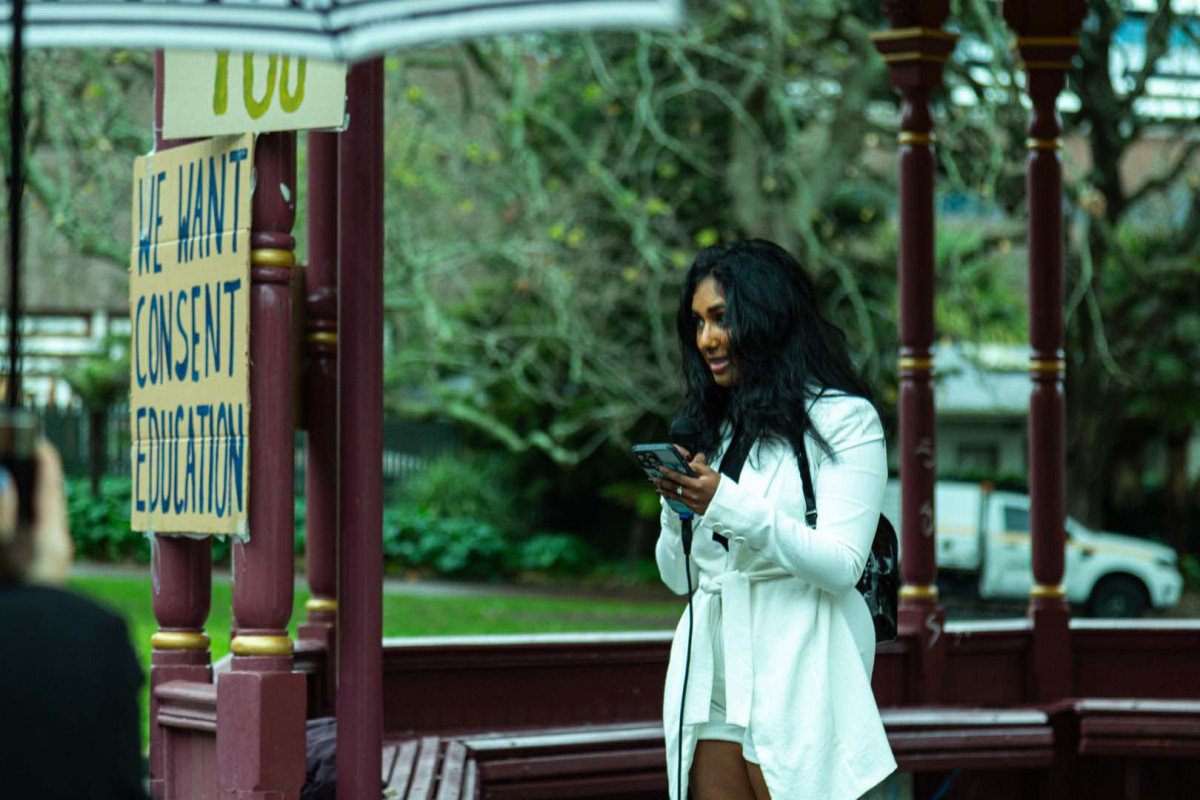 Sabby Jey speaks at the rally. Photo: Ashley Vaotuua/Re:
"A mandate would ensure there will be guaranteed comprehensive, holistic, age-appropriate consent education in every school."
Youth representatives from some of New Zealand's political parties recently spoke about compulsory consent education. When asked if they would support having this in schools, Ricardo Menéndez March from the Green Party and Arena Williams from Labour said yes.
Karen Chhour from ACT also said yes but "it depends on the age" while National's Matt Doocey said yes to consent education but did not think it should be compulsory.
Speakers at the rally were vocal about needing to have mandatory consent education at school.
In April, an Auckland teenager was sentenced to home detention and supervision after raping and violating teenage girls.
Three of these survivors spoke at the rally saying that had they and the offender been educated about consent, things could have been different.
Another speaker Sabby Jey said consent education was crucial for the entire system.
She urged the crowd to help get this mandate across the line as a community. "Let's urge for consent education."
Re: asked protesters why it was important for them to be at the rally. Here's what they had to say.
Libby Walton, 24 and Annalise OSullivan-Moffat, 24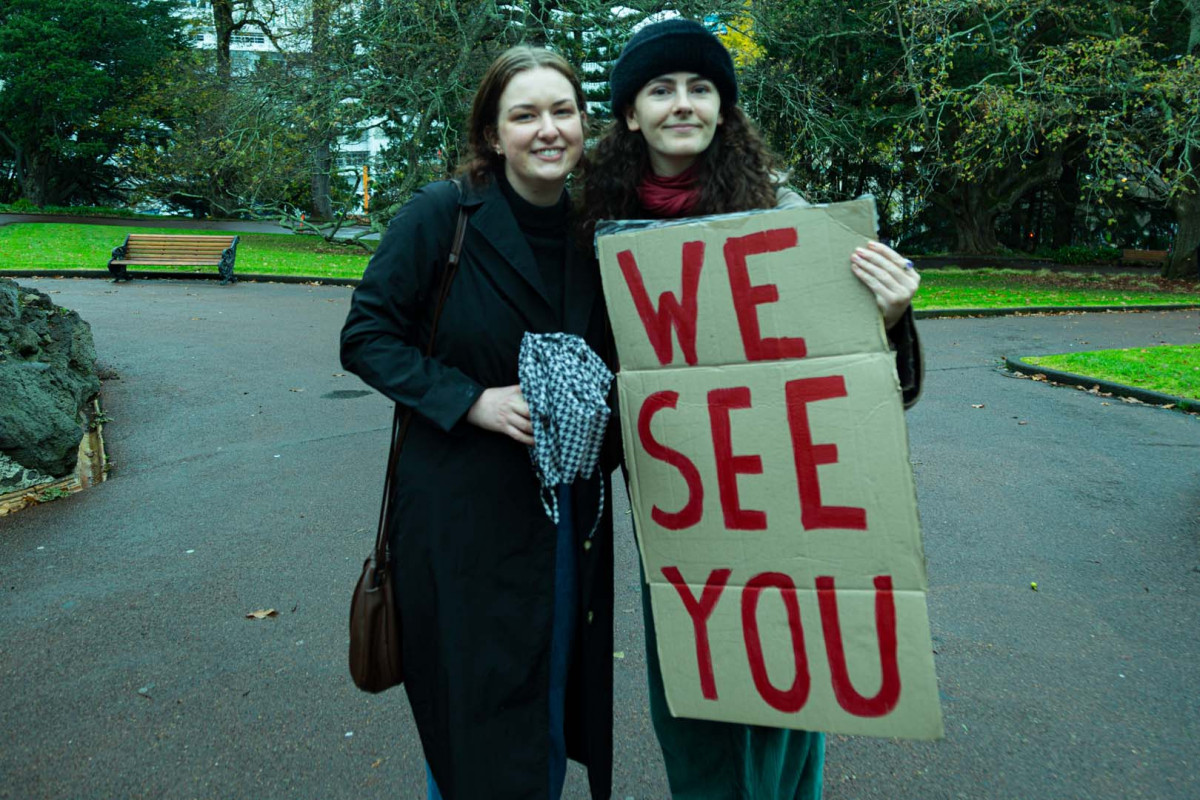 Supporting their friend Genna, Libby said that hearing survivors' stories showed sexual violence is preventable which is why mandating consent education is necessary.
"If it's just helping one person then it's worth it. It can change people's lives," Libby said.
For Annalise, the cause is one she holds close to her heart. Her cousin was sexually assaulted by a family member from when she was eight until she was 18.
"It would be great to see more males here because I feel it's a conversation they should be a part of," Annalise said.
Olivia Sailsbury, 19, and Ethan Jordan, 19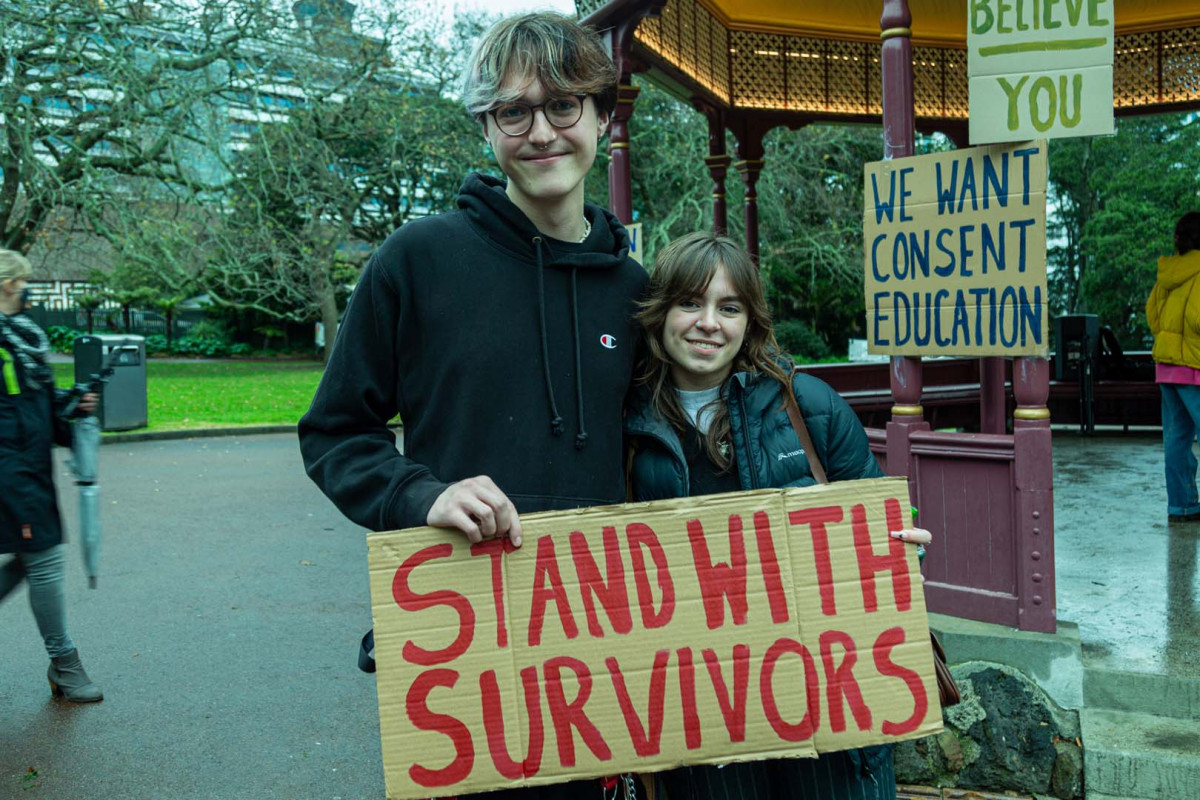 Both Olivia and Ethan have also had their own instances where they needed to navigate consent and attended the rally in support of their friend who was one of the survivors.
Ethan did not recall hearing even an "utter" of consent at school.
The pair said the cause is important and needs to reach as many people as possible.
Olivia said "it happens to so many people. I've had so many girls relate to my story. Even just the smallest thing like a kiss, people need to understand that is not ok".
Lillian Parker, 22, Grace Stevens, 24, and Anya Cropper, 24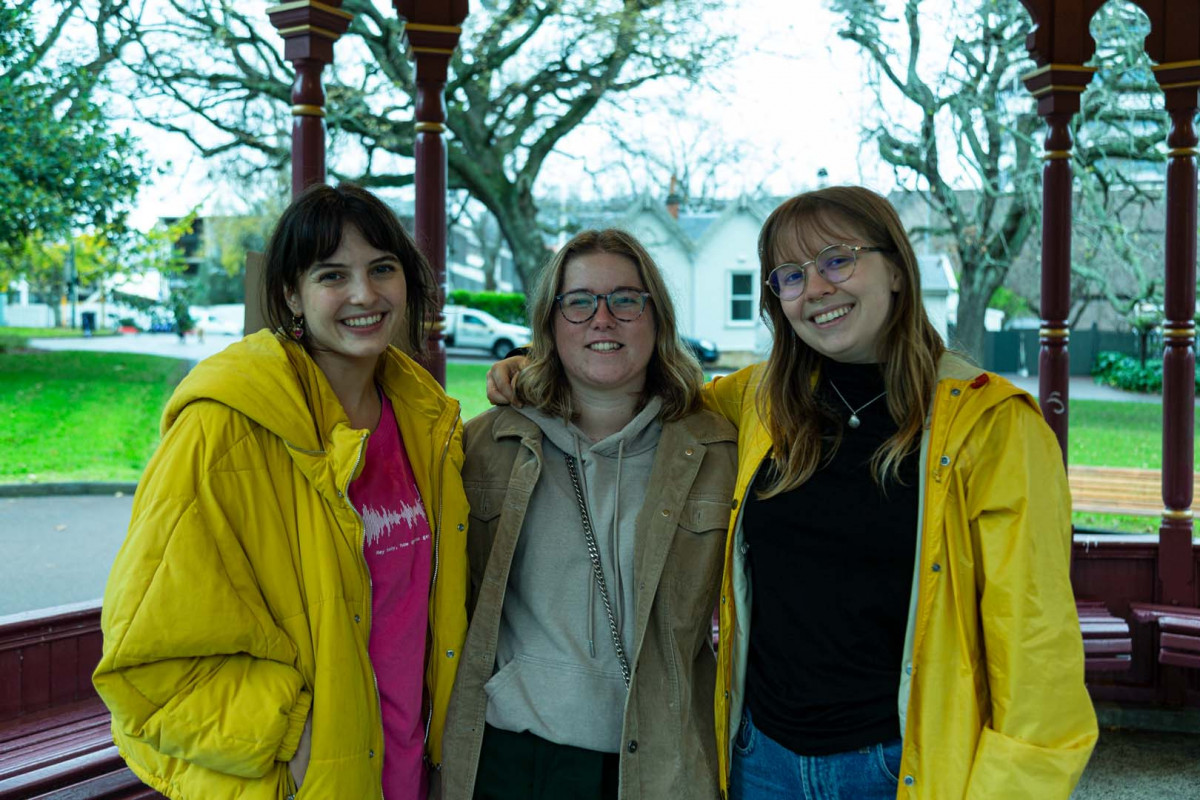 These women have been helping their friend Genna with the campaign because they said they deeply believe in the cause and share personal ties to it.
As part of this, they have been contacting different high schools and students.
They said while a lot of all-girl schools are beginning to provide good consent education, their students were still having awful experiences because the people they interacted with were not getting the same education.
"That's why mandating consent education is so important. It needs to be embedded in all schools across Aotearoa," Anya said.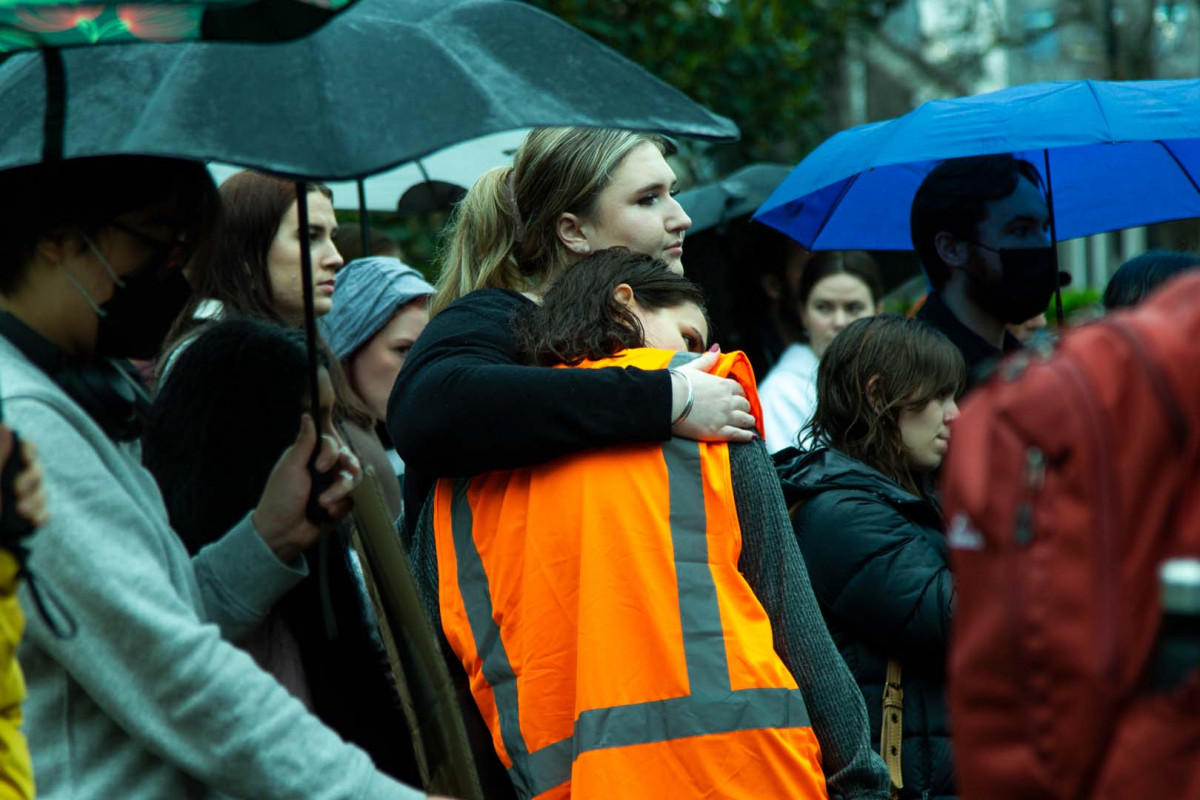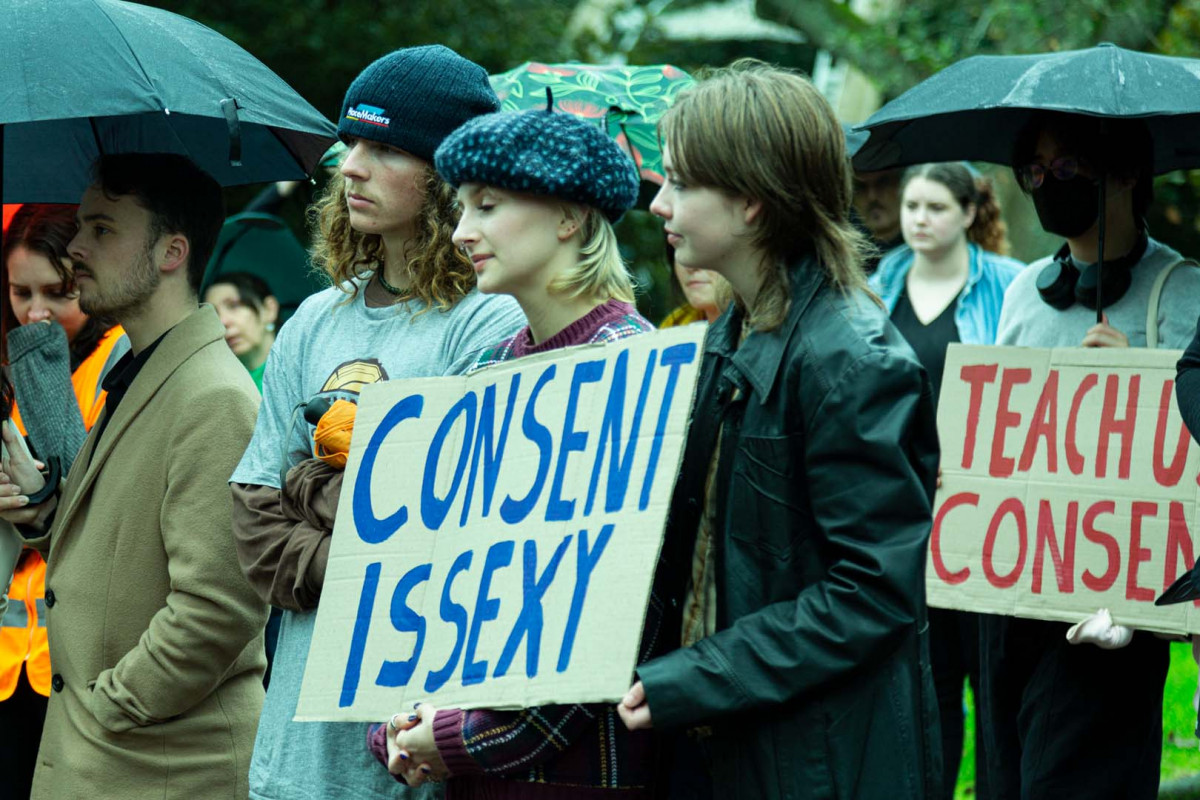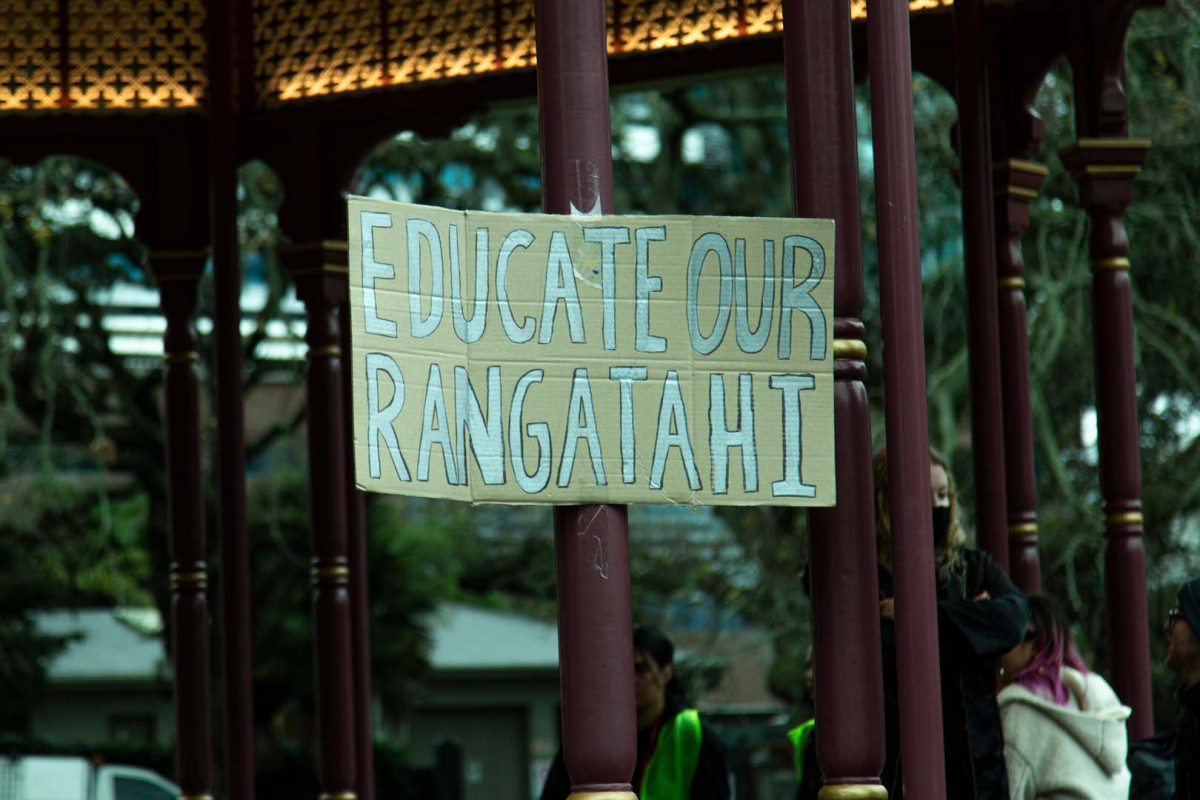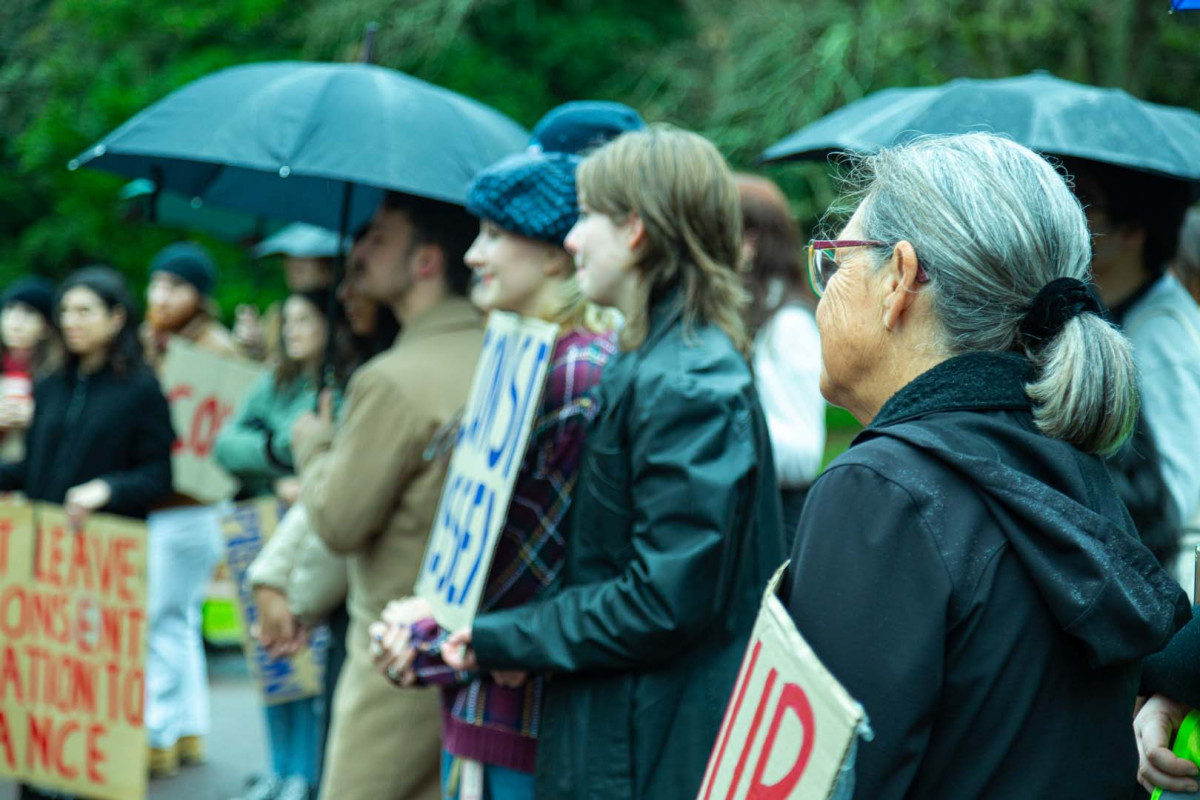 Correction on June 24 2022, 11.31am: Sabby Jey's comments were incorrectly reported in our initial version of this story. They have since been updated.
More stories:
There are calls for mandatory consent education in NZ.
"There is a sexual revolution happening and Gen Z are at the heart of it."
Re: talks to the Kirikiriroa-based artist about rest, whānau, what this time of year means to them.