Over the weekend the Supreme Court of the United States overturned the landmark 1973 Roe v Wade ruling which recognised the constitutional right to access safe and legal abortions.
Removing abortions as a constitutional right means individual states can choose whether or how abortions are restricted.
Since then, several states such as Alabama and Louisiana have imposed strict bans on abortions.
According to US health and academic experts the decision will lead to pregnant people travelling across state lines to receive abortions, more illegal and unsafe abortions taking place and more children being born into poverty for those that cannot access this healthcare.
While the ruling is in the US, the impact of this decision has sent shockwaves across the world and many New Zealanders are now reflecting on abortion laws here in Aotearoa.
New Zealand politicians including Prime Minister Jacinda Ardern have condemned the decision on social media.
Golriz Ghahraman from the Green Party said she was "heartbroken" for America. ACT deputy leader Brooke van Velden said it was "distressing that a young woman in the USA will now have fewer rights than her mother or grandmother and, depending on where she lives, be forced to carry an unwanted pregnancy to term".
However, National's Simon O'Connor was criticised when he posted on his Facebook page following the Supreme Court ruling that "today is a good day".
In a follow-up tweet, National Party leader Christopher Luxon said he asked O'Connor to remove the post because it was "causing distress and does not represent the position of the National Party".
The post has since been taken down.
In the same tweet, Luxon also confirmed New Zealand's abortion laws won't be "relitigated or revisited under a future National Government" despite his personal views on abortion.
In a Newshub interview in 2021, Luxon confirmed he believed abortion is tantamount to murder.
Regardless of Luxon's reassurance, acting Prime Minister Grant Robertson said on Monday morning that Luxon needed to make his views on abortion clear to New Zealanders in the lead-up to the election.
"I think New Zealanders need to ask themselves what Christopher Luxon's stance on abortion actually is. He managed to put out two statements in two days over the weekend and previously he's said that abortion is akin to murder," Robertson told The AM Show.
A statement from National Party's spokesperson said abortion was a conscience vote in Parliament in 2020 because there was a range of views in the party.
In 2020, New Zealand parliament voted whether or not abortion should be removed from the crimes act and therefore decriminalised.
At the third and final reading 68 politicians voted in favour and 51 voted against it.
Here is a breakdown of who voted against: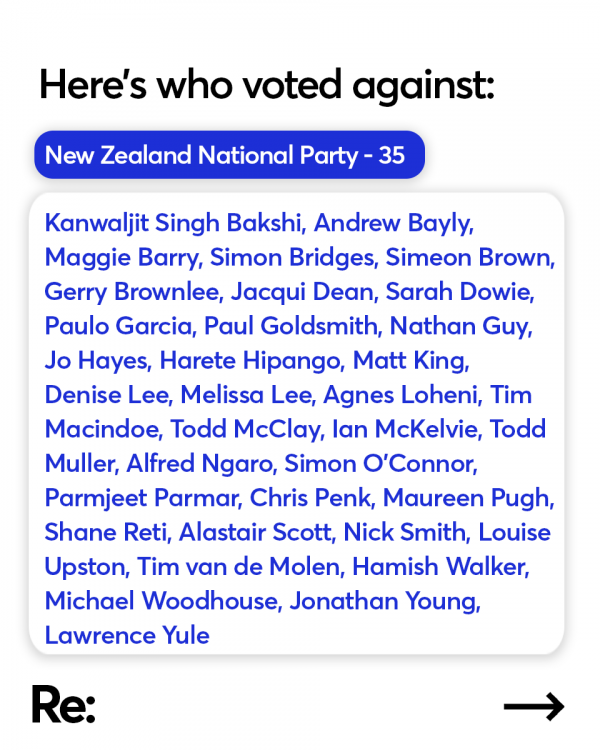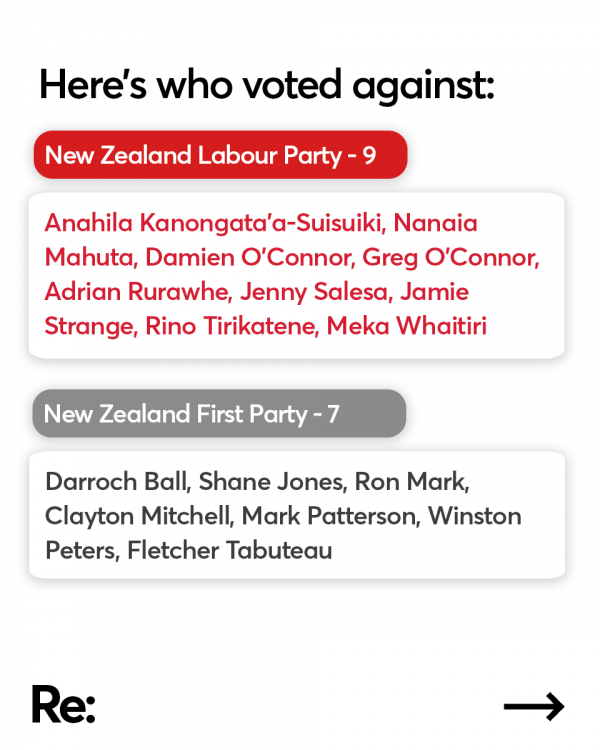 Top Image: Youth protestor at pro-choice rally in Auckland. Photo: Zoe Madden-Smith/Re:
More stories: