Re: News has collected some of the concerns around the Covid-19 vaccine. These come from people like you, who follow and comment on our content, our friends and whānau, and our own team members.
We've put together stories unpacking them, hopefully easing worries around unknowns, and providing information for conversations in your families and communities. We hope you find it useful.
One of the key questions being asked is whether you'll get Covid if you've been vaccinated. A good place to start is the current outbreak.
Latest figures show for cases aged 12 and over, 74 percent were unvaccinated. That means only a quarter of those who could have had some form of protection – either one or two jabs of the Pfizer vaccine – did. Just a note you can only get vaccinated if you're over 12.
If you narrow the numbers down further, just 7 percent of cases were people who were double jabbed and considered fully immunised. Those with one jab, known as "partially vaccinated", made up 19 percent of cases.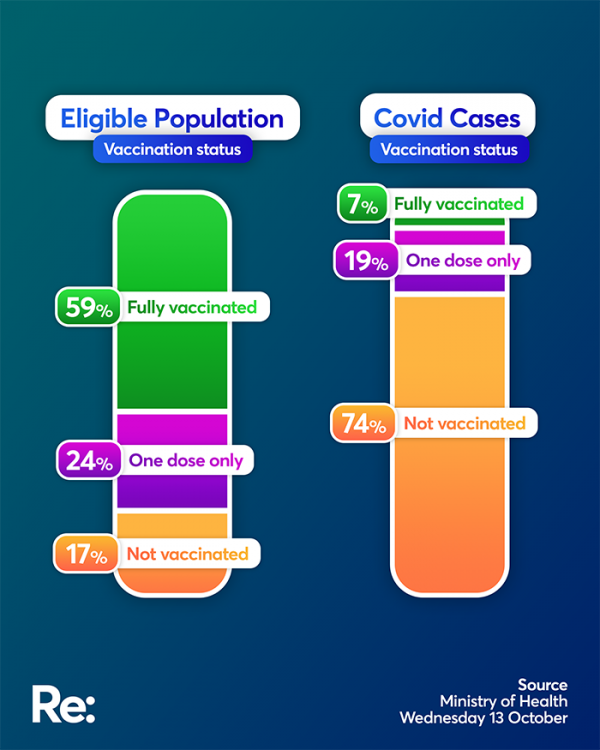 Hospitalisation figures provide an even clearer picture. According to Health Director General Dr Ashley Bloomfield, as at October 12, just 3 of the 158 people who had been hospitalised had been fully vaccinated with sufficient time to develop an immune response
That is double-jabbed, with at least 14 days.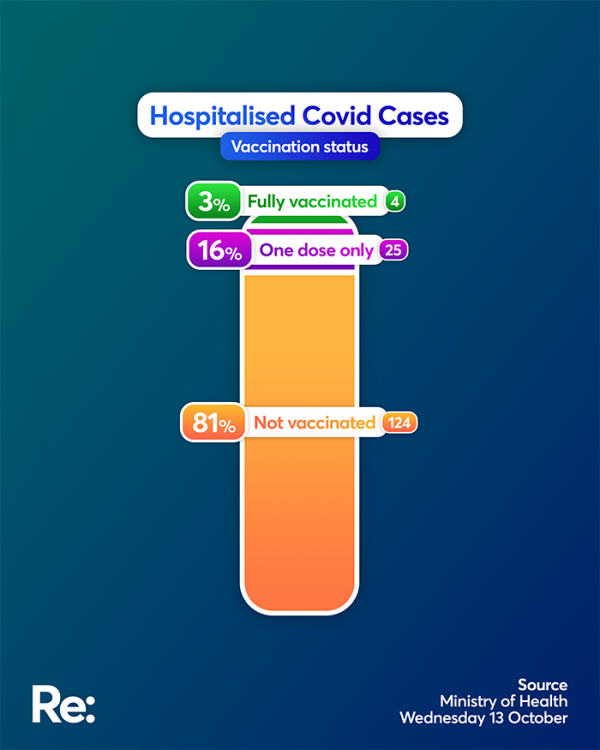 This is backed up in research which found receiving two doses of the Pfizer vaccine is 88 percent effective against the Delta strain of Covid-19.
Dr Janine Paynter, senior researcher at the Faculty of Medical and Health Sciences, University of Auckland, says even if fully vaccinated people do get sick, they are less likely to pass the disease on to other people.
"The 88 percent of [fully vaccinated] people who don't get the disease, they won't transmit at all.
"The ones that do get sick, will transmit less than someone who has been unvaccinated."
This not only highlights the effectiveness of the vaccine, but also reinforces the importance of getting vaccinated.
In terms of our population statistics, currently 4.2 million of us are counted as eligible for the vaccine. That's anyone over 12, as the Pfizer vaccine is yet to be approved for children.
So far, 59 percent of this eligible group have received both doses of the vaccine. 24 percent have had 1, and 17 percent are yet to be vaccinated.
Dr Janine notes that getting vaccinated can not only help stop the spread of the virus, but it can also minimise the risk of experiencing any of the long-lasting effects of contracting Covid.
"There have been some hideous stories about Long Covid. Even in infections in young people, the body sustains a lot of damage.
"The vaccine reduces your risk of experiencing any of those horrible things happening."
She also highlights the effectiveness of the vaccine against hospitalisation.
"People can expect a 70%-80% reduction in being hospitalised for Covid-19.
"So even if you do get sick while being fully vaccinated, chances are it will be a very mild illness."
You can book your vaccine (or choose a walk-in site) at bookmyvaccine.nz.
Still have more questions about the vaccine? Check out our new series that breaks down popular myths and concerns about Covid-19 and the vaccine.
More stories:
Let's talk about: Why the Covid-19 vaccine is safe even though it was made quickly
Let's talk about: How effective is the Covid vaccine, really?
Why the end of Sydney's 107-day lockdown matters to Aotearoa