Massey University has released the ten finalists for Quote of the Year, an annual competition ranking the funniest, most powerful, and memorable quotes of the year in Aotearoa.
Here are the ten finalists:


1. "It is a challenge in high density areas for people to get outside and spread their legs."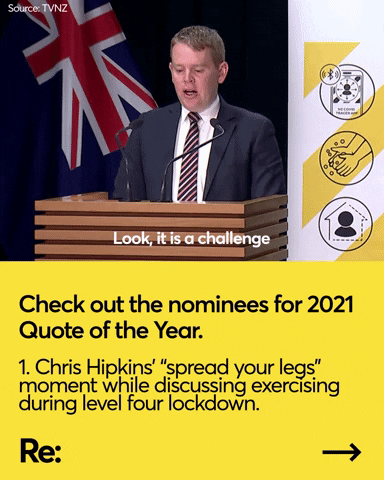 Covid-19 response minister Chris Hipkins discussing exercising during level four lockdown at a 1pm Covid update.
2. "He is about as exciting as the Taihape public toilets."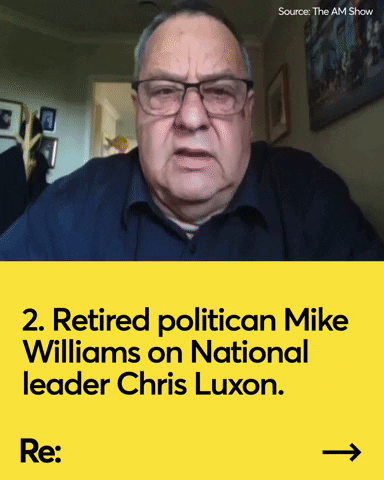 Former Labour politician Mike Williams on National Leader Chris Luxon during an interview on The AM Show.
3. "It was like a half-sucked Oddfellow in the sky."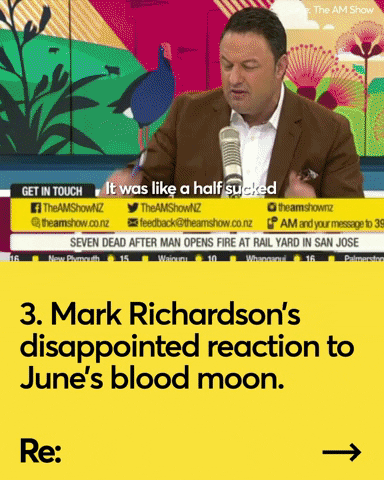 TV presenter Mark Richardson on his disappointment in June's blood moon on The AM Show.
4. "If I can't be cured, I'll be the cure."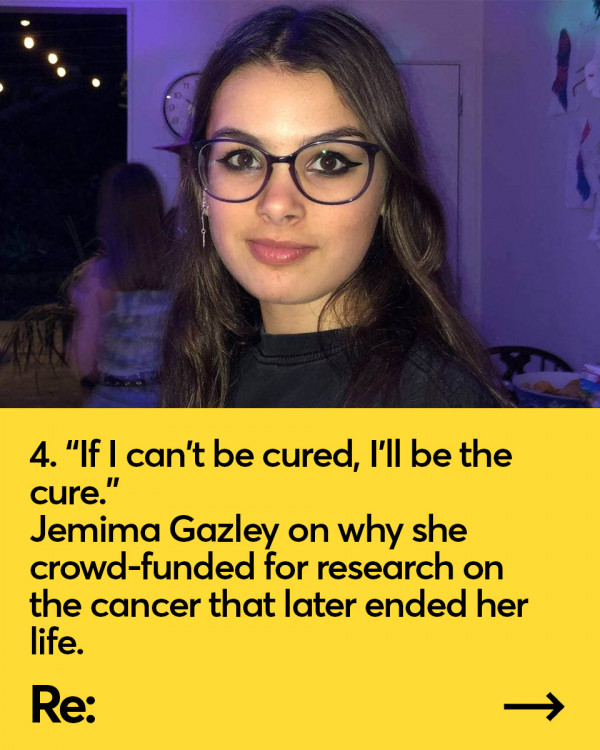 Jemima Gazley on why she crowd-funded for research on the cancer that later ended her life, in an interview with Stuff.

5. "That was a bed-time fail."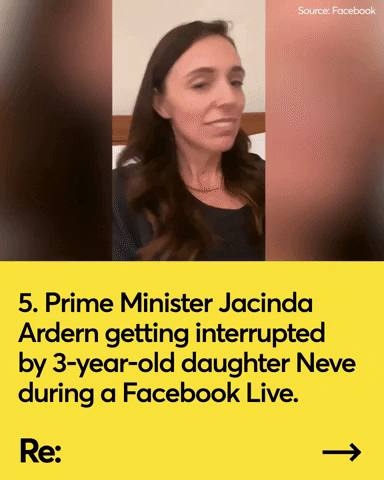 Jacinda Ardern after daughter Neve interrupts her Facebook live.

6. "We've got an economy that's running on a sugar hit."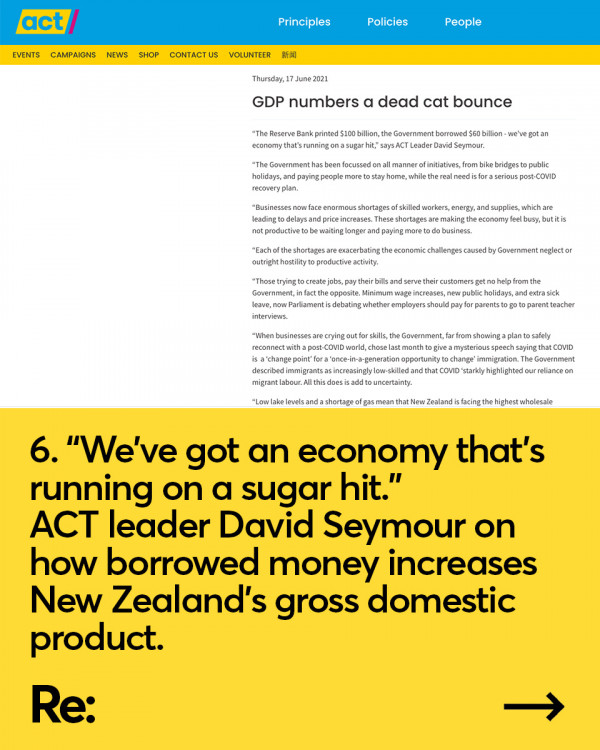 David Seymour in a press release on how borrowed money increases New Zealand's gross domestic product.
7. "Does anyone know if the tinny house in Aro will be open during level 4?"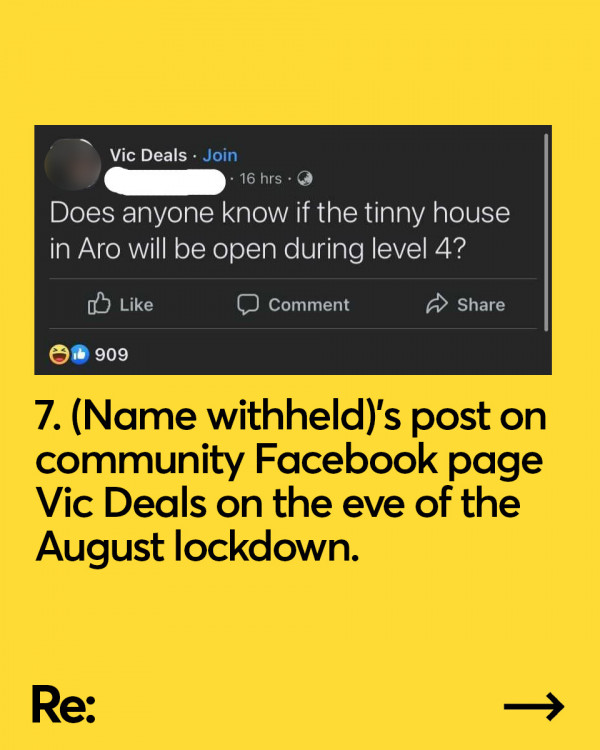 (Name withheld) in a post on community Facebook page Vic Deals.
8. "Who is going to do a Berocca in the morning?"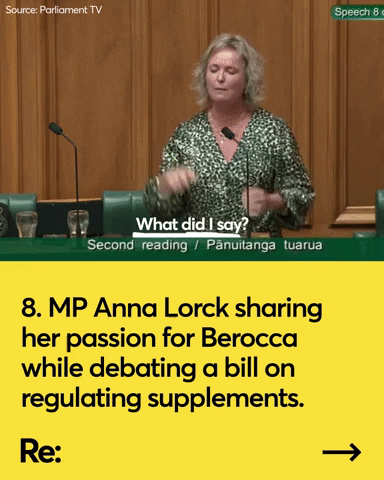 MP Anna Lorck sharing her passion for Berocca while debating a bill in Parliament on the regulation of supplements.
9. "Hey Judith, it's not that bad. Raise an eyebrow, to show you're glad."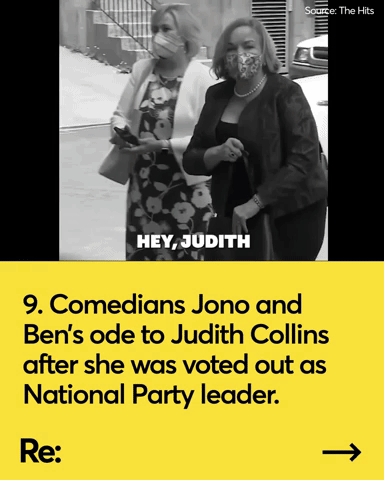 Comedians Jono and Ben's parody version of The Beatles' Hey Jude, about Judith Collins after she was voted out as National Party leader.
10. "No, it's a fucking goat."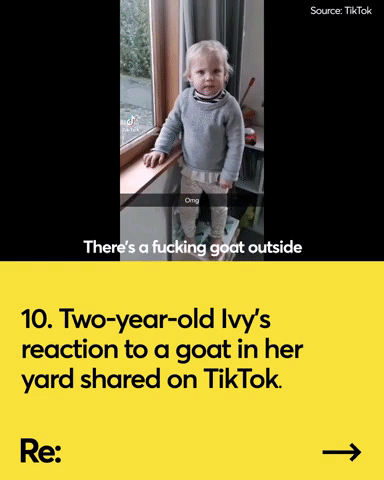 Two-year-old Ivy's reaction to a goat in her yard shared on TikTok.
These ten entries were narrowed down from 28 submissions.
The judging panel was led by Dr Heather Kavan and Dr Cathy Strong from the School of Journalism and Public Relations at Massey University, and joined by Massey comms team members Jemma Brackebush and Jenna Nichols.
Heather says the awards are designed to celebrate New Zealanders' favourite language moments and give insight into the Kiwi character.
"We don't take ourselves too seriously," Heather says. "Several similar lists have sprung up throughout the world, and the international quotes are serious and often depressing."
She says in judging they are looking for quotes from a variety of contexts that have brevity, impact, emotional strength, memorability, wit, vividness of language, and/or tell a story.
"But in practice the best quotes have an x factor. They give people 'yes' moments – "yes, that's so true," Heather says.
While most entries are humorous, there are also emotionally impactful quotes like Jemima Gazley discussing her cancer advocacy.
The 2021 winner will be decided by popular vote. Voting is open now until midday Sunday December 19.
Top image: Collage of top quotes. Photo: Created by Baz Macdonald
More stories: