Thursday May 26
There are 7,591 new cases of Covid-19 today.
Of these, 220 are in Northland, 2,520 are in Auckland, 566 in Waikato, 221 in Bay of Plenty, 122 in the Lakes district, 211 in Hawke's Bay, 258 in MidCentral, 91 in Whanganui, 250 in Taranaki, 52 in Tairāwhiti, 77 in Wairarapa, 538 in Capital and Coast, 220 in Hutt Valley, 308 in Nelson Marlborough, 1,110 in Canterbury, 136 in South Canterbury, 589 in the Southern district, 95 in the West Coast and 7 in unknown locations.
The total number of active cases is 49,645.
The seven-day rolling average of community case numbers today is 7,095. Last Thursday, it was 7,981.
The Ministry of Health defines active cases as those identified in the last seven days and not yet classified as recovered.
Hospitalisations and Covid-19 related deaths
16 people with Covid-19 have died, bringing the publicly reported total to date to 1,102.
Of the people whose deaths were reported today, seven were from the Auckland region, three were from Canterbury, three were from Wellington, one was from Lakes, one was from Bay of Plenty and one was from the Southern area.
Two people were in their 60s, two were in their 70s, eight were in their 80s, and four were aged over 90.
Of these people, nine were female and seven were male.
The seven-day rolling average of reported deaths is 12.
There are 355 people in hospital, with 12 of those people in intensive care or high dependency units.
The average age of people currently in hospital is 59.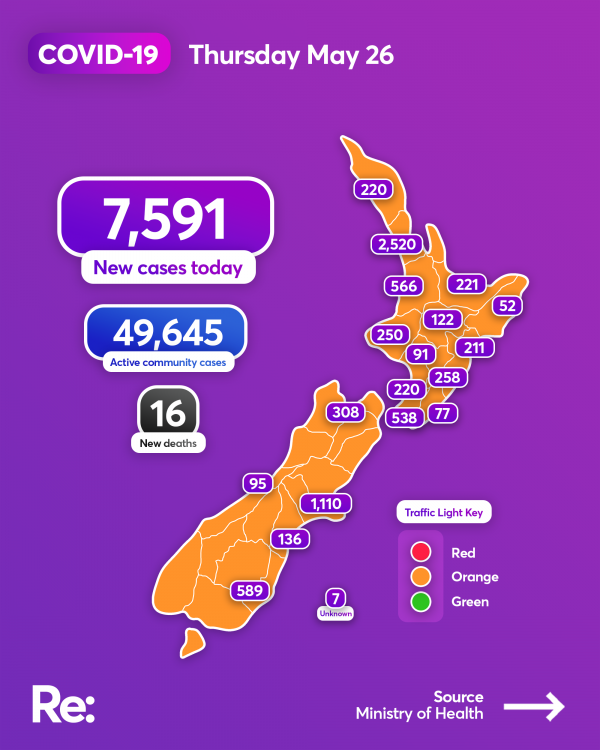 Testing
In the last 24 hours, the number of PCR tests administered was 3,814 and 15,586 Rapid Antigen Tests (RATs) were reported.
If you take a RAT you must report the result, positive or negative. This can be done online through My Covid Record, or by calling 0800 222 478 between 8am and 8pm.
Vaccinations
96.3% of New Zealand's eligible population have had the first dose of the Covid-19 vaccine, and 95.2% have had a second dose.
70.7% have had a booster shot.
Top image: Sick woman buying in supermarket and coughing into elbow during COVID-19 pandemic. Photo:Drazen Zigic/iStock
More stories:
NZ high schoolers open up about sexual assault on social media
There are calls for mandatory consent education in NZ.
Inside the club night that's elevating fashion in Auckland
This Africa Day, we revisit our night at the best party in town.
Using social media during a manic episode: two NZers share their experience
Research shows people with bipolar disorder are prone to risk-taking behaviour they later regret.