Wednesday May 18
There are 9,570 new cases of Covid-19 and 32 people with the virus have died.
Of these cases there are 273 in Northland, 3,297 in Auckland, 742 in Waikato, 307 in Bay of Plenty, 173 in Lakes, 304 in Hawke's Bay, 318 in MidCentral, 124 in Whanganui, 283 in Taranaki, 82 in Tairāwhiti, 91 in Wairarapa, 642 in Capital and Coast, 241 in Hutt Valley, 314 in Nelson Marlborough, 1,368 in Canterbury, 155 in South Canterbury, 737 in Southern, 112 in West Coast, 7 in unknown locations.
There are currently 56,146 active cases in the community.
The Ministry of Health defines active cases as those identified in the last seven days and not yet classified as recovered.
Todays seven-day rolling average of community case numbers is 8,024 – last Wednesday, it was 7,533.
Since the pandemic started, the total number of confirmed Covid-19 cases is 1,066,062.
Hospitalisations and Covid-19 related deaths
32 people with Covid-19 have died, bringing the publicly reported total to date to 1,017.
Of the people whose deaths we are reporting today, two people were from Northland, nine from the Auckland region, two from Bay of Plenty, two from Taranaki, one from Tairāwhiti, four from MidCentral, two from Hawke's Bay, three from the Wellington region, one from Nelson-Marlborough, four from Canterbury and two from Southern.
One person was in their 20s, four people were in their 40s, two in their 50s, four in their 60s, nine in their 70s, nine in their 80s and three were over 90.
Ten were women and 22 were men
The 7-day rolling average of reported deaths is 17.
How deaths are assessed
The Ministry of Health has sped up the process for formally coding the cause of death for those who are known to have died within 28 days of a Covid-19 infection or as a result of Covid-19 infection.
This means that most of the deaths that have now been publicly announced have been assessed as either having Covid-19 as the underlying cause, contributing to the death, or unrelated to the death.
As of this morning:
447 people have died with COVID-19 as the underlying cause of death. Of these, 439 died within 28 days of being reported as a case.

231 people have died with COVID-19 as a contributing cause of death. Of these, 229 died within 28 days of being reported as a case.

161 people, all of whom died within 28 days of being reported as a case, had a cause of death unrelated to COVID-19

138 people who died within 28 days of being reported as a case have yet to be classified. In some instances, the cause of death can take longer to determine, including if it is being investigated by a coroner.
There are 425 people in hospitals, with nine of those people in intensive care or high dependency units.
The average age of people currently in hospital is 60.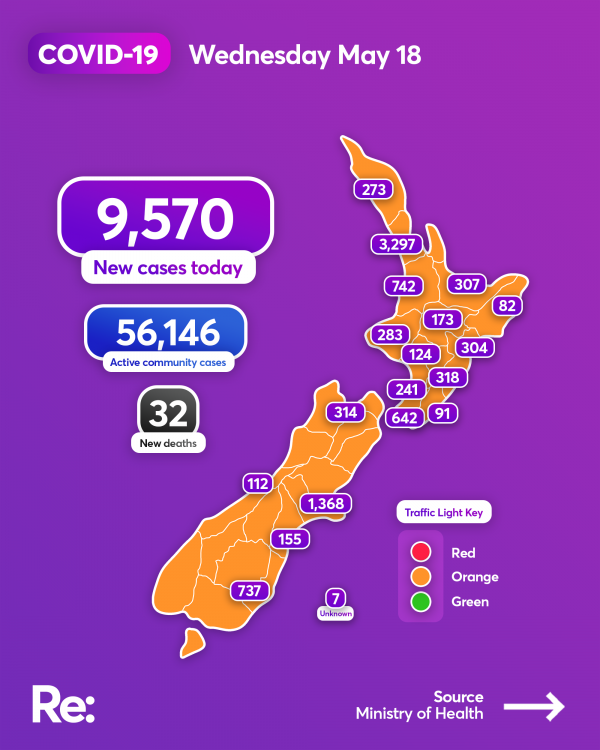 Vaccinations
96.3% of New Zealand's eligible population have had the first dose of the Covid-19 vaccine, and 95.2% have had a second dose.
70.7% of eligible people have had their booster shot.
Testing
The number of PCR tests taken over the past 24 hours is 3,579 and the number of Rapid Antigen Tests (RATs) that have been reported in the past 24 hours is 17,429.
If you take a RAT you must report the result, positive or negative. This can be done online through My Covid Record, or by calling 0800 222 478 between 8am and 8pm.
Top image: Young businesswoman using phone in the bus wearing protective face mask while commuting in the city. Photo: iStock
More stories:
"For some people it's just wanting to pay homage or incorporate their culture."
"The South Asian experience has been a complicated one for many of us growing up in New Zealand".
The Government has released its $2.9 billion plan to get Aotearoa to zero carbon emissions by 2050.