Covid update Jan 20: 39 new community cases.
Thursday 20 January
There are 39 new cases of Covid-19 today.
Today the Ministry of Health is reporting one new possible Omicron case in Palmerston North. Local DHB MidCentral District Health Board announced the case this morning.
This case was in a MIQ facility in Christchurch and tested negative on day 9, before being released on 16 January (Sunday), after returning a negative test result on five occasions throughout their stay.
The case became symptomatic yesterday and got tested. They returned a positive COVID-19 test result yesterday evening.
Prime Minister Jacinda Ardern has today said in the press conference that Northland will join the rest of the country in Orange light.
"Following public health advice, Northland will join the rest of the country in Orange at 11.59pm tonight."
This comes after the region reaches 89 percent first dose.
Of today's cases, 21 are in Auckland, 14 in the Lakes District, 2 in Hawkes Bay, 1 in Canterbury and 1 in the West Coast.
There are 21 people in hospital, with 1 of those people in intensive care or high dependency units.
The average age of people currently in hospital is 55.
95 percent of New Zealand's eligible population have had the first dose of the Covid-19 vaccine, and 93 percent have had a second dose.
36,226 booster shots were administered in the past 24 hours.
There have been 4,831,138 vaccine pass downloads, including 14,465 in the last 24 hours.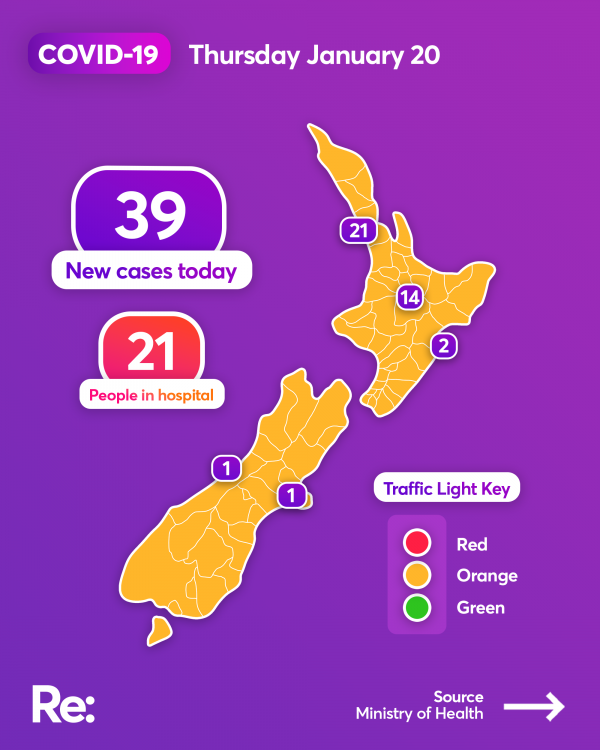 Update on Auckland Airport worker:
The Ministry of Health revealed late last night that genome sequencing has confirmed the close contact of the Auckland MIQ worker has the Omicron variant.
The positive household case has also been confirmed to have the Omicron variant.
This now makes three Omicron cases in Auckland outside of the border.
An additional household contact of the MIQ worker has tested positive for Covid-19, and the Ministry of Health is treating it as an Omicron case until genome sequencing results are back.
Ara-Tai Café Half Moon Bay remains the primary location of interest. Follow Ministry of Health guidelines.
Click here for a list of updated locations of interest.
Top image: Doctor sorting Covid-19 test kits in a lab. Photo: Stock Photo/Getty Images
More stories:
Anti-vaxxers say vaccines breach the Nuremberg Code. Here's why that's wrong
Tonga's underwater volcano is a part of a chain of 50 extending to NZ: explainer