Sunday February 6
There are 208 new cases of Covid-19 today.
Of these, 7 are in Northland, 128 are in Auckland, 49 in Waikato, 11 in Bay of Plenty, 1 in the Lakes District, 1 in Whanganui, 5 in Hawke's Bay, 3 in Wellington, 3 in Nelson Marlborough and 1 in South Canterbury.
The Whanganui case is a case reported yesterday in Waikato, as the address was recorded incorrectly.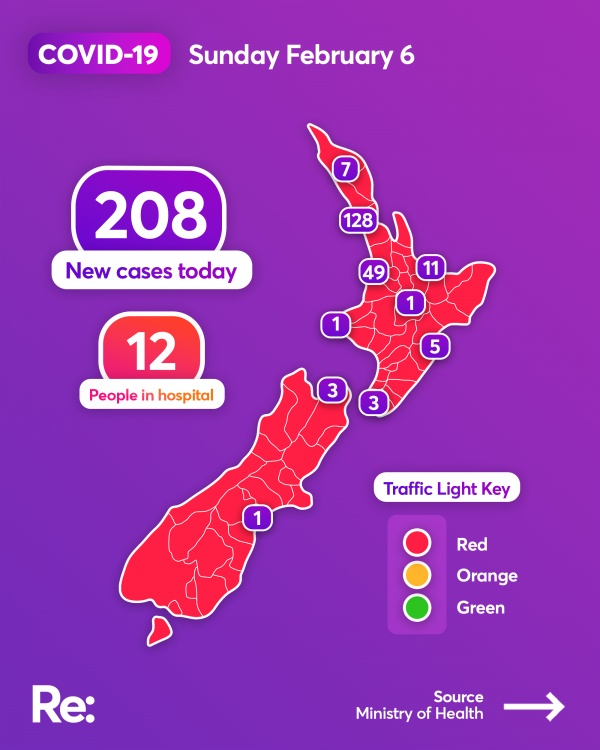 There are 12 people in hospital, with 1 of those people in intensive care or high dependency units.
The average age of people currently in hospital is 59.
96 percent of New Zealand's eligible population have had the first dose of the Covid-19 vaccine, and 94 percent have had a second dose.
There have been 5,058,000 vaccine pass downloads, including 14,284 in the last 24 hours.
There were 48,947 booster doses administered yesterday, taking the total to date to 1,561,837.
4,807 paediatric doses were given yesterday, bringing the total to 197,471.
Click here for a list of updated locations of interest.
Top image: Covid-19 vaccine. Photo: Stock photo/Getty Images
More stories:
Covid update Feb 5: 243 new cases
New Zealand's borders set to reopen in stages