Posters across Tāmaki Makaurau will feature the works of Takatāpui artists for all to see from February 6.
The project, organised by 19-year-old Quack Pirihi, is called Te Mauri Ō Te Takatāpuitanga.
For 12 artists, the project is the chance for them to "explore how we navigate the seas of our identity, in a world of confusion, misplaces homes, and mamae".
"These pieces of art are loud. These pieces are for us and our descendents. These pieces of art are Takatāpui," the project says.
For Quack, this project was a way for Takatāpui to hold space during Pride month and to represent their lives through art.
Some of the artists shared what this project means to them, what Takatāpuitanga is and what would have made their journey with Takatāpuitanga easier.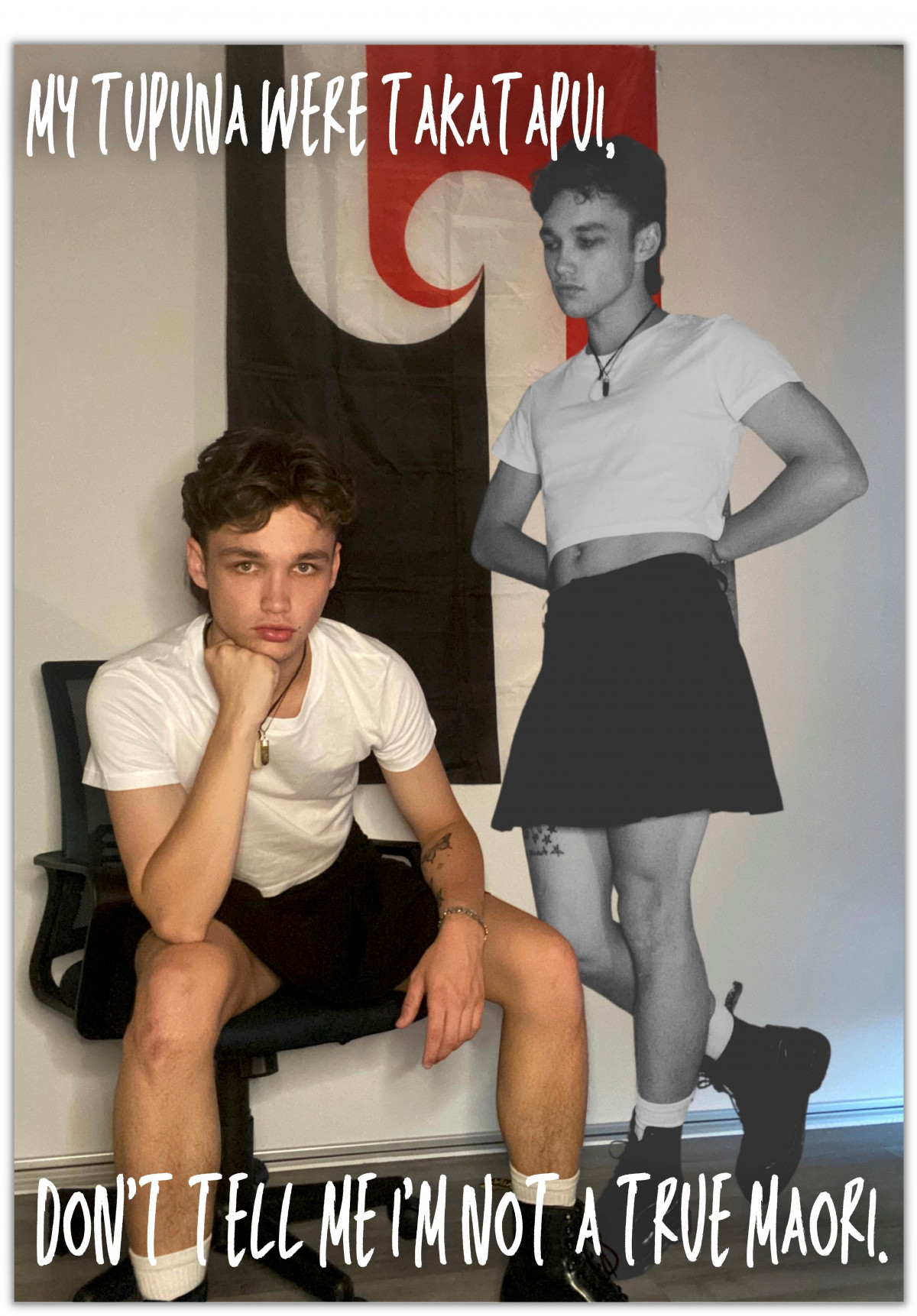 Quack Pirihi
What does this project mean to you?
The project lets me fuck off ignorant people the only way I know how - chuck on a skirt and give 'em a twirl.
Renati Waaka
What does this project mean to you?
This project means a lot, not only for me, but for the thousands of young Takatāpui across Aotearoa who are able to see themselves proudly and positively represented.
This project has the power to save lives and break down walls for a new generation of Takatāpui to shine.
What is Takatāpuitanga?
Takatāpui is a term synonymous with strength, versatility, and power.
A traditional term which embraces Māori with diverse gender identity or sexuality.
It has become a modern expression of empowerment that builds solidarity against western ideologies of sex and gender, and immediately communicates the intersection of being queer and Māori
What would have made your journey with Takatāpuitanga easier?
I have to say my journey has been pretty smooth most of the time since coming out.
However, my journey would've been much easier had I seen myself represented in the media.
It is extremely difficult for young queer people, especially queer people of colour, to come to acceptance with your identity.
It creates a lot of internalised conflict that you constantly have to navigate when no one you know is queer. As a direct result of colonialism, there are a lot of cultural behaviours that prevent people from being able to openly express themselves.
I went to a boys' high school with a strong Māori and Polynesian population.
It didn't feel like a safe space for me. Representation would have made a world of difference.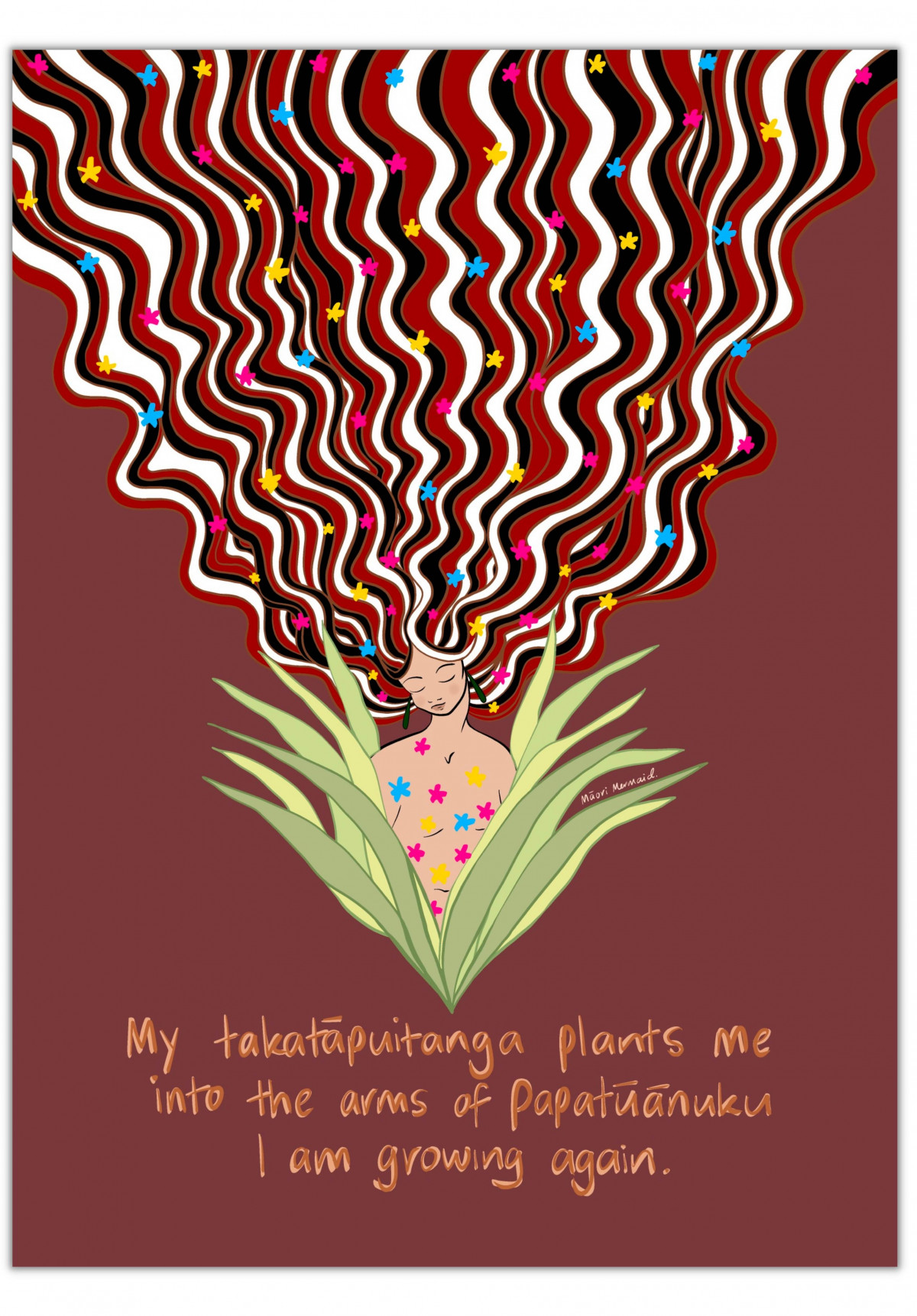 Jess - Māori Mermaid
What does this project mean to you?
It means embracing and expanding upon a part of myself that has been buried away for too long. It means taking a small step toward owning who I am, introducing myself to my community as my true self, and shedding the shame.
What is Takatāpuitanga?
For me it is walking with my māoriness and my queerness closely entwined together.
It feels so much lighter than Western labels. So much more like home. So full of movement and development and learning. It doesn't feel like a label or a category… Takatāpuitanga is a way of breathing easier for me. A way of growing out of darker feelings and past trauma, toward lighter, safer spaces. A way of being more than what I've been told I have to be. There is always room for change.
What would have made your journey with Takatāpuitanga easier?
Many things. Probably going to a different, less religious high school haha.
It is all down to how society works around you. I kept myself bottled up, secretly moving from bisexual to pansexual over the years, not quite sure what fit with me … Then all of a sudden this kupu entered my vocabulary and I learned about what it meant back then and what it means now, and it just felt tika.
I've only recently felt like this is a korowai I can wear.
Up until this point being anything beyond straight wasn't an open option to me. And I don't think that's to do with my whānau. My whānau probably would have understood but everyone else at school or uni or work terrified me out of looking deeper into myself.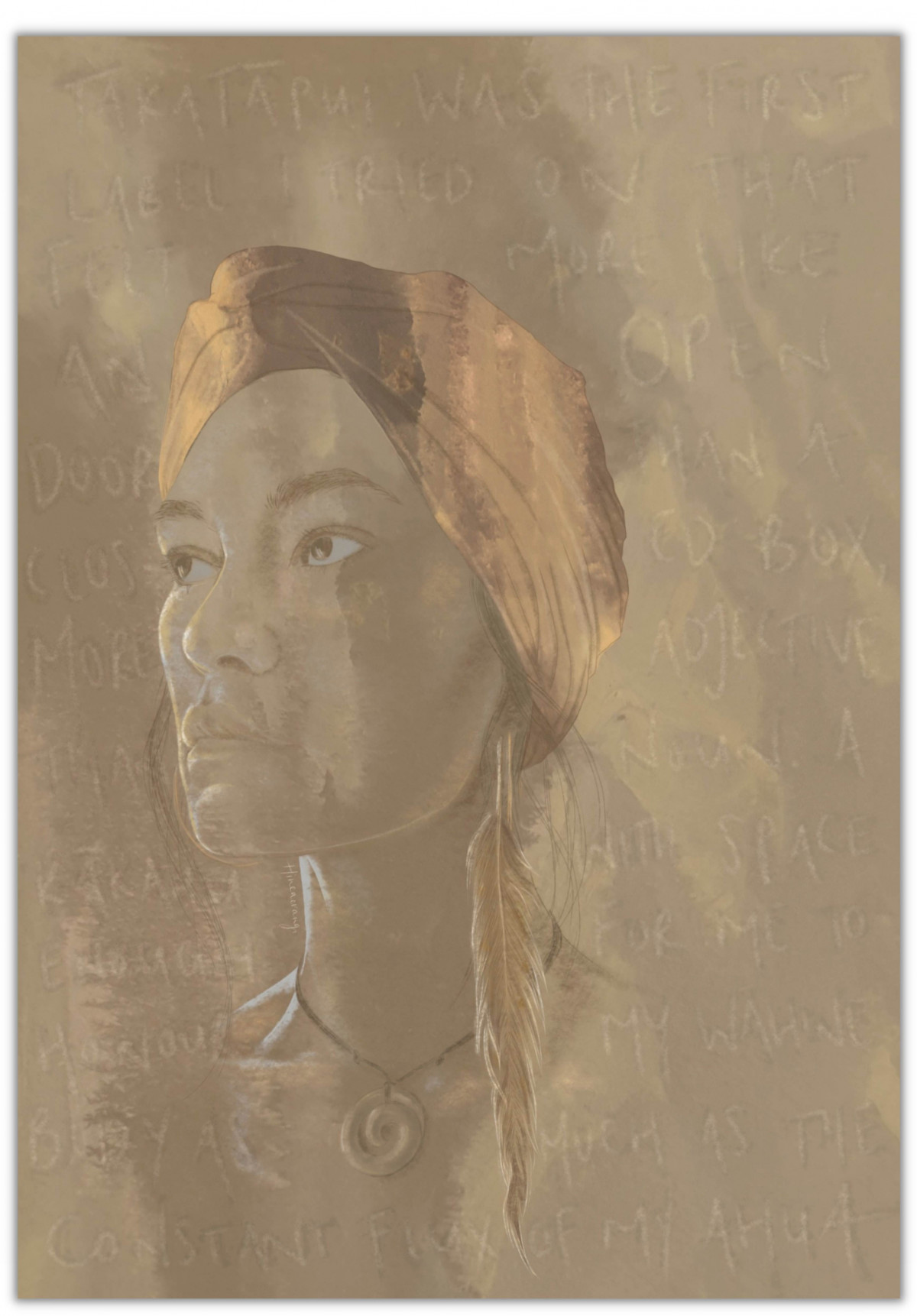 Hineaorangi
What is Takatāpuitanga?
Takatāpui was the first label I tried on that felt more like an open door than a closed box. More adjective than noun. A kupu with space enough to hold all the contradictory facets of my āhua.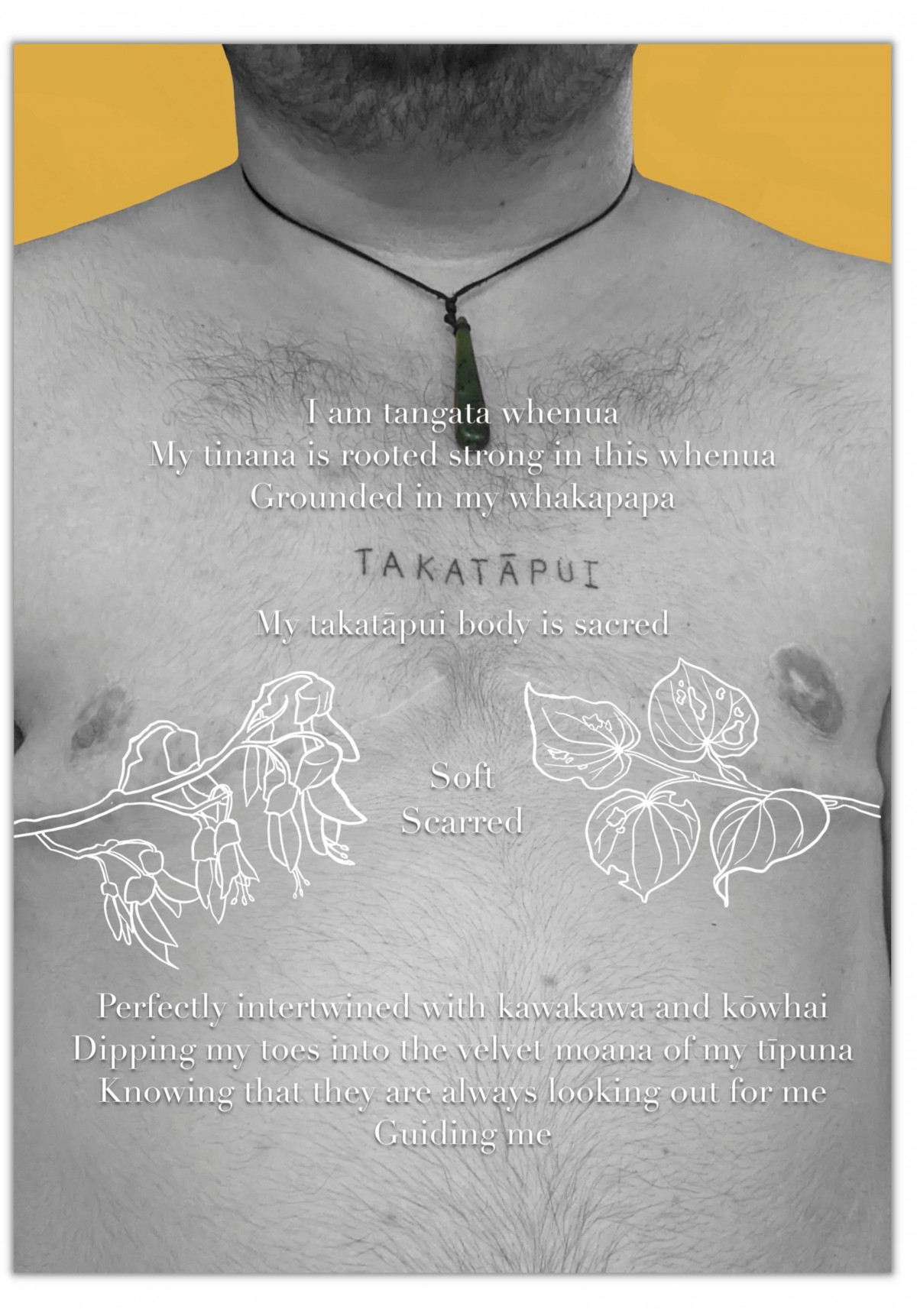 Kōwhai Ahoroa
What does this project mean to you?
Just being able to express myself alongside other takatāpui people is so heartwarming. I've been in queer spaces for a while now but have felt alone in my journey with takatāpuitanga. We need to start centring indigenous people in queer spaces because we're usually left out.
What is Takatāpuitanga?
You are queer and you whakapapa Māori. Very simple but true.
What would have made your journey with Takatāpuitanga easier?
Knowledge! Knowing about it earlier in life! And [having a] community!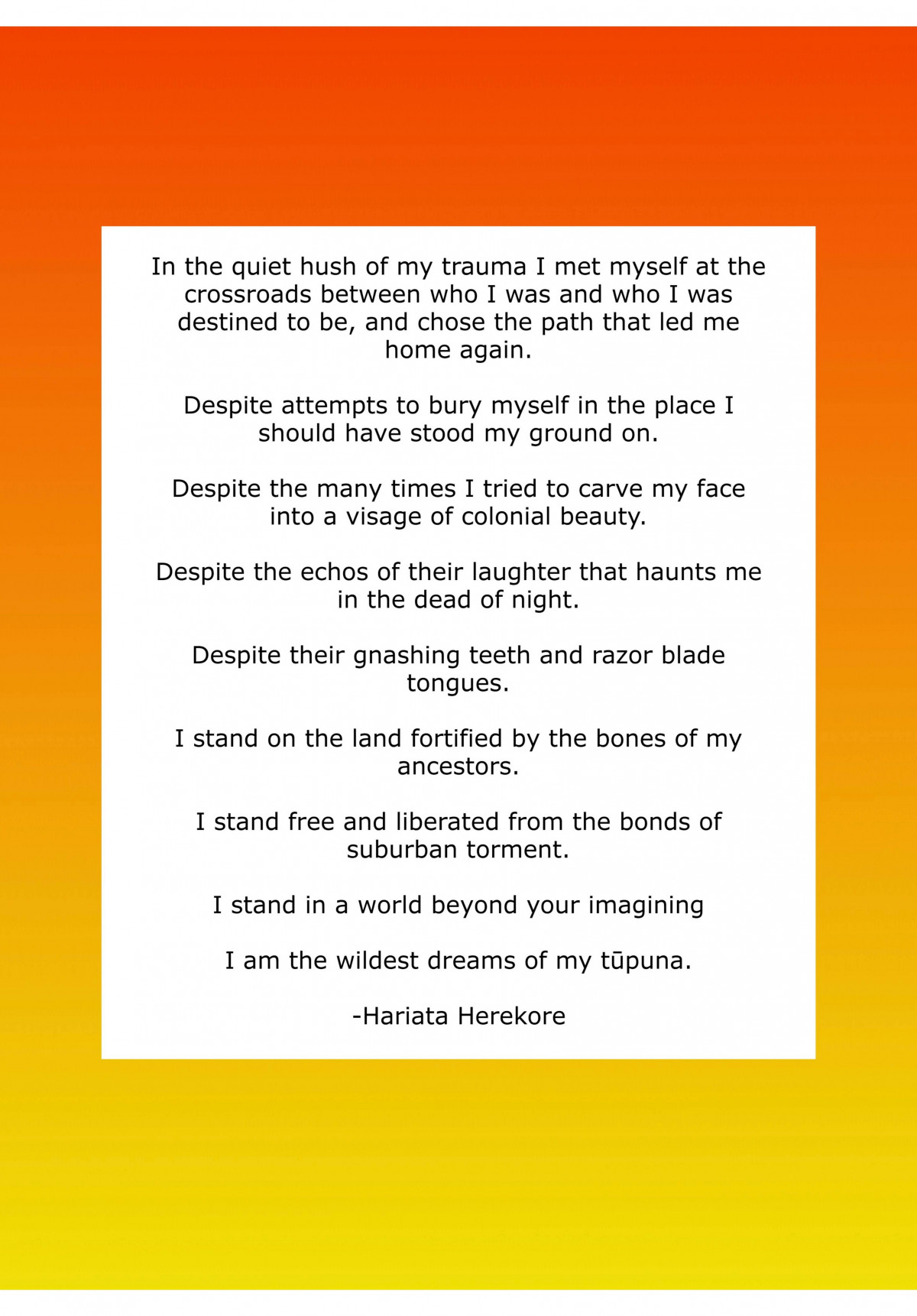 Hariata Wirihana
What does this project mean to you?
This project, to me, is a stepping stone toward the liberation of my people from the bonds of colonialism.
What is Takatāpuitanga?
Takatāpuitanga is sexual freedom and freedom from rigid notions about gender identity.
What would have made your journey with Takatāpuitanga easier?
My journey as takatāpui would have been made easier if I had seen more people like me in my youth. Seeing more takatāpui living, thriving, flourishing and revelling in who they are would have saved me from the trauma I've experienced.


More stories: