Wednesday 18 August, 1pm
A further two community cases have been identified, bringing the total number of cases in the current outbreak to seven. Mask use will also be made mandatory for those working and visiting essential services like supermarkets and petrol stations.
Prime Minister Jacinda Ardern and Director General of Health Dr Ashley Bloomfield ran through latest developments at the 1pm update this afternoon.
The two new cases identified are friends of the four positive cases announced this morning. Those four cases are flatmates, and include a 21-year-old fully-vaccinated Auckland City Hospital nurse, and a 25-year-old teacher from Auckland's Avondale College. Their flatmates, also positive, have been identified as a 20-year-old male (the workmate of the original case announced yesterday) and a 29-year-old male. All cases in the current cluster live in Auckland.
Dr Bloomfield confirmed the nurse worked four shifts at Auckland City Hospital while "unknowingly infectious". The hospital has implemented measures to address any potential spread, including restricting movement of staff between wards and ensuring all staff members who worked alongside the positive case are isolating and being tested.
Avondale College has also been contacted by public health officials.
As at 11am, the Auckland Regional Public Health Service identified 16 close contacts of the current cluster - 14 have been contacted and the other two are being tracked down. Of these, four contacts have been fully vaccinated, three have had one dose and the remainder are unvaccinated. Further, those who have been contacted are either isolating, or in the process of moving to Jet Park Inn.
This afternoon's two new cases are a 21-year-old female and a 19-year-old male. The cluster is the highly-infectious Delta variant.
"Most of the cases identified so far are in their 20s" Dr Bloomfield said.
"They've been out and about a lot and I'm flagging that there are large numbers of locations of interest.
"It is really important that everybody keeps an eye on these," he said.
Further locations of interest
Two new locations of interest have been identified, however full details are yet to be confirmed.
Dr Bloomfield said those who visited the Auckland Central Church of Christ in Freemans Bay on Sunday 15 August need to be aware it is a location of interest. The second is the Sky City Casino, during the evening of Saturday 14 August and early morning Sunday 15 August. Further details will be released as they are available here at the Ministry of Health Covid-19 site.
Link to border yet to be established
Ardern said genomic sequencing of the current cluster's first case - a 58-year-old male from Auckland's North Shore - has shown the strain is linked to the outbreak in New South Wales. This means New Zealand's outbreak originated in Australia.
Despite that, it is still not known how the man contracted Covid. Understanding how the virus got into the community and when is a priority, Ardern said. Further genomic sequencing, including of three positive cases in managed isolation facilities from Sydney in the past two weeks, is expected to assist.
Officials are also checking with travellers who have returned from Australia to help with establishing a link of the current cluster to the border.
Mask use
From 11.59pm tonight, mask use at essential services open during level 4 will be mandatory for anyone aged 12 and over.
This means if you work or go to the supermarket, pharmacy and petrol station, you must wear a mask. Masks will also be mandatory at bus terminals and taxis, with masks already compulsory on public transport.
Lockdown protests
Police Commissioner Andrew Coster said there had been protests over lockdown in Nelson, Tauranga and Auckland today. 1 News reported four people were arrested in Tauranga, and four arrested in Auckland. Billy Te Kahika, former leader of the New Zealand Freedom Party - previously known as the New Zealand Public Party - was reportedly arrested after attending an anti-lockdown protest outside TVNZ in Auckland. Coster said police gave "plenty of opportunity" for crowds outside TVNZ to disperse, and arrests were made when they failed to. Coster also said police had turned around a large number of people appearing to head to holiday destinations.

Wednesday 18 August, 9am

Four more community cases of Covid have been identified. They are the Delta variant, and all linked to the original community case announced yesterday.
As New Zealand begins the day at level 4, four more cases of Covid in the community have been identified, bringing the total number of current community cases to five. The Government has also confirmed the cases are the highly infectious Delta variant.
One of the four additional cases is a fully-vaccinated nurse at Auckland City Hospital. The woman is among the household and close contacts of a co-worker of the original case - the 58-year-old man who lives in Devonport on Auckland's North Shore. At the moment, a clear link between this case and known cases at the border or managed isolation has not been established.
Speaking to TVNZ's Breakfast this morning, Prime Minister Jacinda Ardern outlined the latest results from testing overnight:
The four additional cases are close and household contacts of a co-worker of the original case, announced yesterday.

Following news one of its health workers tested positive, Auckland City Hospital has initiated Covid protocols.

Further wastewater testing is underway for the North Shore. This should assist in identifying how widespread the current community outbreak is. The latest wastewater testing results (now a few days old) did not pick up Covid anywhere in the country, apart from near the Jet Park Inn - where Covid-positive cases are sent to isolate.

Ardern says this indicates the current outbreak "doesn't appear to be a longstanding [one]."
Throughout today, further updates and information will be released. A list of locations of interest which the 58-year-old man visited in Auckland and the Coromandel were also released yesterday. They will be continuously updated here on the Ministry of Health website, but currently they are: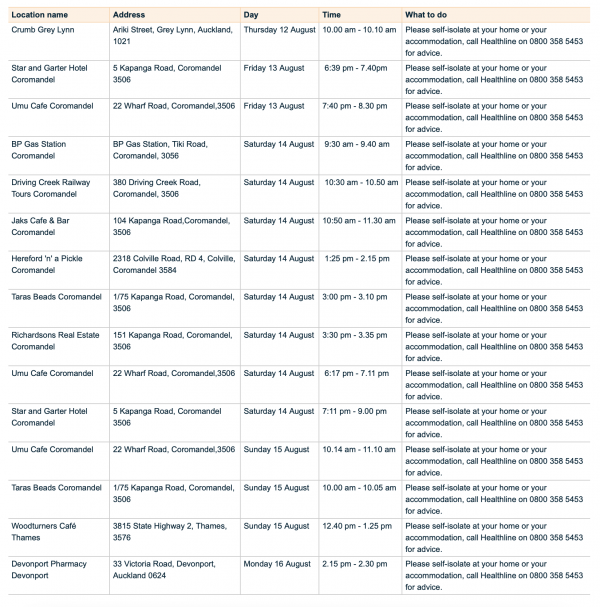 Ardern says moving into level 4 is the best thing for New Zealand.
"We only need to look at Australia to see when they were reporting their cases daily, the number that they were reporting of infected people who'd been out and about in the community infecting other people. New Zealand doesn't want that situation."
A reminder of what level 4 involves
You may only leave your home for:
Physical exercise in your neighbourhood

Visiting the supermarket, dairy, pharmacy or petrol station

Necessary medical care or getting a Covid test
All the following are closed:
Schools and workplaces are closed

Shops, restaurants, cafes and takeaways are closed

All events and gatherings are cancelled
You should wear a mask when you leave the house, and stay 2m away from anyone else. Do not congregate, do not gather to talk to your neighbours, and keep to your bubble. Delta can be spread by people just walking past each other, so physical distancing is essential.
The bubble is back: you are only allowed to see those in your immediate household. If you live alone or are completely isolated, you can join a bubble with one other person you have contact with, but you must be faithful to each other and see no one other than that person.
It is not a legal requirement to wear a mask, but the government is strongly advising people to do so.
Re: will be back at 1pm this afternoon with more updates.
More stories: