As we approach our 4-week nationwide lockdown period, starting at 11:59pm tonight, the government releases more information on what that period will look like. If you're looking for just the key, verified facts, check in here for rolling live updates.
6:00pm Thursday, March 25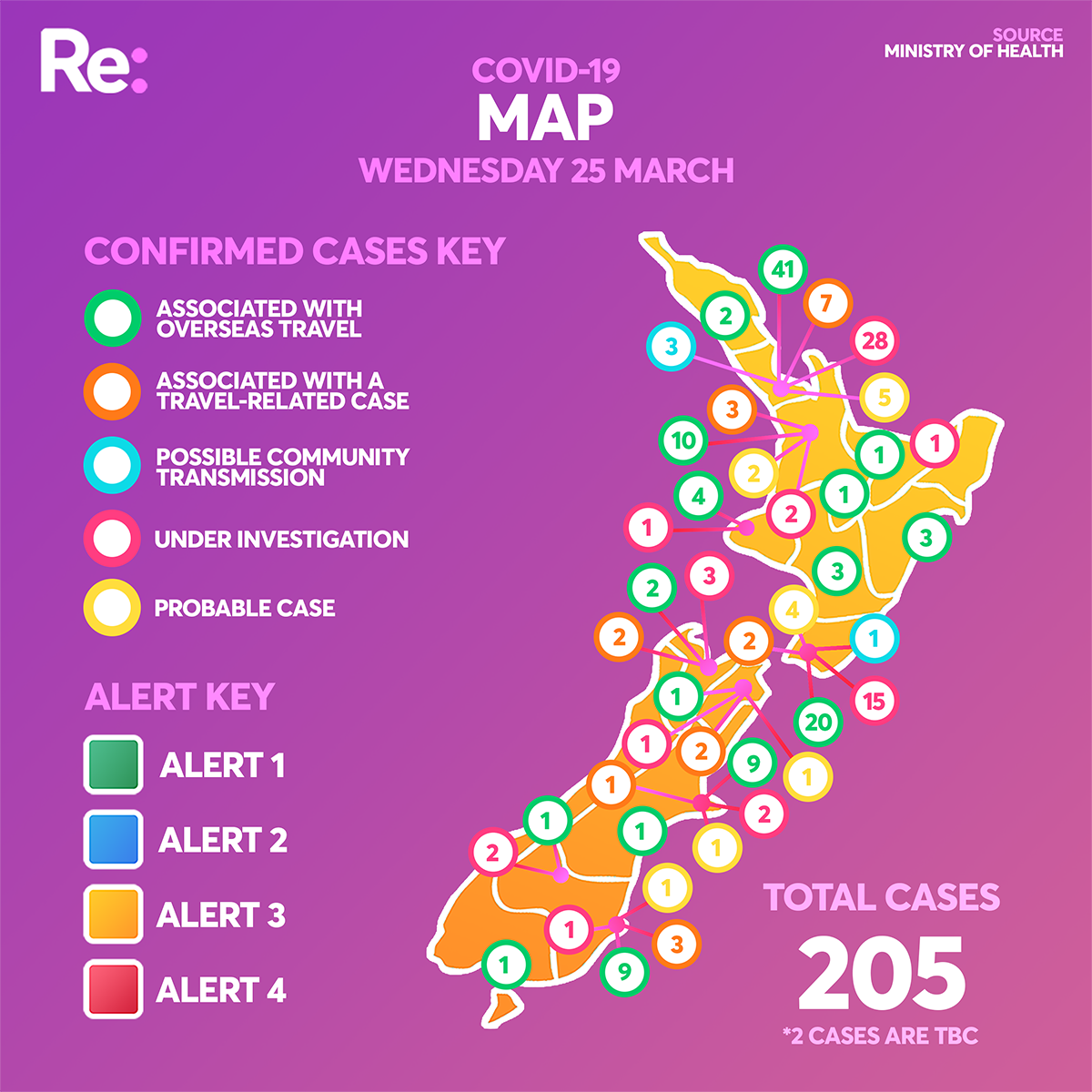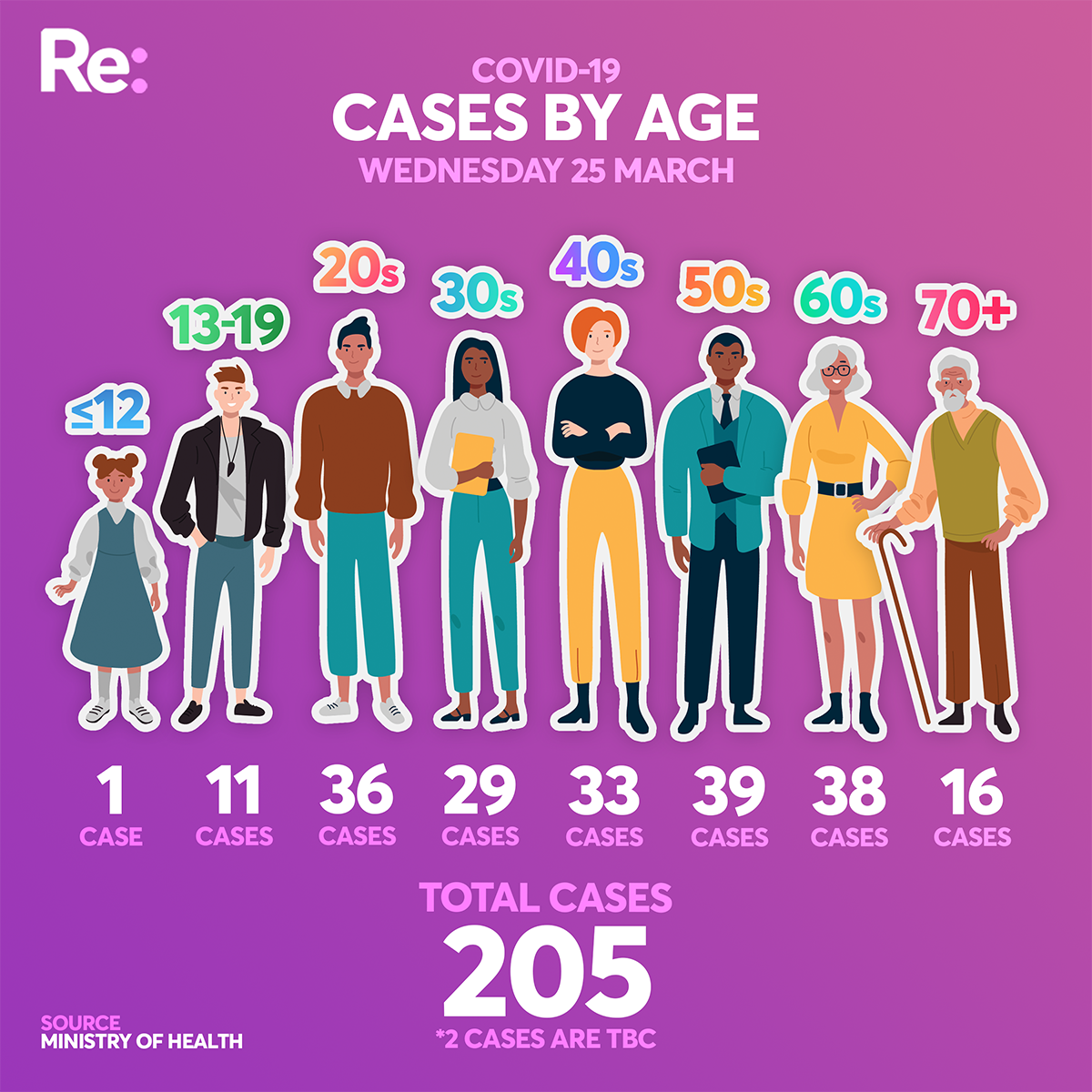 3:00pm Wednesday, March 25
"Breaking the rules could kill someone close to you" - Prime Minister Jacinda Ardern is speaking now to a press conference, nine hours before a total lockdown begins.
"I have one simple message for New Zealanders today as we head into the next four weeks: stay at home."
Border enforcement will step up. Every New Zealander coming through our borders will be screened, and if they have symptoms they will be tested and put in isolation in an approved facility.
People who are not symptomatic but have no plan or ability to self-isolate will be placed in an approved facility.
If people live outside of the city in which they've landed and have no ability to travel home while maintaining isolation they will be placed in an approved facility.
Recent arrivals who do have an appropriate self isolation plan will be checked on by police in the following days, and if they're not following requirements they will be fined and quarantined.
"These measures are tough but reflect the higher risk these New Zealanders pose through no fault of their own. I know they will be as keen as we all are to keep other New Zealanders safe," said the Prime Minister.
The Prime Minister gave three final messages -
You are not alone: "you will hear us and see us daily as we guide New Zealand through this period."

Success won't be instant: we should expect cases to keep rising.

Medical modelling shows New Zealand could have several thousand cases before we see numbers start to drop.

"But over time we will see change if we all stick to the rules."

Act like you have Covid-19: "Every move you make could be a risk to someone else."
1:00pm Wednesday, March 25
There are 50 new confirmed and probable cases as at 9am this morning.
47 of those are confirmed, 3 are probable.
The total is now 205.
22 people have recovered.
6 people are in hospital, all in a stable condition, none in the intensive care unit.
1421 tests were processed yesterday, bringing the total of tests to 9780.
The majority of cases still have a direct link to overseas travel or have attended a known event.
There are 5 confirmed cases at Marist College in Auckland.
There are currently 4 cases categorised as community transmission, and a number more that are being investigated.
"We will continue to see a rise in cases for the next ten days. The numbers will continue to increase before they turn around." Dr Ashley Bloomfield, Director-General of Health.
A state of national emergency was declared at 12pm today, and will last for seven days. This allows civil defence emergency management powers to be used to slow the spread.
Those powers include things like the ability for:
requisition, e.g. providing for fuel

closing roads or prohibiting or regulating traffic

stopping people doing activities that may contribute to the emergency
Sarah Stuart-Black, Director of Civil Defence Emergency Management said it would be "great" if she didn't have to use any of the powers.
"We're really hoping that people have heard the messages and understand how horrendous this could get. We don't want thousands of people to die, it is that plain and simple, so we're asking for people to stay home and pleading that message of self-isolation."
"But there will equally be no tolerance for people who do not comply with the requirements to keep people safe."
She said she hopes there will not be public vigilantes and New Zealanders should leave that to the Police.
A nationwide emergency mobile alert will be sent by Civil Defence between 6pm and 7pm.
12:00pm Wednesday, March 25
Medical professionals are asking New Zealanders to make fewer phone calls to free up the network for those who urgently need it. Vodafone says there has been a 70% increase in phone calls over the past week, and a 50% spike in mobile data usage. But the company says it is preparing its network hubs with extra capacity.
Parliament is sitting today under urgency, in order to pass an epidemic notice that gives the government special powers for three months. At the moment these special powers are only being used to allow people on temporary visas to stay until September. Any further use of special powers will be updated here.
This is the last time Parliament will sit until at least April 28.
The government has updated what counts as an essential service.
Open:
Dairies can stay open but must use a one-in, one-out policy and can't sell cooked food.

Laundromats can stay open but people must keep two metres apart

Retirement villages can stay open

Bunnings, Placemakers and Mitre 10 can stay open but only for trade customers for essential building works, not to the public.
Closed:
All food delivery must close except for pre-packaged meal subscription boxes and Meals on Wheels.
All restaurants, bars, cafes and takeaways must close.

Liquor stores must close unless they're in a Licensing Trust area

The Warehouse must close
9:00am Wednesday, March 25
The Tokyo 2020 Olympics has been postponed. The International Olympic Committee and Prime Minister of Japan confirmed the event will be held next year in Japan.
Some councils across New Zealand will stop collecting recycling during lockdown. All councils will continue to collect rubbish. The mayors of Wellington and Auckland have confirmed that recycling operations will pause during lockdown. Because of the high amount of handling in recycling collection and drop off, it's considered too high a risk.
6:00pm Tuesday, March 24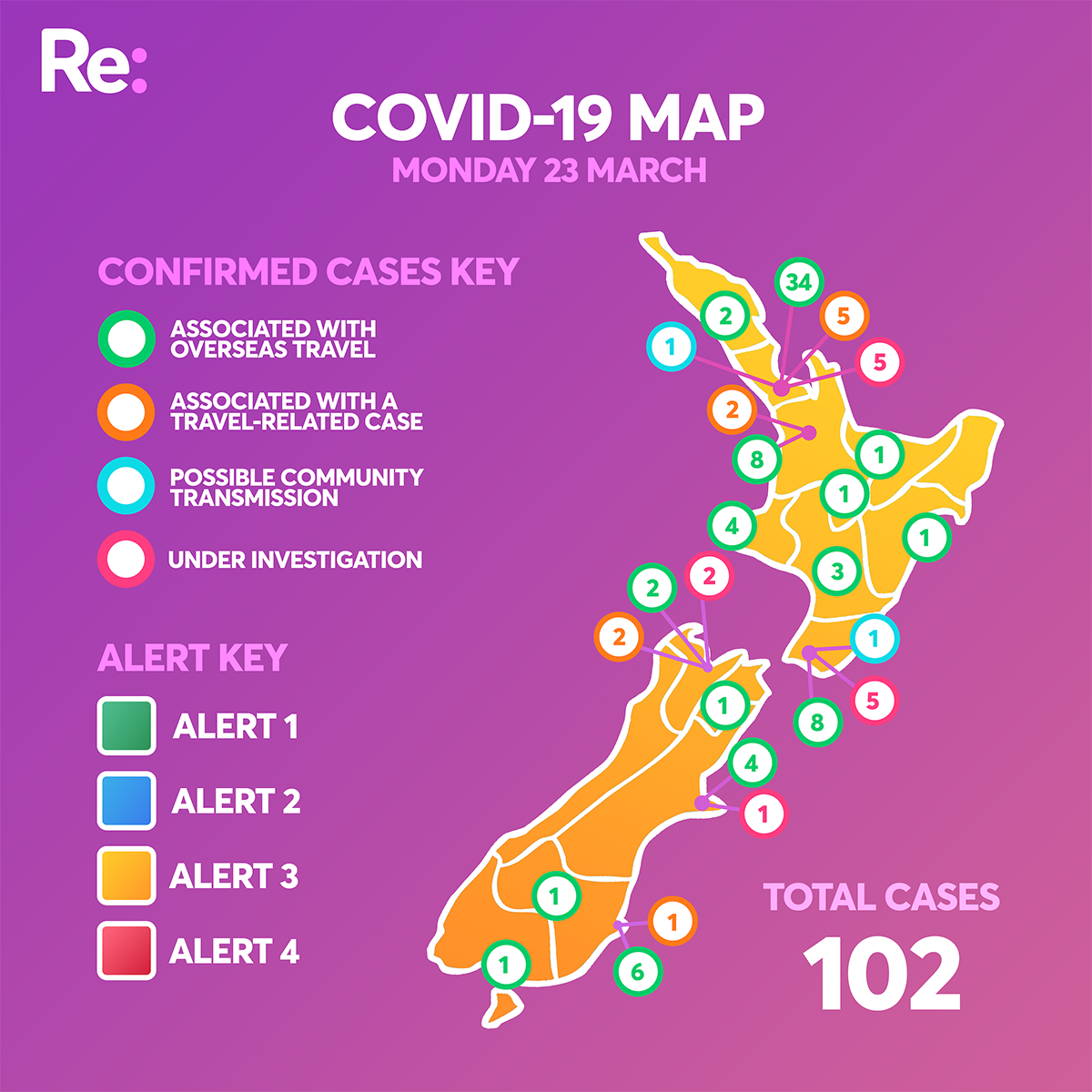 People travelling across the country to get home for lockdown now have till midnight Friday to travel. The Minister for Transport Phil Twyford announced people needing flights, ferries and trains will be allowed to travel until midnight Friday. After that all passenger services will be suspended for non-essential workers.
3:00pm Tuesday, March 24
New Zealand's retail banks have agreed to provide a 6-month mortgage repayment holiday for people whose incomes have been affected by Covid-19.
The Finance Minister Grant Robertson has announced the measure and said exact criteria will be worked out by banks in the coming days. He asked people not to "bombard banks with applications or queries until the banks have released those details in the next one or two days".
"I know this is an incredibly stressful and uncertain time for New Zealanders and the government is focussed on trying to soften the financial impact," he said.
Mr Robertson also announced a $6.25 billion business financing guarantee scheme, where the Government underwrites bank loans to small-to-medium businesses.
Loans of $500,000 will be available for firms with an annual turnover of between $250,000-$80 million, for a maximum of three years, and the lending decisions will be made by banks, not the government.
Mr Robertson made a plea to businesses "to continue to pay their bills to one another". "It is very important that businesses that are in a position to do so continue, particularly larger businesses to smaller businesses," he said.
As of this morning, the wage subsidy scheme has had over 117,000 applications with 41,505 of those approved and $687 million paid out.
Parliament will sit tomorrow and debate the epidemic notice and seek to pass a state of emergency which gives the powers to move the country to Alert Level 4.
People trying to get across the Cook Strait before the lockdown will not be left stranded. The Prime Minister said those who need to travel between the islands to get home will not be left at a ferry terminal or airport if they are unable to get home before 11.59pm Wednesday.
"Yes, we have 48 hours to start closing things down, but we accept we've got to get people back to their place of residence," the Prime Minister said.
"We are working through those issues, we don't intend to just suddenly, while there is a cue at ferry terminals, to cut off that transport link. We will clear people to get home, but we will not provide an ongoing service for people to tour between the North and South Island."
The government will take "much harsher" measures on New Zealanders returning home from overseas travel. This may mean they are required to go to a quarantine centre, rather than going home to self-isolate.
The Prime Minister said returning New Zealanders continued to be a risk to the rest of the country. "We have to allow New Zealanders to return home. This is their home, this is their country of residence and citizenship, so we have to allow that to happen, but we have to also manage that risk."
The government can't commit to getting overseas New Zealanders home. The Prime Minister said due to other countries closing borders, it was possible some New Zealanders may not be able to return home.
"For many it will just not be possible to return, the ability to transit through countries to get here in some cases has dried up entirely. There are some who won't make it back."
Despite Air New Zealand and the government being willing to make 'mercy flights', it would not be an option if those flights have nowhere to land.
She said there was a window for New Zealanders to travel home, and she hoped that people had followed the advice of the Ministry of Foreign Affairs and Trade and used that window, because "now that window is closing or has closed."
Temporary visas are automatically extended till late September.
Travellers with a temporary work, student , visit, interim and limited visa expiring before 1 April 2020 who are unable to leave will be able to stay legally.
Travellers with a temporary visa due to expire between April 1 and July 9 will have their visas extended till late September.
People who live alone are allowed to have one 'buddy' they may have face-to-face contact with. During lockdown, we will only be able to spend time with those we live with. But those who live alone will be allowed to have one person to have contact with. "If you have multiple contacts… it ruins the entire purpose of Alert Level 4," said the Prime Minister.
1:00pm Tuesday, March 24
There are 40 new cases of Covid-19, and 3 new probable cases. These are people who have returned a negative result but the clinician has diagnosed them as a probable case due to their exposure history and symptoms.
The combined total of confirmed and probable cases is now 155.
There are 12 cases that are recovered.
There are 4 cases of community transmission - two of the cases from yesterday, and two new ones. Community transmission is where there is no clear link to overseas travel or another confirmed case.
900 tests were done yesterday, bringing the total to 8300 tests.
There are six people in hospital, they are all stable. No case to date has required intensive care.
"Recent travel from overseas is still the main driver of our new infections. Everyone who has returned from overseas should be in self-isolation," Dr Bloomfield said.
Pregnant women are not considered at a higher risk than any other adult.
But they would be considered as having a pre-existing medical condition, so along with those 70+ and those with compromised immunity, should be avoiding all contact with potential cases.
Source: Dr Ashley Bloomfield, Director-General of Health


All of Government Controller John Ombler is giving an update on the Covid-19 national response.
From 11.59pm Wednesday everyone must stay home unless they're working in essential services.
This means people must stop interactions with people outside of their households. Keep your distance from everyone else at all times. Keep 2 metres away from others at all times.
"Have physical separation but maintain social connection, over the phone, over the fence, but always two metres apart."
"We will have to take enforcement action if that does not happen."
He sent a message to New Zealanders overseas - make plans in case you cannot find flights home. "You should not rely solely on government-assisted flights."
Secretary for Education Iona Holsted has thanked all schools and education providers for their response to the shutdown.
She said some families who may not be able to provide full-time care to their children, such as the child of an essential worker, may "identify a trusted buddy, as long as they are not elderly, they become the child's caregiver."
However that buddy cannot have other contacts outside of their own family. "You all become one group, but it becomes a tight group."
NCEA will likely "have to be shifted around a bit".
When asked about how the education system would manage inequity, like children who may be able to learn from home due to not having internet or computer access, Ms Holstead said "a situation like a pandemic reveals the inequity in our system, it doesn't create it."
She said many children suffer from poor outcomes because of where they live, and she hoped the pandemic may give us an opportunity to address the inequity in our community.
The Ministry for Business, Innovation and Employment has identified 15 sectors considered essential.
More information will come as to exactly what businesses will be allowed to remain open, but MBIE deputy chief executive Paul Stocks said "If you are in doubt whether you are an essential service, you probably are not."
From the end of today there will be an 0800 number that businesses may call to check whether they are an essential service.
"The purpose of the essential services list is not to ensure that life goes on unchanged," he said. "The purpose is that we provide for the necessities of life, for health, safety and infrastructure."
There will be two tests to determine whether a business is an essential service - "is it essential, and how might it be delivered to reduce the spread of Covid-19".
Despite The Warehouse Group announcing this morning that it was an essential service and that all 92 of their stores nationwide would remain open, Mr Stocks said the government has not yet agreed the company can remain open.
"I would caution firms against making decisions about their status. I don't think any particular firm is a necessity of life," he said.
It is not yet clear if liquor stores are counted as an essential service.
It is not clear how those who do not have a car will access essential services like supermarkets and pharmacies, because from midnight Wednesday public transport will only be available for essential workers.
12:30pm Tuesday, March 24
The Warehouse will remain open during lockdown. In a statement, The Warehouse Group said all 92 physical stores would remain open.
Online shopping with contactless delivery would continue to be available across Group's other brands Warehouse Stationery, Noel Leeming, Torpedo 7, 1-day and TheMarket.
"The Warehouse is a provider of key consumer goods essential for maintaining the wellbeing of people such as food and beverage, groceries, cleaning items, health and beauty items including toiletries, winter essentials e.g. blankets, clothing and heaters and stationery and office supplies for home schooling and work-from-home needs," the statement says.

The UK has gone into lockdown, with Prime Minister Boris Johnson closing most stores and banning gatherings for three weeks. Schools and restaurants have already been closed.
11:30am Tuesday March 24
Interislander ferries are running at capacity and urging people to be patient as they experience a "significant increase" in passengers as people rush to get home.
Bluebridge ferries say they have very limited capacity and are asking people not to turn up to the terminal in hope of getting a last minute ticket, as it's unlikely they will have any available.
Tuesday March 24
As we enter the first day of Alert Level 3, here's what you need to know.
The lockdown will begin at midnight Wednesday.
Supermarkets will remain open, and they are advising that only one family member goes out to shop at a time.