Right now, there's a flurry of information - some true and some false. If you're getting a bit fatigued and just want the key, verified facts, check in here for rolling live updates.
5:30 pm Monday, March 23rd
Here's the geographic spread of Covid-19 cases as of today. We'll be updating this map daily.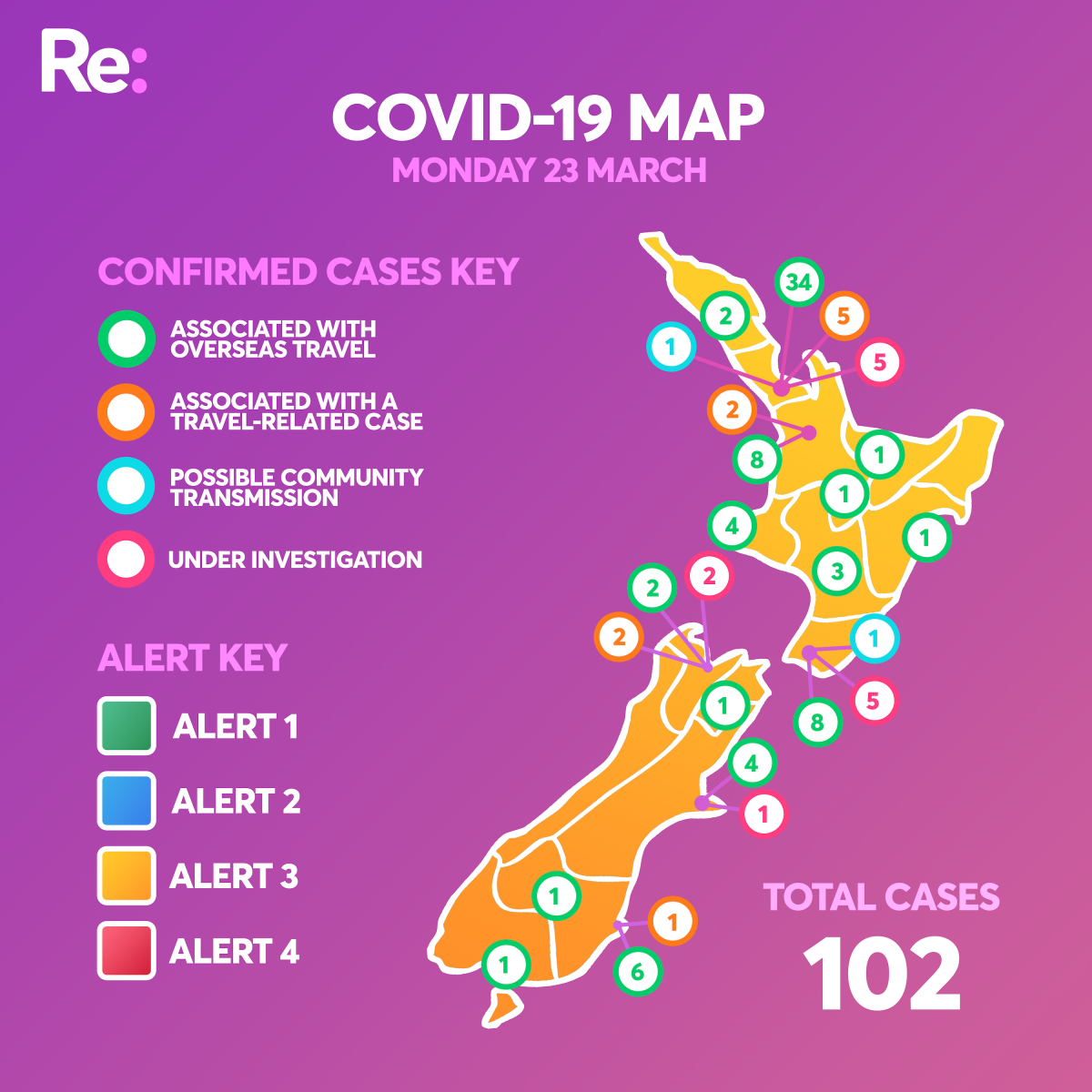 4:00 pm Monday, March 23rd
What's included in the term "essential services"? It includes the following:
Health

Covid-19 response, planning and logistics

Civil Defence and emergency services

Key public services

Transport, freight and courier including Kiwirail and NZ Post

Teachers for essential services

Public safety and national security staff

Utilities and communications

Building and construction

News media

Supermarkets and pharmacies

Social services

Financial services

Food producers

Biosecurity and animal health staff
Source: All of Government Controller John Ombler
The All of Government Controller John Ombler is speaking to a press conference now. He's said:
Border: The influx of people into New Zealand has significantly reduced.
If people live close to where they land they can go directly home. If they do not live close, other self-isolation measures will be necessary.
The focus is on keeping exports and imports going as much as possible.
1:50 pm Monday, March 23rd
Essential services
The essential services of healthcare, supermarkets and pharmacies will remain open at all Alert Levels.
Health system response
Testing and contact tracing will continue at pace.
"If we flush out the cases we already have and see transmission slow, we will potentially be able to move areas out of Level 4 over time," said Prime Minister Jacinda Ardern.
"Things will look worse before they look better. In the short term the number of cases will likely rise."
Enforcement and role of the community
The Prime Minister said the government "will not hesitate to use our enforcement powers if needed".
"I know people will want to act as enforcers but we will play the role of enforcer."
"What we need from our community is for you to support others. We will get through this together but only if we stick together so please be strong and be kind," said Prime Minister Jacinda Ardern.
12.30pm Monday, March 23rd
The Ministry of Health says there are two cases that are being treated as community transmission.
This means it is not clear where these people got the virus from, and there's no clear link to someone else with the virus.
Today there are 36 new Covid-19 cases. Total = 102
Over half of the new cases are directly related to overseas travel. Most of the other cases are close contacts of a previously confirmed case.
"There are two cases that we cannot be certain where the infection came from. They are being treated as community transmission."
Source: Dr Ashley Bloomfield, Ministry of Health Director-General
The Prime Minister will be giving an update at 1.30pm today.
12.00pm Monday, March 23rd
The United States White House has announced a task force for Covid-19 in the USA. New medical stations will be set up in New York, California and Washington, adding thousands of hospital beds. Source: White House Press Conference
Sir Peter Gluckman, the former Prime Minister's Chief Science Advisor, is saying on Twitter that the best thing New Zealand can do is to go into "extreme shutdown now".
Event Cinemas will temporarily close nationwide.
Flight Centre is making 250 people redundant and closing 33 shops across New Zealand from today. Source: Flight Centre press release.
Emirates will close down all passenger flights worldwide by this Wednesday 25th of March. Cargo flights will continue as normal. Source: The Emirates Group press release
Tonga has closed its borders. Source: Prime Minister of Tonga on Tonga Broadcasting Commission.
Two of the eight suspected Covid-19 cases in Samoa have come back negative.