Today Simon Bridges was toppled from the leadership of the National Party.
He's been replaced by Todd Muller, a man who many voters don't even recognise.
Here's the basics on the guy who will be running against Jacinda Ardern at the election in September this year.
What happened with Simon?
Things had been looking a bit grim for Simon Bridges and they got much worse last night.
1 News published a Colmar Brunton poll that showed National had dropped to its lowest approval rating in 17 years - down to only 29 percent support.
That's compared to 59 percent support for Labour.
Only 5 percent of people polled said Simon Bridges would be their preferred prime minister, compared to 63 percent supporting Jacinda Ardern.
This means Paula Bennett is gone too
Paula Bennett was the deputy leader of the National Party under Simon Bridges. But now he's out, Todd Muller has picked Nicki Kaye as his deputy.
What's Todd Muller's political experience?
He was elected to be the National Party's MP for the Bay of Plenty in 2014, and then again in 2017.
He's National's spokesperson for agriculture, biosecurity, food safety and forestry.
He had a quick rise in the National Party last year, being promoted from position 31 to position 17 on the National Party's list. (Political parties basically rank their MPs in order of importance, with the leader being number 1 and deputy leader number 2).
He has a master's degree in politics and history from Waikato University. He joined the National Party in 1989, and worked for the former National Party Prime Minister Jim Bolger.
He's the guy Chlöe Swarbrick said "ok boomer" to
In November last year Chlöe Swarbrick was making a speech about the Zero Carbon Bill when Todd Muller made a comment from the Parliament House floor.
Chlöe's response of "ok boomer" quickly went viral around the world.
Interestingly, Todd Muller was actually the National Party's spokesperson for climate change at the time and was widely respected across political parties for getting the National Party to support the bill.
In July last year Green Party leader James Shaw said Todd Muller was a "constructive, thoughtful and responsible climate change spokesperson for the National Party" and thanked him for his willingness to work together across the party divide.
What does he believe in?
He voted against removing abortion from the Crimes Act this year.
He's a staunch supporter of farmers and has repeatedly criticised the national museum Te Papa for displays that link the dairy industry with pollution.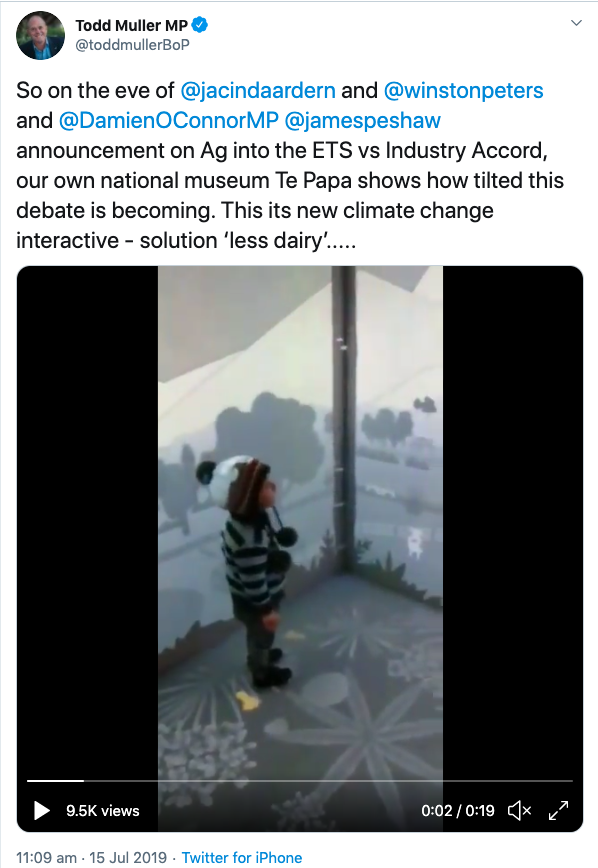 It's likely his campaign will run on a platform of supporting farmers and the dairy industry.
What did he do before becoming a politician?
A lot of his work was in the agricultural industry - he was the general manager of kiwifruit company Zespri, worked for Fonterra and was chief executive of a company that does kiwifruit and avocado packing and storage.
He's also been on the board of the Sustainable Business Council and Plant and Food Research.
Does Todd Muller stand a chance at the election?
Jacinda Ardern is polling very strongly at the moment, largely off the back of the government's successful response to Covid-19.
It might seem like it would be impossible for National to come back from their 29 percent support rating in last night's poll to win the election in September.
But let's not forget that Labour was in a very similar boat at the last election - former Labour leader Andrew Little was polling disastrously and was replaced at the last minute by Jacinda Ardern.
In August 2017, only six weeks before the election, Labour was polling at 24 percent - the lowest it had hit in 20 years. Andrew Little resigned, was replaced by Jacinda Ardern, and Labour zoomed ahead to form a government with NZ First and the Greens.
So there's really no saying what could happen between now and September 19th.
What are Simon Bridges and Paula Bennett going to do now?
Simon Bridges has been an MP since 2008 and was leader of the National Party for just over two years, after he replaced Bill English when National lost the 2017 election.
Paula Bennett has been deputy leader since 2016 and an MP since 2005.
They don't quit parliament - they'll just shift lower down the list of power to become backbench MPs.
Simon Bridges has tweeted a photo of his family, saying the loss of the National Party leadership means he will now be able to spend more time with them.