"Can you hear that? That's not rain, that's fucking rocks coming down from the volcano," says 'Ila, who saw the volcanic eruption and tsunami from Tonga's Tongatapu.
On Saturday, the eruption of Hunga-Tonga-Hunga-Ha'apai, an underwater volcano in Tonga, triggered tsunami waves across the Pacific islands and other parts of the world.
The eruption covered the Pacific islands in ash, cut off power, and severed communications as the main undersea communications cable in Tonga was disrupted.
Powerful waves have hit the shores of Tonga after a tsunami warning was issued for the Pacific nation following underwater volcanic activity.
Tonga Red Cross teams are working with authorities supporting evacuations to higher ground.
🎥@sakakimoana pic.twitter.com/hJxlmXjDwG

— IFRC Asia Pacific (@IFRCAsiaPacific) January 15, 2022
The International Federation of Red Cross and Red Crescent Societies (IFRC), a worldwide humanitarian aid organisation, says 80,000 people could be affected by the disaster.
Although it is too soon to tell how many could be injured or missing, no deaths have been reported as of Monday.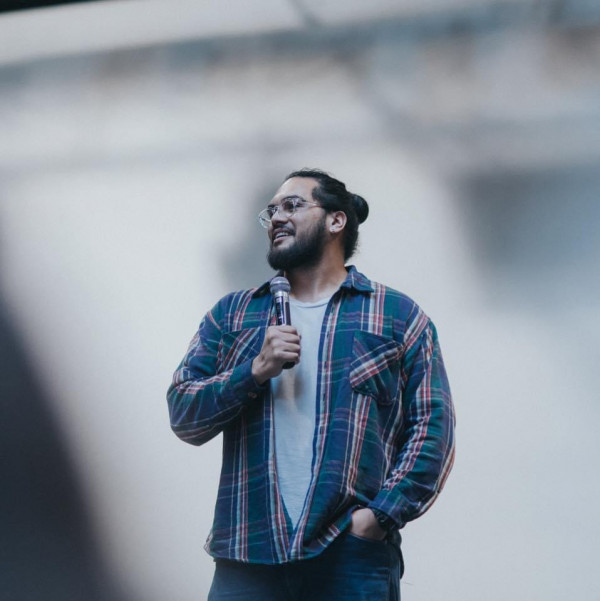 Photo: Supplied by Genezy 'Ilolahia
Genezy 'Ilolahia, 27, a Māori and Pacific-focused youth worker, told Re: he was shocked when he heard about what was happening back home.
"I saw reports of people saying go to higher ground, but I've been to Tonga and I know a lot of it is flat. But I think probably the hardest part was not being able to hear from anyone," Genezy said.
Most of his family now live in New Zealand but his wife's immediate family live in Tonga so they have been trying to get hold of them.
"Some photos from Lau showing the impact of the volcanic eruption in Tonga on Saturday"#TongaVolcano pic.twitter.com/KbbuXyRGUt

— Fiji Red Cross Society (@FijiRedCross) January 16, 2022
He said right now, the biggest concern in Tonga is air and water quality.
"Most families in Tonga collect drinking water in their own private tanks. But if it rains, it will be acid rain and all of their drinking water will be damaged."
Locals are being told to drink rationed bottled water and wear face masks to protect their lungs from dust and ash.
The country's officials are asking for help with water, food and medical supplies.
Foreign Affairs Minister Nanaia Mahuta told RNZ this morning 80 percent of power was restored in Nuku'alofa, Tonga's capital.
However, the internet connection is still disrupted.
Local mobile phones are working now, but there has been little contact from some coastal areas.
IN THE NEWS: We are closely monitoring the unfolding situation in #Tonga after the eruption of #volcano Hunga Tonga Ha'apai and the ensuing #tsunami waves. @RedCrossAU stands ready to support our partner @TongaRedCross if requested. https://t.co/a3VkhZqxcn

— Australian Red Cross (@RedCrossAU) January 16, 2022
Tonga has 169 islands, 36 of which are inhabited, most of which have not been heard from.
Tonga is now sending naval boats to rural islands to get a scope for the damage and needs of the people living in those areas.
A New Zealand Defence Force plane also left this morning to assess the damage in Tonga and its outer islands that have not been heard from. Another plane, which will air drop supplies such as water, will leave today.
The New Zealand government has also committed $500,000 for initial aid and will provide more assistance as required.
WATCH 🎬 An @NZAirForce Orion aircraft departing #BaseAuckland this morning for Tonga to undertake a reconnaissance flight.

View more of our updates➡️https://t.co/0rcqlCN5VU #Force4NZ #NZAirForce pic.twitter.com/TqW4rGFGsE

— NZ Defence Force (@NZDefenceForce) January 16, 2022
If conditions allow for landing today in Tonga, Australia's defence force is also sending an aircraft to survey the damage to critical infrastructure like roads and power lines.
In a statement, the Australian Government said it was ready to respond to requests for help with the Department of Foreign Affairs and Trade and the Department of Defence coordinating "critical humanitarian supplies for disaster relief.
How to help:
In a statement today shared by Tagata Pasifika journalist John Pulu on social media, Tonga's Speaker of the House, Lord Fakafanua, said details around a Tongan relief fund will be announced shortly.
He is also asking people to make sure the relief funds they are donating to are "verified, transparent and legitimate" and to be cautious of scams and unreliable sources.
Red Cross teams in Tonga have supplies in the country to support 1200 households.
You can donate to the Red Cross here.
Pita Taufatofua, the Tongan Flag Bearer in the 2020 Tokyo Olympics, has also set up a Go Fund Me page which has raised more than $192,000 in 24 hours.
Auckland kava lounge Four Shells and Friends of Tonga, an education support organisation for students in Tonga, are holding a Tonga Volcano Relief Fundraiser at Four Shells in Victoria Park Market, 12/210 Victoria Street West on Friday, January 21st. This will be held from 6:30pm to late.
You can also donate to Friends of Tonga's relief fund here.
Top image: A man stands on the coastline of 'Eua, Tonga. Photo by Todd Henry
More stories: