By Maggie Shui
"A lot of people actually don't know how to make dumplings," says Helen Yeung, founder of Migrant Zine Collective, at a dumpling party. And she doesn't just mean those of us in the diaspora who can barely string a sentence together in our mother tongue. She's referring to Chinese people who live in Asia as well. Not all Chinese people eat dumplings.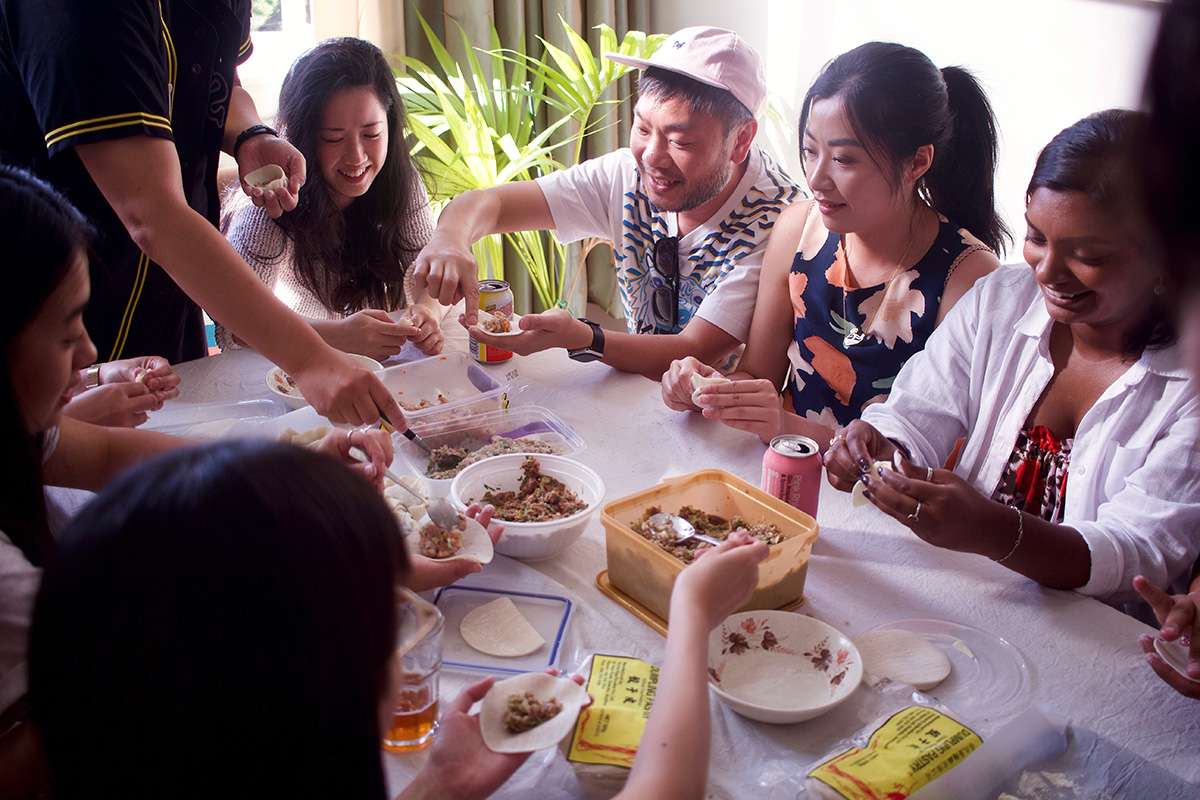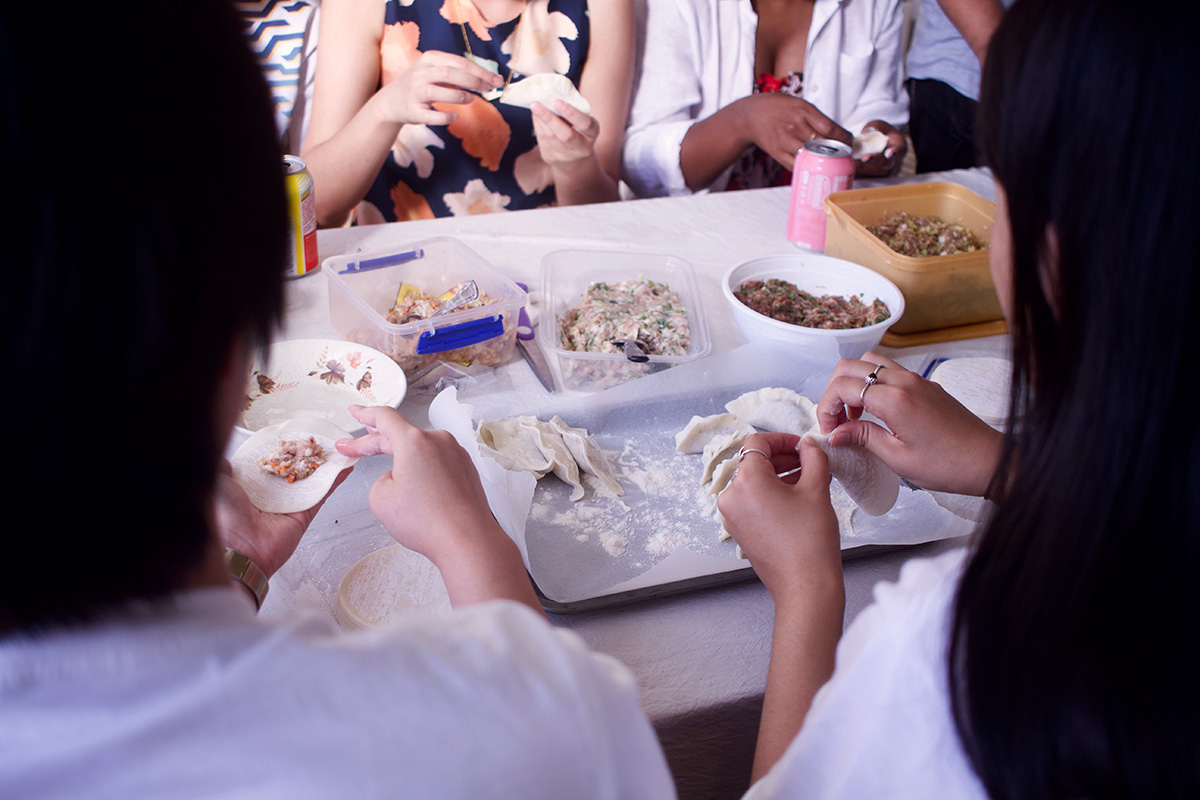 It's in China's northern provinces where dumplings are a staple of every Lunar New Year dinner, and where parents might teach their children how to fashion the perfect pleat in their dumpling wrapper (unless you're from the northeast, where it doesn't matter if your dumpling has a pretty pleat, as long as it's phat). So Helen's family, who are from Hong Kong and Shanghai, like to do Shanghainese dishes for New Year such as meatballs and wontons rather than dumplings.
We're sitting in the backyard of theatre-maker Alice Canton's flat, squinting in the late afternoon sun. Alice's family, who are Hakka Chinese on her mum's side, don't do dumplings either. "A lot of the foods that people associate with Chinese, like noodles and dumplings, our family doesn't really do that," she says, "but I think it's just a way to connect to cultural practice. So I'm into it."
She's into it enough to host dumpling parties with her friend Lindsay Yee. In a tradition that's now a couple years strong, they bring their friends together every now and then to make dumplings, drink beers and chat. Alice half-jokingly calls this afternoon's party "loneliness manifested" - with her family living far away, it's a chance to celebrate the New Year with her friend-family instead. It's the case for lots of the dumpling makers this afternoon.
There's also an undertone of reclamation to gatherings like this. Everyone in the Asian diaspora has a story about being made fun of for their school lunches. We've heard so many of them that it's reached the point of cliché - so here's mine. I brought dumplings that my mum made to my school's 'Cultural Day' in Year 4. Everyone thought they were smelly and I was very embarrassed. I returned home with a nearly full tupperware container and tried to explain it to my mum's confused face.
But dumplings are cool now. You can get six of them for $12 at an Asian fusion restaurant with some combination of bamboo, lanterns and jewel tones in its decor.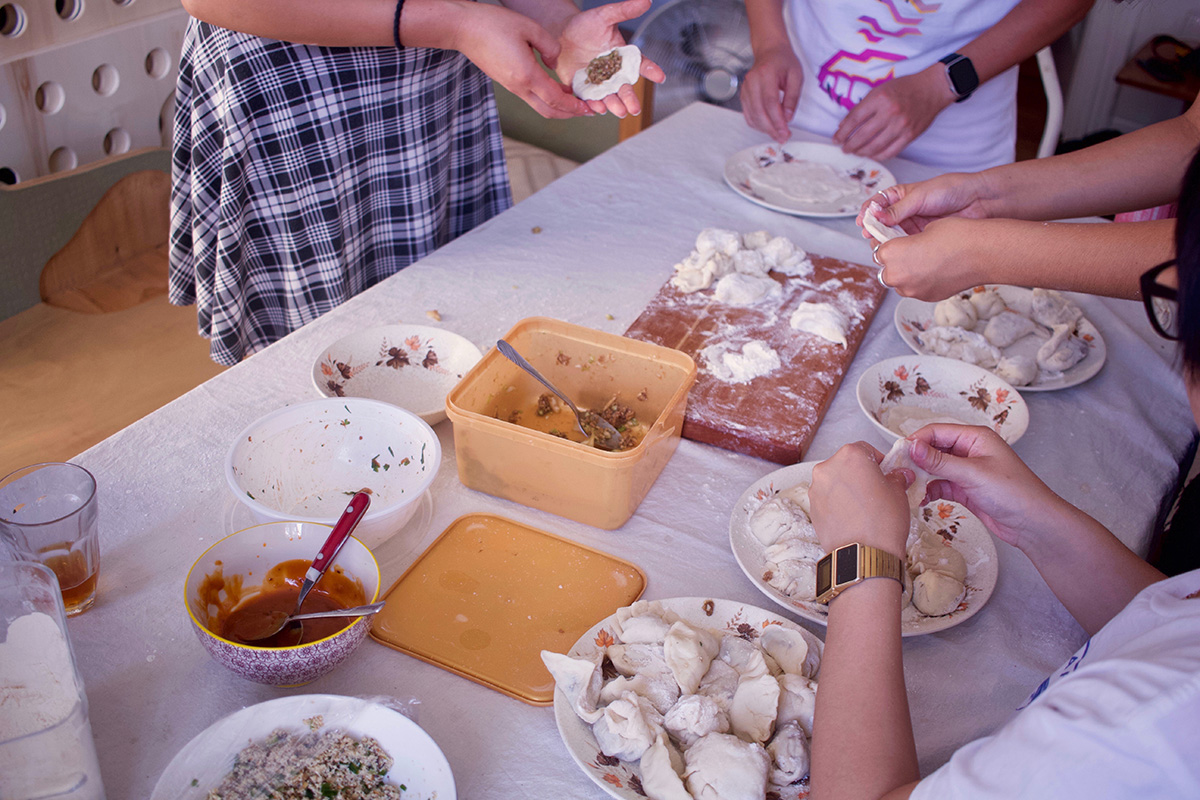 "It's kind of riding that wave," says Lindsay of his dumpling parties, referring to what feels like a burgeoning renaissance of Chinese creatives in the diaspora becoming more visible in the mainstream. "It's cool to reclaim that culture and be proud of that space." After years of assimilation for survival, basking in your culture feels good.
So even though making dumplings isn't exactly how Alice's family in Malaysia would celebrate New Year's, "you do what you can to retain your culture," she says. "I mean, what is authentic? I am choosing to do this, and I am Chinese, therefore it is an authentic Chinese experience."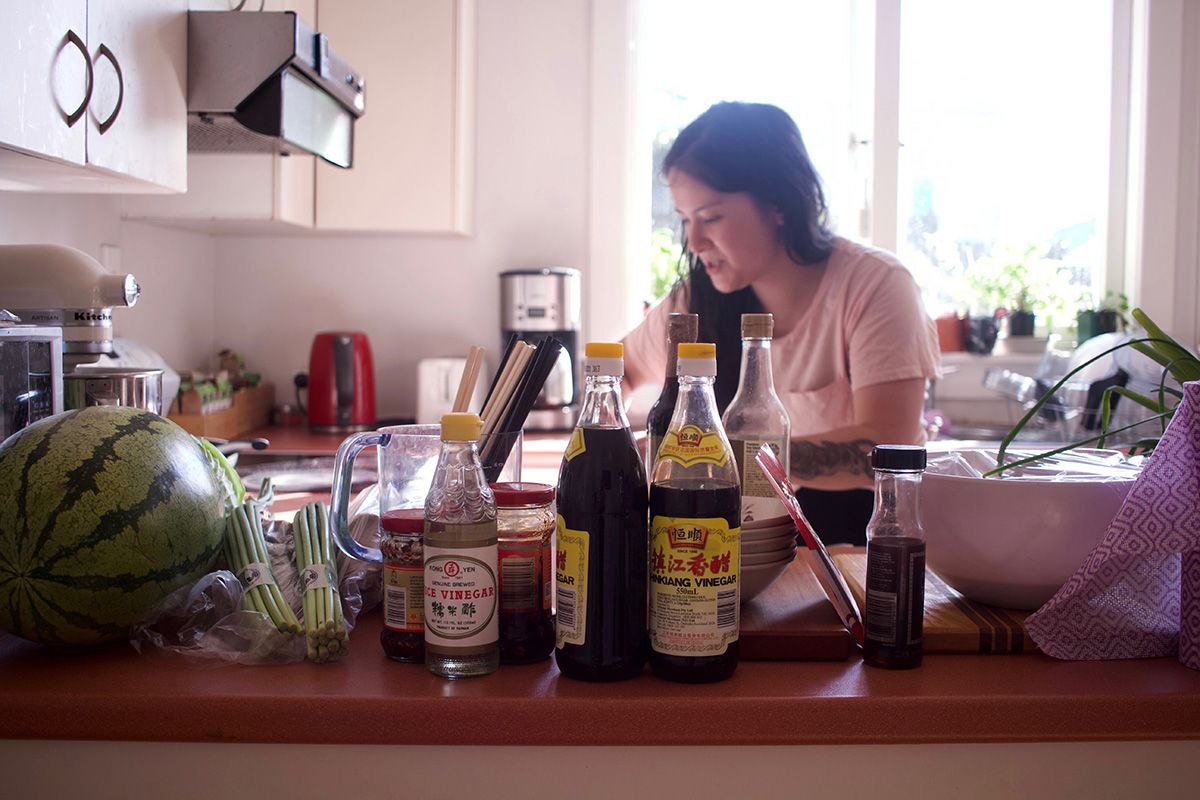 There's a spirit of adaptation in all the New Year's celebrations I visit. Everyone's away from home in some sense of the word, and assembles together a little celebration in Aotearoa with the people, food and days off work that they do have.
Jenny's family runs a takeaway shop in Glen Innes, and her parents work every day except Sundays. Lunar New Year's Eve fell on a Friday this year, and Jenny, her two brothers and her parents worked that evening. Once they finished, they shared a simple meal together at the shop.
On Sunday, they put together something a bit more elaborate. Jenny's making Mickey and Minnie Mouse cookies (it's Year of the Rat) and tells me about how they would celebrate in China, in between gasps of horror whenever one of Mickey or Minnie's ears fall off.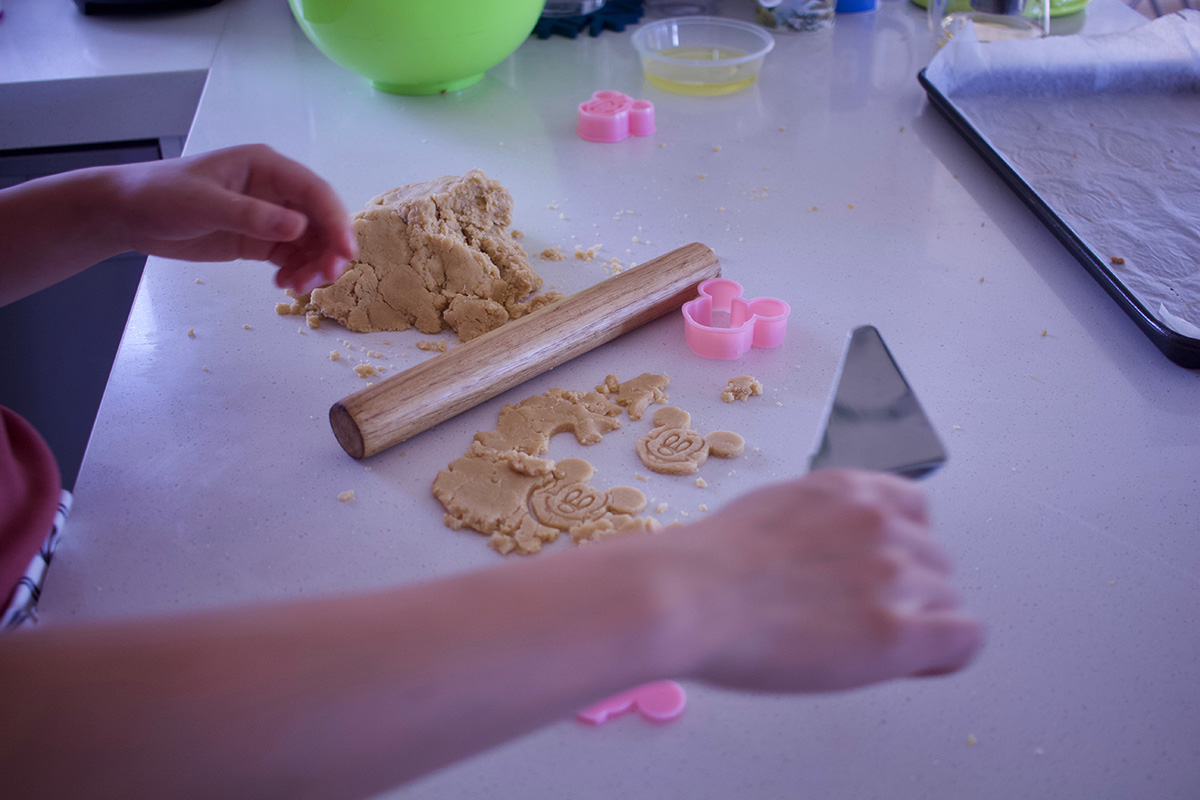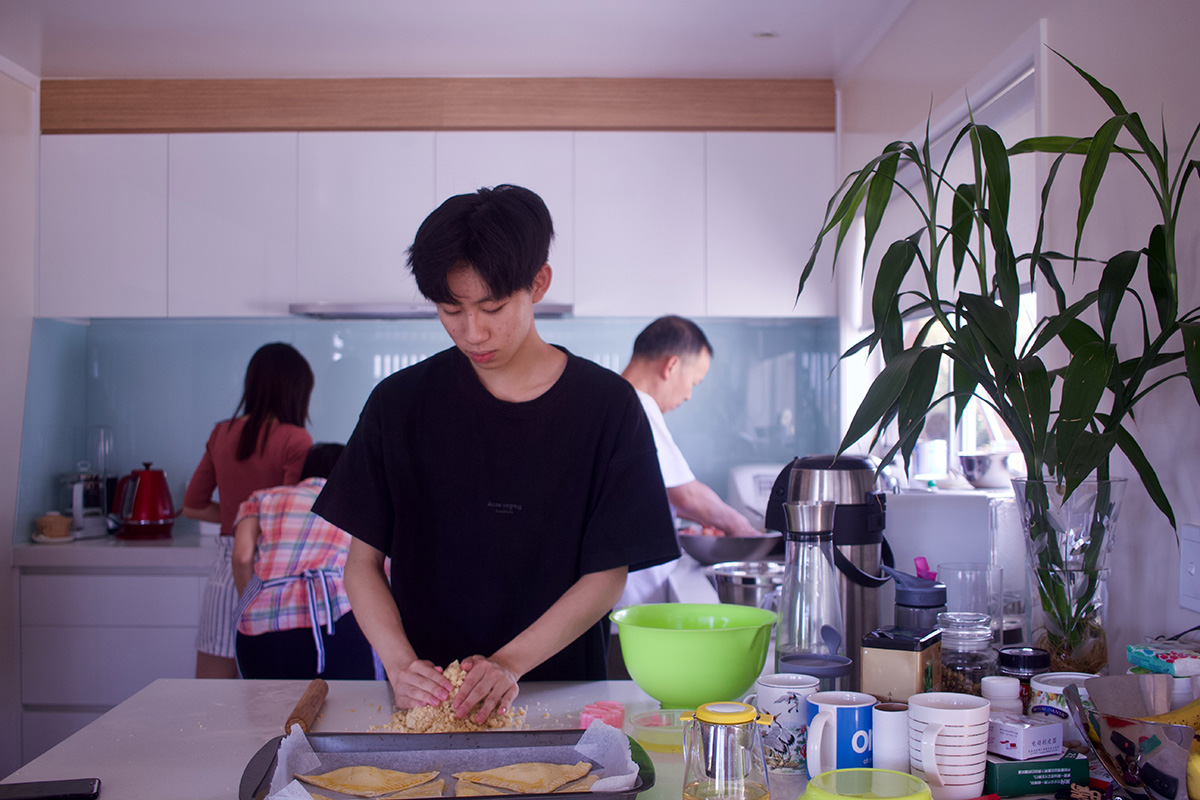 In China, Christmas is a business-as-usual day, and the Gregorian New Year's Day is granted one day of public holiday. The Lunar New Year, however, gets a week of holiday. The travel rush on either end of this week is not for the faint-hearted.
Translating for her mum who's speaking in Cantonese, Jenny tells me about how they'd pick out their red couplets before New Year's - a pair of vertical poetry lines on red banners that are stuck on each side of your door. The words you pick set the energy for your upcoming year. They also go to a farm and pick out a 年花 (niánhuā) or New Year tree, which is usually a mandarin or peach tree. "It's kind of like an Asian Christmas tree. You have blossoms and you put red pockets all over them."
These rituals lose their lustre in New Zealand and fall by the wayside, "especially when there's no elderly figure to centre the family and get everyone together," as Helen puts it.
Jess Fu and her family are from Tianjin, a major city in northern China, and they do make dumplings for New Year's. Jess's mum Lucy makes sure of it.
Lucy tells me, "When I was a child, this is how we celebrate Chinese New Year. But now maybe things change, a lot of families eating out. But we still keep tradition together, making dumplings, talking, relaxing with friends."
Every year, they celebrate with seven or eight other families who all immigrated to New Zealand around the same time in the nineties. "We don't really have family here, so family friends are our family here," says Jess.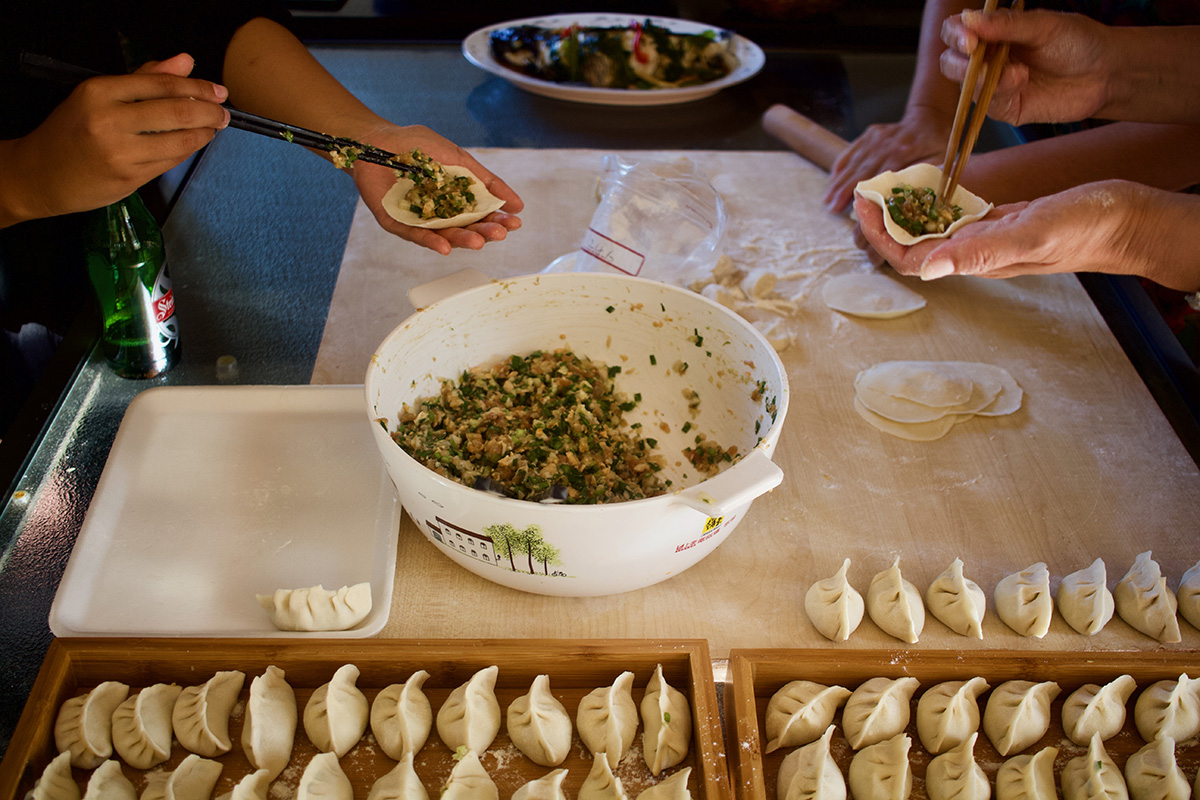 Like everyone I speak to, Jess has noticed a lot more Lunar New Year-related events and visibility in recent years (although there's less chance for regional specificity - Helen has been to the Chinese New Year event at Auckland's ASB Showgrounds a few times, but being from Hong Kong, she says, "I don't feel like I fit in as much because it's mostly mainland Chinese-run.").
The increased visibility feels good to an extent. Jenny tells me about how customers at her family's takeaway shop were wishing them happy new year when they were working on Lunar New Year's Eve. "It feels like, woah, I'm not used to this. It's quite nice."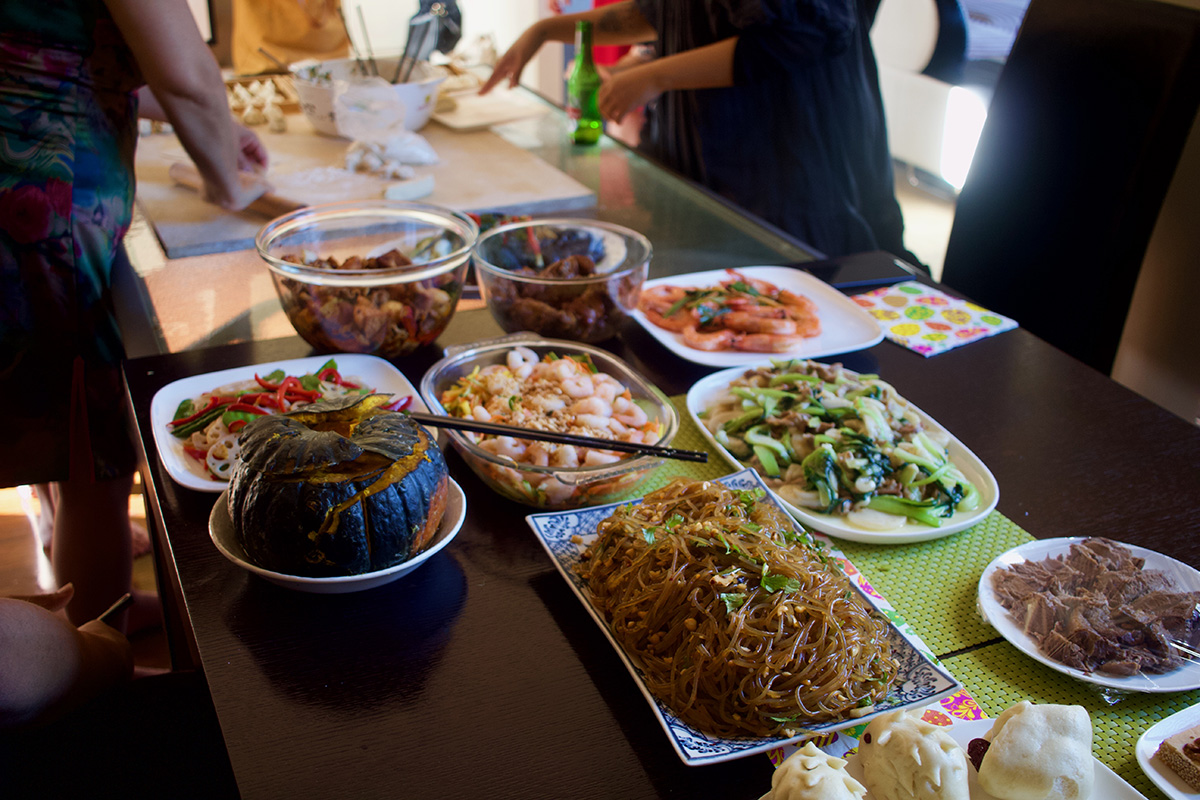 But when the topic moves to Lunar New Year-themed advertising, it's hard to know exactly how to feel about it.
This year, Nike released a much-celebrated ad depicting the New Year tradition of elders gifting younger family members money in 红包 (hóngbāo) or red pockets - a tradition that involves the receiver politely but vigorously refusing them at first. Sometimes the proceedings descend into a shouting match between your parents and grandparents and your nine-year-old self thinks, "But what if we just took the money?"
Of course, you eventually accept - or your mum sneaks it back to your grandma by tucking it under a vase before you leave her house. The Nike ad exaggerates the custom to comedic heights with a girl sprinting away from her aunty in her Nike kicks, just to avoid being handed a 红包.
I can't relate to someone who'd rather do cardio than receive money, but judging by Facebook and YouTube comments, a lot of people were chuffed by the ad.
"I feel like it quite nicely explained the idea," says Lindsay. "It explains a bit of our culture - although I don't know if we ever go to those lengths of avoiding it - and adds to the conversation."
Jess has a slightly more subdued reaction. "It was kinda weird. People were blowing up about it like, 'Oh, this is such an amazing ad,' but I'm like, they're still selling shoes.
"I guess it's nice that people can see something that they can relate to. But you know, it's still an ad."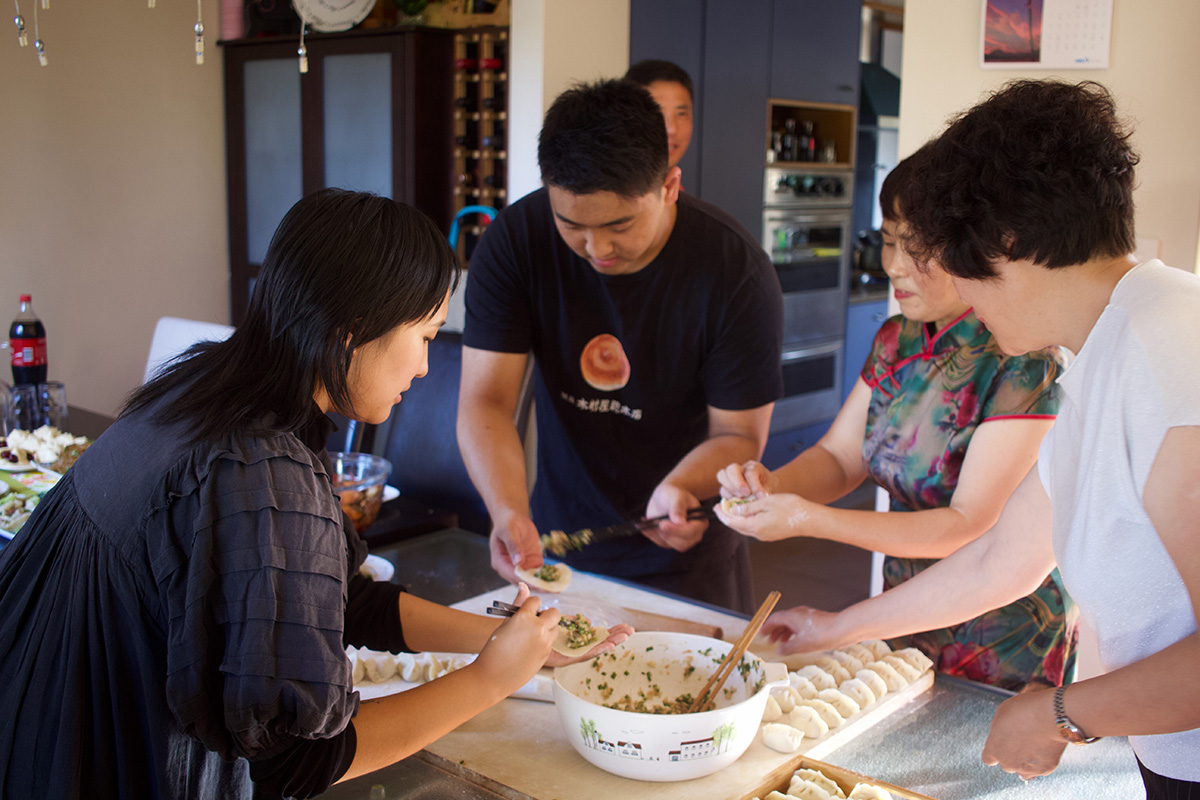 Alice has a similar perspective: "There's a part of me that's like, 'Oh! That's so cool!' And there's another part of me that's like, oh but how diverse is their workforce, how diverse is their customer base, how interested are they in engaging with Chinese users or integrating cross-cultural learning into the work that they do?"
Well, Auckland-based artist Jia Luo has one example of experience from behind the scenes. During her days working in an ad agency, her Pākehā colleagues came up with "jaw-droppingly racist concepts" for Lunar New Year campaigns such as "rickshaws, geisha massage parlours and happy endings." When Jia made a complaint - often a tricky thing to do in a corporate space - her email was ignored and her manager told her to "be nice". This year, seeing Lunar New Year advertising left her with "weird and icky" feelings.
At the same time that Nike is producing moving ads that celebrate Chinese culture, the racism that Jia points to remains ever-present in our streets, workplaces and online spaces. Reactions to the coronavirus have made that especially clear (shout out to Brooke in my local community Facebook page who I had a mini argument with when she called Chinese people "feral" for eating animal meat that falls outside of Western norms).
With that dissonance in mind, it's unsurprising that we haven't all welcomed Lunar New Year advertising with unqualified gratitude. You're here for us when we're a hot, lucrative market, but are you here to uplift us when our workplace is toxic or when Brooke is being an ignoramus on Facebook? Yes, it's nice to be included in the broader cultural sphere because, like Jenny says, we're not used to it. But some red lanterns hanging outside SkyCity for two weeks feels like breadcrumbs.
However, as Lindsay says, any increased visibility of Chinese and Asian culture can be the start of a conversation. When we breach the topic of corporate advertising, he heaves a big sigh. He acknowledges that the main driver is that "there's huge monetary value around including Chinese people," but he also acknowledges that "there's an opportunity to do things that are interesting and adding to the culture."