By Liam van Eeden , Maggie Shui and Zoe Madden-Smith
When the Re: team descended upon the Semi Permanent Aotearoa festival in Tāmaki Makaurau this morning, our first thought was: Damn. Should we have dressed up more?
Everywhere we looked, we saw well-dressed people. Yes, lots of them were of the "bougie graphic design/marketing" variety as one duo featured in this photo essay described it. But there were also some hints of street, whimsical thrifted 'fits, and colourful dyed hair.
We zeroed in on the attendees whose outfits we loved, and asked them to describe their style and their take on the year 2020.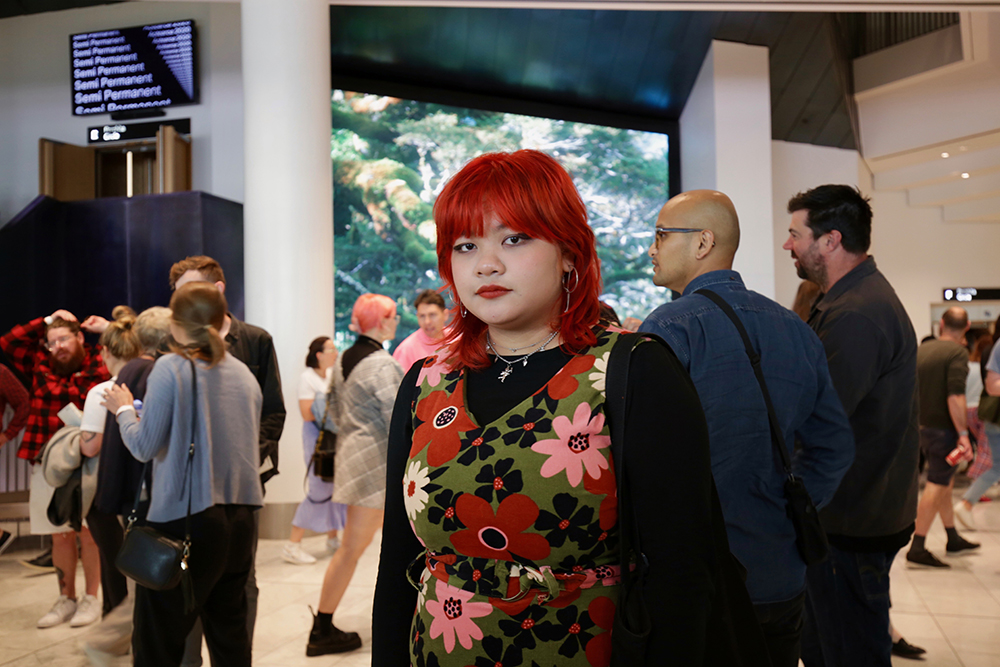 Kai Concepcion
Recently graduated graphic and communication design student
My style in 3 words:
Vibey, free-spirit... whatever.
How I'd describe my 2020:
Crazy. My end of year project was this collective zine called Lover Girl. I was like okay, we've been so disconnected in these times of isolation, so I found myself trying to reconnect. 2020 is collectively acknowledging it's sorta been shit and weird.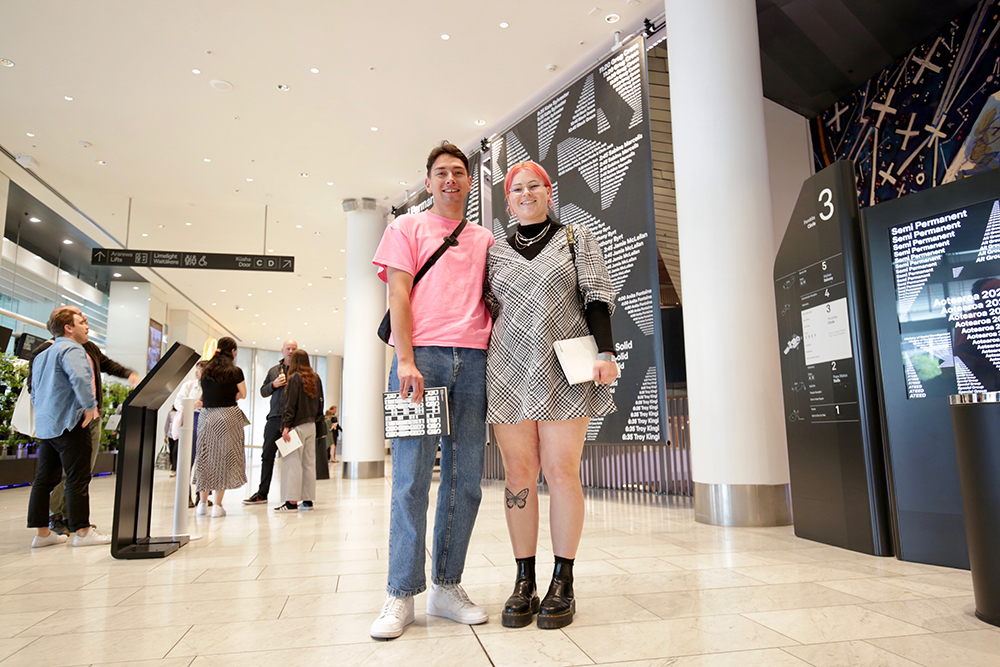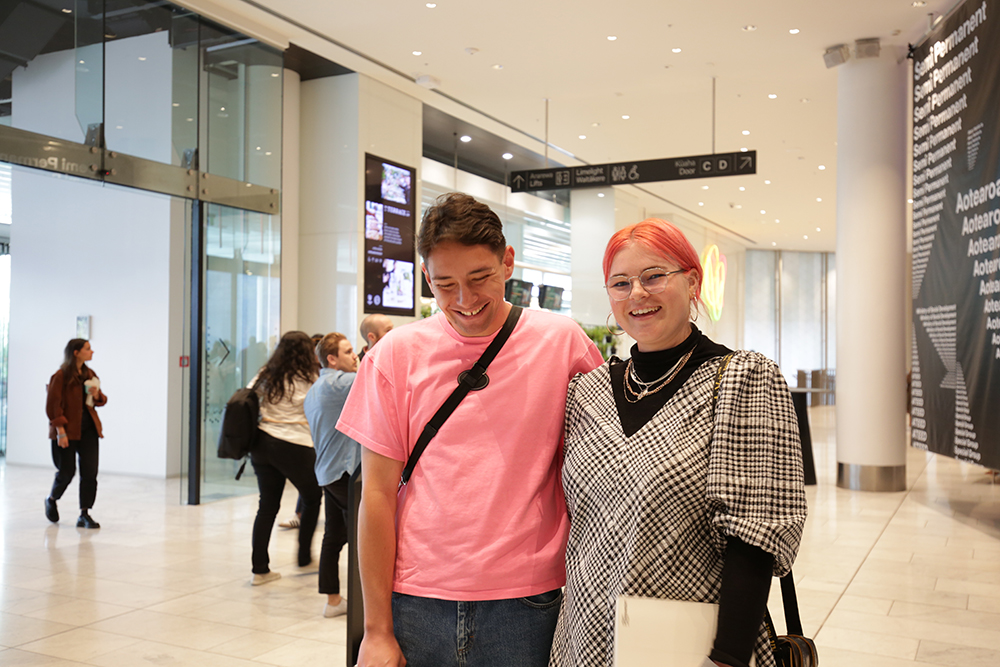 Hazel and Sam
Graphic designer and teacher (Hazel), and Toi Māori artist (Sam)
How I'd describe my style:
Hazel: My style is very edgy, little sprinkle of femme. I would say I'm quite androgynous.
Sam: Varied, interchangeable, emotive.
How I'd describe my 2020:
Hazel: It has been a year of many downfalls, but a year of many blessings as well.
Sam: It's shown everything is temporal or temporary; it's not fixed. A lot of transitions.
I always kinda struggle with ego, and right when you think you've mastered it... then the universe reminds you.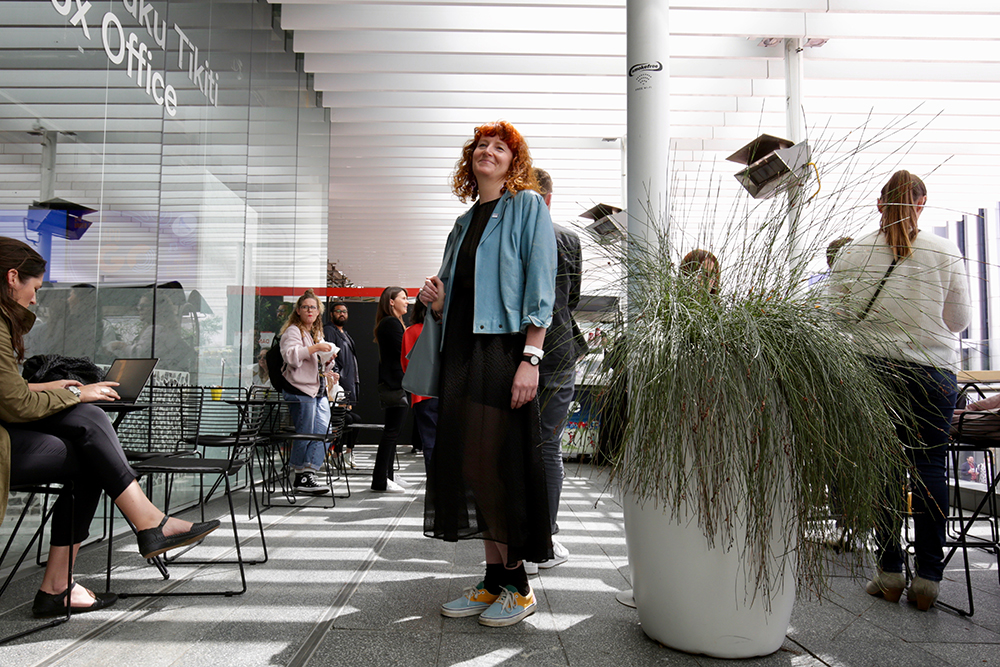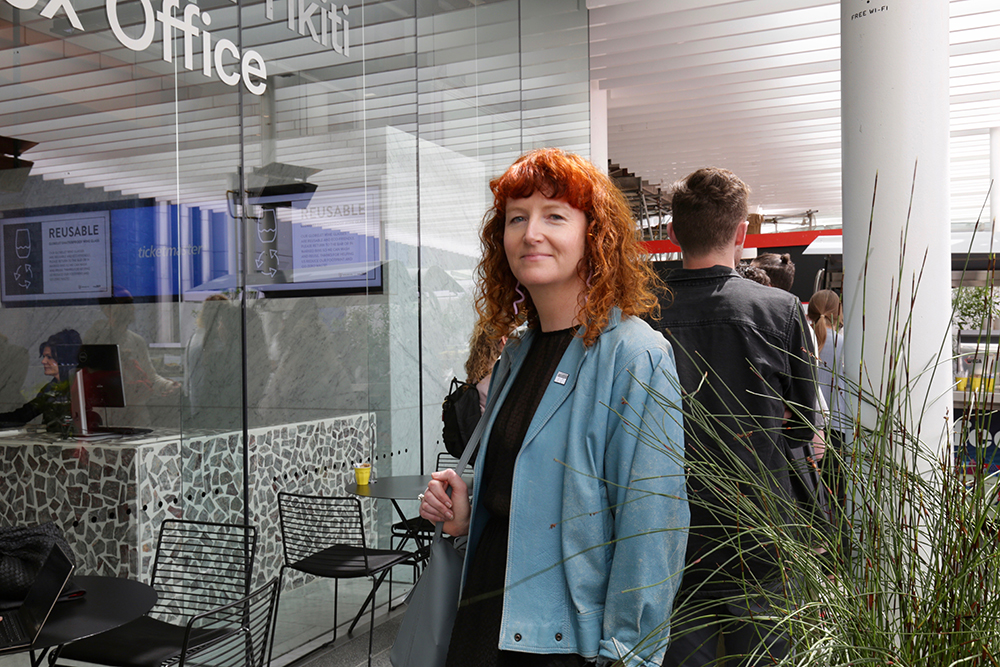 Hazel
Graphic designer and lecturer at AUT
How I'd describe my 2020:
Really not a great year to be a freelancer, an extrovert and single. There were definitely some moments of crying for no reason.
The best thing we got out of it is closer relationships and realising those relationships are really important, and also that work is not the most important thing. I love everyone's more aware of where they work and when they work. And four-day weeks, I've always been a big advocate for.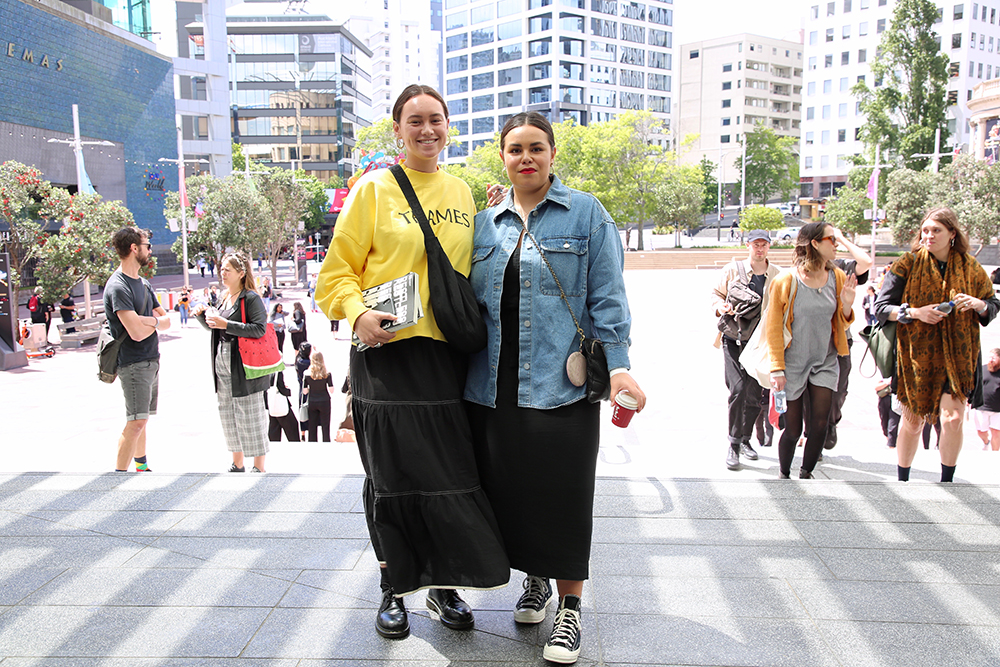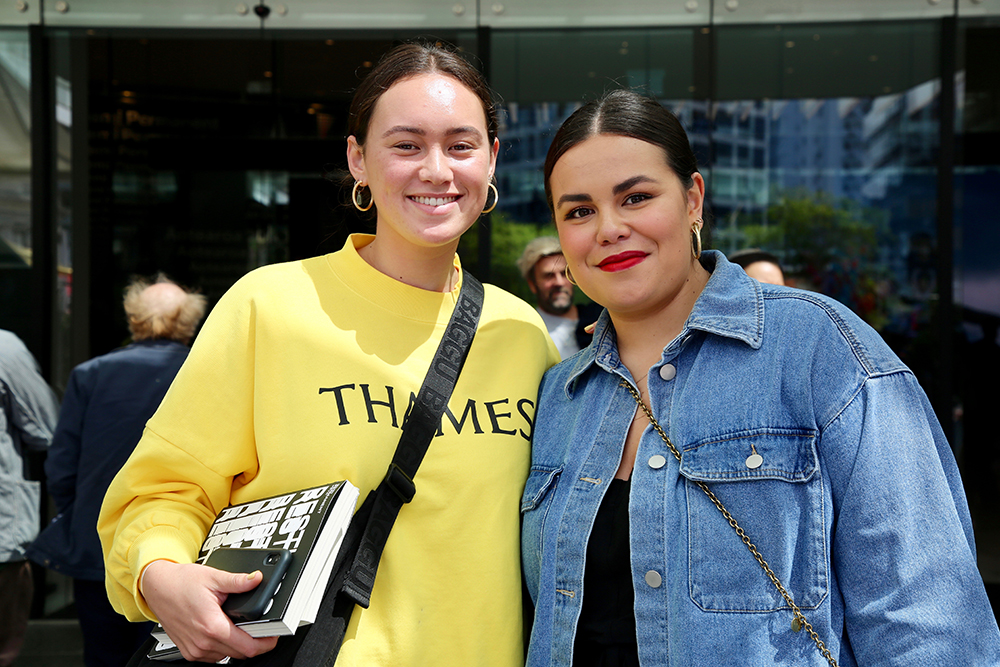 Ella and Bella
Communications student (Ella) and law student (Bella)
How we'd describe each other's style:
Ella: Bella is like bougie, but street.
Bella: [On Ella's style] It's street but structured. And conscious. 'Cause your shit old.
Our thoughts on 2020:
Ella: Just a rollercoaster aye. It's been hard, but in some ways it's been nice to reconnect even though we've been separated. And just taking opportunities like this [festival], they just mean so much more now.
Bella: It's made me and everyone around me stop and take notice. It's not something I've ever experienced in our lifetime. Being able to stop and reevaluate, and get back to what we know in order to figure out how we're going to get through.
Ella: You're welcome for her essay.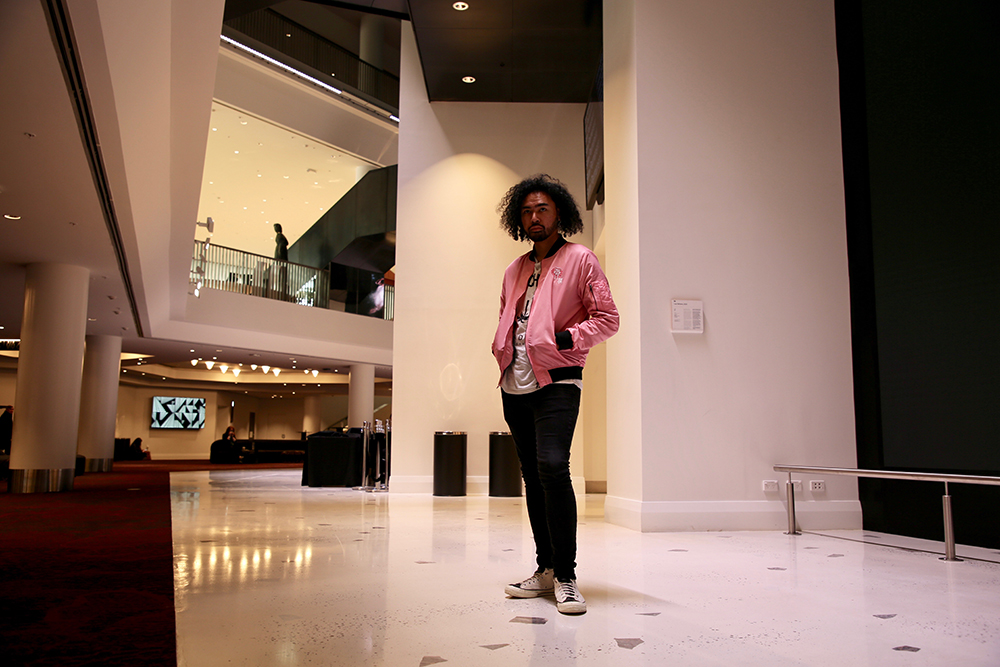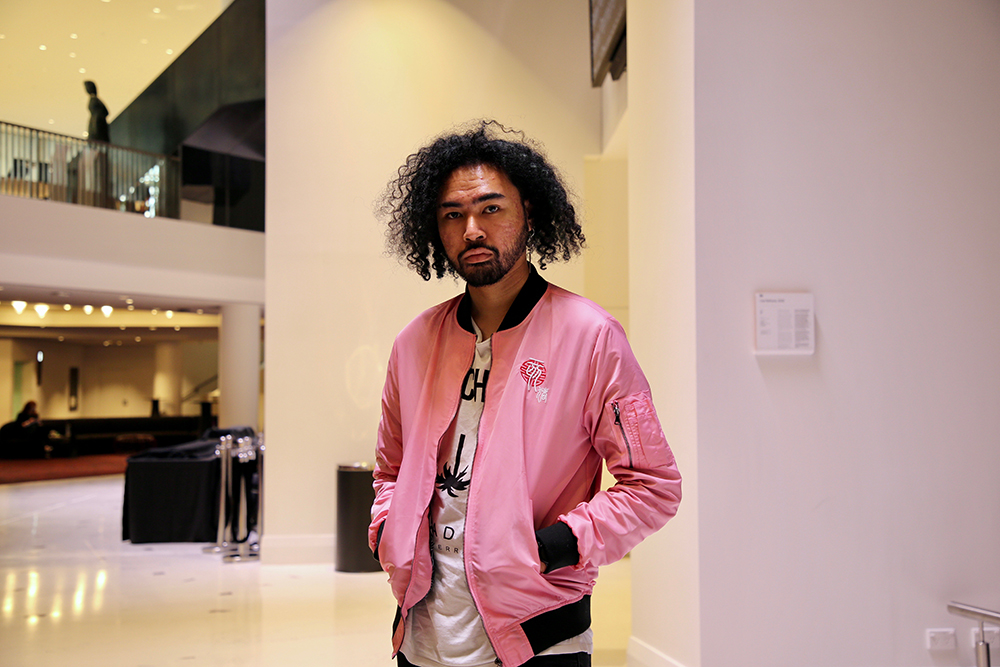 Leaton
Media, film and television student
2020…
Is a magic trick. I don't know what to expect.