With the country in lockdown, this is the first time New Zealand's Muslim community is observing Ramadan without access to a mosque.
"This year, Ramadan has been very different for us Muslims," says 12-year-old Laila Baghdad from Wellington. "This is a bit sad. Ramadan used to be a time to connect with others, now we can't even shake hands."
Ramadan started on April 23 and runs for a month. One aspect of the holy month is fasting from sunrise to sunset. Although fasting 12 hours can easily be done in isolation, it's community prayer and iftar, the shared meal after the fast, that is missing.
Normally Muslims from all walks of life would meet at their local mosque to break their fast at sunset. Afterwards they'd come together for an evening prayer called Isha. During the month of Ramadan an additional prayer ritual called Tarawih, Aarabic for "rest and relaxing", follows. This sequence is one of five prayers done each day. But with our current lockdown restrictions, this group prayer isn't possible. Now, Ramadan can only be observed in a small bubble.
On top of the separation, Laila says fasting is also harder this year because she is home all day, and not distracted by a busy schedule. "At school, we don't have food in front of us all the time, but at home, the kitchen is only a few steps away, and no amount of closed doors can stop the smell of delicious food from coming into your room."
Despite this, Laila is grateful the lack of distractions has given her more time to be with her family and work on her spiritual relationship. "Ramadan is different, and it's a bit harder than usual, but it's been a great experience for me, and even though I can't wait for this lockdown to be over, I wouldn't change this Ramadan for a 'normal' one."
Along with Laila, Taj Shaikh from Auckland has also found Ramadan harder this year. "I have never experienced this type of Ramadan in my life. We are missing so many different things. People are isolated in their homes and we have to do it without the mosque."
More than anything Taj misses the social aspect of Ramadan - bumping into people he went to school with, talking to people he hasn't seen for years. "We all come together. It is a big socialising event. That's what is missing and that's what is hard for us."
"It is a really hard feeling. You feel from the core of your heart that something is missing."
While some see the lockdown restrictions as a barrier to socialising, Auckland University student Arwa Osman thinks social distancing has actually brought more people together this Ramadan. Alongside other university students, Arwa has created Ramadan with Sahaba, an online storytelling series that children can interact with.
"The main aim of this show is to get kids to interact with each other again on Zoom and have this space where they feel a sense of Ramadan that is still there."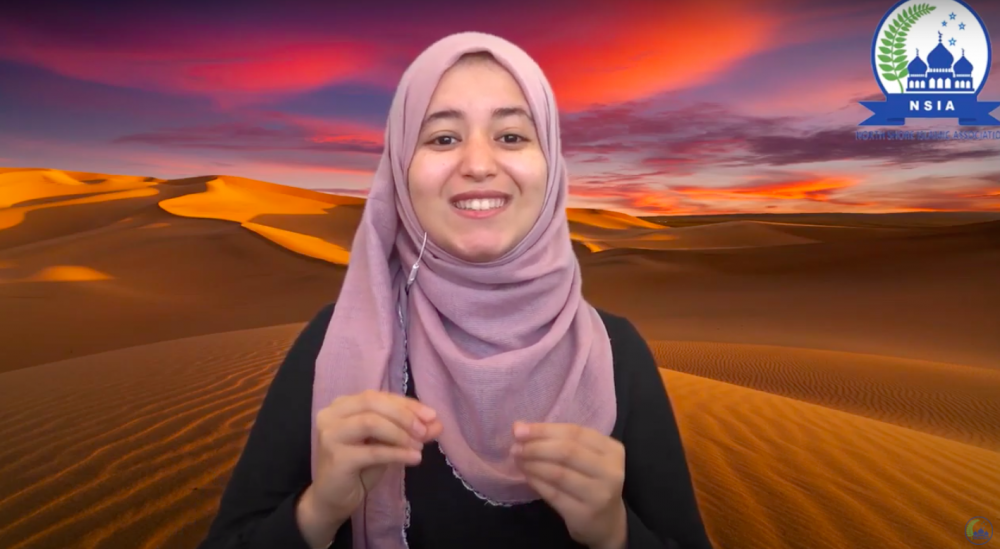 "Every day we tell them about the Sahaba [disciples of Muhammad], we discuss with them what is happening in their lives and how they can reflect on the values in these stories and achieve them in their lives even though they are young."
Arwa says she is planning to carry on the show even when mosques reopen, or when Ramadan is over. "We have people watching from many other countries that definitely wouldn't be able to come to the mosque, like from the Middle East, Australia and the UK. So we want to still keep these interactions going even after Ramadan."
Arwa says observing Ramadan in lockdown has made her question why she celebrates this tradition. "It has been a test for why I am really doing things. Am I doing it because many others are doing it around me, like with the tarawih prayers, or because I solely want to do it?"
"But I know that from a spiritual side it gives me a sense of fulfillment. I am doing things that make me happy from the aspect of what I believe in. It is a chance to give myself a break from this busy life and get back to what makes me relaxed and satisfied."
At level 2, small and controlled indoor gatherings of up to 100 people will be allowed if social distancing and contract tracing requirements are met. But until then, Ramadan celebrations will remain in homes, some decorated to replicate the mosques that remain empty.
"It is so beautiful how people are trying to make mosques inside their house and decorate. Even if we are not meeting, still the decoration is there and the celebration of Ramadan is not wasted," says Arwa.