If you're not from the hood then you will never know the true beauty of living there.
Ōtara, in South Auckland, has been my home for 17 years.
Known as the home of the brave, Ōtara has had a dark stigma that has been hard to shake off - it's a narrative of crime and gang violence. But it's also one that is often told from the outside looking in.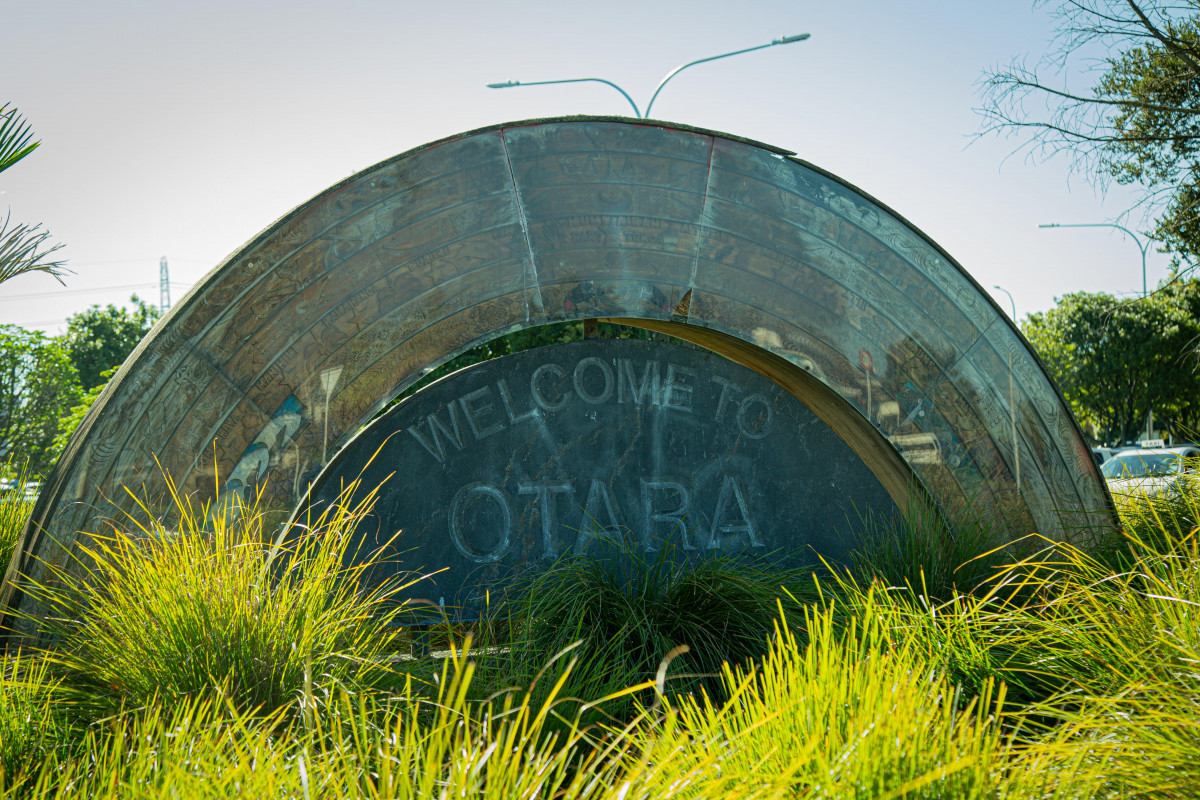 Sign at the entrance of the Ōtara Town Centre, officially opened in 1966
There is a sense of pride being from the 274 and it's one that I carry with me too.
Not far from my home is the Ōtara Market which I think is the heart of Ōtara.
This has been a centre of diversity since it was established in 1976 as a fundraiser for local communities. It is held every Saturday in the car park behind the Ōtara Town Centre.
There are a range of stalls held by Māori, Pacific, and Asian communities. It continues to foster communities of people who travel near and far to experience the soul food, vibrant culture, and the people that make Ōtara what it is.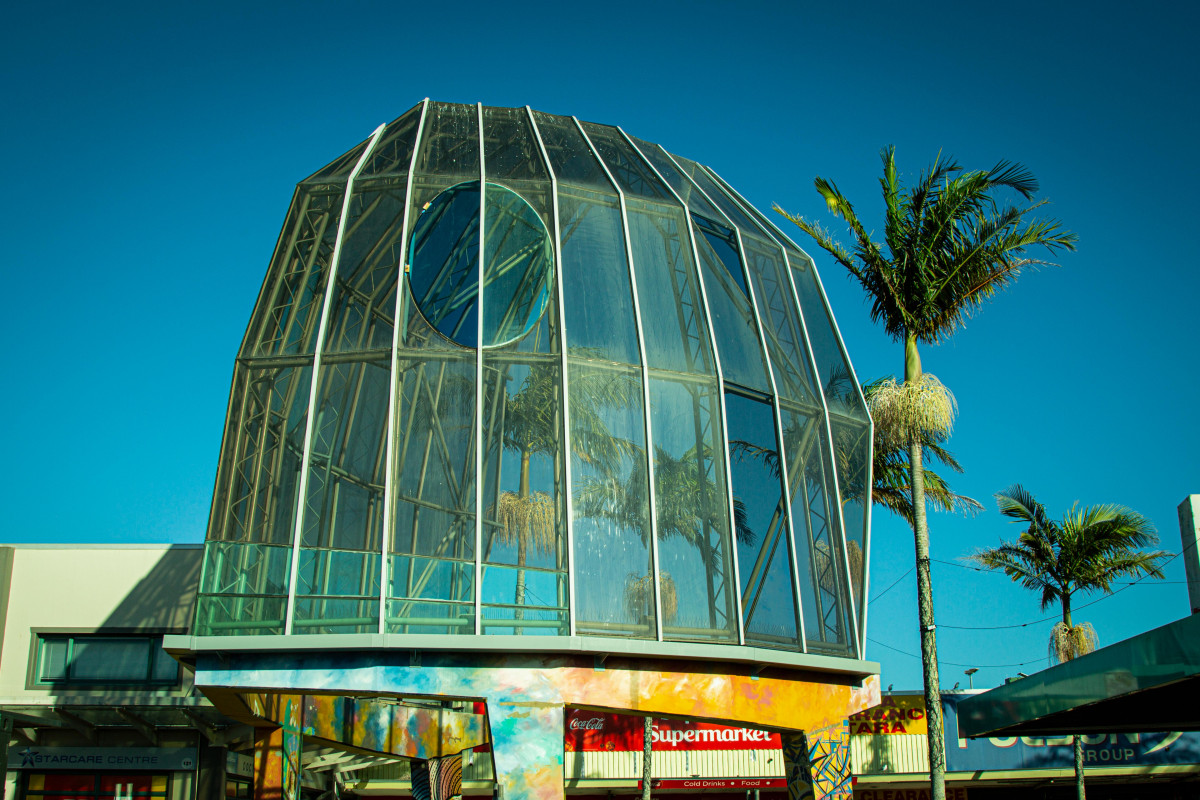 Head of the 'Fish Canopy', created by local artists to reflect predominantly Māori and Pacific population of Ōtara
Reminders of home
My grandparents, Faalenuu and Siafiafi MoaSili, migrated from Samoa to New Zealand in 1985. They brought their first home in Ōtara, before moving to Papatoetoe.
Humble beginnings sparked their now weekly trips to the Ōtara markets.
It was cheap and the short distance meant they could walk to and from the markets for food that reminded them of home.
Faalenuu says the markets are a meeting place where he often sees his friends and extended family.
When he first moved to Aotearoa, this was a way he was able to meet other Samoans too.
But for Faalenuu and Siafiafi, markets were also an integral part of their lifestyle in Sāmoa.
It was important to maintain their cultural identity in their new home away from home.
"Going to the Ōtara market is a reminder of how we used to go to the maketi fou (market) in Sāmoa as it had taro, fish and also some of our own Samoan books, videos, music tapes, cultural attire and measina like the tuiga."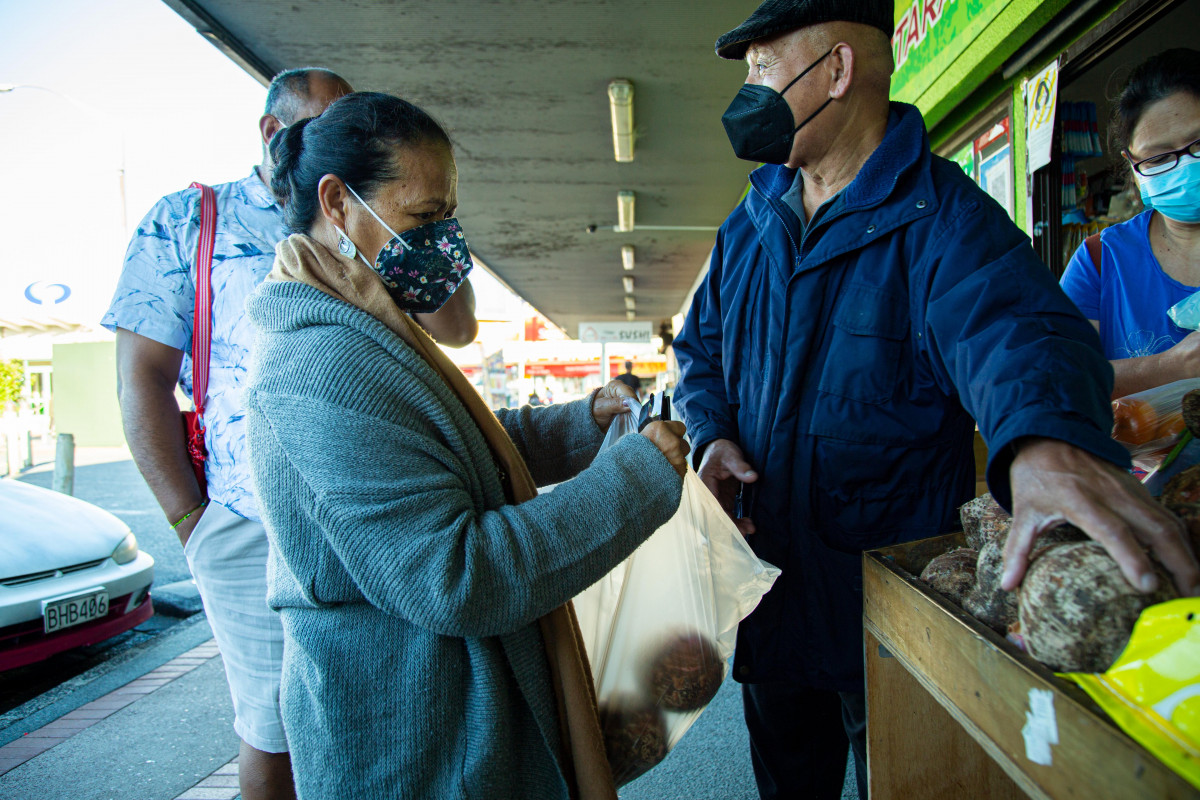 Faalenuu and Siafiafi MoaSili buying taros for Sunday lunch
A weekend tradition
As young as two, I would wake up early every Saturday to go shopping at the markets with my grandparents.
"We would come home with our shopping but also bags of toys and clothes for you too. You had new clothes and shoes every Saturday," Siafiafi says.
It became a weekend tradition that my grandparents carried on with my siblings and cousins.
My memories of the market and my grandparents are very special to me. These experiences gave me insight into how my mama and papa would have grown up in Sāmoa.
Thirty-seven years on, my mama and papa are still going to the markets.
Along with food, they also get flowers to give to loved ones for their visits to the cemetery on Sundays.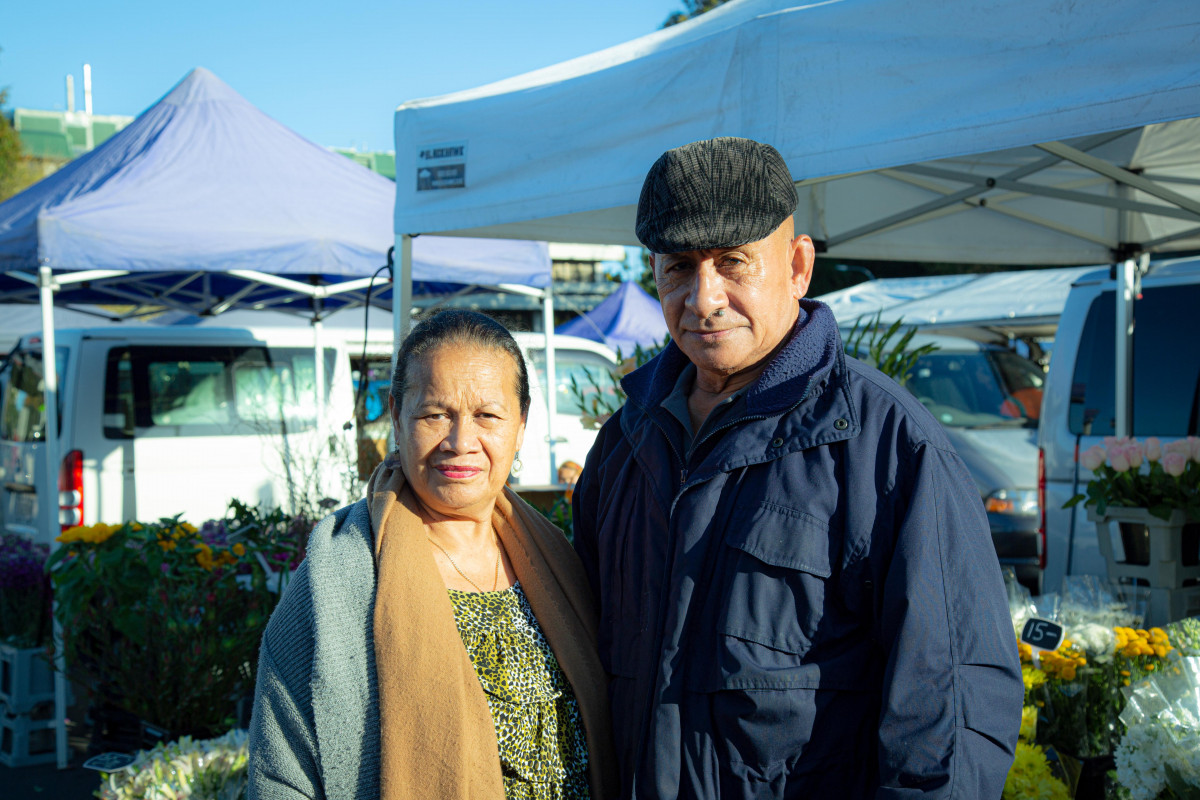 Siafiafi and Faalenuu MoaSili
'More than selling flowers, it's about engaging with the local people'
Pramod Prasad and his family have been selling flowers at the markets for 36 years.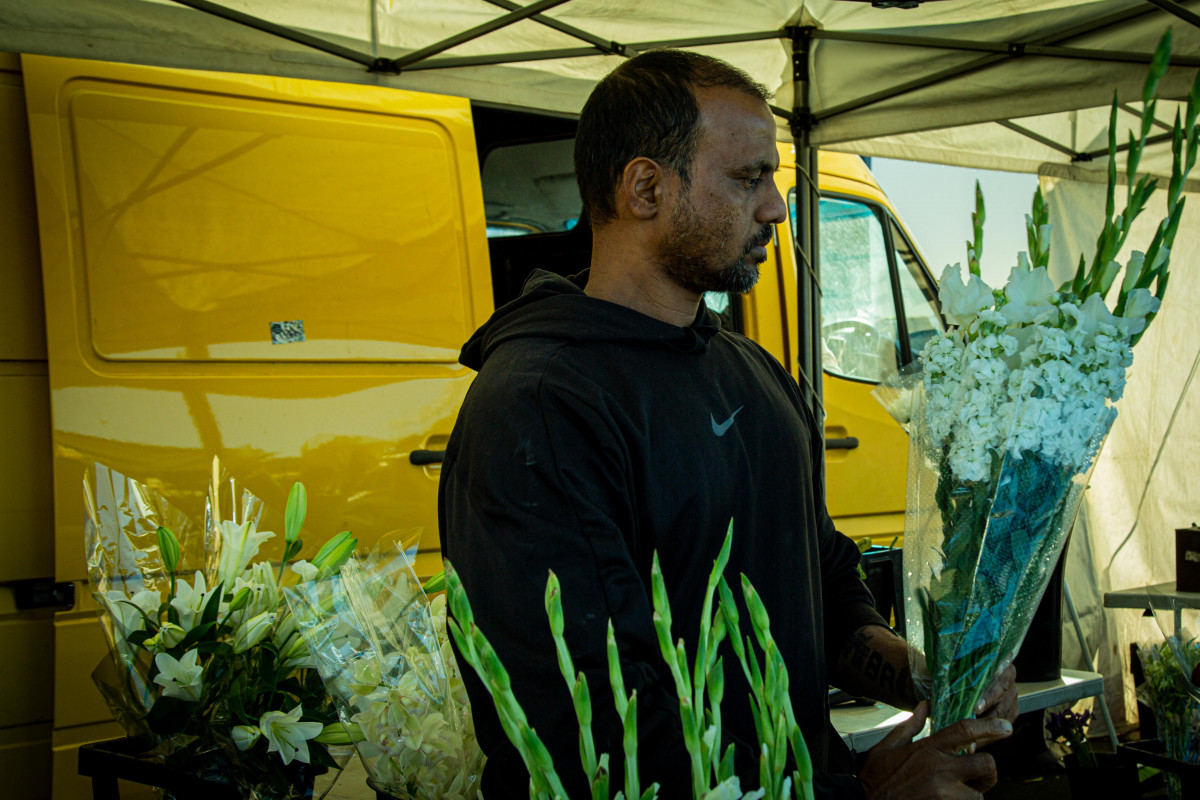 Pramod Prasad's family has been part of the community for 36 years
He speaks passionately about his love for the community through engaging with the people and sharing in their happiness and grief.
"It's more than selling flowers, it's about engaging with the local people," he says.
"Sometimes customers bring breakfast for us. Other times people come and if they don't have enough money it doesn't matter we just say, 'that's ok take a bunch of flowers.'"
'It's a passion. It's a love.'
Stallholder Iris Herewini travels from Whakatāne to Ōtara every Saturday to sell Māori taonga.
Each piece is unique and comes with kaitiaki (guardians).
Iris works with wairua and provides kōrero and whakapapa about what each taonga represents.
"Taonga normally travels with tupuna inside which reveal themselves when a person comes forward to receive it."
Iris says each piece in the stall belongs to someone. "I just have to wait for the person to come forward and receive it," she says.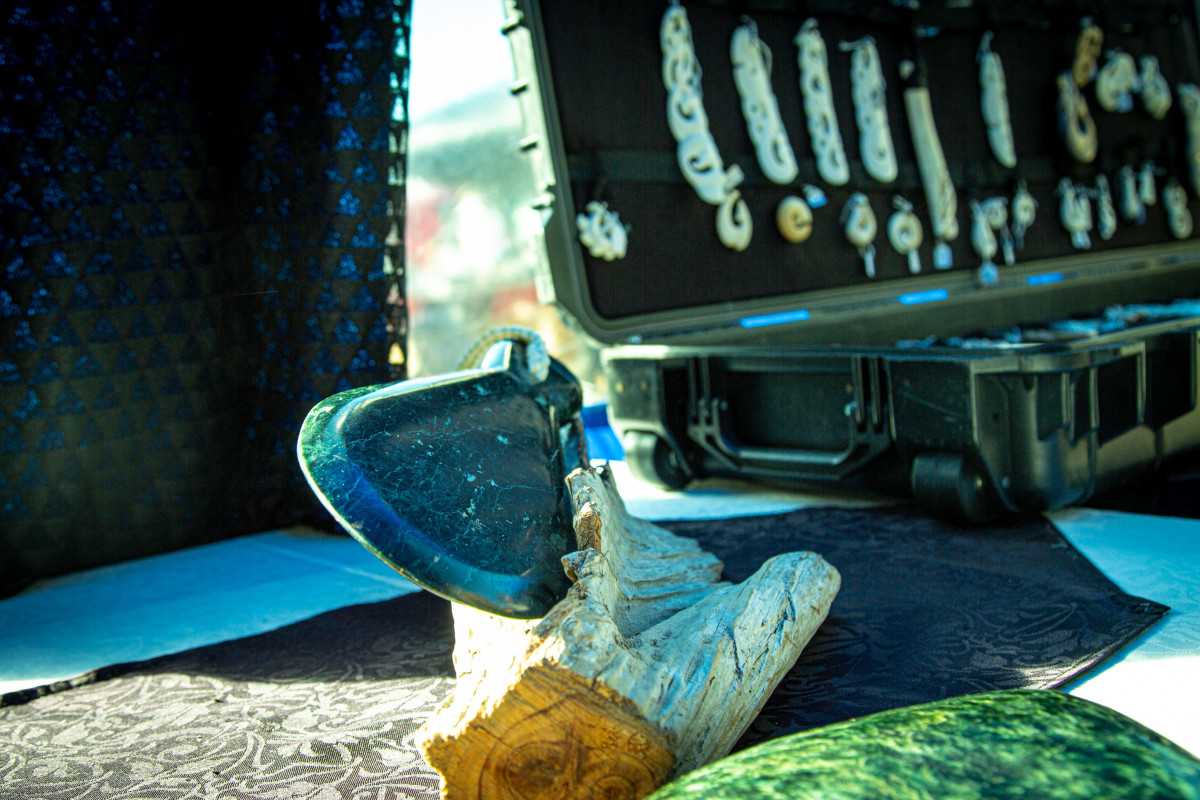 Patu /mere was formerly used as a weapon or tool, generally used now for decoration or milestone birthdays. Iris explains how her piece represents clouds moving freely within the pounamu, coming into embrace and then moving on. 'That's the wairua of the person' she says.
"What got me coming was the people. The people here are beautiful, I miss it if I don't come because I am a part of it and it is a part of me."
"It's a passion. It's a love."
"It's a beautiful place to be. You're meeting people of different cultures with their own taonga. We've all come to be one, we look after one another," she says.
As we were speaking, I felt honoured to witness a moment that encapsulates the significance of wairua in Iris's work.
A young woman came in with a piece that Iris had sold to her mother who had recently died.
The pair had not met before but Iris remembered when the woman's mother came to pick out the pounamu.
Iris provided kōrero on the taonga and the woman began crying – these two strangers became linked through this spiritual aspect of taonga.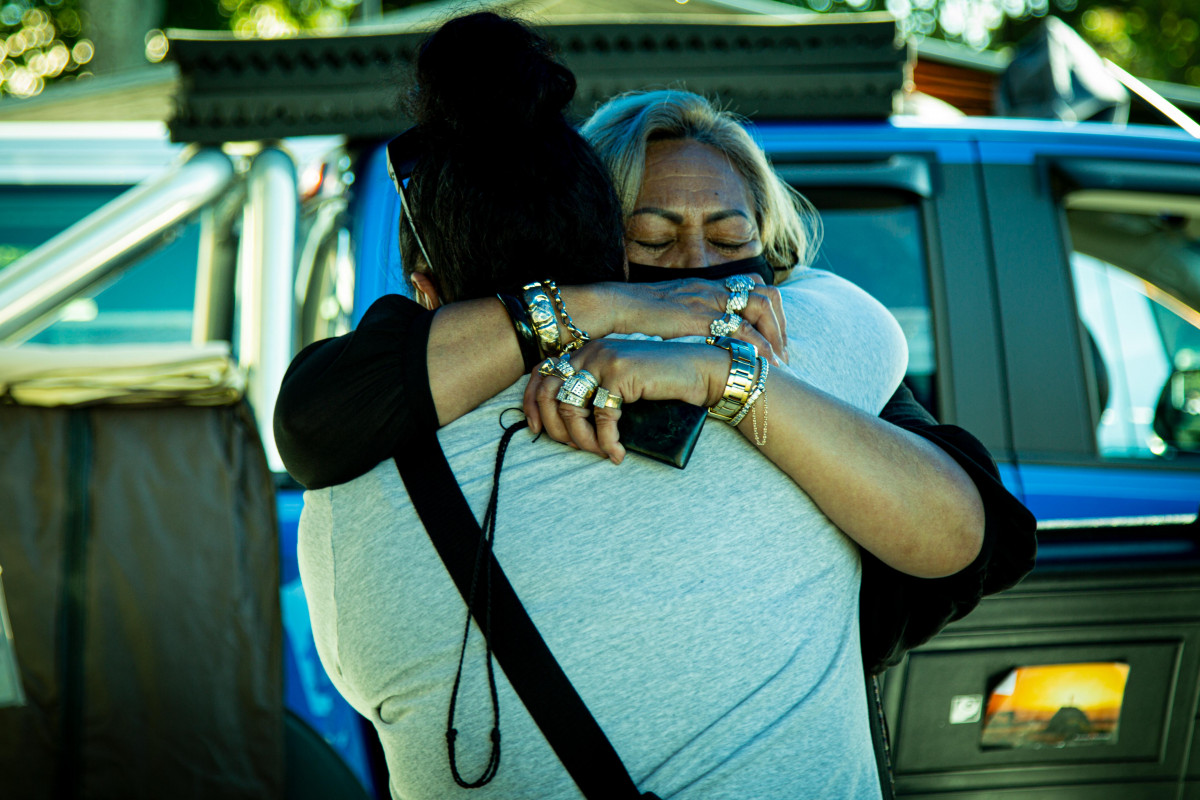 Iris Herewini embraces young woman and shares in her grief
Nothing else like it
What echoes through all my conversations with the stallholders and shopkeepers is that once you're a part of the Ōtara markets, it's hard to leave.
It becomes a passion for both the market but also the people. There is a lot of love that goes into it.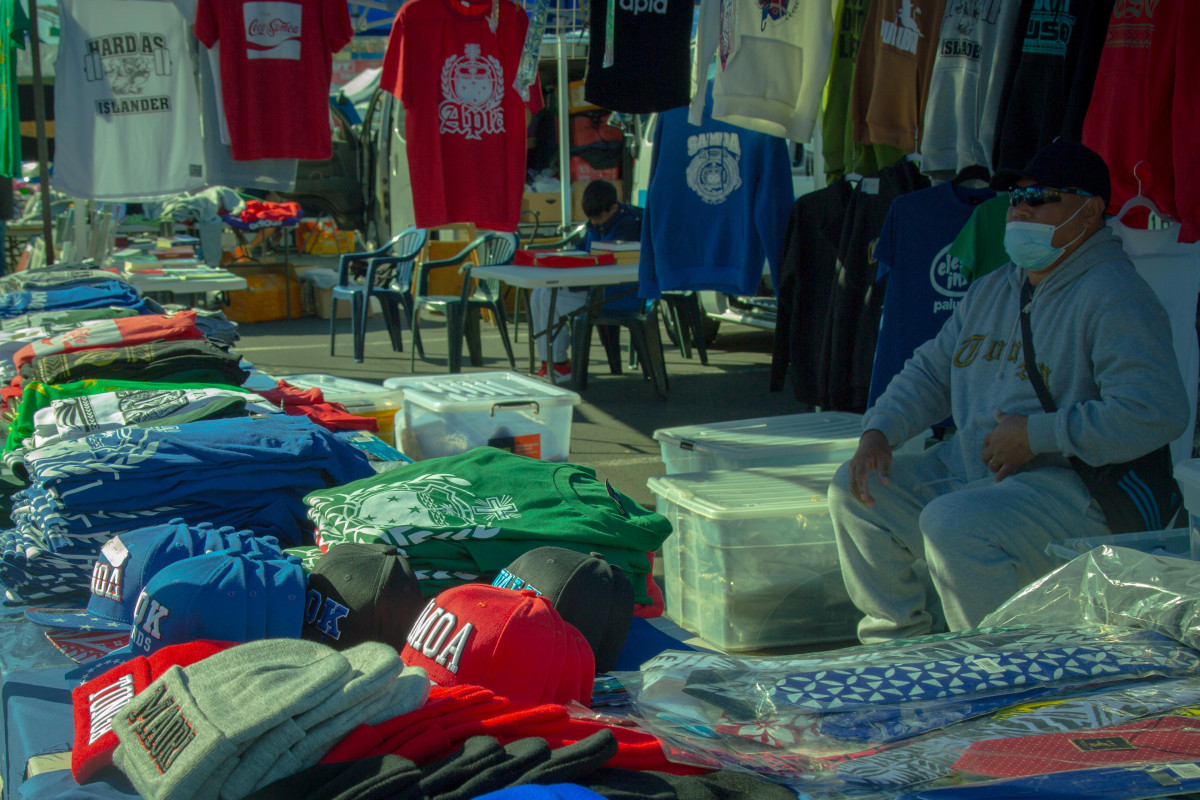 Fauioge Suavaga and his family print and create clothes showcasing their pride for the vast Pacific.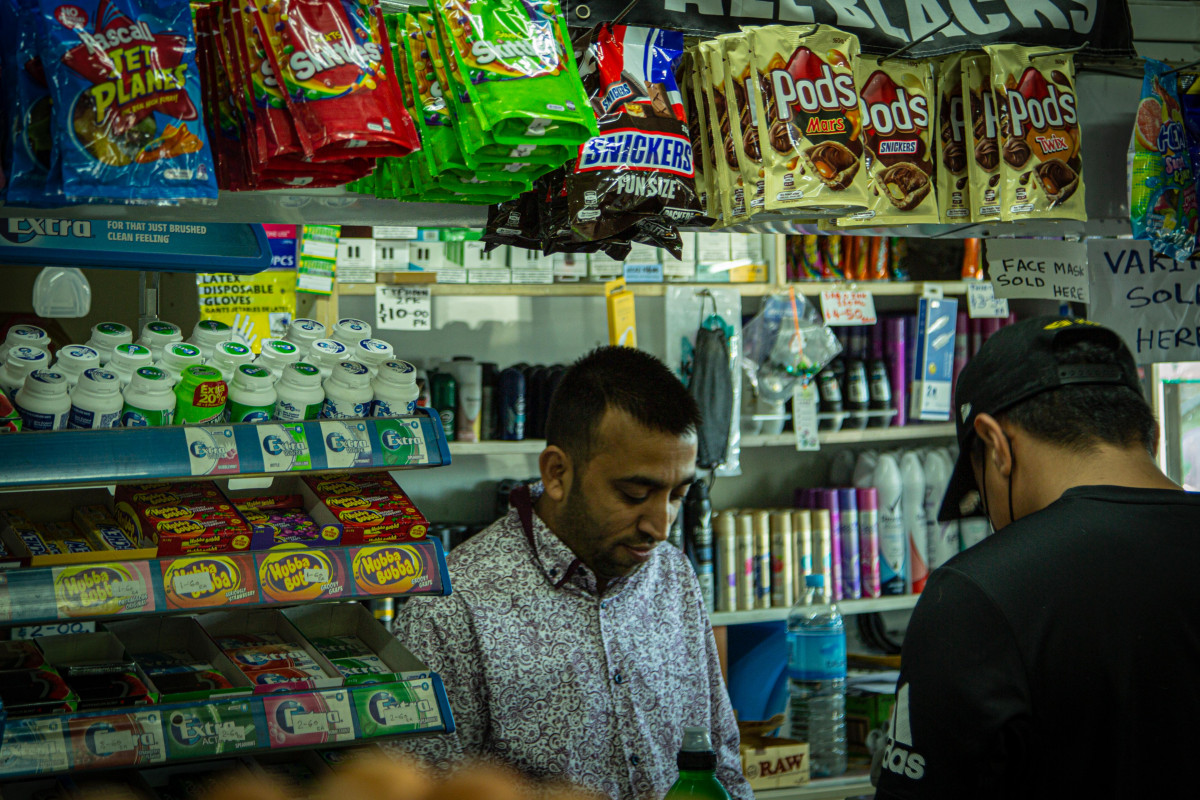 Manish serving a customer at Velmar Dairy inside the Town Centre
Velmar dairy owner, Manish, has been at the town centre for five years and has never had a holiday.
His customers always ask him 'boss, when are you going to have a day off?'
But Manish says he doesn't need or want a holiday simply because he loves it.
Whether you're looking for fresh produce and flowers, food trucks of all different cuisines, taonga from various cultures, or even just good music — you'll find it in Ōtara.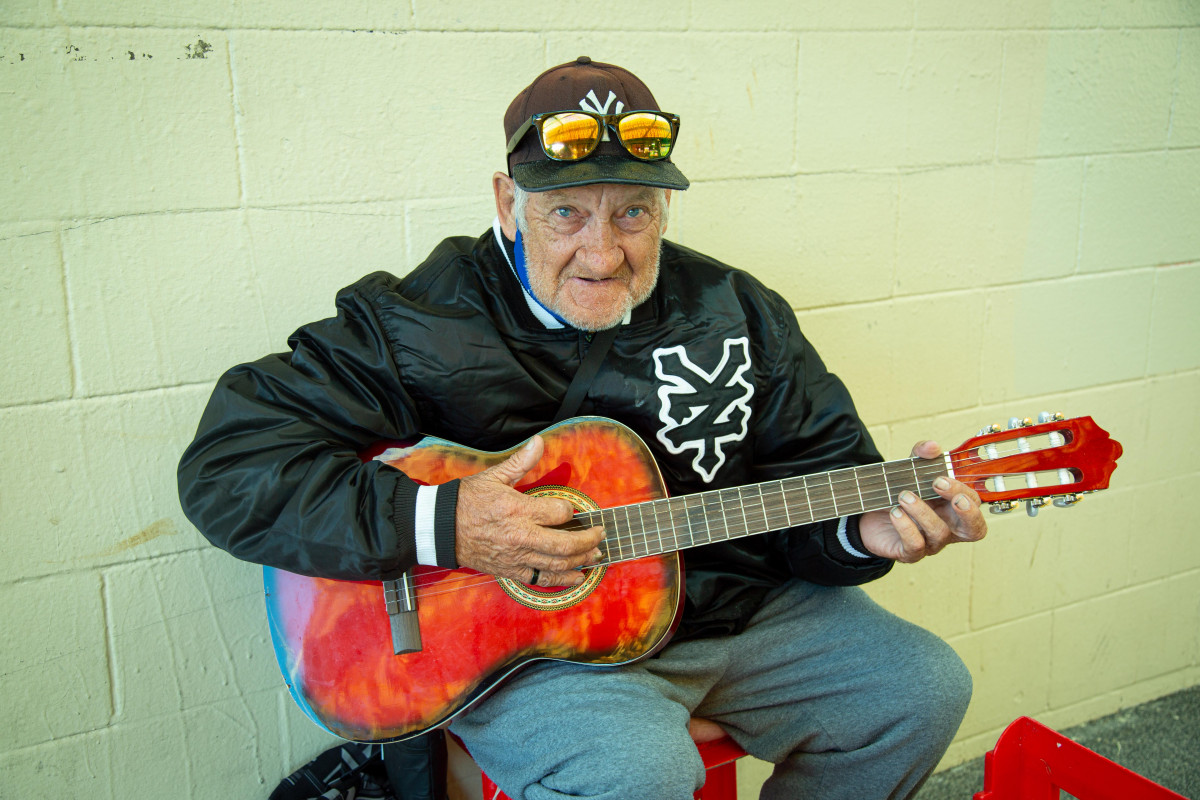 Local busker, Kevin says coming to the markets make him happy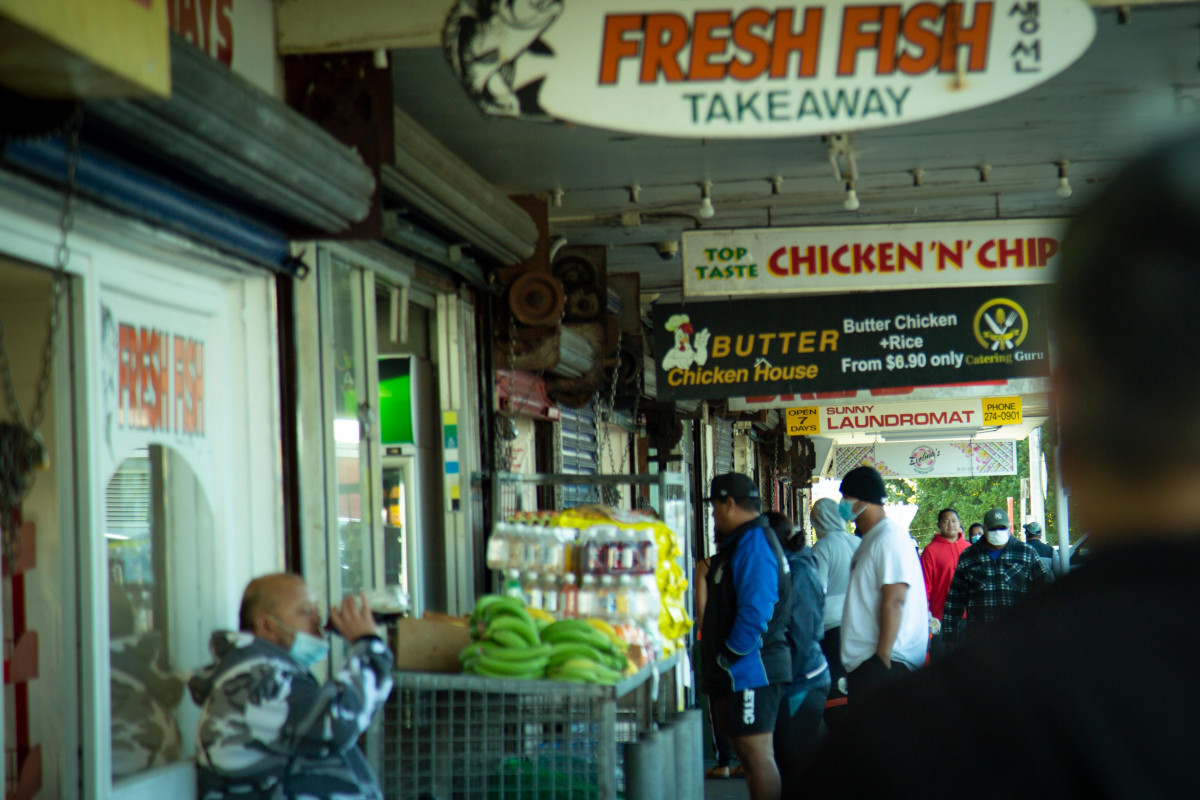 Shops along the strip of the Ōtara Town Centre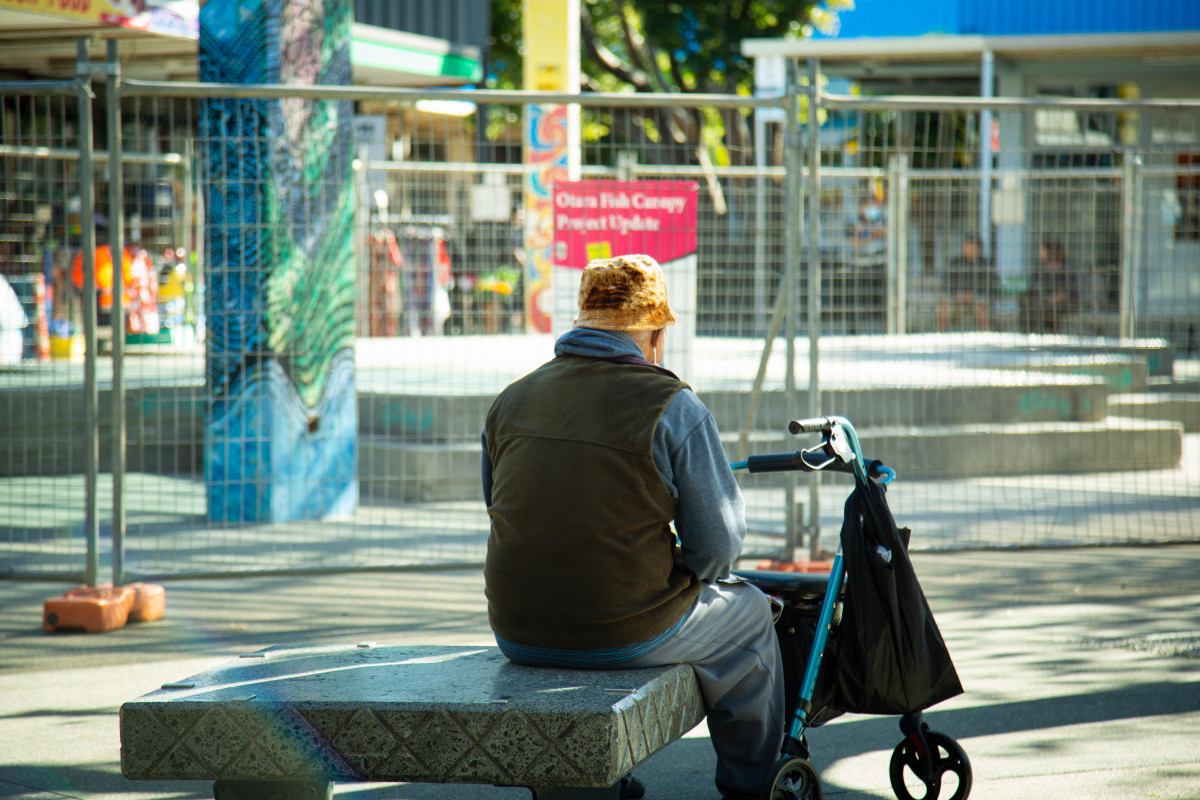 The fish canopy is currently undergoing renovation. Usually people would walk beneath the colourful structure.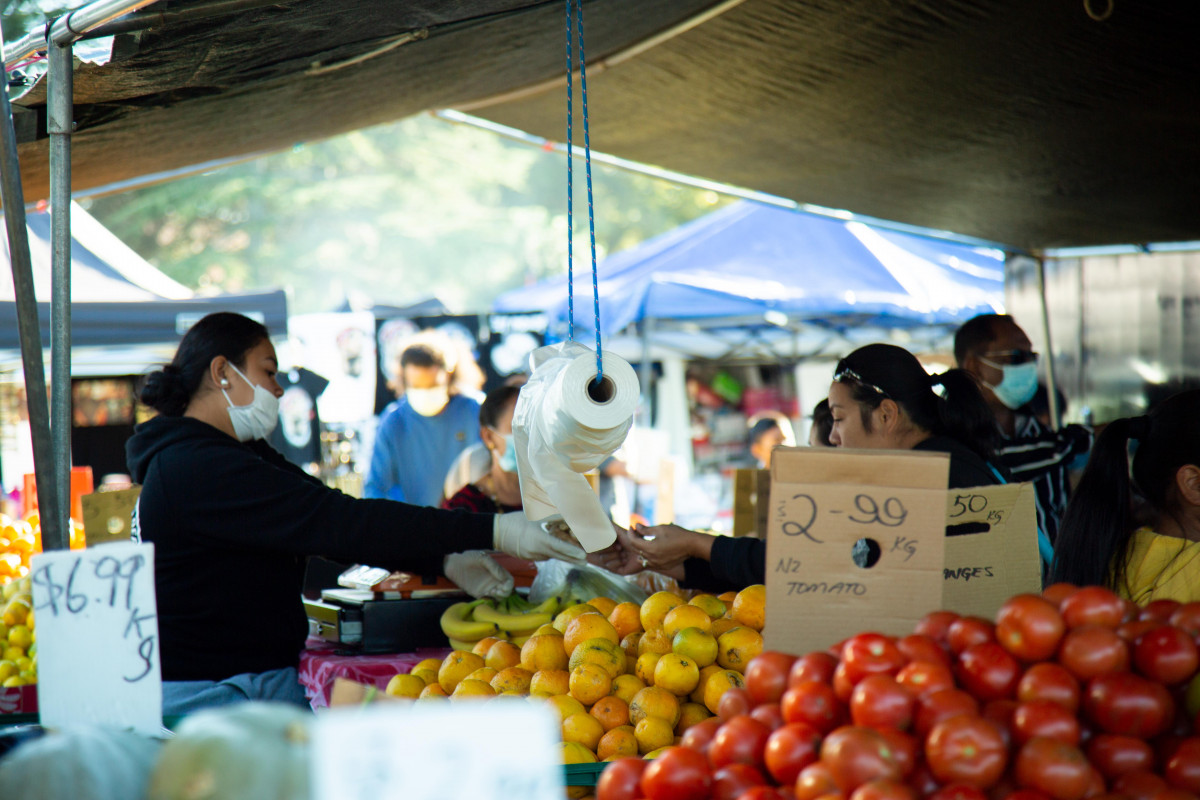 Customers buying fresh produce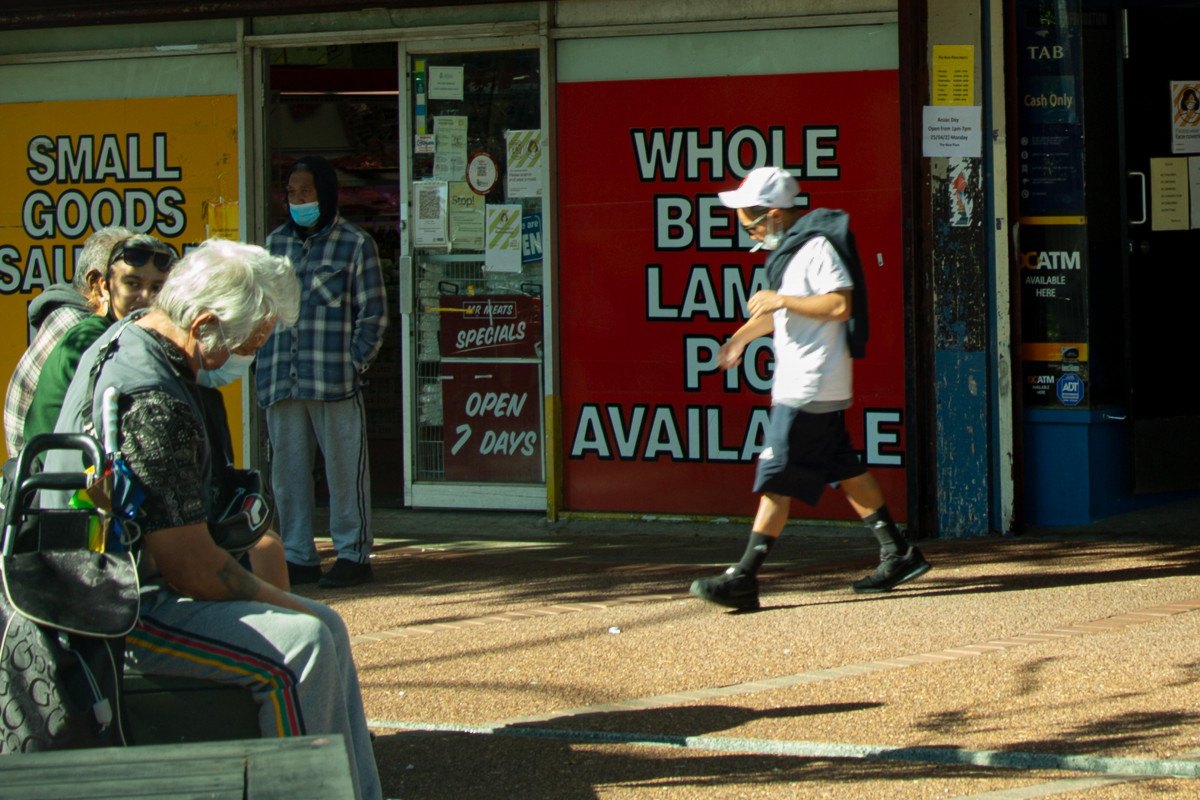 Scenes at the Ōtara Town Centre
More stories:
That's right, six weeks.
Parents are dishing out $22.6 billion in loans to adult children, according to Consumer NZ.
Revenue Minister David Parker reveals plans to create the foundation for a "fair" tax system.