Teenagers are scared to walk to school in Wellington as thousands of people from all over the country have been protesting outside of Parliament since Monday.
Phoenix Lloyd, a student at St Mary's College, which is close to Parliament grounds, says she loves politics and usually feels safe walking by Parliament but on Tuesday morning, she felt scared after she was yelled at by four protestors for wearing a mask.
"A protester yelled at me and said 'you shouldn't be wearing a mask, they're bad'," the 15-year-old says.
"I was scared they were going to rip my mask off. It's happened to my friends and now we're all scared. We just want to be safe."
Since the start of the week, tents have been set up on Parliament lawns, streets in Wellington central have been blocked off by illegally-parked cars, trucks and campervans, and at least 120 people have been arrested.
"They're talking about choice and freedom but they're not letting me have the freedom of wearing a mask," Phoenix says.
"They probably wouldn't like it if I yelled at them."
Phoenix shared her experience online via a social media post and says she has received replies from other teenagers who also feel unsafe walking past the protestors.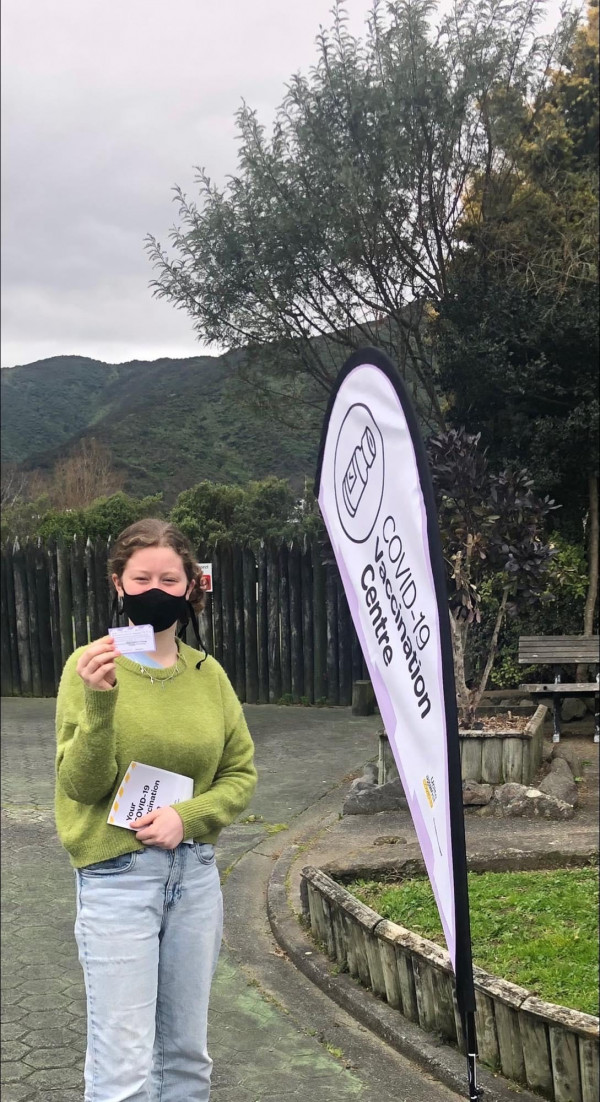 Student Phoenix Lloyd after her vaccination, Photo: Supplied.
"Every student should feel safe going to school and every adult should feel safe to go to work."
Phoenix says reading through comments on her post, she feels sad about the situation more than anything.
"I'm sad this is happening. New Zealand is a really safe country but it doesn't feel safe."
She says she is also concerned that protesters would come to nearby schools and worried about people's mental health.
Phoenix says her school, located in Thorndon, has been supportive - with teachers walking students to bus stops after school and a police officer standing guard near the school gates at 3pm every day.
"It's quite scary having someone yell at you for no reason."
But the experience has not stopped her from walking to school - even if she has to take a different route.
"I put my headphones on max volume and I still wear my mask - no one can make me not wear it."
There are about 100 cars, trucks, buses and campervans parked near Parliament.
Wellington City Council's media manager Richard MacLean says the protestors have blocked off traffic at the northern end of Lambton Quay and a number of bus services had been diverted away from Molesworth St.
People could still walk in the area but there had been reports of intimidating and anti-social behaviour, MacLean says.
Wellington City Council was working with police on a plan to tow the vehicles if they were not removed by their owners.
"This is not something we can do in a hurry, partly because of logistical and resourcing challenges.
Parking wardens have been issuing tickets to all illegally-parked vehicles in the past 24 hours, he says.
"Obviously, the owners are refusing to shift their vehicles and we anticipate they will attempt to stop us shifting them - hence the reason we are approaching the situation with care."
When asked if police officers were guarding schools near Parliament, a police spokesperson told Re: there has been a police presence in Thorndon throughout the week to provide reassurance.
More stories:
Anti-vaccine-mandate protesters occupy Parliament: A timeline of the last 3 days
Otago University is asking students not to party with Omicron looming
Bill to ban conversion practices passes second hurdle