What's going on in Israel and Gaza binds together some of the most extreme elements of war, land, loss, politics, suffering and over the past two weeks especially - horrific violence.
Events are moving fast and context is essential - so we are going to try and provide some resources to help you get schooled up in a simple way.
As a former international correspondent based in Istanbul, I was sent to the Occupied West Bank to report in 2018, I've reported from inside Syria and also spent five years living in the Middle East.
We can't cover it all here - we haven't looked at the claims and counter-claims around Al Ahli Arab hospital and won't be delving into the Occupied West Bank, illegal settlements or Fatah and the Palestinian Authority.
But I'm going to answer five key questions and then give you reliable sources to help you navigate your way through understanding this issue.
1. What is Gaza?
The Gaza strip is a narrow slither of land wedged between Egypt, the Mediterranean sea and Israel.
It is densely populated with more than two million people crammed into 365 sq kilometres (about three times the size of Tauranga, which has a population of 150,000) and has often been described by Human Rights Watch as an "open-air prison". That's because it has been under blockade by Israel since June 2007 which means Israeli forces control access to food, water and electricity.
Israel also controls the movement of Gaza residents who need special permission to cross into Egypt and Israel. The blockade has had a crippling effect on Gaza's economy which has been on the verge of collapse, with every second person living in poverty, according to the World Bank.
The overwhelming majority of people living there are young - according to the World Health Organization, 50% of people living there are under the age of 18. At least 70% are unemployed.
The Gaza strip itself is surrounded by a wall built by Israel which it calls a "security barrier".
2. What has Gaza got to do with Hamas?
Hamas is the political party that has ruled the Gaza strip since it was democratically elected in 2006. The win came as a shock to many but Hamas had spent years building up a grassroots network of social services to support people in Gaza.
There hasn't been a vote since though.
Hamas also has a military unit called the Al Qassam Brigades.
The New Zealand government has designated this military wing a "terrorist organisation".
Unlike the other main political party on the Palestinian scene (Fatah - who run the Occupied West Bank about 93 kms from Gaza), Hamas does not favour negotiations, it does not recognise Israel and instead favours an armed struggle.
It is important to differentiate Hamas from Palestinians and not report them as if they are one and the same. Just as we don't assume all Israelis are either for or against the occupation or the policies of Benjamin Netanyahu-led government.
The BBC issued a correction this week after it described Palestinian supporters as Hamas supporters which it later said was "misleading".
3. Why now?
This latest response is being described as "unprecedented" because it followed Hamas launching a surprise air and land attack on October 7.
In that attack, Hamas gunmen crossed the border, got into Israeli towns and settlements and killed entire families, including women and children.
Israel says 1300 people have been killed. As of this writing, Israel's military says Hamas is also holding 199 hostages. Most of those are being held in Gaza. Hamas also launched about 5000 rockets from Gaza into Israel.
In response, Israel has cut off all Gaza's food, electricity and most of its water supplies.
Israel's government also began bombing the area, as of this writing, thousands of people have been killed with more than 1000 of those children, according to the Defense for Children International - Palestine.
Israel has also told more than a million people in north Gaza to relocate to south Gaza.
The UN has described what is unfolding now as an "unprecedented humanitarian catastrophe".
But this is not the first flare-up in extreme violence between Israel and Gaza.
In 2018, Palestinian civilians peacefully protested the anniversary of the Nakba and more than 150 were killed by Israeli troops firing live ammunition and tear gas at them, according to the Al Mezan Center for Human Rights. The Nakba is also known as The Catastrophe which refers to the mass displacement of Palestinians in the 1948 Arab- Israeli war - more on that a bit later.
Israel has also bombed Gaza most recently in 2008, 2012, 2014, 2021 and 2022.
These are mostly to hit back against attacks from Hamas except for 2022 in which Israel's air strikes were called a "pre-emptive operation". People from both sides have been killed.
There is also the issue of Al Aqsa Compound or Temple Mount which has been at the centre of clashes this year. Hamas called its attack "Operation Al Aqsa Flood". So here is a thorough explainer from Al Jazeera English looking at why it has been such a flashpoint.
So, all of this has ramped everything up. Israel says it's gearing up for the next stages of its war with Hamas, including more air strikes and a possible ground invasion into Gaza.
4. How does the international community fit into all of this?
Before 1947, the entire region that makes up Israel and the occupied Palestinian territories was historic Palestine. Part of it is known as the Holy Land and is sacred to Muslims, Christians and Jews.
To explain how we got from there to where we are now, it's hard to know how far back to go: the end of the Ottoman Empire in 1922, the rise of Zionism or the Balfour Declaration in 1917 where the British government supported creating "a national home for Jewish people".
But it was 1947 when the United Nations voted to split Palestine (which was under a British mandate) into two states - one Jewish and one Arab. There was strong international sentiment for a Jewish homeland and the need to protect Jews following the Holocaust in WWII.
In 1948, the state of Israel declared independence and the US recognised it the same day. This did not go down well with neighbouring Arab countries who invaded in 1948 and a series of Arab-Israeli wars took place sporadically over the next six decades, people from both sides were killed.
Since 1947, Israel has taken over much more land than it was given in the partition.
The vast majority - 85% - was during those Arab- Israeli wars and 700,000 Palestinians were forced to flee or expelled and never allowed back.
Here is a short explainer to watch from TRT World: How did Israel become a country?
The United States played a key role in supporting the UN vote and has been a key backer of Israel since. It has helped Israel develop one of the most sophisticated militaries in the world. It has also positioned itself as a negotiator between the two sides.
Many countries follow the US' lead in proclaiming Israel's right to defend itself - including New Zealand - but in this most recent conflict Colombia, China and South Africa have taken a stance supporting the Palestinians.
5. What about war crimes?
A United Nations Commission of Inquiry said it has been "collecting and preserving evidence of war crimes committed by all sides" since this recent violence started on October 7. That evidence is being added to an investigation by the International Criminal Court into possible war crimes committed by Israeli forces in past conflicts.
Israel's government claims Hamas is using what it calls "human shields" in Gaza where it is based because it's hiding among the civilian population. But UN experts have said the current Israeli bombing of Gaza is "collective punishment" which is considered illegal under international law.
"There is no justification for violence that indiscriminately targets innocent civilians, whether by Hamas or Israeli forces. This is absolutely prohibited under international law and amounts to a war crime," the group of UN experts and rapporteurs said.
Attacks on schools and hospitals where the wounded are being treated are also considered war crimes.
Other international experts have pointed to Hamas' targeting and killing civilians as also being illegal under international law and constituting war crimes under the ICC's founding Rome statute.
Human Rights Watch said Israel's military used white phosphorus in Gaza which is also a war crime.
What is important to note in all of this is that the US doesn't recognise the International Criminal Court. Neither does Israel. And Hamas as a militant group does not either. Which makes it highly unlikely and very difficult for the court to hold any to account if it finds evidence war crimes have been committed.
Conflicting narratives
One of the biggest challenges in both reporting on this and digesting all this information is the conflicting narratives. You may have seen some of these clips circulating of Husam Zumlot, who is the Palestinian ambassador to the UK, criticising the BBC's treatment of Palestinians in media coverage. Or this interview of Israel's ambassador to the UK pushing back against a Sky News presenter when asked about the humanitarian crisis in Gaza.
Social media has also been used by some observers to call out what they've described as hypocrisy by western leaders when it comes to talking about the situation in Ukraine and the situation for Palestinians, as highlighted in this Al Jazeera English article.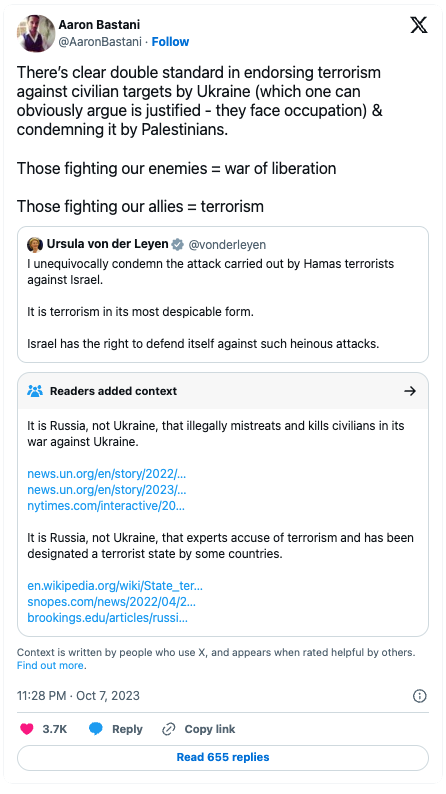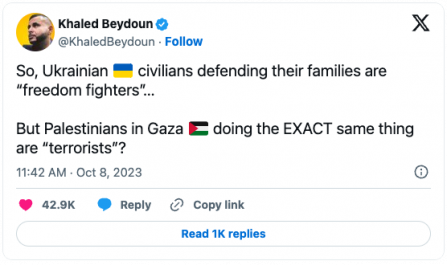 Social media is a fantastic resource to access information quickly and in digestible chunks but it can also be problematic.
An enormous amount of misinformation is being shared across platforms on this particular issue - the biggest example is probably the claim of Hamas beheading babies which was repeated by US President Joe Biden.
There is no verification or evidence of this but by the time the White House issued a clarification, the headline had already made its way around the world.
So here are a selection of robust reporters and level-headed analysts who are worth following to help provide the essential context and factual information from the region:
Zeina Khodr - Emmy Award-nominated reporter based in Beirut who sets the bar for reporting on one of the most complex regions.
Daniel Levy - former Israeli peace negotiator and President of the US/Middle East Project
Mustafa Barghouti - Palestinian activist and co-founder of the Palestinian National Initiative
Yuval Noah Harari - Israeli writer, professor of history at the Hebrew University of Jerusalem and author of Sapiens
Rami Khouri - Senior Fellow at the Middle East Initiative at Harvard Kennedy School and very experienced covering issues in the Middle East.
Greg Carlstrom - Middle East Correspondent for The Economist
Medicines Sans Frontieres/Doctors without Borders - this organisation is impartial and apolitical. I've seen firsthand in conflict zones how effective and professional their care for people is. They have not been scared to criticise the UN or governments to act in the best interests of civilians.
More stories:
May 15 marks the 75th anniversary of the Nakba, which translates to "the catastrophe" in Arabic.
"I was brought up on a story about my country that wasn't true."
When I was a kid, I never doubted. Recently, I have found myself far more comfortable with it.
The community is concerned a Hindu supremacist ideology is growing in Aotearoa.