By Anna Harcourt , Liam van Eeden and William Slingsby
Many of us will have wondered what to do with our groceries when we get home from the supermarket. Do we need to wipe down our pasta packets with antibacterial wipes? Do we need to soak fruit and veges in dishwashing liquid, or is a lil rinsey-rinse under the tap okay?
Update: previously, the government's official Covid-19 advice told New Zealanders to wash their fresh produce in soapy water. Following enquiries from Re: they have updated their advice to the following:
For any fresh produce it is always a good idea to rinse them off with clean water before consuming, although we do not recommend using soap, disinfectant or detergent as this could affect the taste and may cause stomach upsets

Wipe down packaged goods with a soapy clean towel, then dry

Wipe down or wash your reusable shopping bags.
Do I need to wash my groceries?
We asked Professor of Biochemistry Kurt Krause from Otago University, and he said:
Throw out the packaging when you get home, and

Wash fresh produce in water,

not soap or dish detergent
This advice is backed up by the Australian Research Council Training Centre for Food Safety in the Fresh Produce Industry - they say you should only wash your produce with clean drinking water.
Soap is not designed for food, and eating residues of soap can give you nausea, vomiting and diarrhea.
Why? How long can Covid-19 live on surfaces?
So far, no studies have been done on how long Covid-19 lives on the skin of an apple versus a bunch of bananas.
But a study published this month in the New England Journal of Medicine found Covid-19 lived:
3 hours: in aerosols (tiny particles suspended in the air)

4 hours: on copper

24 hours: on cardboard

2-3 days (up to 72 hours): on hard plastics and stainless steel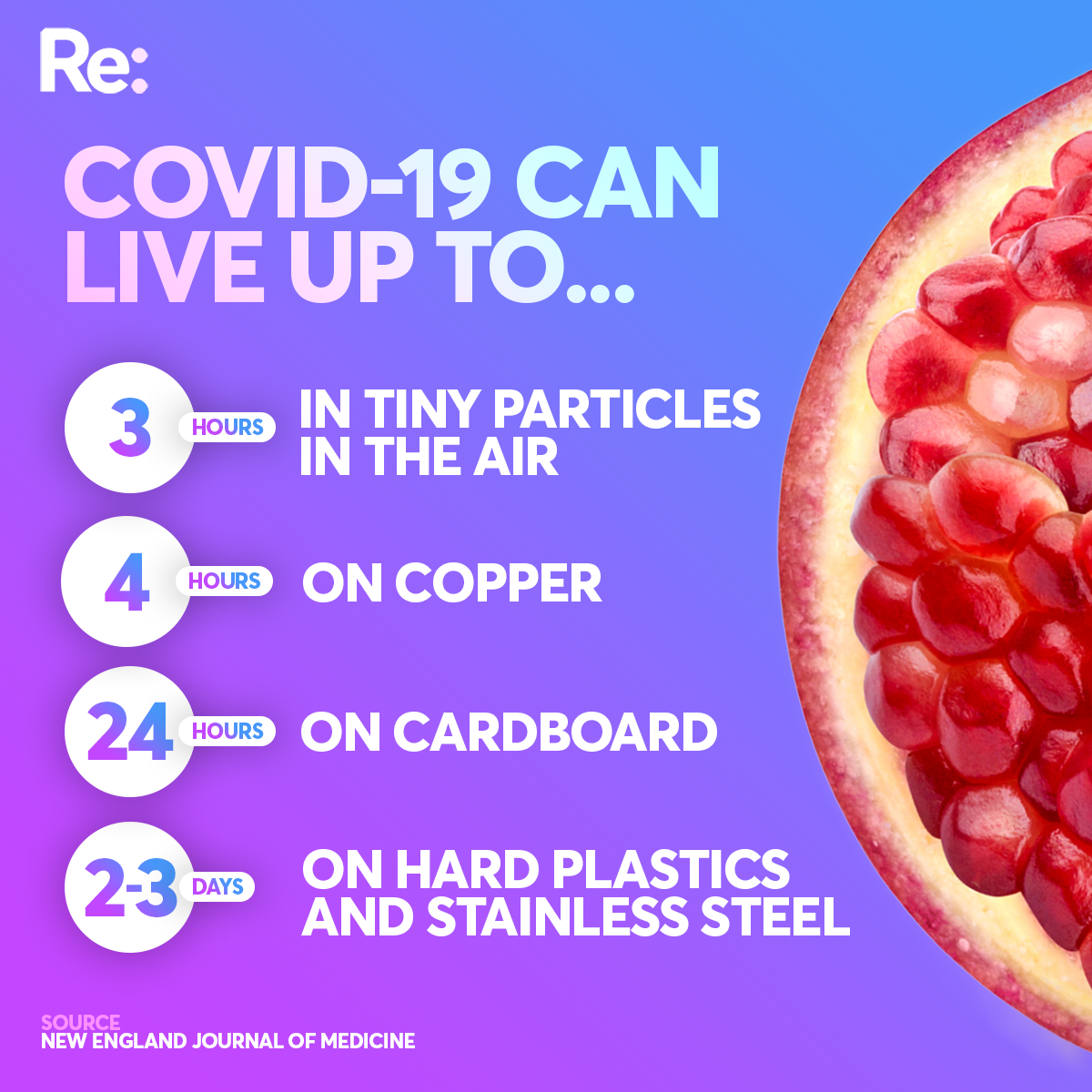 Can I get Covid-19 through eating food? What about fruit and vegetables?
There's no evidence Covid-19 is being transmitted through food. Professor Krause says there's no reports of people getting coronavirus by eating.
"The way that you get coronavirus is droplets," Professor Krause said. The droplets can enter your mucous membranes through your eyes, nose or mouth, if someone with the virus coughs, sneezes or breaths on you, or if you touch a surface with a droplet on it and then touch your face.
He says it is "theoretically in the realm of possibility" that you could pick it up from food if someone "coughed up a big glob of coronavirus on something and you got it on your hands and then got it into your eyes or mouth or something."
But has anyone actually gotten sick this way? "It hasn't been reported. And there's no evidence that people are getting it from food. So I think in general, we're okay, we're okay there."
Some viruses like norovirus (that often strikes people on cruises) are infectious when you ingest them. Prof Krause says norovirus lives a lot longer than Covid, and is a "food-borne virus, that's easy to ingest and cause trouble."
"Coronavirus is not like that."
Covid-19 is also killed by cooking - the virus can't live past the hot temperatures used in cooking. And even on the very low chance that the virus ended up in your food, it would be killed by the acid in your stomach, Prof Krause says.
So what should I do?
Don't touch your face in the supermarket.

Wash your hands as soon as you get home.

Throw out the packaging.

Wash fresh produce in clean cold water - no soap or detergent.

Then wash your hands again.