Last night the National Party chose Judith Collins as their new leader. It came after Todd Muller resigned only 53 days into the job. We've all heard her name, seen the gun photo and used the phrase "Crusher Collins", but what's her history and what does she stand for? Here's what you need to know.
Where does she stand on the big issues?
Economy and Covid:
She's yet to launch her policies, but says they will focus on growing the economy and debt management.
In an interview with TVNZ's Breakfast this morning she said her focus is on "getting people into work, infrastructure, building for the future but at the same time not burdening the country with debt."
"It is really important that we focus on people in work, but also not on taxing the whole country so that we never actually get ahead as a people."
Diversity:
She's repeatedly made a point of criticising diversity. All of her front bench (senior National party MPs) are now Pākehā, and in an interview this morning she said she's "not particularly worried about" diversity. (Update: at 10am Thursday 16th July, Judith Collins announced a reshuffled front bench that promoted Dr Shane Reti, who is Māori, to position number 5).
"Diversity is not just in race, it's not just in age or gender, diversity is also in diversity of thought."
In May this year she's said she was "utterly sick of being demonised for my ethnicity" and that a question about Treaty of Waitangi partnership was a "stupid question".

In a quickly-deleted tweet in November last year, she called herself "a woman of colour- the colour white", in reference to a bill banning female genital mutilation that was supported by women of colour across political parties.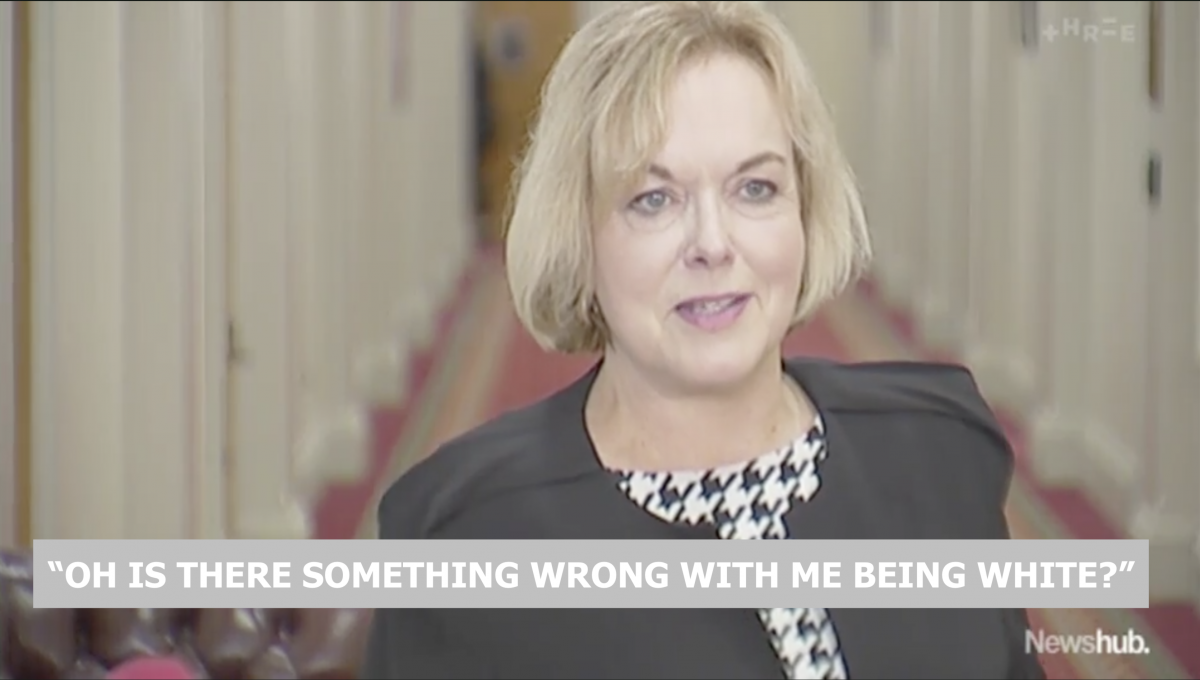 She has also repeatedly asked if there is "something wrong with me being white?", both this morning in an RNZ interview, and in the iconic Tova O'Brien Newshub story about Todd Muller's first day as National leader.
Justice:
She has a reputation for being tough on crime.
In 2009, as Minister of Police and Corrections under John Key's National government, she was given the nickname Crusher Collins after she proposed a law that would take and crush the cars of boy racers.
As Police Minister she supported the introduction of tasers to the New Zealand police force.
And she's recently advocated for greater powers for police to raid gang homes and seize guns.
Climate change:
While she recognises climate change is real, she's said she doesn't know how much of it is man-made and is "sick of everyone having to feel virtuous".
She's also said School Strike for Climate marchers "have been needlessly exploited by an increasingly fanatical Green lobby" and that the "likely impacts of climate change are being hugely overstated by the media and political left."
LGBTQIA+:
She voted for same-sex marriage in 2013.
In 2004 she voted against civil unions, because she felt they gave the impression gay couples were "second best" compared to full marriage.
Weed:
She hasn't publicly stated her views on the cannabis legalisation referendum the public will vote on at September's election.
Abortion:
She voted in favour of last year's bill that removed abortion from the Crimes Act.
Euthanasia:
She voted for 2019's euthanasia bill. She had previously voted against euthanasia in 2003, but changed her mind after watching her father die from bone cancer.
What's her political career been like?
She's been an MP for 18 years, being continually re-elected as the representative for Papakura (formerly known as Clevedon) in Auckland since 2002.
She was a senior member of the National Party government under John Key during its three election terms in power (2008, 2011 and 2014).
During that time she was variously Minister of Police, Corrections, Justice, ACC and Ethnic Affairs.
Dirty Politics
She was a key figure in left-wing investigative journalist Nicky Hager's 2014 book Dirty Politics, which showed a close relationship between senior National politicians and the right-wing blogger Cameron Slater.
Collins has dismissed the book's allegations as untrue.
Resignation
In 2014 Judith Collins resigned from John Key's Cabinet after leaked emails alleged she had used her position to try and remove the head of the Serious Fraud Office.
But she returned in December 2015 after an inquiry found no evidence of wrongdoing.
Oravida
In 2014 she was accused of using a taxpayer-funded trip to lobby the Chinese government to support her husband's company, Oravida.
While on a visit to Shanghai as part of an official trip as Justice Minister, she had dinner with a Chinese government border official and leaders of dairy export company Oravida, which her husband was director of. Labour argued it was a conflict of interest.
Collins later said she regretted the visit and that her husband had not financially benefited as he was the director, not a shareholder.
She's wanted to be leader for a while
In 2016 when John Key resigned as National leader, Collins stood as a candidate, but Bill English became the leader.
Then in 2018 when Bill English resigned as leader, Collins again entered the race, but Simon Bridges won the leadership.
During Bridges' reign, a poll ranked her higher as the preferred prime minister above Simon Bridges, even though she wasn't even in the running to be PM at the time.
Last night she said it was "third time lucky", and that she was ready to take on Jacinda Ardern and the Labour party at September's election.