Sunday May 8
There are 5,647 new cases of Covid-19 today.
Case of BA.5 variant at Aotearoa's border:
The Ministry of Health has reported that a person who has travelled from overseas to New Zealand has been confirmed as having the BA.5 variant of Omicron. This is the first known detection of the variant in New Zealand, according to the Ministry.
The person arrived in New Zealand from South Africa on 26 April, returned a positive RAT from their day 5/6 test on 1 May and a positive PCR sample taken on 2 May and the result reported the following day.
The arrival of the BA.5 sub-variant in New Zealand is not unexpected and underlines the importance of the rapid antigen testing of all arrivals at day 0/1 and day 5/6 followed by a PCR test of any arrivals who test positive which then allows whole genome sequencing to be done.
At this stage, the public health settings already in place to manage other Omicron variants are assessed to be appropriate for managing both BA.4 and BA.5 and no changes are required.
Of today's cases there are 129 are in Northland, 1,895 are in Auckland, 353 in Waikato, 143 in Bay of Plenty, 77 in the Lakes district, 176 in Hawke's Bay, 184 in MidCentral, 69 in Whanganui, 131 in Taranaki, 30 in Tairāwhiti, 67 in Wairarapa, 424 in Capital and Coast, 206 in Hutt Valley, 189 in Nelson Marlborough, 914 in Canterbury, 83 in South Canterbury, 523 in the Southern district, 51 in the West Coast and 3 in unknown locations.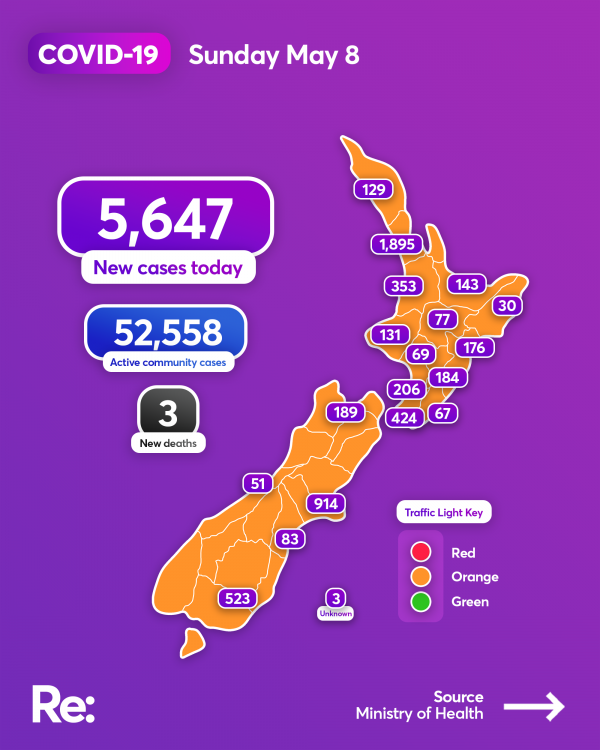 The total number of active cases is 52,558.
The Ministry of Health defines active cases as those identified in the last seven days and not yet classified as recovered.
Hospitalisations and Covid-19 related deaths
3 more people with Covid-19 have died over the past three days, bringing the publicly reported total to date to 860.
Of the people whose deaths we are reporting today; two people were from Canterbury and one from MidCentral.
Two people were in their 80s and one was aged over 90.
Two were men and one was a woman.
There are 350 people in hospital, with 17 of those people in intensive care or high dependency units.
The average age of people currently in hospital is 59.
Testing
2,631 PCR tests and 9,939 rapid antigen tests have been recorded in the past 24 hours.
If you take a RAT you must report the result, positive or negative. This can be done online through My Covid Record, or by calling 0800 222 478 between 8am and 8pm.
Top image: A group of friends dining out during the recent phase of the pandemic. Photo: Lifestyle/iStock Images
More stories:
Lip filler, rejection and immigrant parents: Alison's 21st|2000s Baby
Cook Islands 21st are all about family, but mine can't come|2000s Baby