Tuesday March 29
There are 17,148 new cases of Covid-19 today.
Of these new cases, 730 are in Northland, 2,899 are in Auckland, 1,566 in Waikato, 967 in Bay of Plenty, 479 in Lakes, 1,015 in Hawke's Bay, 910 in MidCentral, 447 in Whanganui, 706 in Taranaki, 250 in Tairāwhiti, 210 in Wairarapa, 1,035 in Capital and Coast, 617 in Hutt Valley, 690 in Nelson Marlborough, 2,816 in Canterbury, 318 in South Canterbury, 1,404 in Southern, 79 in West Coast and 10 in unknown locations.
The total number of active cases is 108,942.
The Ministry of Health defines active cases as those identified in the last seven days and not yet classified as recovered.
The total confirmed cases to date is 626,501.
Hospitalisations and Covid-19 related deaths
34 people with Covid-19 have died in the past 10 days, bringing the total to date to 303.
The deaths being reported today include people who have died over the past 10 days but were only recently notified to the Ministry. Delays to reporting can be associated with people dying with, rather than of Covid-19, and Covid being discovered after they have died.
Of the people whose deaths we are reporting today, 2 were from Northland, 17 from the Auckland region, 2 from Waikato, 1 from the Bay of Plenty, 1 from the Lakes district, 2 from Hawke's Bay, 5 from the Wellington region, 3 from Canterbury and 1 from Southern.
One person was in their 30s, 1 person was in their 50s, 5 were in their 60s, 9 were in their 70s, 7 in their 80s and 11 were in their 90s.
Seventeen were male and 17 were female.
The Ministry of Health reports on deaths of all people who die within 28 days of testing positive for Covid-19.
There are 842 people in hospital, with 26 of those people in intensive care or high dependency units.
The average age of people currently in hospital is 58.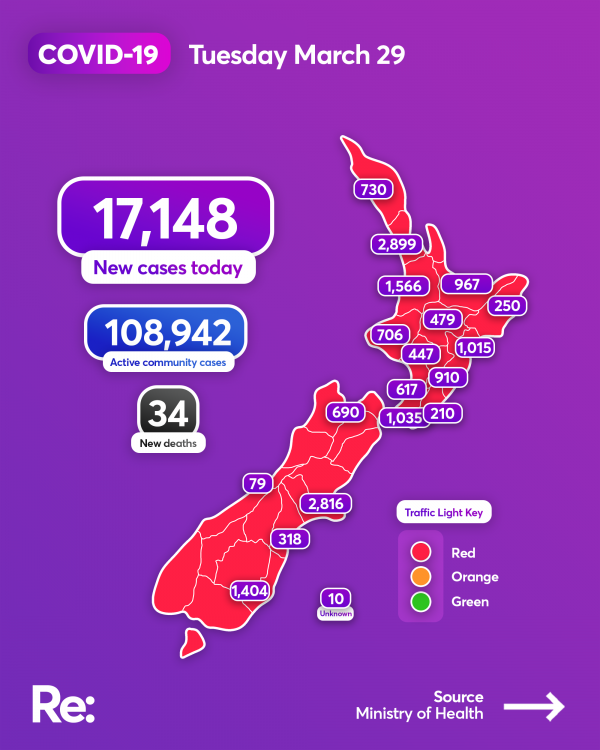 Testing
The total number of PCR tests taken in the past 24 hours is 2,208.
The total number of Rapid Antigen Tests (RATs) taken in the past 24 hours is 34,977.
12.2 million rapid antigen tests have been dispatched so far.
If you take a RAT you must report the result, positive or negative. This can be done online through My Covid Record, or by calling 0800 222 478 between 8am and 8pm.
Vaccinations
96.3 percent of New Zealand's eligible population have had the first dose of the Covid-19 vaccine, and 95.1 percent have had a second dose.
72.7 percent of the eligible population have had their booster shot.
Top image: A woman sanitising her office table. Photo: Kehan Chen/Getty Images
More stories:
A recent study by scientists has shown microplastics in human blood.
The money will go towards fuel, rations, communications and military first-aid kits.
Eating terotero or animal intestines - either you can handle it or you can't.