Friday June 3
There are four cases of the Omicron subvariant BA.5 and one case of the subvariant BA.4 in the community.
There are 6,232 new cases of Covid-19 today.
Of these, 161 are in Northland, 1,907 are in Auckland, 443 in Waikato, 196 in Bay of Plenty, 77 in the Lakes district, 189 in Hawke's Bay, 227 in MidCentral, 73 in Whanganui, 177 in Taranaki, 45 in Tairāwhiti, 55 in Wairarapa, 556 in Capital and Coast, 237 in Hutt Valley, 239 in Nelson Marlborough, 1,007 in Canterbury, 99 in South Canterbury, 467 in the Southern district, 73 in the West Coast and 4 in unknown locations.
The total number of active cases is 47,933.
The Ministry of Health defines active cases as those identified in the last seven days and not yet classified as recovered.
The usual updates will be published over the long weekend on Saturday and Sunday. On Monday, there will be no update. Tuesday's update will include the figures for Monday.
Omicron subvariant update

The subvariant cases were confirmed by whole-genome sequencing of tests. These are the first BA.4 and BA.5 cases reported in the community, with no clear link to the border.
There are also seven cases of BA.2.12.1 in the community, from whole-genome sequencing of tests returned on May 18.
These Omicron subvariants are prevalent overseas and have been detected at our border for many weeks. Their presence in the community is not unexpected and more cases are expected.
Hospitalisations and Covid-19 related deaths
14 people with Covid-19 have died, bringing the publicly reported total to date to 1,210.
Of the people whose deaths are being reporting today, one was from Northland, three were from the Auckland region, one was from Taranaki, one from Whanganui, one from the Wellington region, one from Nelson-Marlborough, four from Canterbury, one from South Canterbury and one from the Southern area.
Two people were in their 60s, three in 70s, three in their 80s and six were aged over 90.
Of these people, four were women and ten were men.
There are 390 people in hospital, with 8 of those people in intensive care or high dependency units.
The average age of people currently in hospital is 62.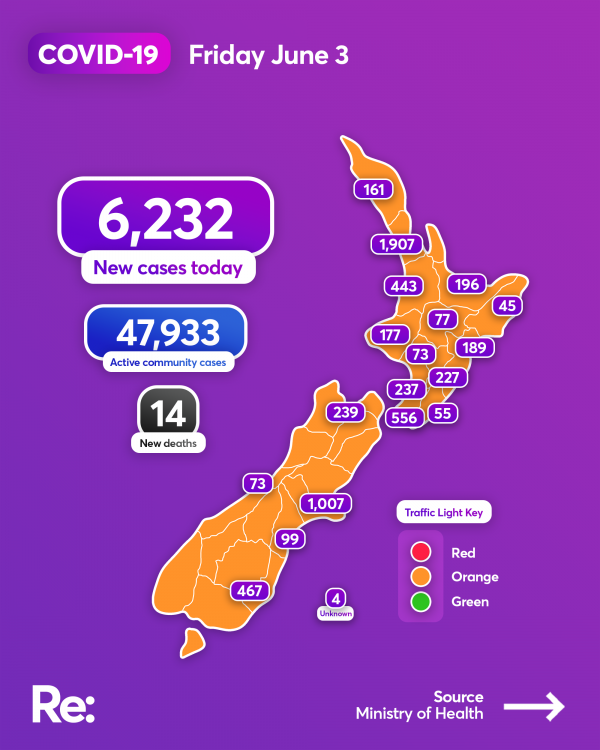 Testing and vaccinations
The total number of PCR tests done in the last 24 hours was 3,038 and 12,563 Rapid Antigen Tests (RATs) were reported.

If you take a RAT you must report the result, positive or negative. This can be done online through My Covid Record, or by calling 0800 222 478 between 8am and 8pm.
96.3% of New Zealand's eligible population have had the first dose of the Covid-19 vaccine, and 95.2% have had a second dose.
Top image: Covid-19 testing station in Auckland. Photo: Getty Images
More stories:
Self-harm hospitalisations have doubled for 10-14-year-olds
"During the pandemic we've been completely online and that takes a huge toll on teenagers."
Taxing sugary drinks drops sales by 15%. Why isn't NZ doing it?
Researchers analysed more than 60 studies which looked at the impact of sugary beverage taxes.

How to compliment someone's outfit in Sāmoan, reconnecting with roots
"The survival of the language and culture is in our day-to-day living."