There are 25 new cases of Covid-19 today, and all of New Zealand is now in red light.
Of these cases, 4 are in Northland, 13 are in Auckland, 4 in Waikato, 1 in the Lakes District, 1 in Palmerston North and 2 in Nelson Tasman.
Omicron update:
To date, there are 19 community cases of Omicron associated with the January Omicron Cluster, all are in isolation.
Of today's Covid cases, eight have been confirmed to be Omicron. These are 5 new cases in Auckland linked to a family event, 1 in Palmerston North who is a household contact of the previous case, and two in the Nelson Marlborough region who are both contacts of exisiting cases.
There are 10 people in hospital, no one is currently in intensive care or high dependency units.
The average age of people currently in hospital is 57.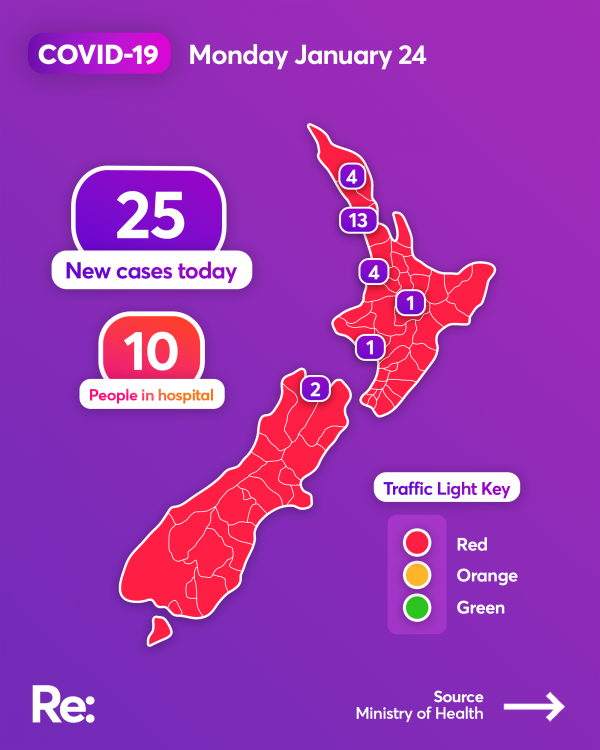 95 percent of New Zealand's eligible population have had the first dose of the Covid-19 vaccine, and 93 percent have had a second dose.
There have been 4,893,535 vaccine pass downloads, including 11,609 in the last 24 hours.
The Ministry of Health is urging anyone with symptoms, or anyone who has been to a location of interest at the times notified, to isolate immediately and get tested promptly.
More than 1 million booster doses have now been administered.
Click here for a list of updated locations of interest.
Top image: A woman working from home. Photo: Stock image/Getty Images
More stories:
Covid update Jan 23: 24 new cases
What Māori place names can tell us about water safety