Saturday April 9
There are 8,531 new cases of Covid-19 today.
Of these, 479 are in Northland, 1,456 are in Auckland, 744 in Waikato, 408 in Bay of Plenty, 165 in the Lakes district, 356 in Hawke's Bay, 425 in MidCentral, 206 in Whanganui, 312 in Taranaki, 80 in Tairāwhiti, 79 in Wairarapa, 572 in Capital and Coast, 365 in Hutt Valley, 313 in Nelson Marlborough, 1,343 in Canterbury, 162 in South Canterbury, 991 in the Southern district, 72 in the West Coast and 3 in unknown locations.
The total number of active cases is 75,871.
The Ministry of Health defines active cases as those identified in the last seven days and not yet classified as recovered.
Case numbers are continuing to decline, along with the seven-day rolling average. Today's seven-day average is 10,843, while last Saturday it was 13,804.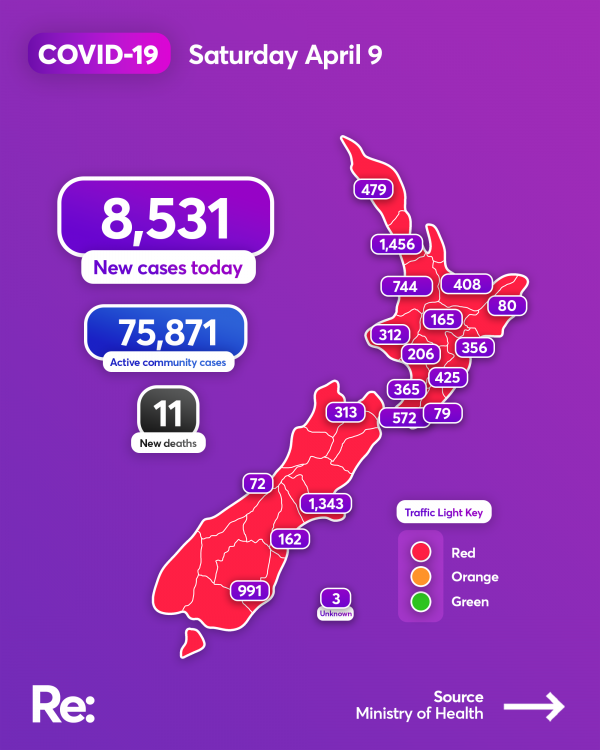 Hospitalisations and Covid-19 related deaths
11 people with Covid-19 have died, bringing the total to date to 477.
The deaths being reported today include people who have died over the past 14 days.
Of the people whose deaths we are reporting today, four people were from the Auckland region, one from Waikato, one from the Lakes DHB area, one from Hawke's Bay, one from Whanganui, two from the Wellington region and one from Canterbury.
Four were aged in their 60s, four in their 80s, and three over 90.
Five were female and six were male.
There are 635 people in hospital, with 18 of those people in intensive care or high dependency units.
The average age of people currently in hospital is 58.
Testing
There have been 2,601 PCR tests taken in the past 24 hours, and 18,498 rapid antigen tests.
3.6 million RATs have been deployed so far.
If you take a RAT you must report the result, positive or negative. This can be done online through My Covid Record, or by calling 0800 222 478 between 8am and 8pm.
Vaccinations
96.4 percent of New Zealand's eligible population have had the first dose of the Covid-19 vaccine, and 95.2 percent have had a second dose.
72.7 percent of the eligible population have had a booster shot.
Top image: A Covid-19 social distancing sticker on the street. Photo: Alex Schwab/Getty Images
More stories:
Students twice as likely to live in mouldy homes than other NZers
Is it normal to get horny on the daily? Horny on Main
Celebrating Te Karere: NZ's first Māori language news programme