Saturday April 23
There are 7,930 new cases of Covid-19 today.
The Ministry of Health says a person who has travelled from overseas to New Zealand has been confirmed as having the XE variant of Omicron. This is the first known detection of the variant in New Zealand.
The person arrived on 19 April, was tested on 20 April and whole genome sequencing subsequently confirmed the XE variant.
They are isolating at home.
XE has been spreading overseas and its arrival in New Zealand is not unexpected. At this stage, the public health settings already in place to manage other Omicron variants are assessed to be appropriate for managing XE and no changes are required.
XE is a combination of BA.1 and BA.2 sub variants of Omicron. There is some early evidence that it may be slightly more transmissible than BA.2, which is more transmissible than BA.1.
There is no evidence to date that XE causes more severe disease than other Omicron lineages, noting that it takes weeks or months to identify the severity of each new variant.
Of today's cases, 275 are in Northland, 2,037 are in Auckland, 548 in Waikato, 300 in Bay of Plenty, 163 in the Lakes district, 253 in Hawke's Bay, 321 in MidCentral, 123 in Whanganui, 263 in Taranaki, 73 in Tairāwhiti, 83 in Wairarapa, 459 in Capital and Coast, 240 in Hutt Valley, 294 in Nelson Marlborough, 1,306 in Canterbury, 164 in South Canterbury, 929 in the Southern district, 93 in the West Coast and 6 in unknown locations.
The total number of active cases is 59,300.
The Ministry of Health defines active cases as those identified in the last seven days and not yet classified as recovered.
The total confirmed cases sits at 875,794.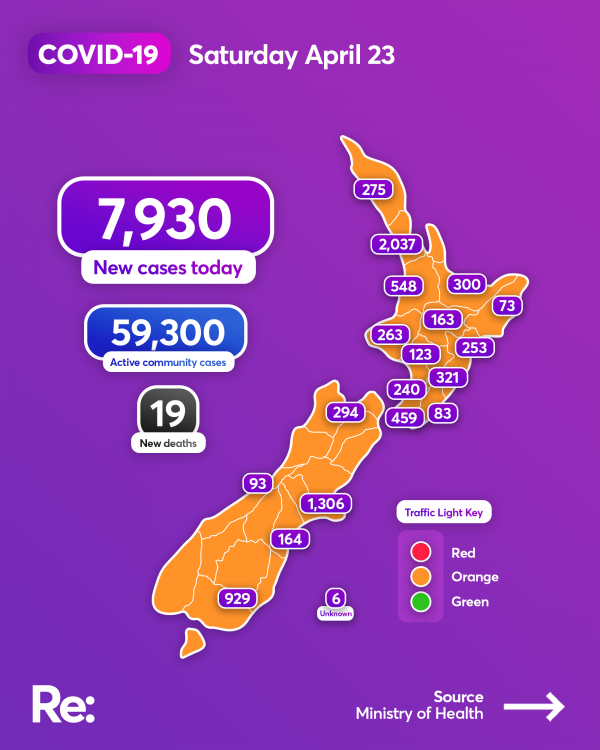 Hospitalisations and Covid-19 related deaths
19 people with Covid-19 have died, bringing the publicly reported total to date to 665.
The deaths being reported today include people who have died over the past 7 days.
Of the people whose deaths we are reporting today, one person was from Northland; six from the Auckland region; two from Waikato; one from Bay of Plenty; one from Whanganui; one from Taranaki; one from the Wellington region; one from Nelson-Marlborough; four from the Canterbury region and one from Southern.
Two people were aged under 9; one person was in their 20s; four in their 60s; two in their 70s; five in their 80s and five people were over 90.
Nine were male and ten were female.
There are 494 people in hospital, with 15 of those people in intensive care or high dependency units.
The average age of people currently in hospital is 59.
Testing
2,641 PCR tests and 17,855 rapid antigen tests have been taken in the past 24 hours.
If you take a RAT you must report the result, positive or negative. This can be done online through My Covid Record, or by calling 0800 222 478 between 8am and 8pm.
Vaccinations
96.4 percent of New Zealand's eligible population have had the first dose of the Covid-19 vaccine, and 95.2 percent have had a second dose.
71.1 percent of the eligible population have had a booster shot.
Top image: A woman in an airport waiting to catch a flight. Photo: Pyrosky/iStock Images
More stories:
Is it ok to bang someone based on their star sign? Horny on Main
NZ's list of top climate polluting companies revealed