By Maggie Shui
Growing up in Auckland, Ross Liew didn't think he was brought up Chinese. "But turns out," he says, "it just didn't look Chinese or sound Chinese. But the behaviour, values and that kind of stuff was pretty Chinese."
So what does it mean to be Chinese? That question is the undercurrent at a public art exhibition currently being held at Mercury Plaza near Auckland's Karangahape Road. Featuring 14 local Chinese artists, Mercury Plaza: Origins + New Beginnings is both a celebration of a beloved food court about to be swallowed up by Auckland's $3.4 billion City Rail Link development, and an industrious way to elevate voices that don't get too many chances to speak in the art world.
Ross (AKA TrustMe, AKA Oscar Low) is one of the artists featured in the show. Born to a Pākehā mother and a Chinese Malaysian father, Ross is white-passing at first glance. And even for Ross himself, it took some time to become cognisant of his 'Chinese-ness'.
"I kinda felt it in high school - my house is different to other people's houses," he says, "but I didn't really understand it until I was an adult."
We're talking over wonton noodle soup from Mercury Plaza's Chinese Cuisine, sitting in plastic seats that look like the type you might find conjoined and screwed to the ground at a subway station. I ask him about the parts of his upbringing that he now, in hindsight, ties to his Chinese identity.
"Things like, there was no way you would wear shoes inside. The food was Chinese - shared cooking between my mum and my dad. Things like, when you become a teenager and parties become a thing, it's like, "What do you mean I can't go to that party? Everyone goes to this party.""
Then there are those less tangible things; there are the values instilled in him that, as an adult, he realises he can't ever shake.
"Independence, don't rely. You can't rely on other people. Family, yes. But outside of your family, don't rely on anyone. And work ethic. Security through finance. These types of things, in terms of your hierarchy, that's at the top. The role food forms as an expression of love and care.
"These things were just all part of our upbringing, but I didn't necessarily understand it. Because it didn't look or sound particularly Chinese, I didn't think that it was."
He gestures to a big chip in the edge of the table next to us.
"The other way I know I'm Chinese is I don't see this," he says with a smile in his voice. "My mum sees it straight away and she's like, "Ugh." My mum would never like coming here. Too dirty."
One of Ross's contributions to the Mercury Plaza exhibition is a bunch of towels hanging from the ceiling - or rather, flags printed in the likeness of said towels hanging from the ceiling. For someone who doesn't recognise the towels, they're pretty unassuming. For Ross - and I don't think we're at risk of a lofty overstatement here - these towels cut to the core of what it means to be Chinese.
You won't find them at Briscoes. Known as the Good Morning towel, it's a flimsy white thing with blue lines running along the lengthwise edges and "Good Morning" printed in skinny red cursive along the bottom. This distinctive style doesn't come from a particular brand or manufacturer; it's just something everyone has decided to go along with. A row of Good Morning towels hanging on a fence to dry is a ubiquitous sight in Malaysia and Singapore, from the kampungs to the city centres. It's a sight that might be brought to mind by the similar row of towel flags currently hanging outside New Gum Sarn at Mercury Plaza.
Ross says the Good Morning towel was always part of his childhood. "It's a multipurpose kind of utility towel. And we're gonna wipe everything. Wipe the table. An old one to shine your shoes. Use it when you're cooking; it's the towel you have over your shoulder to clean up as you go. You'll see it in restaurants, the barber's."
Beyond their utilitarian usage, Ross says that the Good Morning towel is also, simply, a symbol for work.
"Work is what I personally identify with when I think about my identity or experience as Chinese. Work is a big part of it. My expectations of people, and what people do is, we work. If you're going to do it, you're going to work hard at it. You're not going to do a lazy job at it, you're just going to do it."
Ross's grandfather came from a Hakka family who, escaping famine in Southern China, moved to Malaysia around 1900. During the Malayan Emergency, a post-World War II conflict between communist guerillas and British Commonwealth forces in what was then the Federation of Malay, many rural ethnic Chinese people were forced to relocate from their squatter communities near the forests into 'new villages'.
"They were called 'new villages', but they were, you know, a barbed wire, armed guards type thing," says Ross, whose family was among those who were rounded up. It was in such a village that Ross's dad spent nearly the first 18 years of his life.
Ross visited the village last year during an artist's residency in Malaysia, and learned more about his grandparents' lives through talking with people in the village. Ross's grandmother died a few weeks ago, and gathering his thoughts to speak at her funeral had him reflecting: "Man, what a fucking hard experience the majority of her life was."
It takes us back to those towels, and the topic of work.
"When I saw her, she would always work. She was never still. If she had nothing to do, she would fold newspapers into bags that would be used to cover fruit in the village. She would always be doing something. She would sell the bag for one cent each.
"So you think, recent immigrant in a country where most of the Chinese arriving were indentured labourers, working to pay off their passage from China to Malaysia, owning nothing, squatting on land, there's no power, there's no running water. You're scooped up by the British, chucked in a secure village with armed guards and a curfew and communal feeding where they cook all the food at one place and feed you all, just so you can't sell the rice to the communists in the jungle.
"To endure that, and that's after the Japanese occupation [in China]. And I was just thinking, holy shit. For her and my granddad, that would've been their experience right up until they were my age now."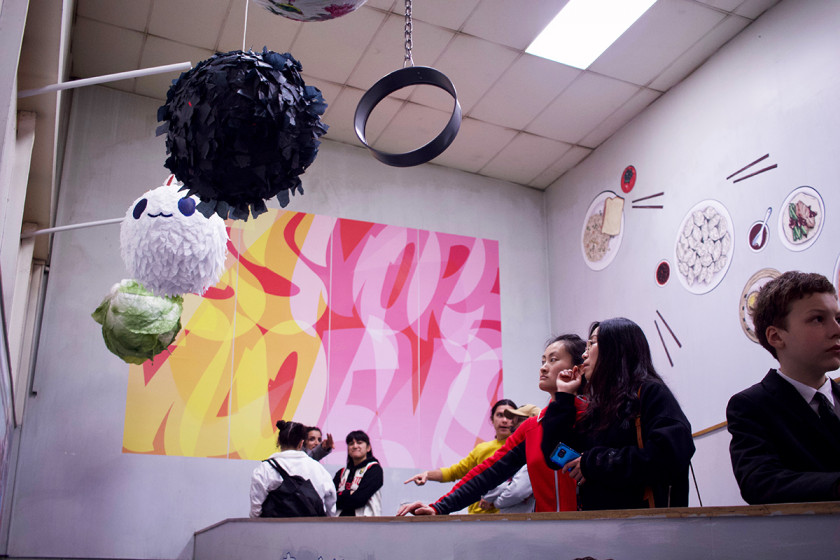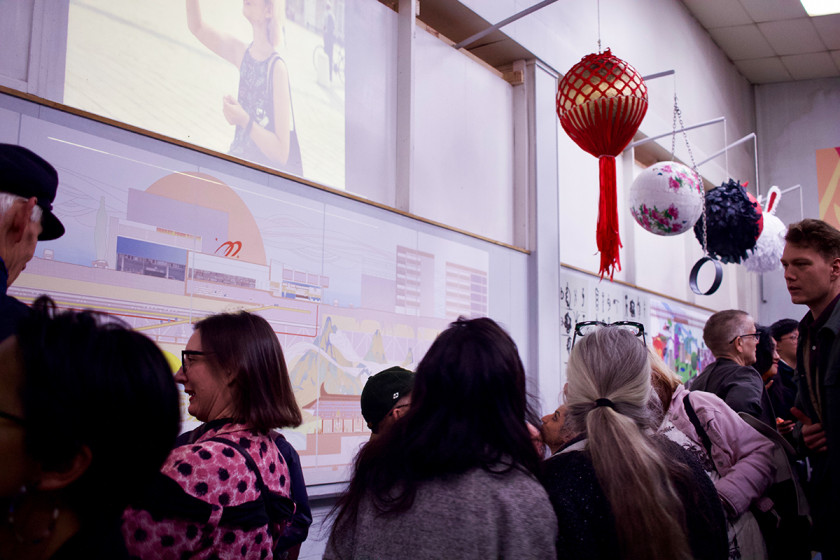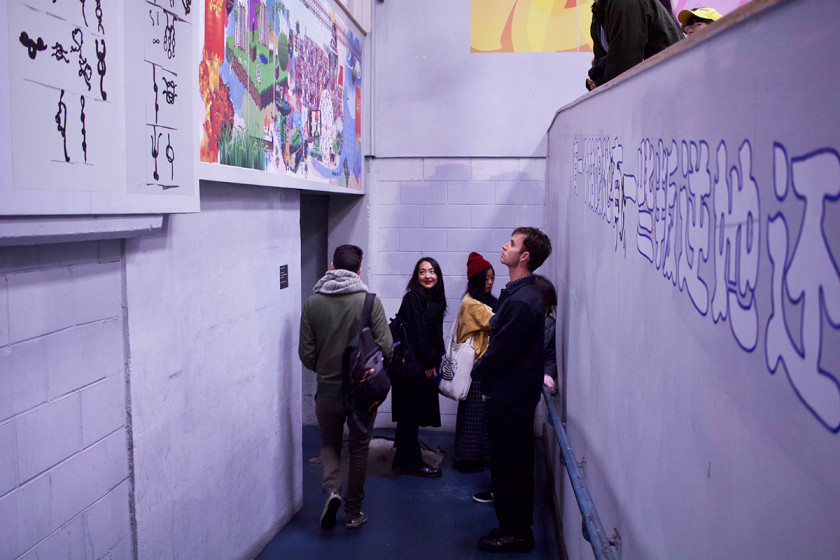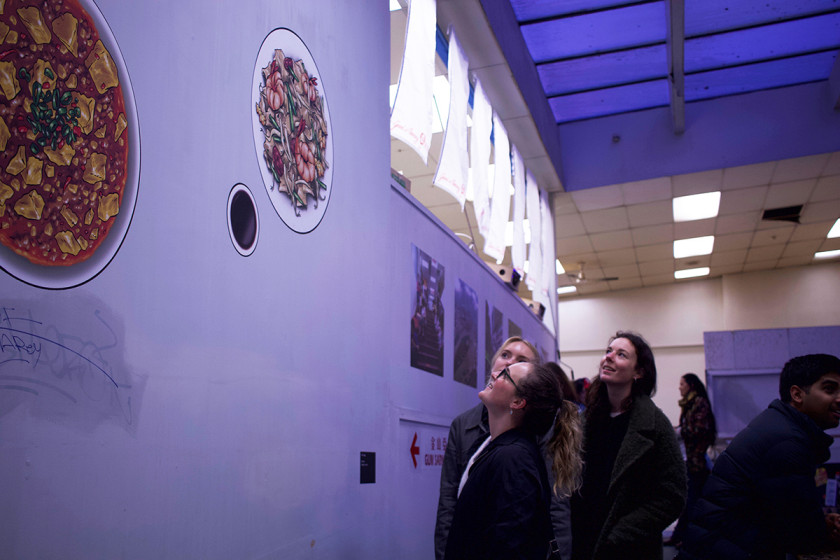 Next to the "Good Morning" lettering on the towel is usually a four character Chinese phrase that translates as, "wish you good morning". On the flags of his installation, Ross has replaced this with the classic Chinese idiom 刻苦耐劳 (kè kǔ nài láo).
耐劳 (nài láo) means to withstand hard labour. 刻苦 (kè kǔ) means to bear hardship, and is sometimes used interchangeably with 吃苦 (chī kǔ) which translates literally to "eat hardship". You gulp it down and deal with it.
"Bearing hardship, and work will get you through," says Ross. "I identify with that through what's been instilled in me."
For people who have the Good Morning towel tucked away in their own memories, who are literate in the cultural vernacular that it is a part of, seeing the towel and the inclusion of the idiom is like an "Easter egg" says Ross.
"I just know, that someone who grew up in Malaysia or grew up in Singapore or somewhere where these towels are a part of life, will be like, "What the fuck?" That's cool."
For new Chinese migrants to New Zealand, the Mercury Plaza food court might have invoked a similar feeling of warmth and familiarity, especially when you're faced with a surge of new, unknown cultural markers. What's a mince and cheese pie, and why do people here not wear shoes?
"You flip it around," says Ross, "and go, what is it like to come into New Zealand as an immigrant, who doesn't know New Zealand, and be faced with these things, like, "What is that? What does that mean? No one's telling me, I have to figure it out.""
Jason Ng (of the Ng family who own Mercury Plaza, and son of Norman Ng who used to sell fruit and veges out of the eponymous skinny building on K Road) says that, "Asian food courts of this kind were definitely groundbreaking concepts during their inceptions in the early 90s." In an Auckland that didn't have the decent selection of Chinese food it has today, Mercury Plaza was "a slice of home to migrant communities."
Mercury Plaza is also a public space. And for Mercury Plaza: Origins + New Beginnings, publicness is at the heart of its ethos.
"It's free to the public," says Jia Luo, one of the exhibition's organisers and featured artists. "We just want it to be as widely seen as possible. We know that a lot of gallery environments aren't exactly welcoming to the entire public, and some people just don't feel comfortable going into those spaces. We just want it to be a surprise perhaps when you go to the supermarket or have your wonton noodle soup, and pass through this awesome surprise space."
The art world's inaccessibility becomes even greater when you're an artist of colour.
"Typically when I go to a gallery opening, it tends to be very white," says Jia. "I just feel the stories that get told are the same in some ways. It doesn't really speak to me, often. I feel like it could be more interesting with input from our peers, not just Chinese but other migrants of colour."
Jia says she and co-curator Joni Lee had never seen a show dedicated to local Chinese voices and perspectives. "And we've been here for as long as European settlers have been. And there's so much diversity within our communities that it just really begs a show to happen."
The large number of submissions showed Jia and Joni that there is a yearning among local Chinese artists to share art about identity and cultural issues, and to really have the space to work through and explore them.
"We just see the result of that, not having the space to say how you're feeling, what you're going through as a Chinese person in New Zealand," says Jia.
It makes me think about the quiet delight in Ross's voice when he talked about that chip in the table and how his Pākehā mum thought Mercury Plaza was too dirty, how the windows were always congealed with oil, how the chicken is chopped up with the bones still in them and how "that freaks people out."
There's something pleasurable about articulating the points of difference in your culture like it's a badge of honour when it's been a source of degradation for so long. To have the space to revel in your identity.
"For a lot of us," says Jia, "we will always come back to the issues of identity and race and culture, and it's just something that's part of our experience, but I would like to get to a point where we don't feel stifled from talking about our experiences. And it's not just being able to express it, it's having people validate it as well - not just from people in our community who have the same experience, but outsiders as well. When you don't get that validation, you just try even harder to defend your position, right? So yeah, validation and the platform is what we need the most."
And where that platform isn't readily available, you create one for yourself. The very form of the Mercury Plaza exhibition, like the Good Morning towels and the idiom 刻苦耐劳 (kè kǔ nài láo), embodies the Chinese migrant spirit. Since traditional art spaces are almost impenetrable, Jia and Joni have rustled up what resources they do have, approached a local food court and carved their own space to present their art. If holding an art exhibition at a food court isn't an example of migrant ingenuity, I don't know what is.
The flags in Ross's installation are weighed down by water-filled drink bottles, which are commonly used in Malaysia as a ballast to hold hanging signage in place.
Reflecting on makeshift tools like this, Jia says, "You make do. And it's just out of a lack of proper facilities. And that's just what we're doing here with the cultural environment. You kind of just have to create those platforms yourself, regardless of what resources you can or can't get from the establishment."
Joni works in community engagement at Auckland Transport and says 50 years ago, K Road was filled with Chinese fruit and vegetable sellers.
"They were just working really hard just to get by. On Thursdays they would have what was called 'late night' and people would buy all their groceries," says Joni. "And Norman used to operate out of that really thin building. Everyone's like, "Wow, how did he sell vegetables out of that really thin building?" He obviously made it work, right?"
"We always make it work," responds Jia.

Mercury Plaza: Origins + New Beginnings is showing at Auckland's Mercury Plaza from 14th August - 14th September 2019. More details here.