Last week the Muslim community celebrated Eid Al Fitr, a religious celebration known as the "festival of breaking the fast". The holiday marks the end of month-long Ramadan, where worshippers fast from sunrise to sunset.
Thousands of Muslims in Tāmaki Makaurau Auckland celebrated at the country's biggest gathering, New Zealand Eid Day.
Re: spoke to people at the event.
Ammynah Kezo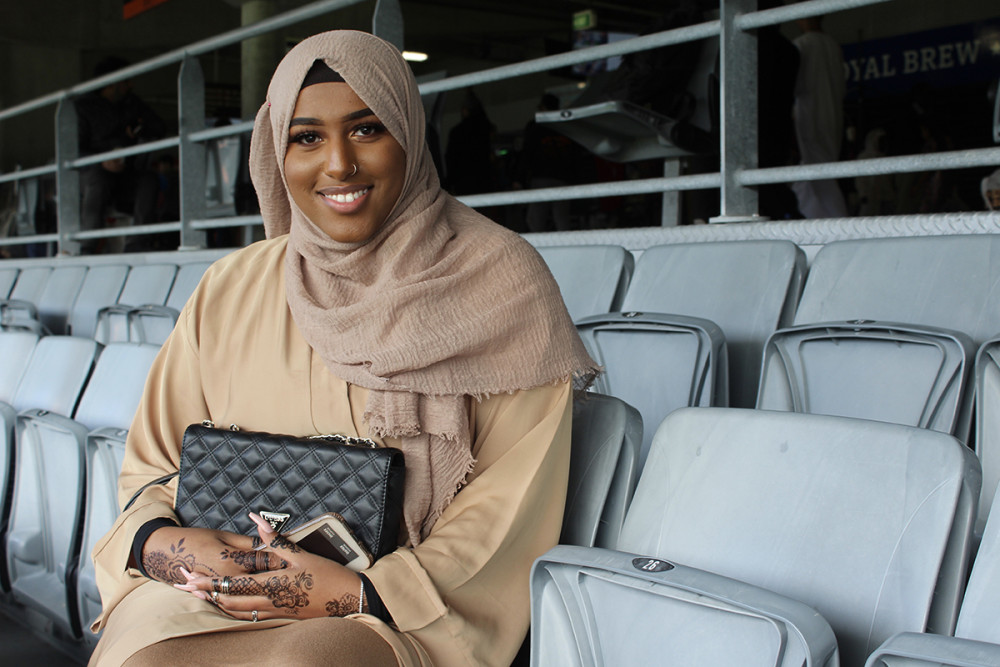 What is your favourite thing about Eid?
Dressing up would definitely be my favourite thing, especially because during Ramadan you're not really worried about those kinds of things – appearance doesn't matter, and you don't really go out as much. So, it's nice to get cute and go out again. Obviously also seeing your family and everyone together in one place; it's just really nice, it's really fun.
What's your favourite thing about the event?
Praying together in the morning. Like I could really do praying and leave. It's the one thing where the rush, the business in the morning – it's all to get to prayer on time.
Do you think this event is an integral part of the young Muslim identity in New Zealand?
Yeah it is, because there's literally nothing else. There are so many other holidays that are celebrated by other people and there's so many other events for other people. So, I think this is the only thing that's really for us.
It's a lot harder for the youth to stay connected with their religion and the things that really matter just because we're growing up in a Western country. I feel like it's really important to have things like this that always reminds them, so it's really good.

What do you want non-Muslims to know about this event?
It's just a normal event - it's nothing weird, it's not different, it's normal. We will just get together and celebrate and dress up. If they come (which they can! you can come by the way!) they will see that it's normal.
Marwan and Musaab Bashir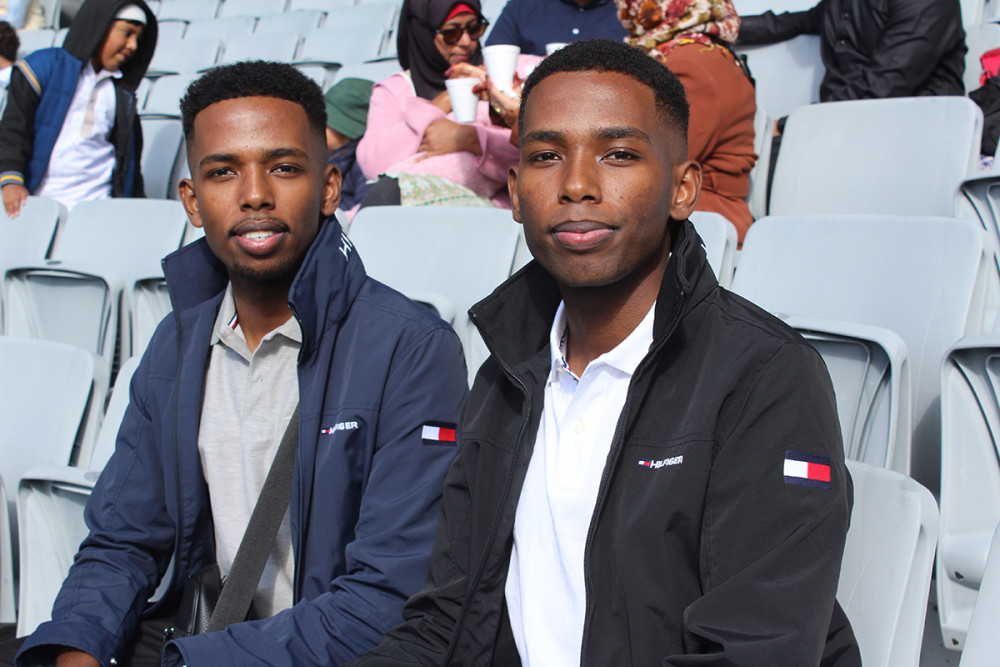 What is Eid to you?
Musaab: For me it's a time for embracing our culture and embracing each other's differences. You see it all: rich, poor, white, black, Arab, non-Arab – that's actually the beauty of it. You see everyone together and I think that's special because the only thing bringing us all together is Islam. It's amazing.
What brought you to this event today?
Marwan: It's very rare to find a place where you can literally meet people from all sorts of backgrounds and just connect without thinking about ethnicity or race. It's just a humble ground level where everyone meets and this event really shows the beauty of Islam.

What's been your favourite food stall?

Musaab: I love the hotdogs on the stick, just because you don't get halal [hotdogs] a lot, so whenever I come I have to get it, or I lose the chance of having it anywhere else.
Growing up we couldn't have the sausages at the sausage sizzle so this is cool.

What do you want non-Muslims to know about this event?

Musaab: I want them to know it's a time where Muslims celebrate togetherness; to celebrate their love for Islam. And just literally to come see the beauty of it - it's not materialistic, it's not about how many presents you get; it's about the people and just embracing the beauty of Islam.

What's something you love about Eid?

Musaab: You never really get the chance to wear your traditional clothes, even though I'm not wearing it today, except for on Eid. Whenever I get the chance, you just feel different. It just feels so right.

Do you think this event is key in helping young Muslims develop their Kiwi-Muslim identity?

Marwan: Definitely. Obviously being in New Zealand you can easily be drawn to Western culture which is different to our way of doing things. It definitely highlights for us the importance of praising our culture and what it actually means to be Muslim. We all connect through Islam – in a place where we share the same values.
Weaam Bassiouni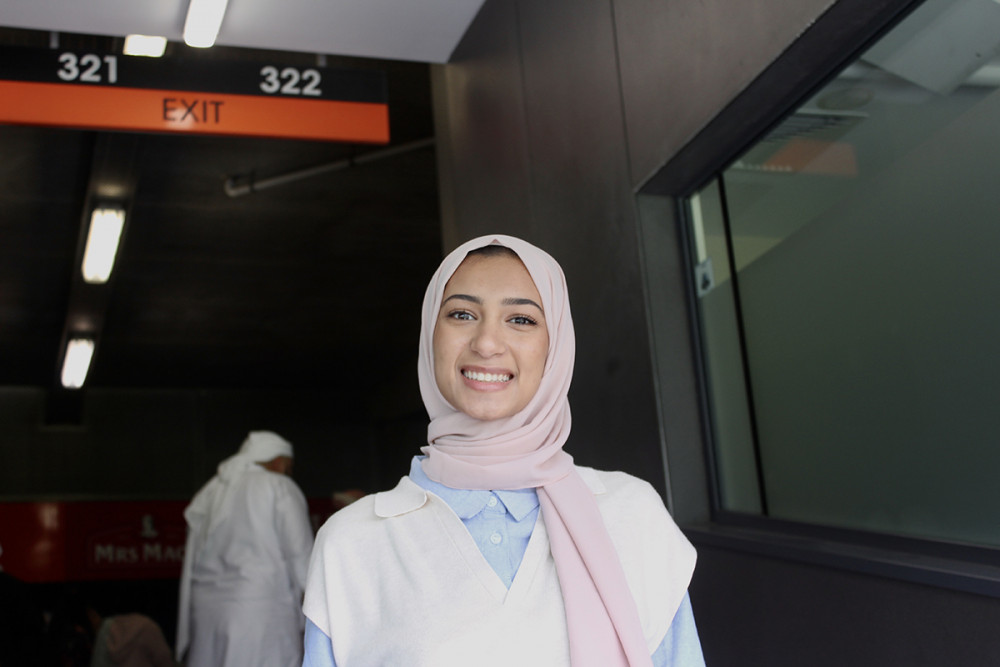 What do you most associate with Eid?

Dressing up! Because everyone buys a new outfit, they get dressed up, you see them and you're like "Yeah! You look so good! You look amazing!"
It's just nice to see everyone looking and feeling their best.
Do you think this event is integral to the Kiwi-Muslim identity?

100 percent. I think this is one of the times that young Muslims can really feel proud of who they are and actually get to see their community and celebrate it and celebrate their holidays. And also celebrate the fact that they fasted 30 days. So it's definitely an important part of the Muslim-Kiwi youth experience.
Javed Dadabhai, NZ Eid Day trust chairman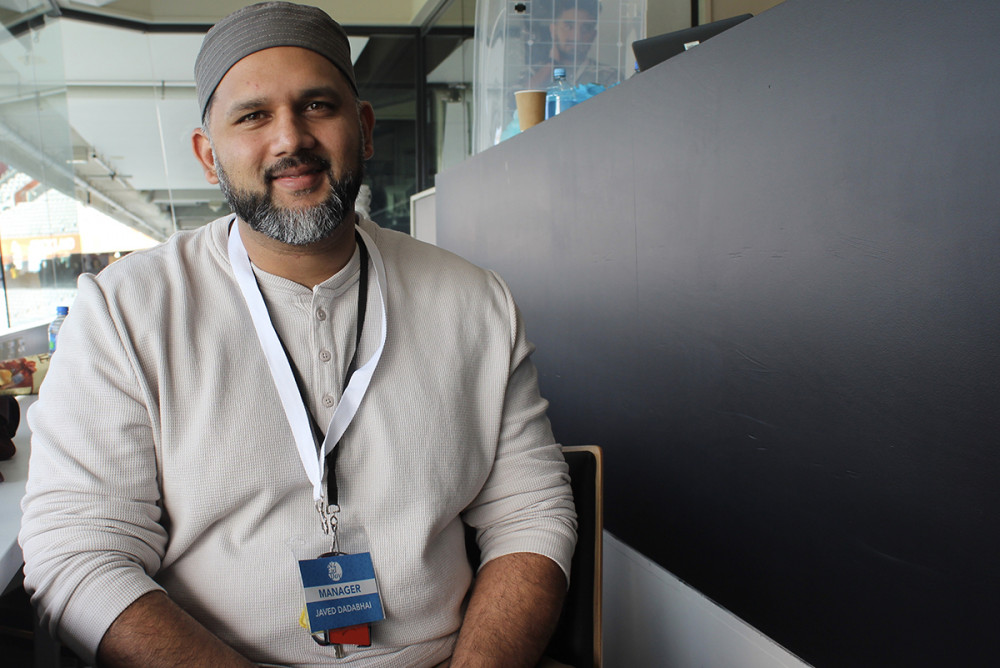 What is New Zealand Eid Day all about?
For me Eid Day is about helping our youth create an identity that is distinctively Kiwi-Muslim.
I guess that comes from our growing up with such a small Muslim population, so we almost celebrated other people's holidays more than our own. This is about showing our youth that we also have fantastic festivities and have our own reasons to come together as well. That allows people to connect with their history and their culture on a day that's for everybody.
What would you want non-Muslims to know about this event?
I would love for them to come. But even if people don't turn up to the event, by having these events, news gets out there that we are a community that enjoys coming together just like any other community.
We've counted here that there's almost 40 different ethnicities in this place. Just because we're Muslim doesn't mean that we're all the same. But on this day, we just all come together and enjoy each other's company. We're New Zealanders as well, just with a slightly different flavor.
What's the centerpiece of Eid?
For me, it's always the prayer in the morning. On average we get 5000 to 6000 people for the prayer and there's a lot of blessings in that kind of environment. So that's my personal high point of the day.
Ola Shahin, operations manager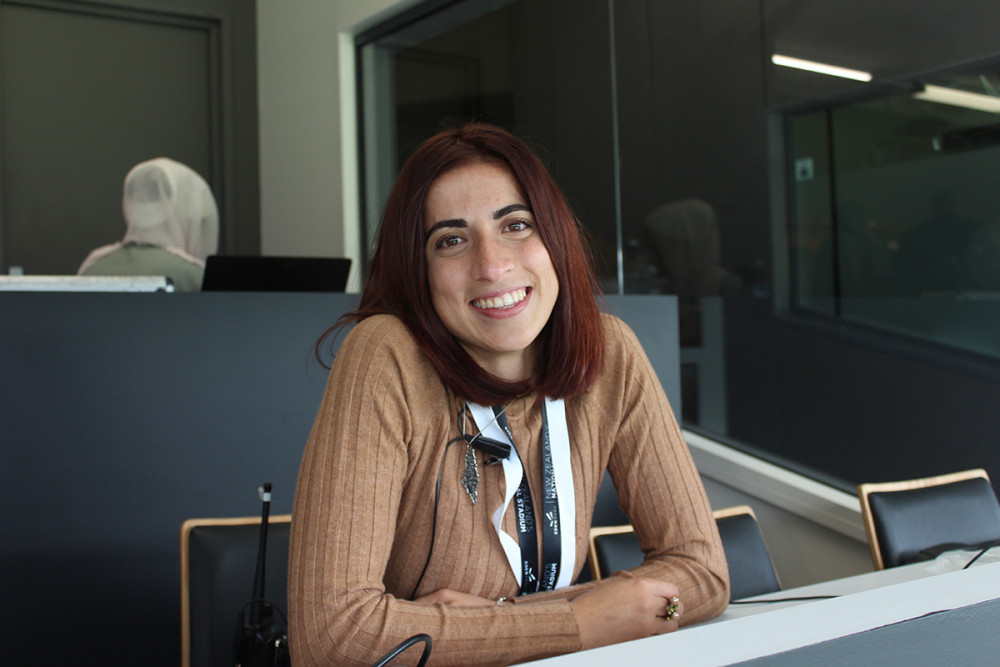 Why did you become an organizer for this event?
As a kid I used to go to this event called Eid In The Park. I grew up with that, and then there was a massive void for a few years where there was only something small with maybe a bouncy castle but no big events.
So, when they first started NZ Eid Day in 2011, I volunteered straight away, no question about it.
I wanna make sure that the next generation have something to look forward to and something they enjoy.
What do you think attracts people to this event?
Community. I think a lot of people are here without their extended family and Eid back home is all about visiting others – a lot of people don't have that in New Zealand. So, it creates a community for them not just of people with the same faith but of a community that they miss out on.
Ali Youssef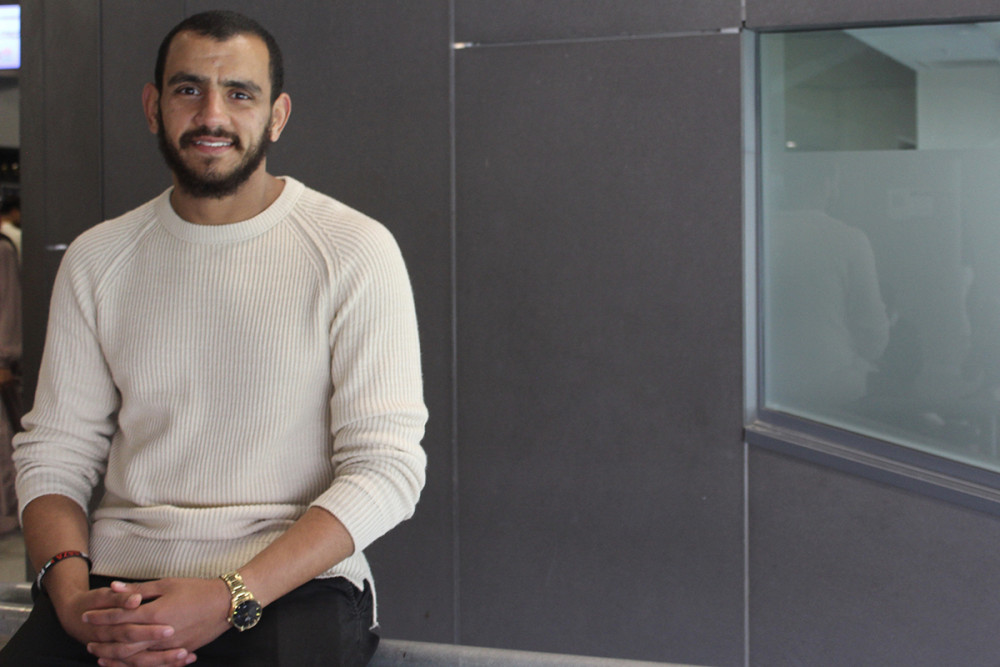 What is Eid to you?
Seeing people I haven't seen in almost a year. It's really getting the community feel back together because you see people from the community once, disappear for a year and then see them again at Eid. It's a whole community feel which is an important thing for me and why I make an effort to come here every year.
Do you think this event is integral to the identity of young Muslims in New Zealand?
I think that there needs to be more. This event happens once or twice a year and then that's it. Everyone will come here for one day and then they'll just go back to what they were doing. It's a one-stop-shop. There needs to be regular event to keep the sense of community alive for the youth.
What's the first thing you wanna do on Eid?
I'm not gonna lie to you – eat.
What's something non-Muslims should know about this event?
That it's open for them as well. I feel like when you come here, you hardly ever see someone that isn't Muslim. I want them to come and see we're just like any other community – friendly and family-orientated.
Sara Yousef, volunteer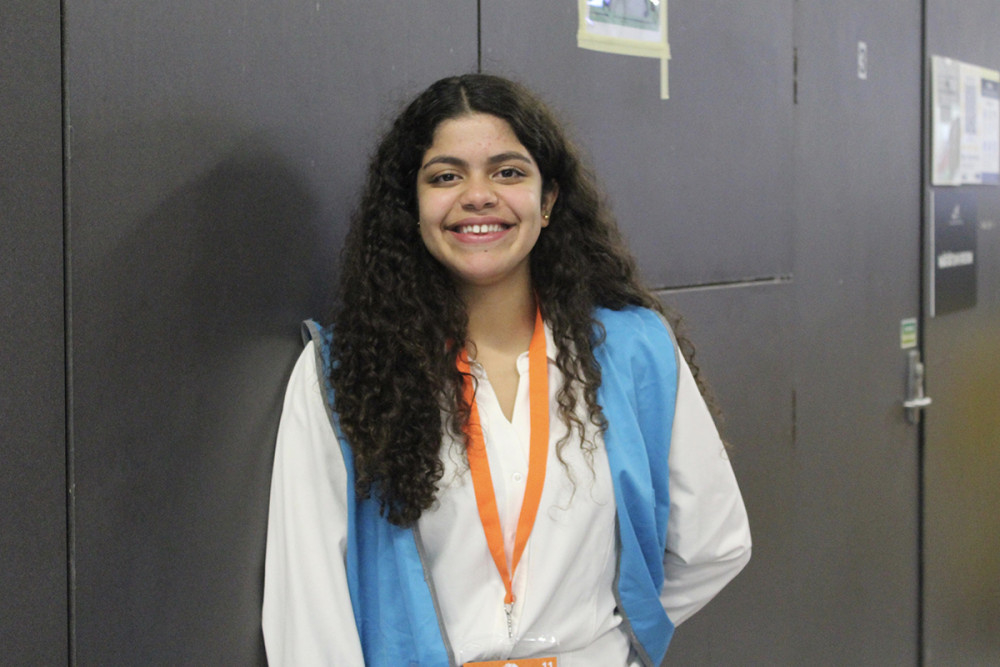 Would you recommend volunteering at this event to others?
Absolutely, 100 percent. It's not just making new friends it's like making a whole community. Obviously we don't have a lot of Muslims in New Zealand and most of our families are not here. So when you come to the event it's like, wow, it really feels like Eid.

What is your favourite thing about Eid?

Eideya. It's money that your friends and family give you on Eid. I like saving money, what can I say?
What do you think is so appealing about this event?

The food, 100 percent. For us, food is not just food. In our culture we have food with people. We never let someone eat alone. Food is more than just nutrition to us – it's more like everyone gathering, having a laugh and talking.


More stories: