In 2019, the Government formed He Pou a Rangi, the Climate Change Commission, to give advice on how we will meet our climate goals. On Sunday they released their first set of recommendations. Here are the major points from this report.
We are going to miss our reduction targets unless me make "strong and decisive action" now
By 2050, we have committed to only be producing as many emissions as we are absorbing (AKA, net-zero emissions).
The report says we are going to miss that target, as well as our checkpoint targets in 2030.
The report calls out our Government for not acting fast enough - encouraging "strong and decisive action" to drive more low emissions technology and promote behaviour change across Aotearoa.
"2050 is not far away – particularly if you consider the lifespan of infrastructure, vehicles, buildings – and people."
Changes to agriculture will be pivotal to meeting our goals
To hold temperature rise to a 1.5°C rise, as well as achieving net-zero emissions by 2050, we also need to focus on reducing certain types of emissions in that time - particularly methane.
While methane may not last as long in the atmosphere as carbon dioxide - breaking down after about 12-years - in that time it has 84 times more warming potential. So reducing methane will allow us to make a big impact on warming quickly.
Due to the size of our agricultural sector, New Zealand produces much more methane than the global average. Here, 43% of our emissions are from methane - predominantly burped out by the animals we farm - while internationally it only makes up 16% of emissions.
So, meeting climate targets in New Zealand is going to require change from our agricultural sector. The report shows that based on current trajectories methane will only fall 12% by 2050, when our commitment is to reduce it by 24-47%.
Farming needs to become more efficient, the report shows.
"There are changes farmers can make now to reduce emissions on their farms while maintaining, or even improving, productivity. This includes reducing animal numbers and better animal, pasture and feed management."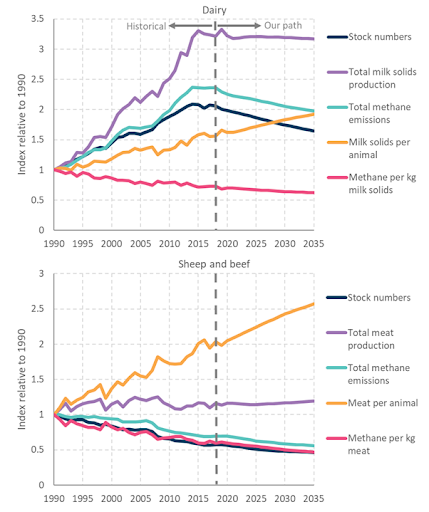 Policy support is needed to make this happen, the report says. The commission encourages the Government to think holistically in making agricultural policy - making changes that will not only improve climate, but also water quality and biodiversity.
Currently, the agricultural sector does not have to meet targets under the Zero Carbon Act until 2025.
We are world leaders in renewable energy, but we can and need to go further
82% of New Zealand's electricity is produced by renewable sources such as wind, geothermal, and hydroelectric generators. As a result, NZ's electricity production makes up only 12% of emissions, while internationally it is 40%.
But the report shows that we can do even better in this area, particularly by ending the use of almost all fossil fuels - particularly coal.
This burden will fall largely on industry, with nearly half of gas and coal used in NZ for industrial manufacture - particularly the dairy industries milk dryers and forestry industry processing.
The report recommends increasing renewable electricity generation to meet the needs of industry and/or exploring alternative fuels such as biofuels (like wood pulp).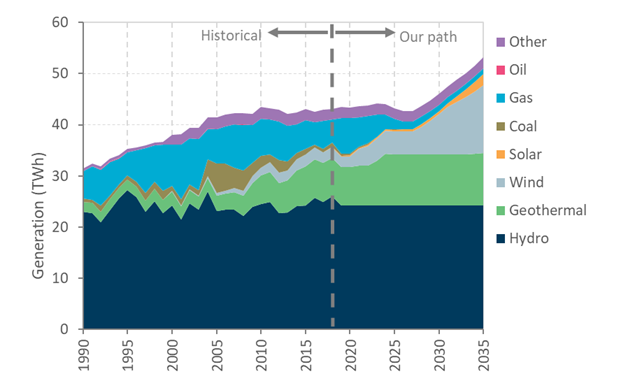 While tackling the fossil fuels we use now, we also need to be thinking ahead to ensure our electricity needs can be met sustainably into the future. The report recommends integrating energy efficient technologies and techniques in all buildings and infrastructure we make from here on out.
We need to think differently about transport
Nearly a quarter of our emissions come from fossil fuels burnt for transport. Our cars and trucks make up most of the emissions (91%), alongside domestic flights (7%) and rail and coastal shipping (2%).
The report highlights that by 2050 we can cut almost all of our emissions from transport by rethinking our transport network to emphasize walking, cycling and the use of public and shared transport.
"In Aotearoa we need to change the way we build and plan our towns and cities and the way people and products move around. This includes making walking and cycling easier with good cycleways and footpaths. It means moving freight off the road and onto rail and shipping. It means reliable and affordable public and shared transport systems. And it means an electric or low emissions transport fleet."
The report highlights that a shift to electric vehicles is particularly important. By 2035, the Commission says the majority of vehicles imported into New Zealand should be electric, but that the Government will need to introduce incentives to make this happen.
Planting trees will play a role in meeting targets, but it won't get us all the way
"Forests have a role to play, but we can't plant our way out of climate change"
The report emphasises there is no version of meeting our climate targets where we continue on business as usual and offset that by planting more trees.
But, trees will still play an important role in achieving net-zero. Currently, our trees offset 30% of our emissions and there is room for more offsetting.
The report advocates for a dramatic increase in the planting of both exotic trees (like pine) and native trees.
Planting pine trees is easier to encourage, because they can be utilised as fuel and building materials. Because there is less money to be made from planting native trees, the report encourages the exploration of an incentive programme that recognises the benefits of natives in providing a longer term carbon sink that improves biodiversity and erosion.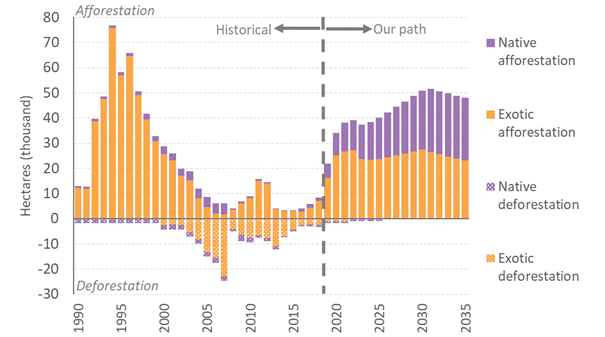 The report also encourages further research into how we can maximise and calculate the carbon sink of our soil, wetlands, and smaller blocks of trees.
What's next?
The recommendations set out in this report are still in their draft phase, with submission of the finalised advice to Government due on May 31.
The current draft is open to consultation from all New Zealanders. If you'd like to provide feedback, you can do so at the Climate Commission's Website. Submissions close March 14.