By Liam Rātana
Pop star BENEE and politicians Chlöe Swarbrick and David Seymour were among the celebrities who participated in a charity basketball game at Spark Arena on Thursday night. Basketball fan and Re: journalist Liam Rātana ranked them on their skills.
The match raised over $100,000 for the Starship Foundation and featured some of New Zealand's most well-known athletes and personalities.
Breakers stars Tom Abercrombie and Finn Delany were team captains and were joined by fellow teammates Tai and Corey Webster, Rob Loe, Jarrod Weeks, and Taine Murray. New Zealand's favourite pop sensation BENEE was voted the game's MVP, with a stat line of three fouls, two points and one billion streams on Spotify.
It was a quick start to the game, with Team Tom gaining an early advantage through fast transition play and solid driving from guard Tai Webster and captain Abercrombie. Webster hit two four pointers in the first quarter alone.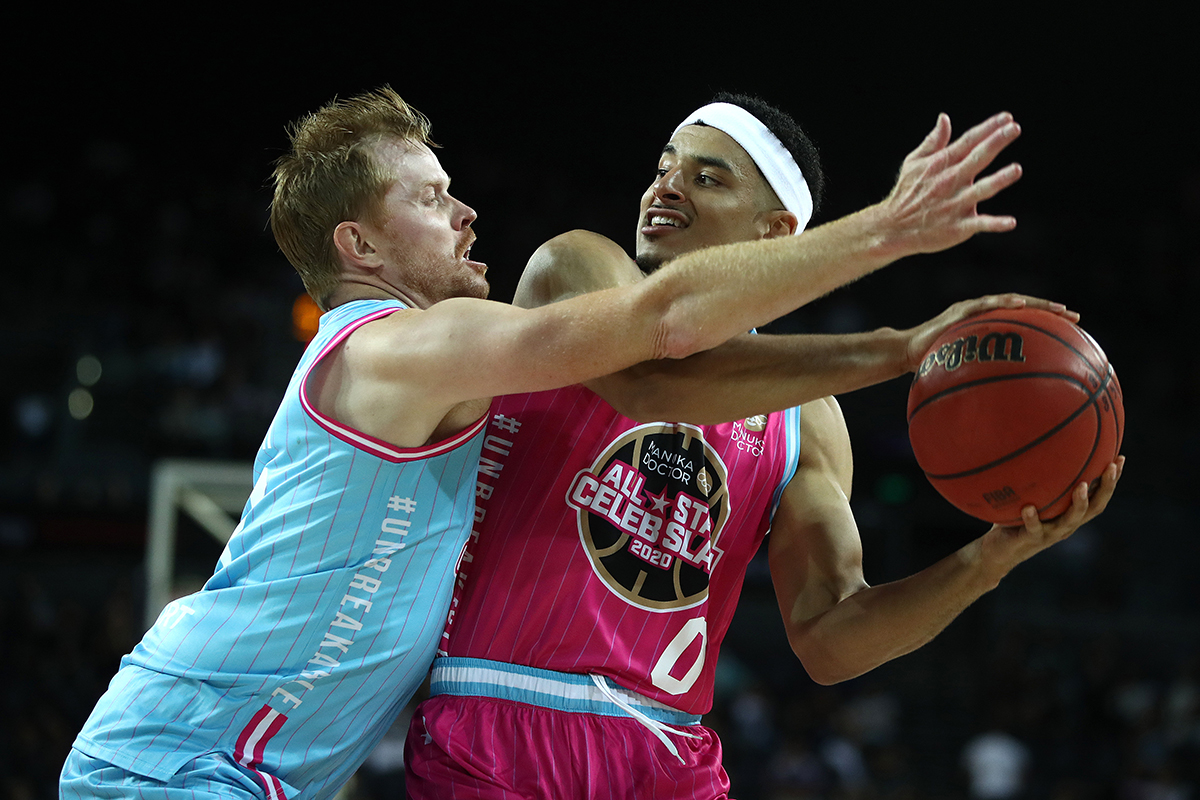 Sevens star Ruby Tui was solid on defence for Team Fin, shutting down plays in transition and not allowing easy buckets in the paint. Comedian and Nelson College's 2005 MVP Guy Williams had chances at the charity stripe early in the game but was unable to convert, shooting around 25 percent from the line.
Team Fin managed to cut the lead to 6 heading into the half, with solid efforts from your mum's childhood crush "King" Carlos Spencer, who was able to find Rob Loe for a clutch second-chance four point shot just before oranges.
The third quarter flew by with Team Tom just managing to hold on to their lead heading into the fourth. However, there was a strong comeback by Team Fin in the final period, with Delany and Loe combining to lead their team to a six-point lead with only 15 seconds left on the clock.
They say that heroes rise to the occasion and that unlikely hero for Team Tom was ACT party leader David Seymour. The Dancing With The Stars sensation was clutch, hitting a 10-point free throw after an and-one play at the hoop to give his team a four point lead. They managed to hold on to the lead for the last few seconds, going on to become the inaugural Manuka Doctor All Star Celeb Slam.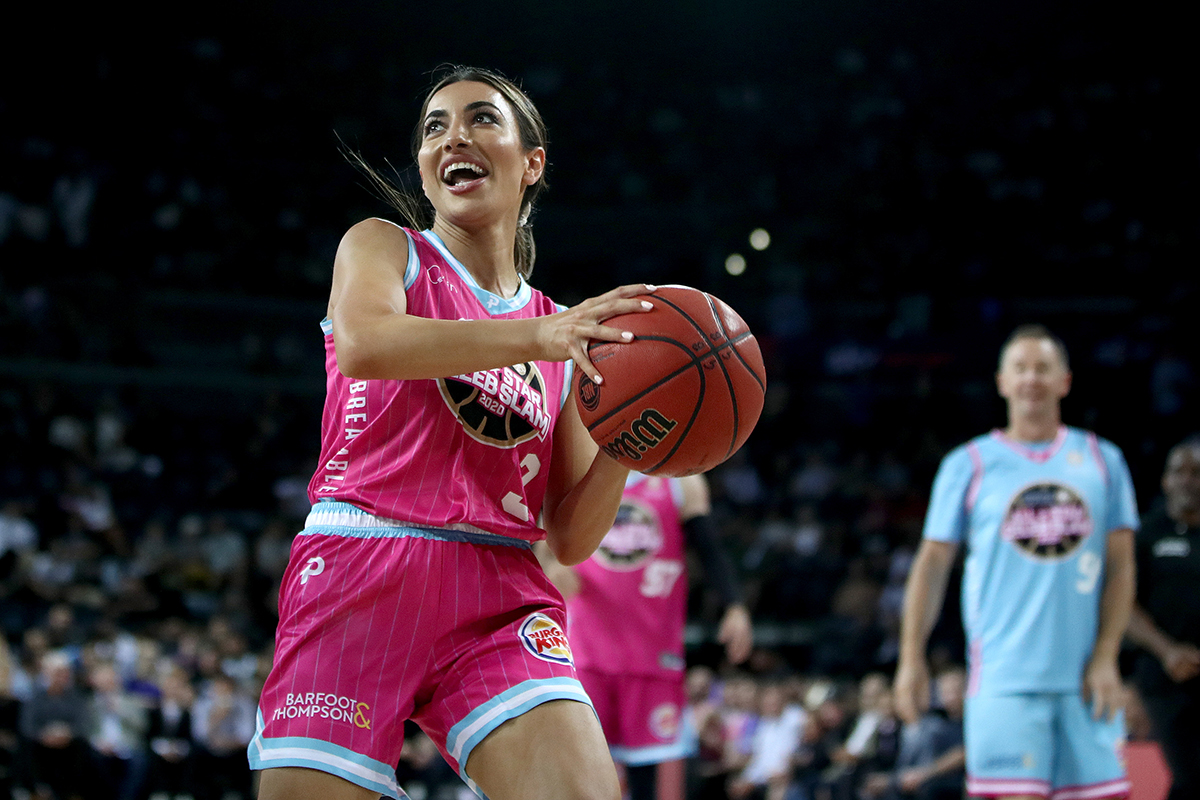 TEAM TOM
Tom Abercrombie - New Zealand Breakers
8/10
Led his team well, feeding the ball when appropriate and taking advantage of his opportunities.
Jarrad Weeks - New Zealand Breakers
8/10
Was confident shooting from beyond the arc, hitting some deep fours and converting inside.
Tai Webster - New Zealand Breakers
9/10
Showed why he's considered good enough for the NBA. Shot the lights out, dimes a dozen, and worst of all, he made it look easy.
Irene Van Dyk - Former Silver Fern
6/10
Hit a four-pointer and was disruptive on defence. Still has the same heart and passion on the court as she did on the netball court in her heyday.
Roger Tuivasa-Sheck - Vodafone Warriors
8/10
Represented the blacktops of the Home of the Brave (Otara) well, showing speed inside and on transition. Was also pesky on defence, stealing the ball a number of times.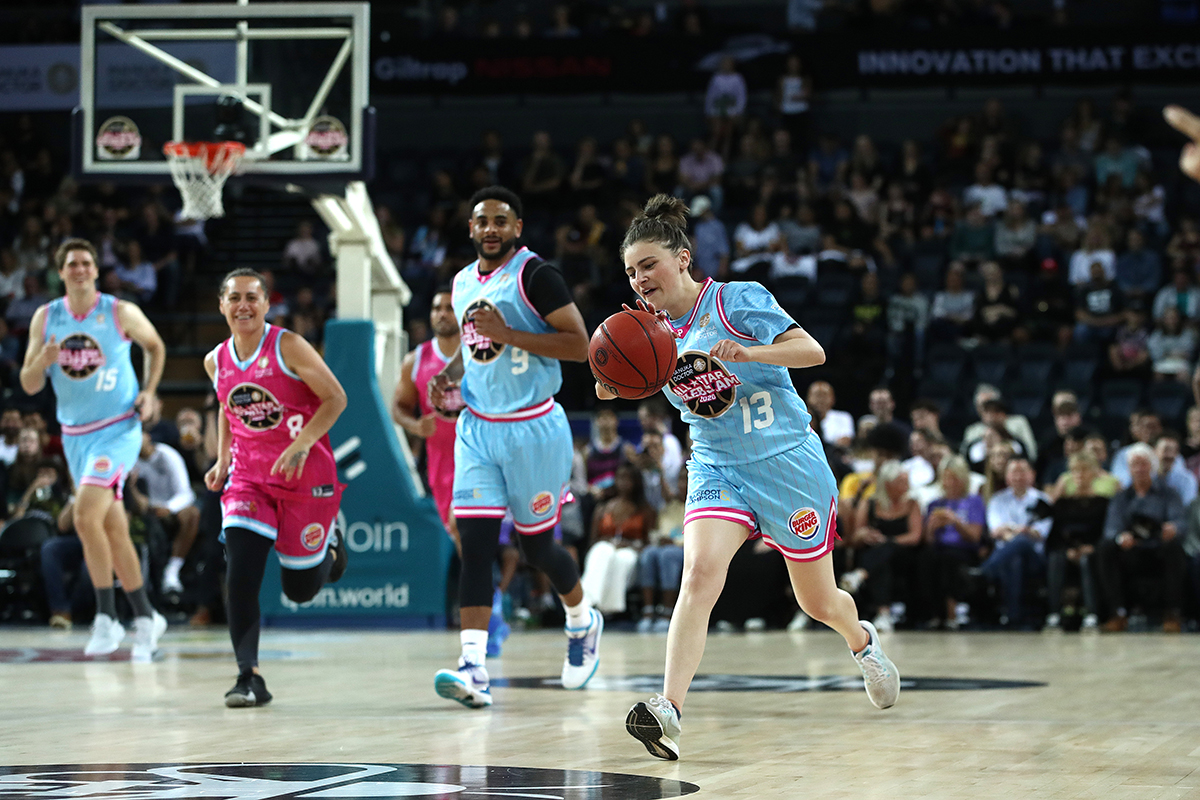 Zoi Sadowski-Synott - Professional Snowboarder
4/10
Had a quiet night off the bench. Wasn't afraid to shoot open shots but was unable to get much to drop.
Liam Messam - All Black
6/10
Found Rob Loe for a highlight off the backboard alley-oop dunk in the first quarter. Took high percentage shots in the paint and dished the ball well.
David Seymour - Leader of the ACT Party
10 seats in Parliament/121
In his team's moment of need, David slayed Goliath, sinking a 10-point and-one free throw. Total clutch play which will be the talk of the town for months.
Nouri - Singer
40k+ Spotify listeners per month/10
Showed effort in limited minutes, spacing the floor well and sinking a couple of shots.
Chris Mac - Bass Guitarist, Six60
Six60/10
Was good on defence and had a few shots drop.
Jenny-May Clarkson - Former Silver Fern and TV Presenter
10/10
Hit a four-pointer and moved the ball well on offence. Was a problem on defence for the opposition, getting in the passing lane and turning the ball over. It's rumoured she's been offered a veterans' contract in the WNBA.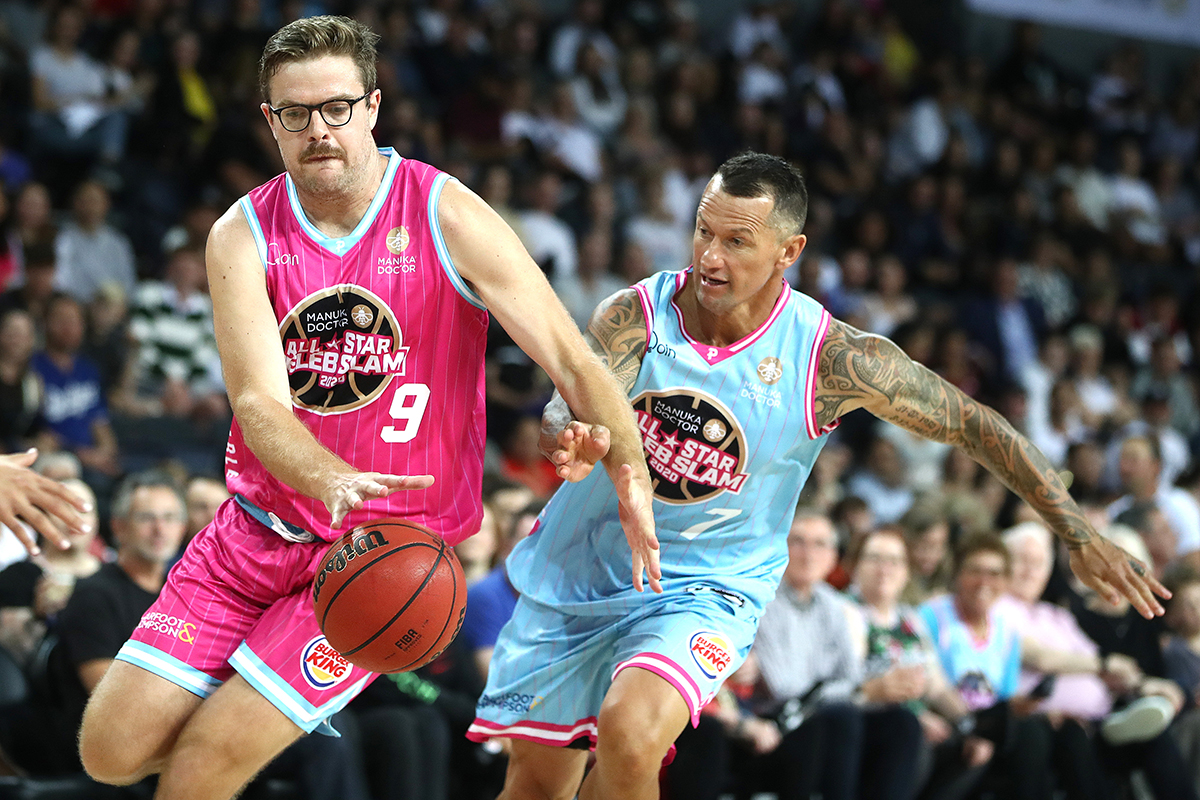 Guy Williams - Comedian
3/10
Got to the line but failed to convert. Also had shots blocked in the paint. Tried to dunk on Carlos Spencer and wouldn't let it go for the rest of the night.
Kai Kara-France - UFC Fighter
21-9-0/10
Was determined on defence and created space for himself on offense. Didn't hit every shot but converted when it mattered.
Shane Young - UFC Fighter
13-5-0/10
Joined fellow City Kickboxing and UFC fighter Kara-France. Found space in transition and applied pressure well on defence with double-teams.
TEAM FIN
Fin Delany - New Zealand Breakers
9/10
Was on fire both ends of the court. Hit contested shots, sunk from beyond the arc, and blocked shots on defence.
Rob Loe - New Zealand Breakers
9/10
Converted open shots and in close. Found open teammates and didn't let anything by him in the post.
Corey Webster - New Zealand Breakers
7/10
Fed the ball well, leading his teammates to the basket and setting them up for open looks.
Maia Wilson - Silver Fern and former Tall Fern
7/10
The Silver Fern and former Tall Fern converted a couple of drives and wasn't afraid to test her mid-game range when left open. Stole the ball and took it down the court for an easy lay-up too.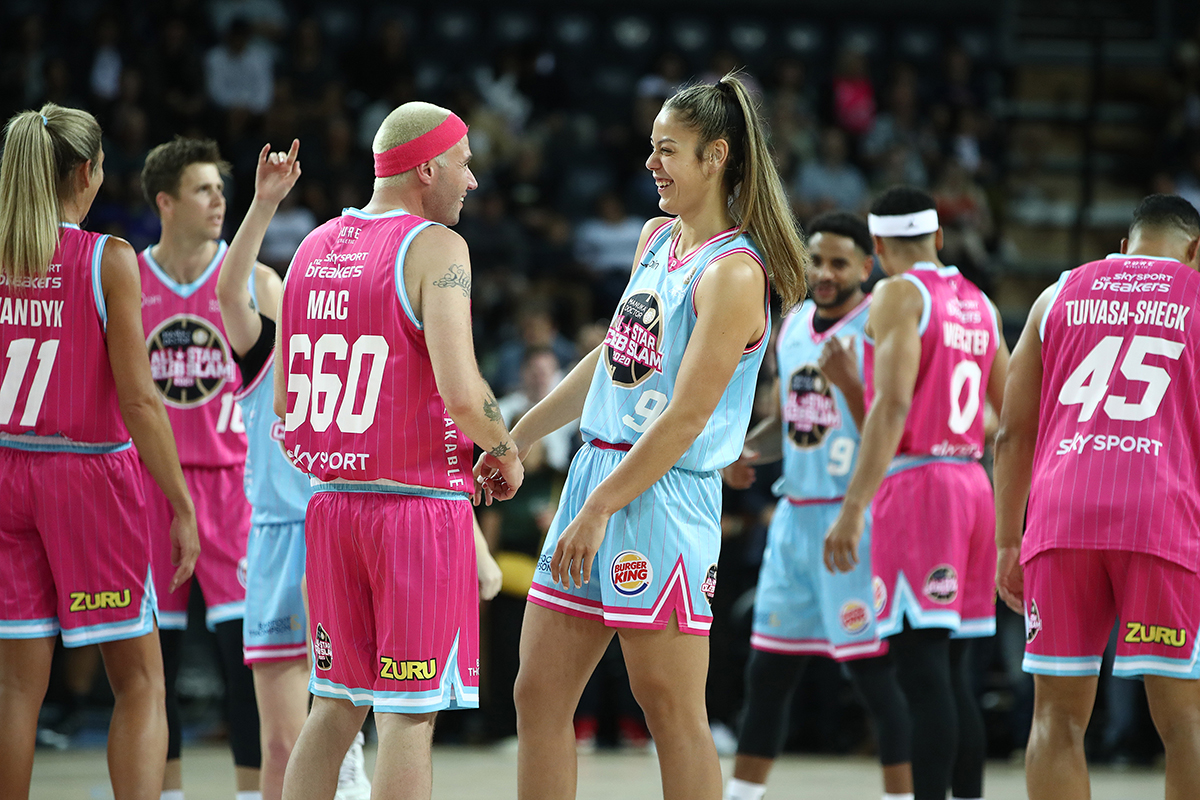 Johnny Tuivasa-Sheck - Comedian
3/10
Had two late buckets off drives to the basket but was otherwise unable to convert open looks. Turned the ball over a number of times, allowing easy points in transition.
Nick Mowbray - Entrepreneur
$1billion/10
This billionaire socialite was a late addition to the line-up but can ball with the best of them, converting in transition, blocking shots, and finding the open man on attack.
Eric Murray - Olympic rower
2 Olympic gold medals/10
Wasn't afraid to pull-up when given space. Hit a three pointer and filled the lane well on defence and in transition.
Carlos Spencer - Former All Black
10/10
The King was on form, leading the fast-break for his team and consistently finding the open person. Strong effort on defence too.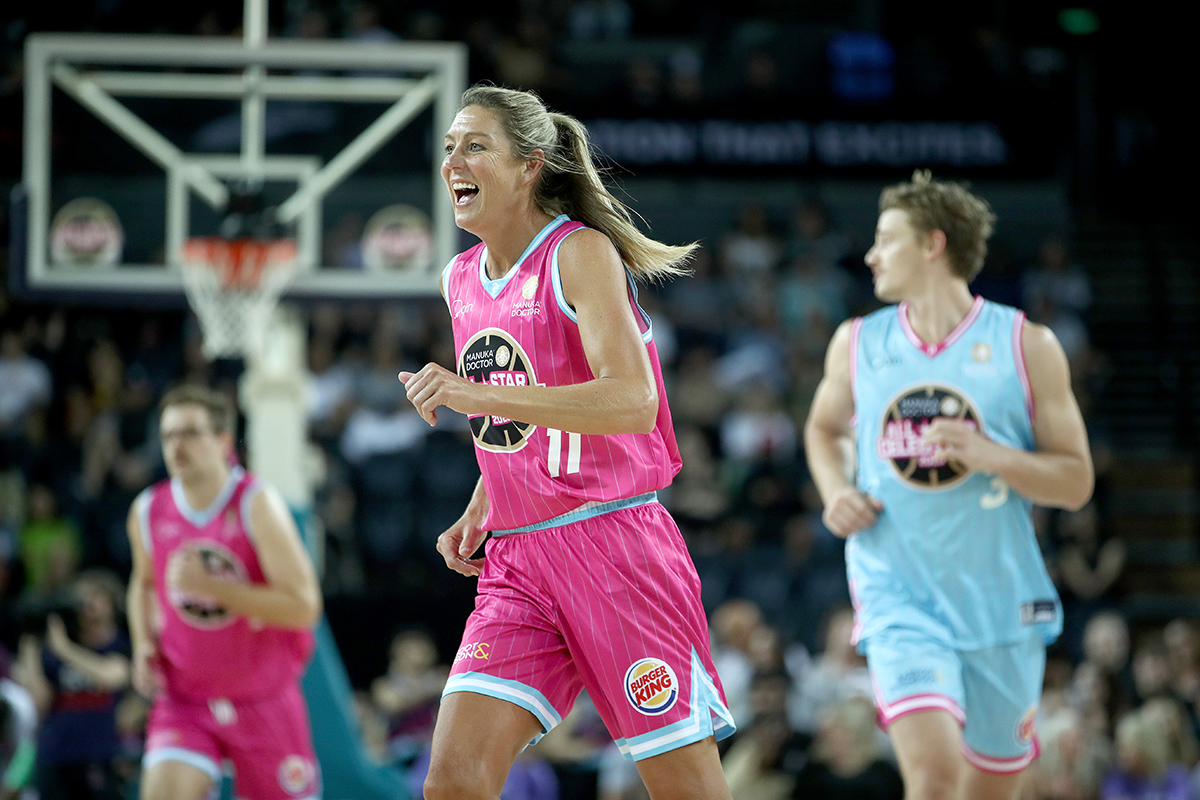 Chlöe Swarbrick - Member of Parliament
5/10
The millennial cult-hero had a few open looks but couldn't find her rhythm. Also failed to convert a 10-point free throw play, which could have been the difference for her team.
Ruby Tui - Black Fern Sevens player
8/10
Was as fast on the hardcourt as she is on the field, causing trouble on defence and getting open looks on attack.
Julian Savea - Former All Black
6/10
Limited minutes but managed to have an impact off the bench, dropping a couple of buckets.
Greg Murphy - Racing Car driver
6/10
Good effort in the paint, chasing boards and finding open looks. Unfortunately failed to convert many looks.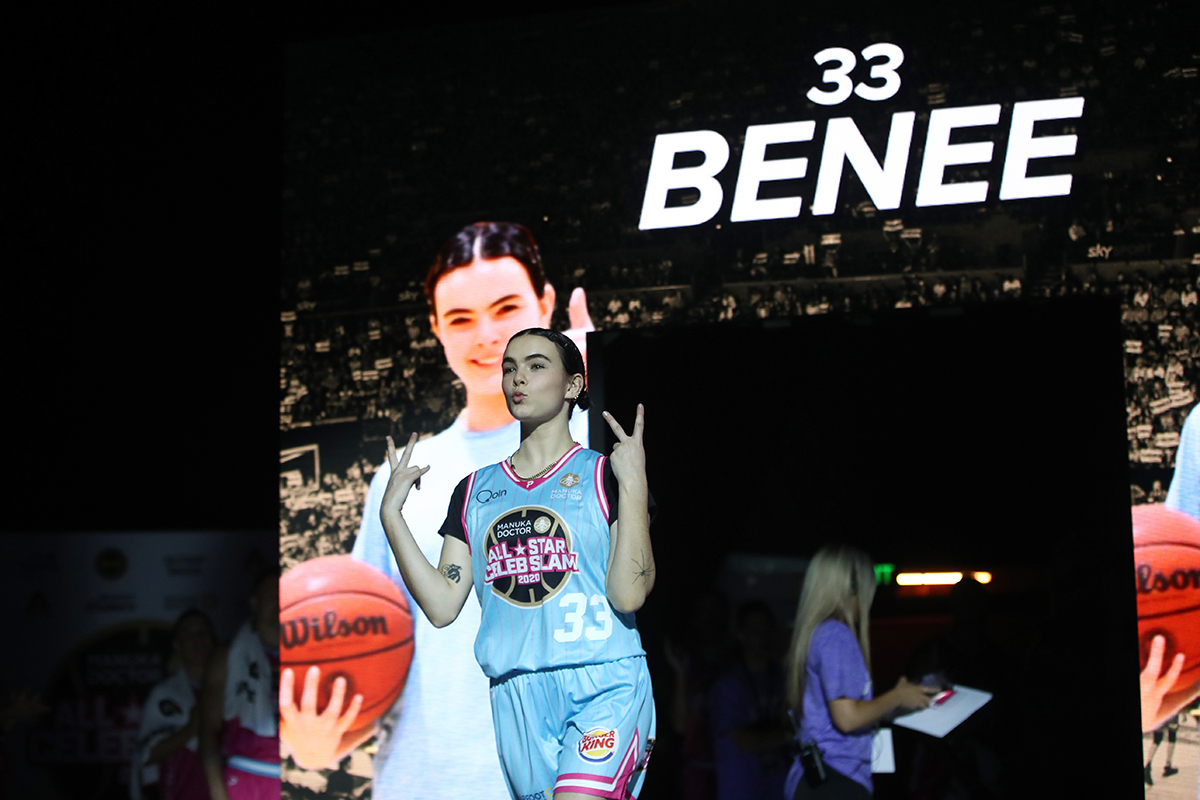 James McOnie - TV Presenter
1/10
Unfortunately couldn't show off his legendary basketball skills due to limited court action.
BENEE - Singer
8/10
Was voted the game's MVP. Played hard on defence, fouling hard to not allow any easy buckets. Moved the ball well too.