The level four lockdown has been disruptive for every single New Zealander, and we've all had to make changes to how we would normally eat and shop for groceries. For many, this means forgoing the nights you may have gone out for dinner or ordered in. But for many families in New Zealand, this disruption has pushed some to the brink of their resources, skills, and equipment.
Maree Mooar's finances are stretched to the limit. "Before I would spend probably $100 or $120 on groceries for the week."
"Now, I don't have a budget anymore. I spend everything - my whole benefit - I just spend it all in one go."
She has filled her Wellington house with her loved ones - inviting her two adult sons and their father to live with her and her three young children during lockdown. With seven people now in the house, the food costs have risen greatly.
But Maree says the bigger disruption has been to how she has to shop. In a normal week, she would travel between multiple supermarkets to find the best specials - allowing her to shop for the necessities for the cheapest amount possible.
"I would go and get all of the specials. And now I don't get any specials."
"Like I normally buy all my cleaning products at The Warehouse, because they're really cheap - washing powder is like $2.50 for four kgs. But, you get like two kgs for $5 when you go to the supermarket now."
To a family on a budget, these kinds of savings are the difference between spending a portion of your income on groceries, and spending every cent - as she now has to.
Making this situation more difficult is the limited options available in supermarkets, with shelves often bare of the cheapest variety of a product. Maree used to shop around for the cheapest selection of necessities like soap and shampoo, but during lockdown she has found that if she wants her family to stay clean and healthy she has no choice but to buy the only-remaining product on the shelf, even if it's $10.
Yet despite the difficulties of grocery budgeting during lockdown, Maree feels thankful for the position she is in - with all her loved ones together, in secure housing, and with food to feed them all. She wasn't always so lucky.
"I used to live in poverty," she says. "I'm lucky I don't have to go to a food bank. I did in the past, a couple of years ago, but not anymore. I know now how to cook and budget and feed everybody."
"But, I used to live on something like $50 or $60 a week and get all my bread from like, Salvation Army."
She says her family wouldn't have survived if they had still been in that position during lockdown.
"We barely survived then anyway. Not having enough food, and having to go and search the specials and all that. You don't have time anymore, you just have to go and get what's there. You just have to take what is there."
Even with the support of food bank parcels, she says during that period of her life she didn't have the skills or equipment to turn that food into large nutritious meals. She is worried about people in that position now.
"Some people can't even cook the basics," she says. "Because you just have to take what's there and if you can't cook, you're not gonna know how to cook a proper family meal."
"[Two years ago] I had no equipment. I had nothing. I didn't have oven trays or dishes. I couldn't bake, because I didn't have any baking tins."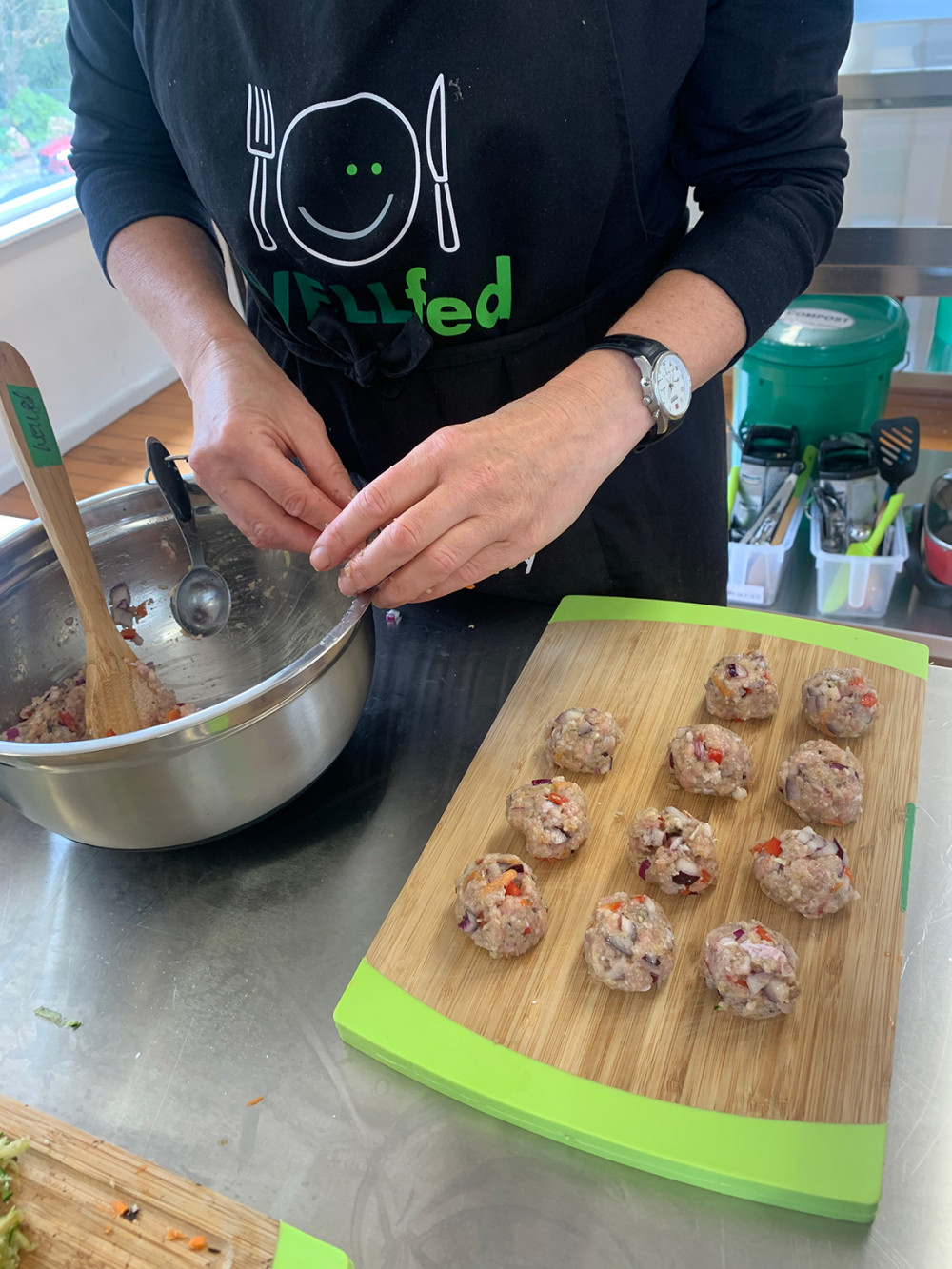 There are many families in this position. Last week, a Salvation Army report found food parcel demand in many regions is double what it was this time last year.
"There's obviously a lot of need in households," says Rebecca Morahan, who runs the food support charity WellFed. "Our experience would say there's always been that need - but it's been made even more evident."
WellFed was started in Porirua in 2016 by Rebecca and her friend Kim Murray. The program teaches families to make large, nutritious and affordable meals.
Maree joined WellFed two years ago and learnt not only how to cook and bake, but also food budgeting and planning. Because of this, her house was stocked with fundamental cooking supplies and leftovers when lockdown began.
"When I went into lockdown my freezer had lots of little bits of leftovers I'd frozen. All kinds of things - cakes, pizzas, hot meals, macaroni cheeses," Maree says.
"Because of WellFed, I know lots of recipes. And I know how to make bread - we just make our own bread and pizzas bases and stuff."
In the four years since WellFed began, it has grown into a pillar of the Porirua community - teaching over 300 people the skills to plan, budget and cook. With classes on pause during lockdown, Rebecca and Kim have been pivoting their services online, creating and posting recipes and instructional videos into their online communities.
They have also been invited to be a part of Porirua's emergency response, helping to plan and implement the measures needed to help families who are being pushed to the limit by this lockdown.
"There are people at home who don't have a lot of their usual support structures - like schools providing breakfasts and lunches," says Rebecca.
"We are working to figure out how we can best mobilise and use our skills to help our community - wider than just the learners that we're currently working with."
Many of the issues they have identified are the ones raised by Maree - difficulty accessing and affording food, as well as some people lacking equipment and skills to turn food into large, nutritious meals.
"Right now, there are some families that don't have transport and so they can't get to the supermarket, and it's difficult to get Countdown to deliver to your house - I mean, at the moment, there is a week's wait, and everyone's trying to do that.
"If the dairy is open, that will be the only place where some people can actually be buying food in the next two weeks."
"People call it a food desert," Kim adds. "With no transport or with limited budget, the realities of taking kids on a bus to get a week or two weeks' worth of shopping, is near nigh impossible."
And that is under normal circumstances, she says. Things are many multitudes more complicated under these lockdown conditions.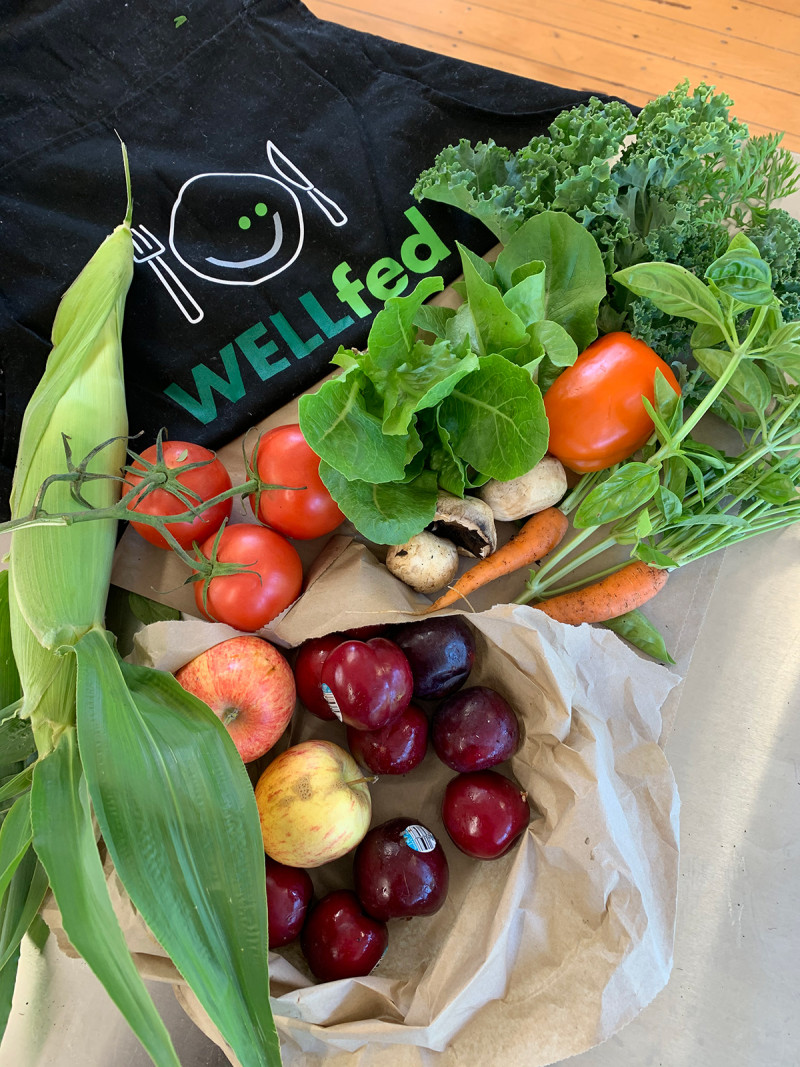 If people can access the food they need, the next challenge is if they don't have the skills to turn it into large, nutritious meals. Cooking requires a large variety of skills and resources - with literacy for reading recipes, numeracy for calculating and measuring, and knowledge and skills with the different pieces of equipment and appliances needed.
"There are a hell of a lot more food parcels going out than normal," Kim says. "But, to some of the families that the food parcels will be going to, it doesn't mean that they actually have the equipment at home to actually make healthy low-cost meals. You need the resources, as well as equipment, to know how to feed your family well."
"There will be certain families that don't have working ovens and they still are out there right now really struggling - doing everything on a pot."
There is also the emotional component, Rebecca adds. Cooking can be overwhelming for people who have not grown up doing it, and so for people who are eager to learn, it's important they have the role models and support they need.
"That's why WellFed takes a long-term, sustained-contact approach," Rebecca says. "We prefer to go deep with a few adults who are key linchpins in the household, knowing that they will then take to the children and this beautiful ripple effect can happen."
Unfortunately, offering this kind of emotional support is difficult right now. So Rebbecca and Kim are working on meeting the challenges they can from lockdown, such as creating affordable meal plans and adapting recipes to require as few pieces of equipment as possible.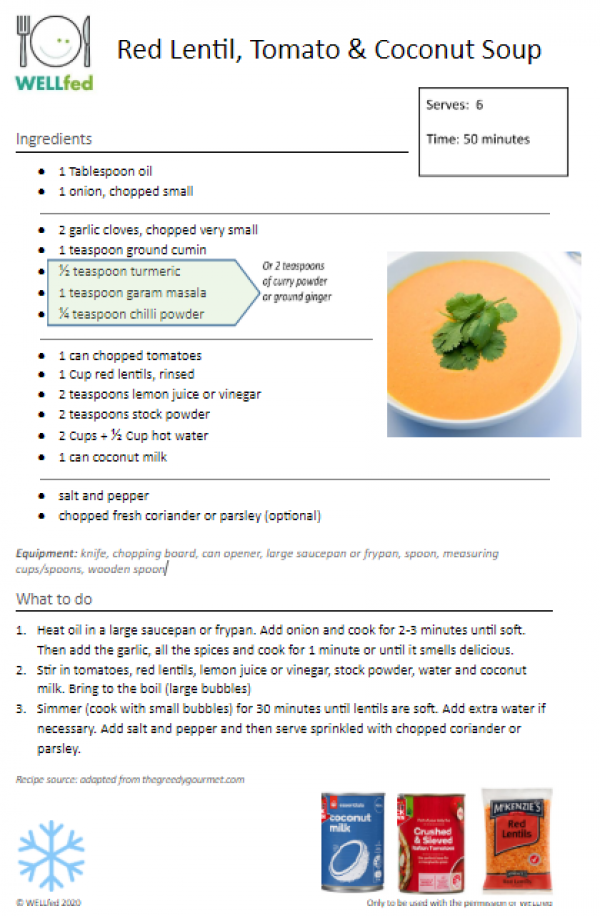 "One of the things that is really great right now is soup, low-cost soup," Kim says.
"All of our meals are under $10, and most of our baking averages under $5 for a batch," Rebecca says. "We've just thrown together something that is like a seven-day lunch and dinner plan. In theory it would be $10 per meal and there are seven of those, so it will probably be a bit over $100 dollars for seven days of food."
"We don't use a lot of butter, we use margarine or oil in our baking," Kim says. "Very little cheese - because that stuff is just too expensive. A video that Rebecca and her kids made the other day was how to make corn fritters and there's some amazing soup and bread recipes as well. These meals you can do for under $5."
Rebecca and Kim expect that coming out of lockdown there will be a heightened need for WellFed's services, with some realising the importance of knowing how to cook, budget and plan meals for their food security.
While they do what they can to help those in need during lockdown, they know that this disruption is going to highlight the need that already exists in our society.


If you want to support those in need right now, you can donate to a national food bank organisation such as the Salvations Army's Food Bank Project, or look up your local food bank and see how you can help, or donate to WellFed.