This article was originally published Saturday October 28, and updated Monday October 30 with additional reporting on further protests throughout the weekend.
On Saturday from Auckland to Dunedin pro-Palestinian marchers called on the New Zealand government to demand a ceasefire. On Sunday, supporters of Israel gathered in three cities calling for the release of the hostages taken by Hamas.
7,028 people in Gaza and 1,400 people in Israel have been killed in the three weeks since Hamas attacked Israel on October 7th and took over 200 hostages into Gaza. (For more on the context, you can read our explainer here).
On Saturday October 28, thousands of pro-Palestinian supporters rallied across New Zealand demanding a ceasefire.
In Wellington, organisers of the March for Palestine said 4500 people joined the protest, which walked from Civic Square to Parliament.
In Auckland organisers estimated 7000 people marched from Aotea Square to Britomart.
Rallies also happened in Christchurch, Dunedin, Hamilton, Hastings, Nelson, Palmerston North and Whanganui.
On Sunday supporters of Israel gathered in Auckland, Wellington and Hastings, calling for the immediate release of the 249 Israeli hostages taken by Hamas in the October 7 attack on Israel.
Organisers of the Bring Our People Home to Israel rally estimated 1800 people gathered in Auckland's Aotea Square.
March for Palestine
Samira Zaitoun, from the organisation Justice for Palestine which organised the Wellington rally, said it was to show "we stand with Palestine, we stand for justice, human rights and international humanitarian law."
She said the march was a signal to the international community and MPs to act and demand a ceasefire and restore the necessities of life to Gaza.
"Water, land and life are inalienable rights and it is unacceptable for Israel to have control over these things. This is not a controversial or radical ask."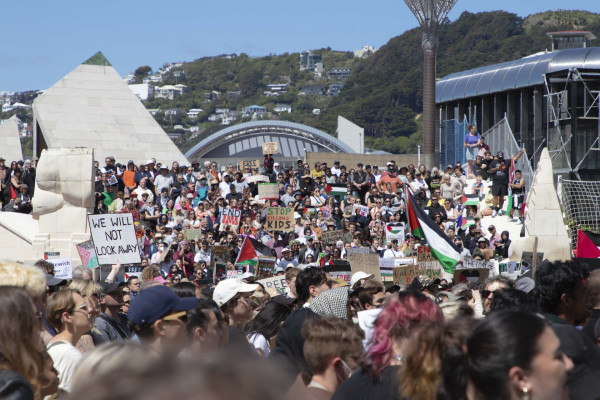 On Friday, the United Nations General Assembly passed a resolution calling for an immediate and sustained "humanitarian truce" between Israel and Hamas in Gaza.
Zaitoun said the resolution showed "overwhelming global opinion" in favour of a ceasefire, but it was not binding, and was not as strong as a call for a ceasefire, "and is just that - it's global opinion."
"A ceasefire is calling for an end to the violence, and an end to the airstrikes, the bombing. A humanitarian truce is just a pause, it's giving the room for aid, for bandages."
A petition by the group Palestinian Youth Aotearoa calling on the government to demand a ceasefire has so far got over 17,000 signatures.
Names of the dead read out in Wellington
Shaymaa Arif, a member of the group Justice for Palestine read the names of 36 of her family members who have recently been killed.
This week the Gaza health ministry released a report saying 7028 Palestinians have been killed since October 7, giving the name, age and identity card number of over 6700 of them, after US President Joe Biden said he had "no confidence" in the death toll numbers reported by the health ministry.
Arif said she had checked the list for family members and found the names of her aunt and cousin, and said the deaths amounted to "a family lineage erased, the eldest 78 and the youngest two years old."
"They are not just statistics, they are lives, dreams taken away. We will keep saying their names."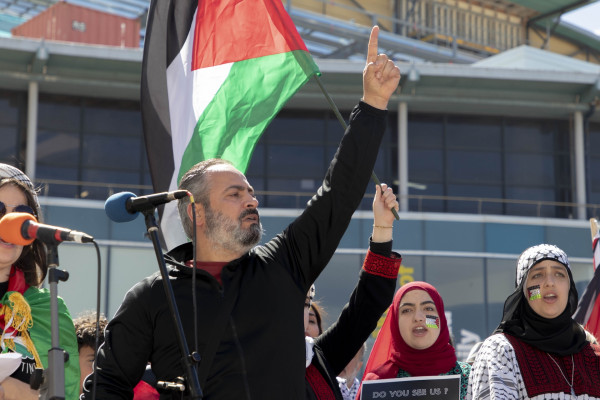 Green and Te Pāti Māori MPs speak at the rallies
In Wellington, Green MPs Golriz Gharaman and Teanau Tuiono and Te Pāti Māori co-leader Debbie Ngarewa-Packer spoke to the crowd.
Ngarewa-Packer told Re: News she attended the march because "I support anything that's about protesting against genocide, protesting against colonisation, and most importantly looking for a peaceful resolve."
"We've seen it with Apartheid - it's always been the power of the people and coming together in solidarity across the world that has pushed for change, and we can't continue to sit quiet and watch innocent children and families be violated to the degree that we have."
She said the fact that New Zealand, "a country that's endured colonisation, that has had indigenous peoples affected through this type of violence, is doing nothing, says that they've learnt nothing from our own experience in Aotearoa."
"It's really important that we see the government push through, be assertive and stand up for what's right."
Green MP Teanau Tuiono said he was there to "express my love and solidarity for the Palestinian people."
He described the decades of conflict as "the violence of settler colonisation."
"Let's be clear, this has been going back since 1948 when they have been trying to systematically disenfranchise and marginalise the Palestinian people, pushing them off their whenua, and it's outrageous. Particularly with what's happening now, you can just turn on the screens and they are just killing people by the thousands."
He said the New Zealand government needed to do more, call for a ceasefire and "have the courage to call out Israel for what they have been doing".
"We have to see this within the trajectory of the generations of settler colonisation, and support the Palestinian people."
He said the way to peace "is making sure that we have a free Palestine. There are two million people there [in Gaza] and around 50 percent of them are children. It is not acceptable for any government to be dropping bombs, targeting civilians."
Jewish voices in support of Palestinians
Marilyn Garson from the group Alternative Jewish Voices was at the Wellington rally in support of Palestinians.
She said there was a difference between being Jewish, and supporting Zionism (the ideology that supports the development of the state of Israel).
"Judaism is a religion, it's an ethnicity, it's our history. Zionism is nationalism, it's not our religion. So to criticise the occupation - we criticise it because it's wrong, not because it's Jewish."
She said both she and the other co-founder of Alternative Jewish Voices, Fred Albert, were religiously observant Jews. "We love being Jewish, we're positive about Judaism, but Zionism is not our Jewishness."
In terms of the argument of whether Israel has a right to defend itself and have its hostages freed, she said a ceasefire wouldn't necessarily achieve that. "A ceasefire simply stops the mounting death toll. There have been 7000+ people killed, half of them children, most of them civilian. This is not self defence."
Auckland rally for Palestine
In Auckland the Re: News spoke to Pakistani-New Zealander Hamzah Riaz who said he was at the rally to show his unity with Palestinians.
"This is the bare minimum we can do, come here and show our support so the people see they are not alone. But this genocide has been going on since 1948," he said.
"I stand for unity. I am an advocate for peace."
As they marched through central Auckland the protestors chanted "From the river to the sea, Palestine will be free" and "Israel, USA: How many babies have you killed today."
Among the hundreds of Palestinian flags were the Tino Rangatiratanga and the Tongan flags.
One family group featuring mother Faouzia Zorgati and her daughters Meriam Zorgati and Noussaiba Zorgati, were brought to tears as they discussed why they were attending the rally.
"It's important that we speak about what's happening in Palestine today, using our voices for the millions of voiceless people in and outside of Palestine. We are their voice, we are their hope and strength. The occupation must end, Palestinians deserve to live on their land. No peace till the kids of occupied Palestine have peace," said Noussaiba.
"We are here for a ceasefire and to end the occupation. We want to free Palestine. From the river to the sea," said Meriam.
United Nations votes for humanitarian truce
On Wednesday October 25 the New Zealand government had called on the UN Security Council for a "humanitarian pause".
On Friday October 27, the United Nations General Assembly passed a resolution calling for an immediate and sustained "humanitarian truce" between Israel and Hamas in Gaza.
It also demanded the "continuous, sufficient and unhindered" provision of lifesaving supplies like food, water and fuel for civilians, and the "immediate and unconditional release" of all civilians held captive.
It did not make a specific mention of the Hamas attack on October 7.
120 member states, including New Zealand, voted in favour of the resolution.
14 voted against, including Israel, the US and six Pacific countries, and 45 including Australia and the United Kingdom abstained.
Israel and the United States said the resolution gave Israel "no right to defend itself", and the US Ambassador to the UN said it was an "omission of evil" to not mention Hamas.
An amendment proposed by Canada to explicitly condemn Hamas didn't pass.
Read more:
The violence over the past two weeks is the result of decades of tension over the disputed region.
Further photos of Saturday's pro-Palestinian rally in Wellington: