They're storytellers, community leaders, activists and social entrepreneurs but most of all, they're young people with big goals and big hearts.
The YWCA, a feminist organisation that challenges gender inequality in Aotearoa, announced its Y25 list for 2022.
The people on the list will all be part of a year-long programme which aims to support their goals and mahi.
Re: spoke to four people who are on the Y25 list about what they do, their plans for the future and what advice they have when it comes to navigating life.
You can read about the rest of the other successful people here.
Te Ao Mārama Nepia, 17, entrepreneur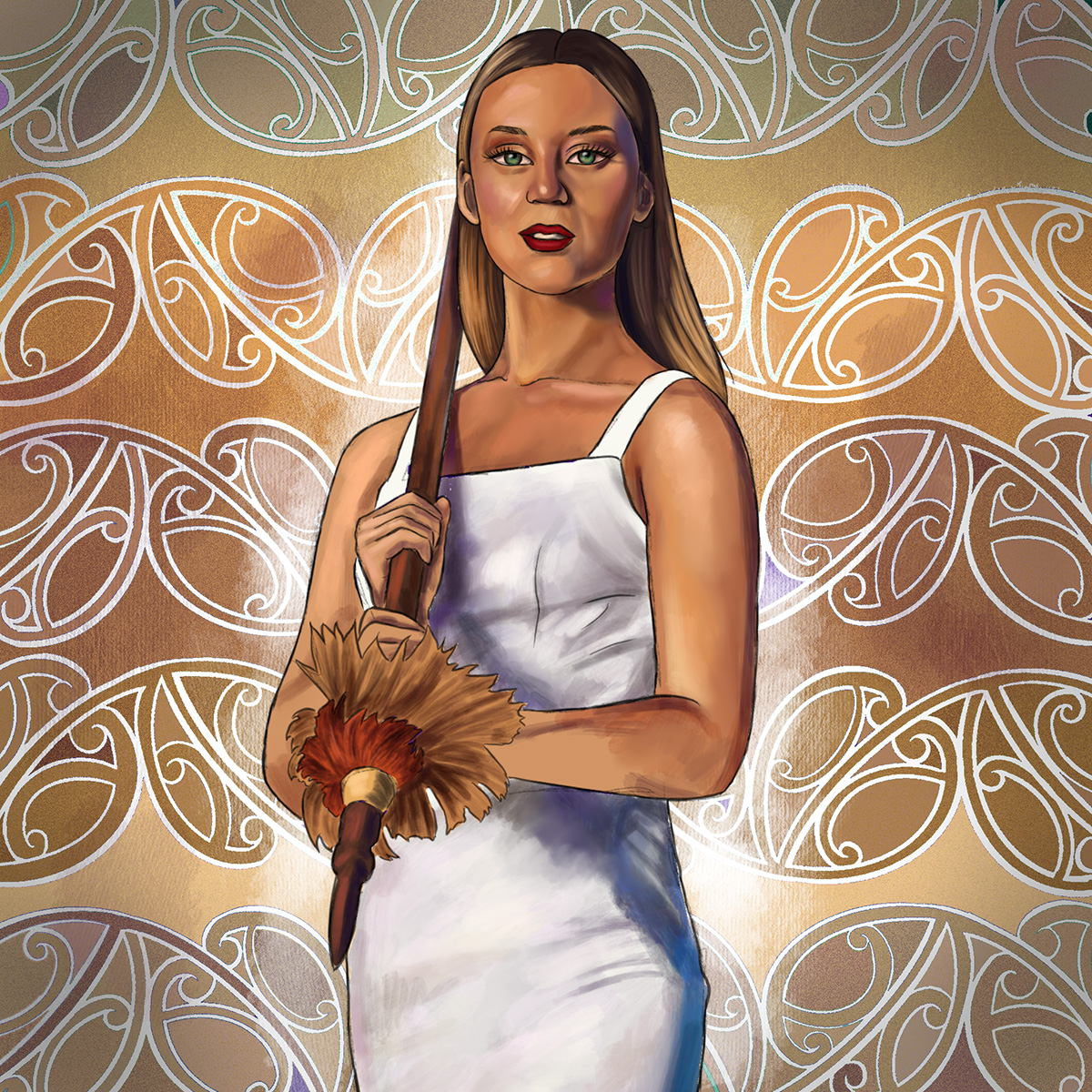 Te Ao Mārama Nepia, illustrated by Tayla Hartemink
How would you describe yourself? What was it like growing up in Blenheim?
I think people in Blenheim often thought 'oh, this girl has no clue what she's talking about and she's got too big of dreams'.
From the age of about 12 I knew that I wanted to do something different.
So that's how I would describe myself, I think I'd describe myself as determined, unique and different.
I think the cool thing about growing up in such an isolated area is we were a part of the change, we could see the growth because it was right in front of our eyes and we could see that history in the making.
You run your own social business called The World of Light. What's that like?
'The world of light' is taken from my name Te Ao Mārama which was bestowed upon me by my pāpā to tell me that I could illuminate my world in whatever way I wanted.
It's all about empowering people and I feel like I can do that through sharing my own journey publicly.
You're actively taking part in the revitalisation of te Ao Māori and you also teach rangatahi a mix of salsa and kapa haka. Can you tell us more about this?
What I did was mix one of my biggest passions which was salsa dancing and kapa haka together.
We often use mau rākau, poi and patu to hip hop tracks, like Cardi B and all that kind of stuff, and salsa tracks as well.
Doing partner dancing I think is also a huge part of whakawhanaungatanga (establishing relationships).
I think the most important part of revitalising te reo Māori and te ao Māori is making it relevant to the next generation. I find the easiest way to revitalise it is through social media.
It's such a big thing where you can just jump on TikTok, make a video, and it reaches so many people.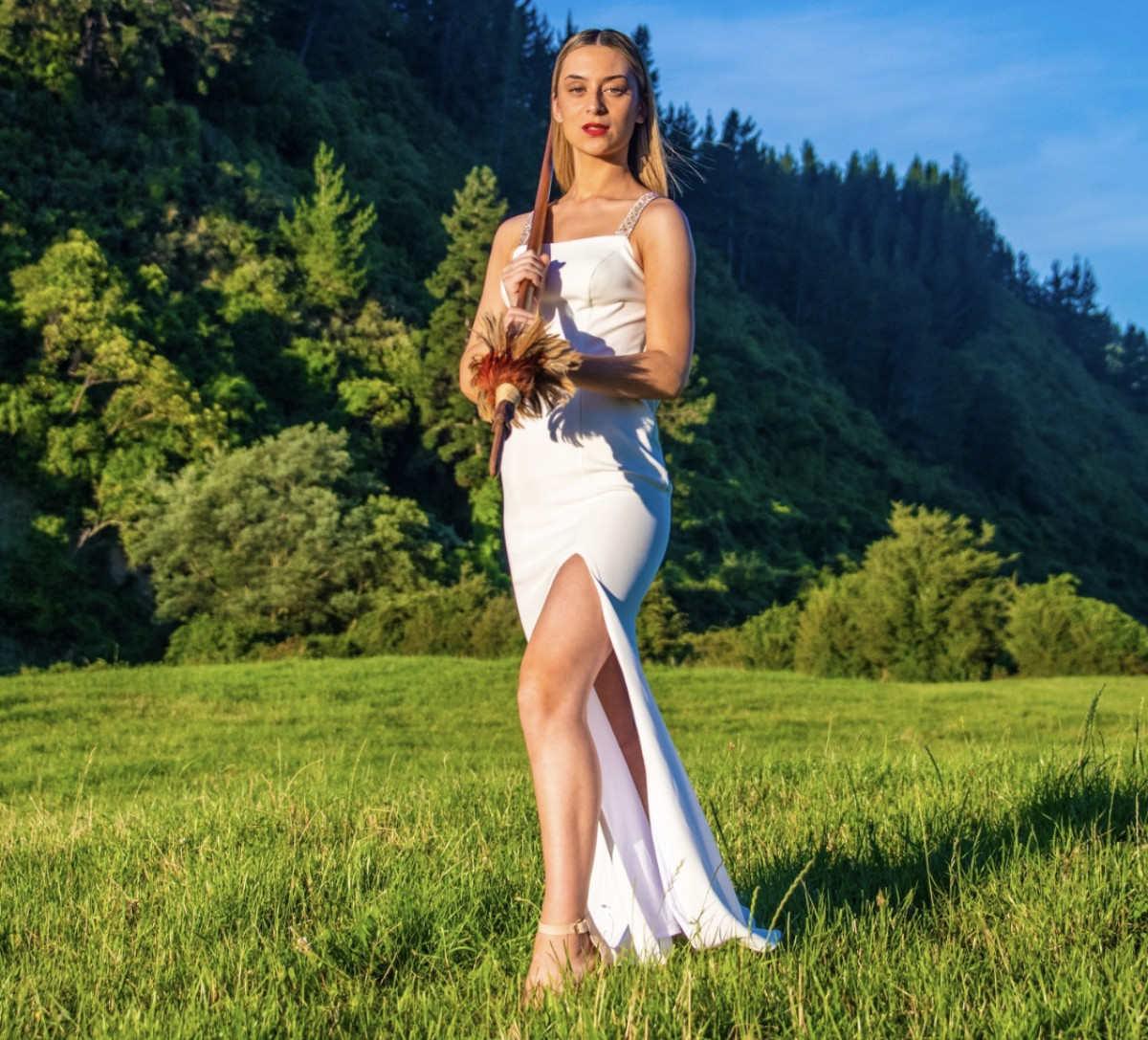 Te Ao Mārama Nepia mixes salsa with kapa haka. Image: Brya Ingram/Supplied
How do you encourage people to be unapologetically the best version of themselves?
I think it's just setting an example and being a backbone for people.
Because if they feel like they're alone, obviously, they're going to not want to be unapologetically themselves and the best version of themselves.
Realising that the best version of yourself takes time.
What message would you like to share with our audience?
I think the main message I would like to share, and it's very on brand, is to illuminate your world in whatever way you wish.
That basically means whatever you think you can shine light on in this forever changing world, just do it.
Take time to feed your own passions so that you can give back and find what you love so that you can share it.
Lushomo Thebe, 22, Waikato Students' Union President and founding member of the Zambians in Aotearoa Association

Lushomo Thebe, illustrated by Tayla Hartemink.
How would you describe yourself?
It's always a tough one because, in the Zambian context, a lot of tribes use the term 'ubuntu' - I am because we are.
So it's very challenging to see yourself as an individual when you're always part of a collective.
But if I was to try to describe myself, I would say that I am someone who has a big heart for the people around me, my family and my community.
Some people say that I care too much but I care a lot about people and my community.
I would say that I'm a hard worker. I see how things can be and I kind of direct and influence people into that way. And I also try to do it in an authentic way. I think authenticity is something that I try and treasure.
Why are you passionate about migrant rights especially amongst the African community?
My family and I have travelled a very bumpy road to get to where we are today.
And I know for sure that it did not have to be a bumpy road if someone simply cared to make that road and that journey easier. That's why I care about migrant rights.
It's hard to be a first-generation immigrant, you leave literally everything behind for a greater future, quite often for your kids. That's what my parents did.
When it comes to setting up the Zambians in Aotearoa Association, it's about giving support to new families, ensuring that when they do arrive in Aotearoa, that they have that support system.
Having a sense of community keeps your identity and keeps you grounded.
I'm passionate about my people and I know that if we can do it for the Zambian people, if we can do it for African people, then we can spread that to every single migrant that is coming to New Zealand.
What was it like organising the Black Lives Matter solidarity march in Kirikiriroa?
We chose to use that moment, not entirely for ourselves, but to highlight some of the other racial injustices that are occurring in this country - in particular incarceration rates of our Māori brothers and sisters, and our Pacific whānau.
So we said okay, we're going to highlight what's going on for our Black brothers and sisters, particularly in the United States. But also what can we do here at home for anyone who's facing discrimination and police brutality.
It really did make our community feel seen and heard for once but we still go through these struggles here and it's the small things.
New Zealand has a lot of casual racism and microaggressions. Things like you're in the supermarket, you're getting followed around or someone asks you for a receipt when they haven't asked anyone else - stuff like that.
So to finally be able to be seen and to be heard and be able to tell our stories, it was fantastic.
But also I applaud us for using that moment to also highlight other issues that are still going on in this country.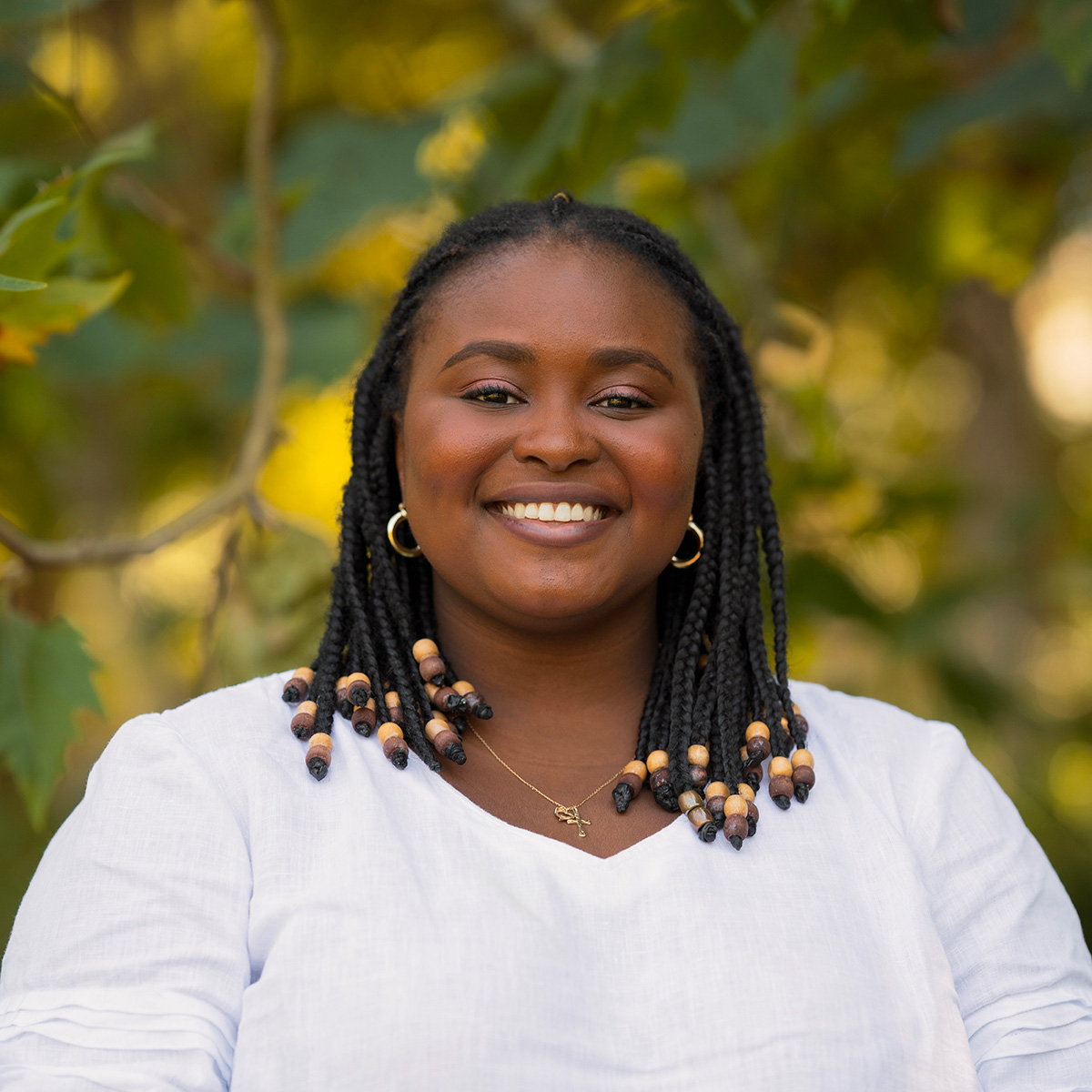 Lushomo Thebe helped set up the Zambians in Aotearoa association. Image: Stien Huizenga, WSU
How did you feel when you found out you were on the list for Y25 and what are your hopes and plans for the future?
It is nice to have recognition - it is slightly overwhelming though because it's not the norm for me as humility is a very important Zambian value.
It feels really cool now to have looked at the list of a great group of people who I can reach out to, who are also out here changing the world being doers and changemakers.
Because when you're out here trying to change Aotearoa or change your communities or change the world, it can get incredibly lonely sometimes.
I think it's a great opportunity to share the stories of migrants to really bring some of these issues to light.
What message would you like to share with our audience?
For any first-generation immigrant kids out there who are starting from scratch, just remember your why. Why is it that you do what you do?
Once you figure that out, it makes everything a whole lot easier, and I wish I had figured that out earlier.
Set strong foundations for yourself and those strong foundations come from friends and whānau - people who will be in your corner cheering you on all the time, helping you out where possible.
You're allowed to take a pause. You're allowed to take a break.
Lastly, tell your story and tell it a million times over.
You will be surprised by the amount of people that want to hear your story and you never know who you will inspire along the way.
Adibah Khan, 23, Community and public health advocate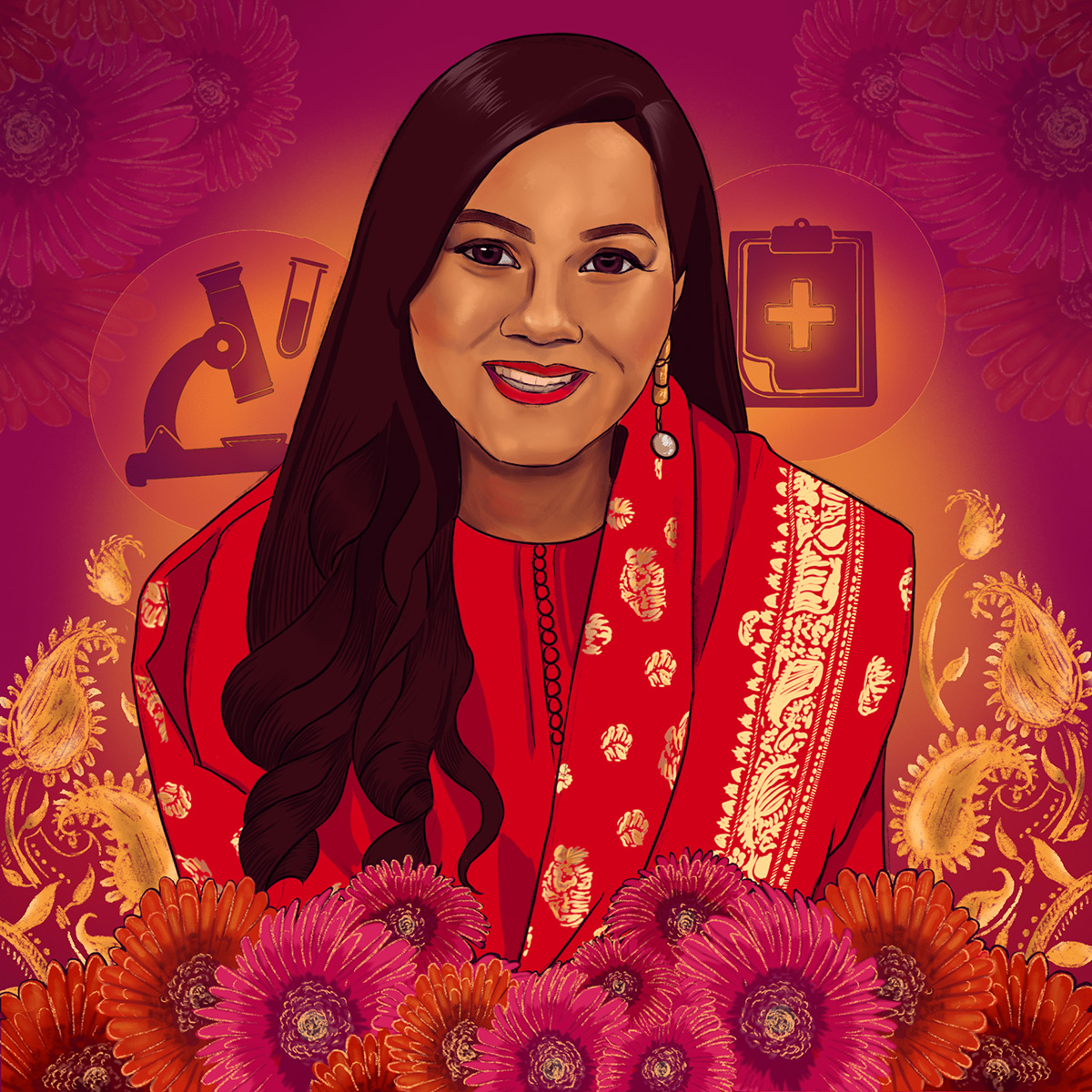 Adibah Khan, illustrated by Tayla Hartemink
How would you describe yourself?
I am a second-generation Bangladeshi Kiwi Muslim who is committed to addressing social justice issues, particularly in the healthcare sector.
I'm motivated by people - whether they be my whānau, my community, or those who I have been fortunate enough to engage with throughout my life.
I am passionate about addressing racism and discrimination at a systematic level and strive to encompass the voices of diverse communities within my work.
My whānau, and their history and lived experiences, form a major part of who I am.
Their stories taught me that understanding the past is ultimately the key towards informing our present and future.
This has taught me the qualities of being open-minded and listening to communities from all walks of life.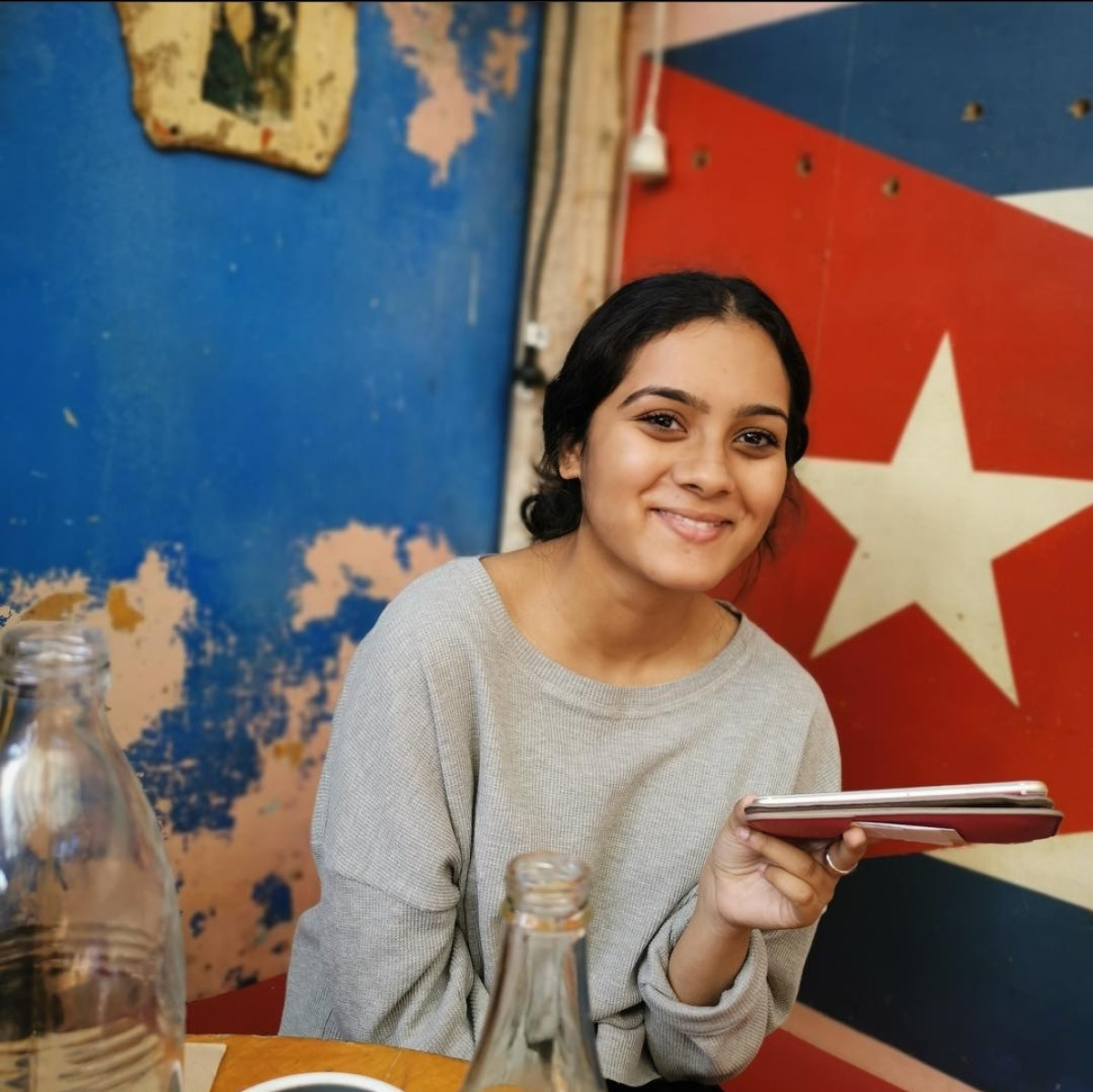 Adibah Khan is the co-founder of the National Islamic Youth Association. Image: Supplied
How did you feel when you found out you were on the y25 list? What are your hopes and plans for the future?
I was so excited to be selected into a group with such strong and inspirational wāhine, and I am looking forward to working with them.
I truly hope that we can use this group as a platform to empower, encourage and support other young wāhine to pursue their passions - no matter what they might be.
In the future, I would like to continue working in the public health and medicine field and contribute towards strengthening healthcare capacity and capability in both Aotearoa New Zealand and South Asian nations, to ultimately eliminate health inequity within and between developing and developed nations.
What message would you like to share with our audience?
We all have something to add to this world, a lesson to share, a gift to give … No one can do everything but everyone can do something - and together, we can change the world.
I recognise that life is about learning - from history, from people, from experiences - and the pursuit of learning never stops.
Cha'nel Kaa-Luke, 21, NZSL Advocate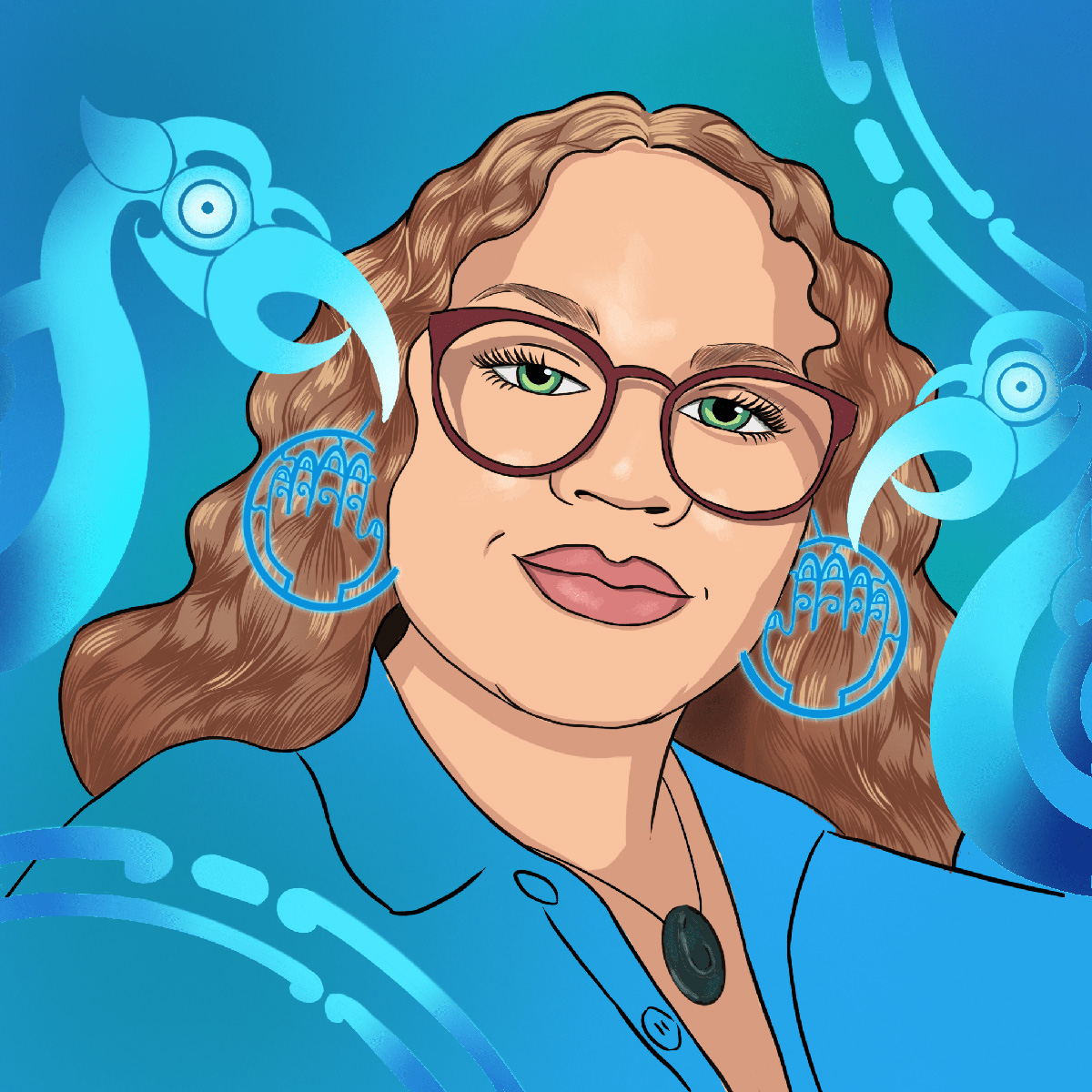 Cha'nel Kaa-Luke, illustrated by Tayla Hartemink.
How would you describe yourself?
A Turi Māori Queer who is just trying their best to make the world more accessible.
I pride myself on being Māori and having whakapapa back to Ngāti Ruanui, Ngāruahine and Ngāti Porou, but I was born and raised in Ōtautahi, where my turangawaewae stands.
I am an everyday user of NZSL and would be completely lost without it.
Being Deaf allows me to move throughout different worlds (Deaf, Māori, Hearing and Queer) and have the option of communication via NZSL, te reo Pākehā or te reo Māori.
I am slowly trekking along on my te reo Māori journey and doing my best to find the bridge between te reo Māori and te reo Rotarota, to acknowledge and encompass both my Deaf and Māori cultures.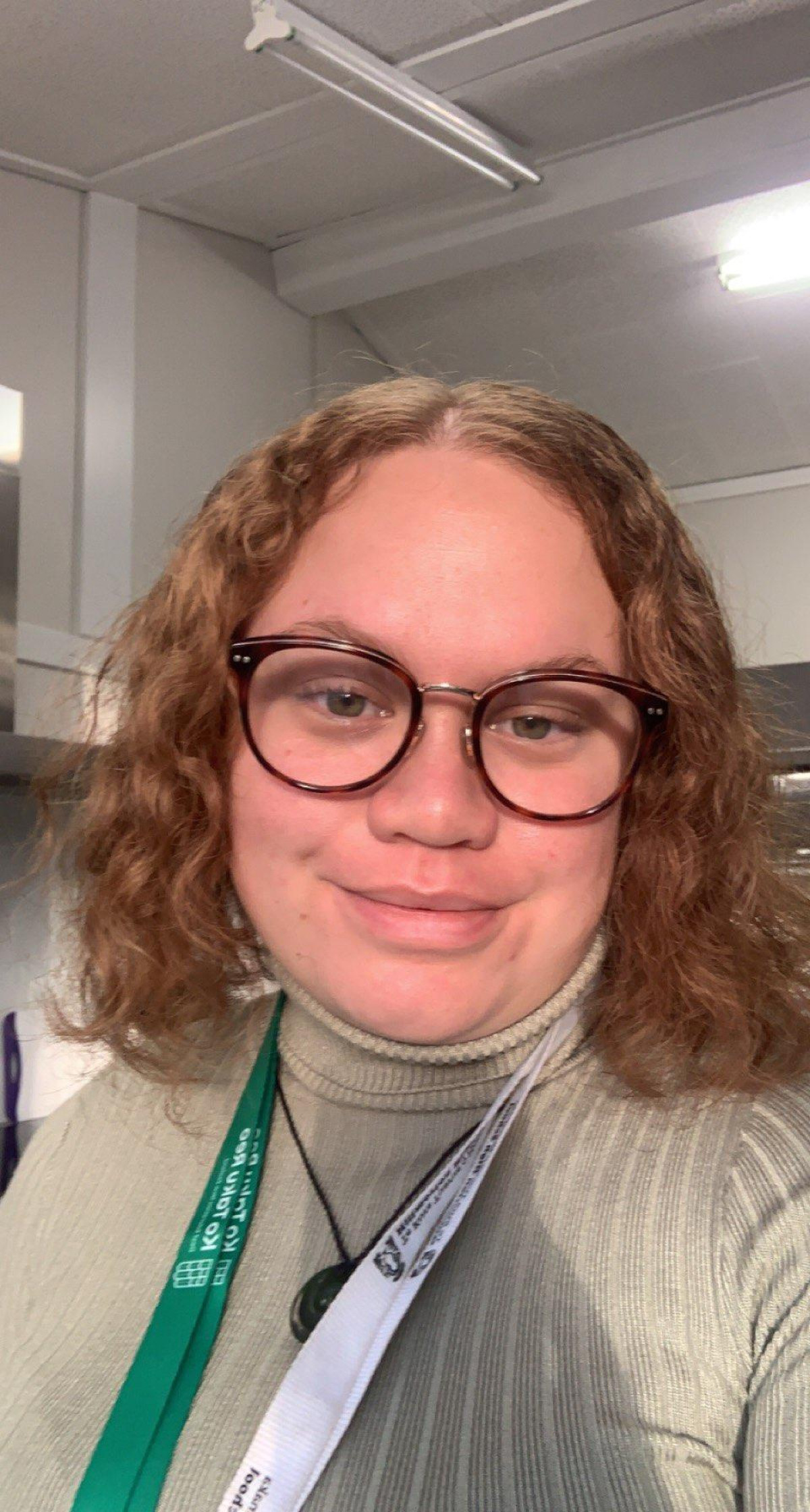 What does it mean to you to represent and be part of the Deaf community, gender-queer community and be part of te Ao Māori?
To be Deaf, Māori and Queer are all very representative of who I am and the views and values I hold.
To be given the space within these communities to feel safe, respected and valued is something I would never have thought of when I was younger.
It was and still is a journey of finding out who I am and where I sit within all of these worlds.
Especially coming to understand my obligation to find the cross bridges between them all is something that I hold near and dear to my heart.
There is no possible way to represent these all separately in the respect and quality they all deserve, and it is vital that we do because there are so many intersections of identity, and they all deserve a piece of who we are and who I am and what I envision to be.
Cha'nel Kaa-Luke is an NZSL advocate. Image: Supplied
How did you feel when you found out you were on the Y25 list? What are your hopes and plans for the future?
My immediate thought when I saw a call come through on my phone was 'who is calling a Deaf person? Here we go again!' and I quickly rushed to ask my co-worker to interpret for me over the phone.
I don't think I fully understood at the time what the Y25 list wasand I didn't understand what a vast network I would be joining, but now that I do I am so excited.
These wāhine and irarere tāngata are all so powerful and to be standing alongside them all is insane.
I hope I learn a little something from all the wonderful people who are a part of this kaupapa.
From this I hope that all the skills and learning I do will translate into helping my own mahi of advocating for Turi Māori, whether this be through Māori Sign Language, helping them through education or just bringing them up on this stage with me too.
What message would you like to share with our audience?
That more people should engage in tough conversations about accommodating for minority people.
Be brave and open yourself up to what other people can offer and teach you. You'll never know who you're sitting next to and what you might learn.
Last but not least, more people should go to NZSL classes, even learning a little bit helps.
Top Image: Four of the YWCA Y25, Illustrations by artist Tayla Hartemink, who you can find on Instagram here.
More stories:
The YWCA has chosen 25 women under the age of 25 for a new project highlighting the power of young wāhine.
Watch the fourth episode of our new docuseries, Still Here.
"The most interesting thing about money is the absolute peace of mind it brings to your life."